Best Beach Hotels in Alanya, Antalya Province
Take a look at the best beach hotels in Alanya.
See All Alanya Hotels
1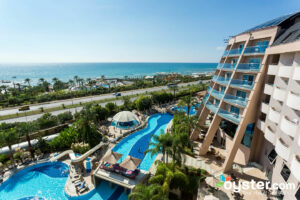 This massive, upper-middle-range resort provides all-inclusive service and a wide range of activities for leisure travelers on the coast of Turkey. A beautiful beach, multiple sprawling pools, several restaurants, a relaxing spa, and loads of fun kids' activities -- a water park and bumper cars, to name a couple -- make it an excellent spot to spend days on-site. All 748 rooms have minibars, flat-screen TVs, air-conditioning, and safes, but decor is generic, and they lack coffeemakers and high-end touches. Despite the incredible list of features, meals and customer service receive poor reviews. Another option is the Sentido Gold Island, which has a slightly more elegant design and adult-only section, but it lacks the huge range of facilities available at Long Beach.
2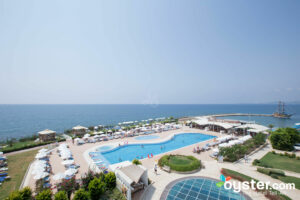 The 422-room Sentido Gold Island is an upscale resort with three small beaches, plenty of pools for all ages, and entertainment for children and adults. While its many kid-friendly features make it a natural pick for families, the hotel also offers an adult-only pool and a spa for couples seeking a quieter atmosphere. Food generally gets good reviews -- though some guests complain of lack of variety -- and local (as well as some imported) drinks are available free 24 hours a day. Rooms are stylish and feature large flat-screen TVs, electric kettles, free Wi-Fi, and balconies. Most offer at least partial sea views (and some have beautiful full vistas of the Mediterranean), but the cheapest rooms overlook a construction site. Those looking for something more bustling may want to compare rates at Saphir Resort & Spa.
3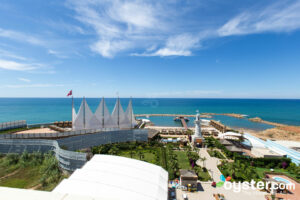 The 289-room Adenya is an upscale halal-certified Islamic hotel catering to families and couples. The focus here is on relaxation and fun according to conservative Islamic laws, which means all food served is halal, and all common areas are segregated by gender, from the beach to the pools to the spa and the fitness center. The hotel's restaurants and the amphitheater are the only mixed areas, and the largest of the three on-site mosques has a section for women as well. Rooms are elegant and stylish, with laminate or wood floors, sleek all-white furniture with teal and wine-red accents, delicate latticework details, and balconies, many with panoramic sea views. Downsides are the average food, limited services (no minibar refills during the stay, basic daily entertainment), and extra fees for a la carte dining. The Selge Beach Resort & Spa Hotel has better food and a mixed-gender pool and beach, but the Adenya is more luxurious overall.