Best Value Hotels in Old Center, Amsterdam
Take a look at the best value hotels in Old Center.
See All Old Center Hotels
1
The mid-range Tulip of Amsterdam B&B offers an intimate and authentic Dutch experience in the heart of Amsterdam. Near canals and the Nieuwmarkt Square, this two-room bed-and-breakfast is set in a classic Dutch canal house built in 1660. Highlights include personal concierge-style service, free Wi-Fi, and free breakfast with made-to-order omelets and other treats. Rooms are clean, spacious, and brightly decorated with traditional Dutch accents. Located in the back of the narrow and deep building, rooms are quiet and come equipped with flat screen TVs, Nespresso coffeemakers, and mini-fridges with free drinks. But, guests staying on the second floor must climb a steep staircase. Rates are attractive but with only two rooms, it's wise to have a backup choice, such as the mid-range, centrally-located Hotel Sint Nicolaas.
2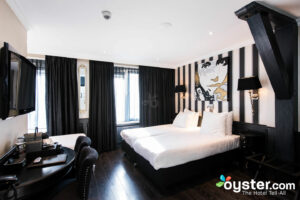 The mid-range Hotel Sint Nicolaas occupies a prime location in the heart of Amsterdam, just a short walk from Central Station and many of the city's most popular attractions. It's a quaint, 24-room boutique hotel with attractive amenities including a free hot breakfast buffet, free Wi-Fi, and a cozy lobby bar with a real fireplace. Rooms are comfortable and stylish, with mini-fridges, safes, Nespresso coffeemakers, and lovely bathrooms. But room sizes can vary, and Single rooms are small. Rates are fair given the hotel's superior location, but it often sells out on weekends. One attractive alternative is the upper-middle-range Crowne Plaza Amsterdam City Centre that's across the street. It's a clean and modern chain hotel with a fitness center and lots of other amenities, but rates are higher there.
3
The Hotel Luxer is a mid-range, 47-room property set in the salacious heart of Amsterdam's Red Light District and is still looking good from its 2012 overhaul. Plush interiors hint at decadence while avoiding seedy, and the vibe is cozy and welcoming. Rooms are well-finished with good amenities, though noise -- both from inside and outside -- can be a problem. The location is certainly not for the prudish, but rates are good for the city, if a tad pricier than the comparable -- though less inviting -- Hotel CC just along the road.
4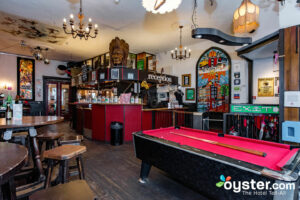 The Flying Pig Downtown is a friendly, fun-focused Amsterdam hostel. Located on a busy, central shopping street, this hostel is surrounded by many of the city's nightspots, while also being a short walk to popular sights and the Red Light district. Private rooms are available in addition to the secure and tidy dorms, and the property is frequented by a mainly backpacking clientele. There is a modern guest kitchen, cozy smoking lounge, and lively bar on-site. For those looking for a more subdued hostel option, the Inner Amsterdam near Vondelpark has similar rates, but less buzz.
5
The Bulldog Hotel is a hostel-style property right in Amsterdam's Red Light District that caters to a party crowd. But unlike a typical hostel, the Bulldog offers a range of room types, including dorm rooms with en-suite bathrooms that include two shower stalls and double sinks, private rooms that include king size and single beds, and nearby apartments with kitchens, a separate bedroom, and flat-screen TVs.
6
People book a room at the St Christopher's at Winston Hotel to have fun and mingle with like-minded revelers. The property is set in a busy street just two blocks from the Red Light District, and is thus part of the throbbing heart of Amsterdam's nightlife. Eccentric and idiosyncratic guest rooms and dorms are generally clean and surprisingly quiet, though some noise is inevitable. Many hostels don't come this well presented and organized, but if you'd rather be a bit farther away from the edgier part of town, check out the Flying Pig Downtown.
7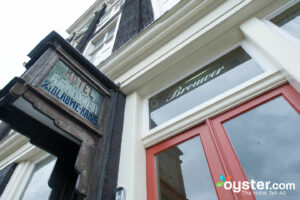 The Hotel Brouwer's quirky and unpretentious Old Amsterdam charm makes it easy to overlook its slightly dated and ramshackle elements. Its pretty canal-front setting is tough to beat, and the location is great for exploring the city on foot. Rooms are on the creaky side, and suffer from some noise issues, but are clean and comfortable and offer lovely canal views. Breakfast is simple and sufficient. Guests will be hard pressed to find a bed and breakfast in the area much cheaper, though the nearby Heren B&B has smarter style.
8
The Hotel International is a budget hotel with eight rooms that's best suited to young travelers. Rooms include flat-screen TVs, free Wi-Fi, and earplugs to help guests with bothersome noise from the street and from other rooms. Though the rooms are simple and some have shared bathrooms, they provide more privacy than what's found at a hostel. Cafe International, the on-site pub, has an antique nautical decor, a lively atmosphere, and doubles as the lobby. However, it's a little seedy, and families or solo female travelers may be more comfortable at the family- and budget-friendly, Hotel Luxer.
9
The RHO Hotel's location is hard to fault -- it's just off Dam Square but on a relatively quiet side street, making it ideal for tourists who want proximity to Amsterdam's buzzing center and minimal noise disturbance in their rooms. However, despite the beautifully ornate reception area, much of the hotel is lacking in atmosphere with many of the rooms, though clean and fairly modern, in need of a style upgrade. Still, they're adequate for a mid-range property and prices are fair, particularly given the central location, though it may also be worth considering the nearby Best Western Dam Square Inn.
10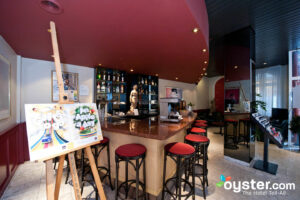 Easily distinguishable because of its bright red doors, the Best Western Dam Square Inn is nestled on a quiet alley just outside of Dam Square. The comfortable lobby features a bar, and guests can enjoy free breakfast in the breakfast room. The rooms are casual -- which is expected of a hotel of this stature -- but they're well-equipped with standard amenities such as flat-screen TVs and coffeemakers. Although the decor is a bit dull, the rooms are comfortable and clean; beds are all extra-long. Most bathrooms feature a glass shower, but some rooms have a separate soaking tub as well. For parties traveling with more people, triple rooms have a Murphy bed. It's an affordable option for budget travelers, and rightly so -- guests mainly pay for the attractive locale.
11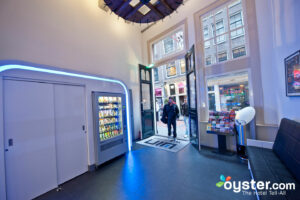 The 75-room Hotel CC is located in three historical monument buildings in Amsterdam's lively and racy Red Light District, and features attic-like rooms, narrow, steep stairways, and and a trendy lounge with a snack and drink area. There's no breakfast area, as in other nearby hotels, but it's close enough to cafes and other restaurants. Rooms have black-and-white color palettes, and in most, sleek, white work desks, circular black chairs, and cozy white beds; some have great views of the canal. Some are so small, however, that the beds stretch from wall to wall. The bathrooms are stylish and modern, with a cool gray design and walk-in showers (and in certain rooms, separate soaking tubs). There is free Wi-Fi, and guests have free access to communal computers. All in all, it's one of the best deals in the Old Center.
12
The Avenue Hotel's Old Center location is ideal for exploring Amsterdam on foot, experiencing the city's nightlife, and perusing the city's popular boutiques without having to venture far from the small but reasonably priced rooms. It's geared toward budget-minded tourists and young couples; with a few larger loft-style bunk rooms, it's also suited to families and groups of friends who don't mind staying in close quarters. Light on amenities and with worn decor in rooms, the hotel is not the best choice for business travelers or those looking for more on-site conveniences. The hotel contracts with an outside parking company, and parking fees in the area are high -- but you don't need a car here, with public transportation plentiful and most of the major sights within walking distance. Both breakfast and Wi-Fi are free.
13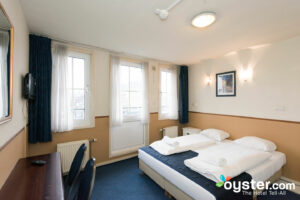 The budget Hotel Old Quarter is on the busy Warmoesstraat that runs parallel to the Red Light District. It's a short walk to many landmarks, including the central train station. Other than location, its main attraction is the cozy, traditional Dutch bar and lounge, where a hot breakfast is served for a fee. The 50 rooms, which are spread across two buildings, come with free Wi-Fi and flat-screen TVs. Family Rooms can sleep up to six, and some Doubles have canal views. On the downside, rooms are small, some share bathrooms, and complaints have been made about broken TVs and lights, peeling paint, torn drapes, and dank smells. Travelers might want to check out the mid-range Hotel Luxer, whose rooms were renovated in 2012, though rates can be higher.
14
Hotel Mevlana is a budget hotel with a hostel-style setup. Its 17 rooms are spread over four floors, and there's a noodle bar on the ground floor. Centrally located, the Mevlana is a six- to eight-minute walk from Central Station, while Dam Square is a three-minute walk away. Rooms with private baths accommodating two to eight people are available, along with dormitory rooms with bunk beds and shared bathroom facilities. All rooms come with TVs and towels, but they can be cramped, and breakfast comes with a fee. Travelers might want to also consider the 500-bed Hans Brinker Budget Hotel, which also has dorm and private rooms, and includes breakfast.
15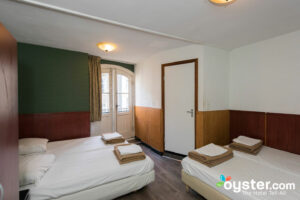 The Hotel The Globe offers 20 budget private or shared rooms in Amsterdam's center near scenic canals and the city's notorious Red Light District, making the location great for party-minded travelers. A vibrant sports bar with meals and happy hours is open until the early hours, but that's it in terms of amenities. The spartan dorms and private rooms have modern bathrooms, but there have been reports of bed bugs, bunk beds lack ladders, and electric sockets are limited. Also, there are no in-room Wi-Fi, AC, TVs, kettles, or fridges, and lockers are in hallways. Staff also receive consistently poor reviews. The Flying Pig Downtown offers a far better value with cheerful decor, friendly vibe, and free breakfasts.