Best Value Hotels in Torremolinos, Costa del Sol
Take a look at the best value hotels in Torremolinos.
See All Torremolinos Hotels
1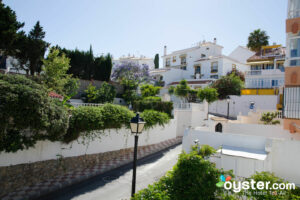 Hotel La Luna Blanca is a quaint, Japanese-themed value hotel tucked away in a residential area of the beach town Torremolinos, a short drive from the city of Malaga. It's intimate, with personalized service and only 11 rooms on the entire property; they're spacious, and as with the rest of the residence, Japanese-themed. Although the beach is a 10-minute walk away, there is an adequately sized pool in the back garden and a private hot tub on the roof. The hotel offers authentic Japanese cuisine at its on-site restaurant, which has outdoor seating on the terrace.
2
Hotel Tarik is a 95-room value hotel located across from the beach in the resort town of Torremolinos on the Costa del Sol. Restaurants and bars are in walking distance, but it's about a 20-minute walk from the historic city center. Rooms are simple and have somewhat dated decor, but most have balconies with sea views. The hotel's location on the beachfront promenade is great, and there's also an attractive outdoor pool surrounded by a spacious lawn for sunbathing. Buffet and a la carte meals are available, and the hotel offers bed-and-breakfast and half-board options. Most guests are couples or families with kids. It could be worth considering the Hotel Roc Lago Rojo, located 15 minutes away and offering a bit more charm -- plus a rooftop terrace and hot tub.
3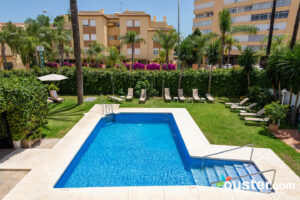 Centrally located in Torremolinos, Arcos de Montemar is a two-and-a-half-pearl hotel offering 51 dated but sufficient guest rooms. All rooms are decorated the same and have air-conditioning, reliable free Wi-Fi, and flat-screen TVs, but the mini-fridges and safes are only available for rent. Also note that not all have balconies. The small hotel doesn't offer much in the way of on-site amenities, but there are a small outdoor pool, buffet restaurant serving free breakfast, and a bar. The beach is a quick five-minute walk away, as are bus stops for transport to nearby cities. Travelers looking for a bit more features may prefer the beachfront Hotel Pez Espada.
4
The two-and-a-half-pearl Hotel Carmen Teresa is a charming family-run property in a mostly quiet, residential area. It has a convenient location a five-minute walk from the beach, as well as countless bars and restaurants, plus a nearby train stop heads to Malaga Airport. Being situated on a busy street can sometimes lead to traffic noise, however. The 40 guest rooms are simply styled and minimally furnished in neutral tones, and come with furnished balconies, free Wi-Fi, air-conditioning, and flat-screen TVs. Mini-fridges and safes are available, but they must be rented at an additional cost. Limited features include an outdoor pool, lovely garden, and buffet breakfast plus snacks throughout the day. Hotel Sol Principe offers a similarly convenient location in Torremolinos, and many more on-site amenities.
5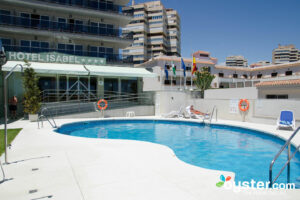 The 70-room Hotel Isabel sits on the promenade at Playamar, one of Torremolinos' beautiful beaches. Fans of sun and sand come here again and again for the views and the relaxing atmosphere. The Isabel is about a 20-minute walk from the city center for those needing a change of scene, but this beachfront resort provides plenty of opportunity for lounging waterside. Just know that rooms are clean but quite basic, and extra fees for in-room safes and fridges may make guests feel nickel-and-dimed.
6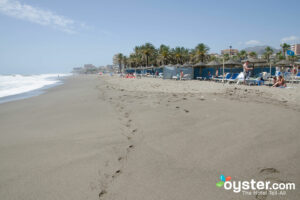 The 325-room Riu Belplaya is a mid-range, all-inclusive chain hotel that's a short walk from Los Alamos Beach, but is not within walking distance of Torremolinos. The all-inclusive package includes all food and beverages, and many of the hotel's activities (but Wi-Fi is extra and isn't available in rooms). Meals can be taken in the hotel's two buffet restaurants, or at the poolside bar. The building has an early '70s facade, and the lobby has a dark wood color scheme and old-style furnishings. Most rooms have balconies and partial ocean views, but decor is dated. Along with a petanque court and a bowling green, there's a large outdoor pool and children's pool, and an indoor pool that is open in the winter. There's also a kids' club with extensive activities.
7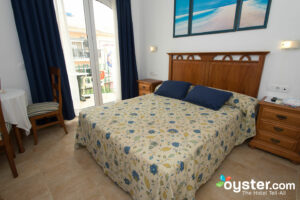 The two-pearl Apartamentos Plazamar is a beachfront property with dozens of restaurants and bars nearby. The 14 rooms are on the small and dated side, they're well-equipped and comfortable. Each room has a furnished balcony-- some offering sea views -- a kitchenette with two-burner stoves, free Wi-Fi, air-conditioning, and a flat-screen TV. This is definitely a no-frills establishment, as the only feature is an al fresco restaurant and bar that faces the water. There are no pool or entertainment option, so guests tend to be low-key couples. Families should consider the beachfront Hotel La Barracuda, which has a pool and more kid-friendly amenities.
8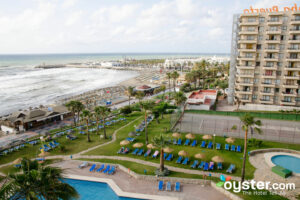 The 338-apartment Sol Timor Apartments property is located on La Carihuela Beach, and its lovely promenade. The hotel could definitely use an update in its furnishings and design, and the rooms offer few frills, but they do have fully-equipped kitchenettes. There's a mini-club for kids, offering arts and crafts, pool games, and evening entertainment, but it's only offered during the summer months. For adults, there are water sports, dance and zumba classes, darts, tennis, and more. Overall, it's a solid budget property if you're willing to overlook the wear and tear.
9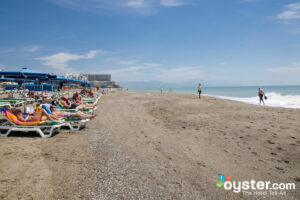 The 180-room Hotel Roc Lago Rojo is located by the beach and La Carihuela, known for its outstanding fresh fish and seafood. The hotel is quiet, suitable for tourists and business travelers, although there's no free Wi-Fi and there's a fee to use the Internet corner. The hotel also lacks such extras as tennis courts and spa facilities (although massages are available in high season) that many other area hotels offer. The hotel seems to attract a mostly middle-aged crowd who come to chill by the beach or pool, stroll the promenade, and relax in a location that combines sun and sand with picturesque Spanish streets.
10
The 414-room Marconfort Griego Hotel is neither pretty nor classy, but it is located right in the center of the Torremolinos, and a short walk from an array of stunning beaches. Its main restaurant and pool are unremarkable, rooms are no-frills, and guests complain of overcrowding and noise. But if you're looking for a cheap beach stay, the Marconfort Griego is an adequate option.
11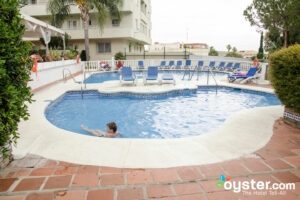 This boxy, bright 374-room Hotel Roc Costa Park is a decent mid-range, family-friendly property for a beach-town stay. The hotel is equipped with multiple attractive, adequate pools, restaurants, and bars, but to reach the beach or town center, guests will have to drive or take the free shuttle bus. Rooms are plain and basic, but typically spacious and often with lovely views. Beach vacationers who want direct access to the Mediterranean may want to consider the nearby oceanside Hotel Isabel.
12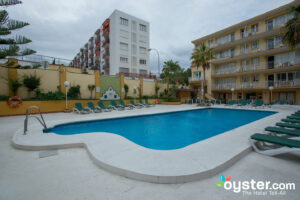 Conveniently located a short walk from the promenade and beach, Ecuador Park Apartments is a lower-middle-range hotel that offers a central location sans the typical nighttime noise. There are 50 apartment-style rooms with either attractive and contemporary or traditional, dated furnishings; all have a kitchenette, free Wi-Fi, and a flat-screen TV, as well as a furnished terrace. It's worth noting that some rooms lack air-conditioning and one block doesn't have an elevator. On-site features include a well-sized but unheated pool with loungers and a pool bar that operates seasonally. With few entertainment options for children, the hotel is better suited to adult groups and couples. Families traveling to the area should consider Hotel Puente Real, which offers plenty of on-site amenities for both children and adults.
13
The Roc Hotel Flamingo is an affordable, cheerful, budget-friendly beach hotel. The 11-floor, 243-room building has an '80s vibe, and definitely does not impress with dated, basic decor. Right out the door, though, is the center of lively Torremolinos. The ocean is a 10-minute walk, and each room has a private balcony for soaking in fresh sea air. There's a pleasant outdoor pool with rows of lounge chairs, but expect crowds both here and at the buffet. All in all, it's a decent value, but for closer proximity to the sand, consider the similarly priced Bajondillo Apartments.
14
The upper-middle-range MS Aguamarina Apartments has 130 rooms in Torremolinos, a quick four-minute walk from the beach. A plethora of restaurants, bars, and shops are in the immediate area. The 130 rooms and apartment-style units are contemporary, spacious, and air-conditioned, but not all have balconies and both safes and Wi-Fi requires fees. A good array of on-site amenities consist of an outdoor pool with separate kiddy pool, heated indoor pool, sauna, small gym, and massage services on request. The restaurant serves buffet-style breakfast and dinner, plus there's a snack bar. On the downside, kitchenettes are small, maintenance issues occur, and some guests have reported thin walls. Families with young kids may prefer Hotel Sol Principe, which offers more in terms of entertainment.
15
Conveniently situated next to the beach and promenade, Hotel Tropicana's prime location is one of its main selling points. The mid-range hotel is clean and comfortable, but its dated decor throughout may be disappointing for some. The 84 guest rooms have the basics -- air-conditioning, mini-fridges, and shower/tub combos, but most have tube TVs and tired bedding. Many, but not all, rooms have a balcony, either with a full or partial sea view. On-site features include a pleasant pool, well-reviewed beachfront restaurant, buffet eatery, and bar. Nearby Hotel Sol Principe promises an equally good location, plus more contemporary rooms and kid-friendly amenities.