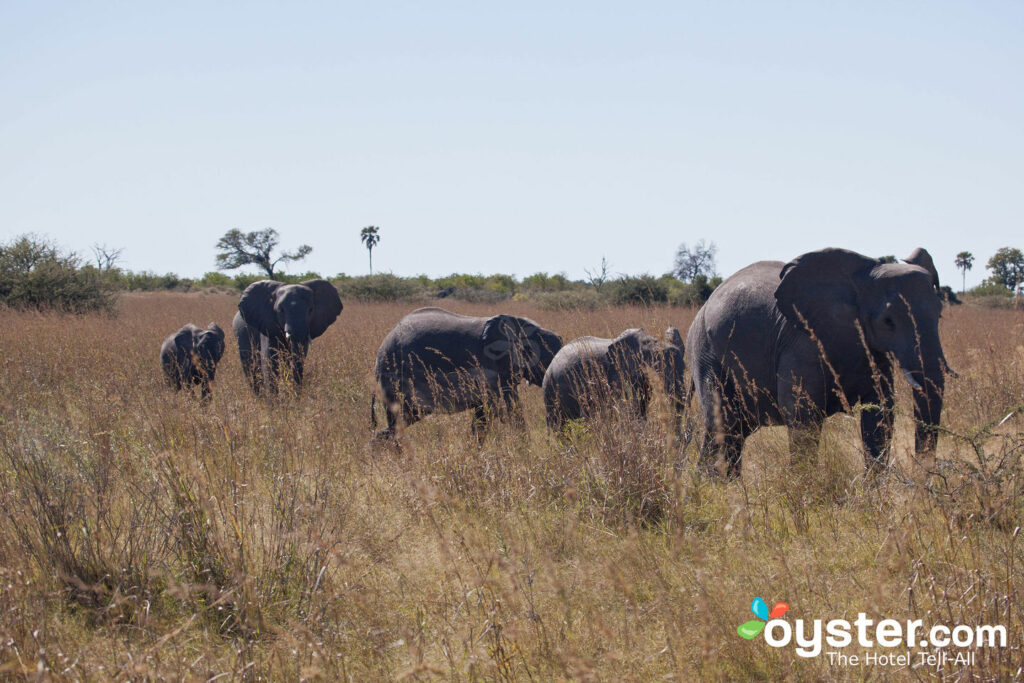 From going on wildlife-filled safaris to staring up at the Great Pyramid and Sphinx, visitors to Africa can enjoy hundreds of jaw-dropping sights. But it's not all elephant herds and Egyptian attractions here. Visitors can also opt for a romantic getaway in Cape Town or a family-friendly beach vacation in Mauritius, or go on a cultural tour of Marrakech. Whether you're dreaming of a honeymoon destination or somewhere to take the kids over break, we've rounded up 10 awe-inspiring hotels throughout Africa that should be added to your bucket list.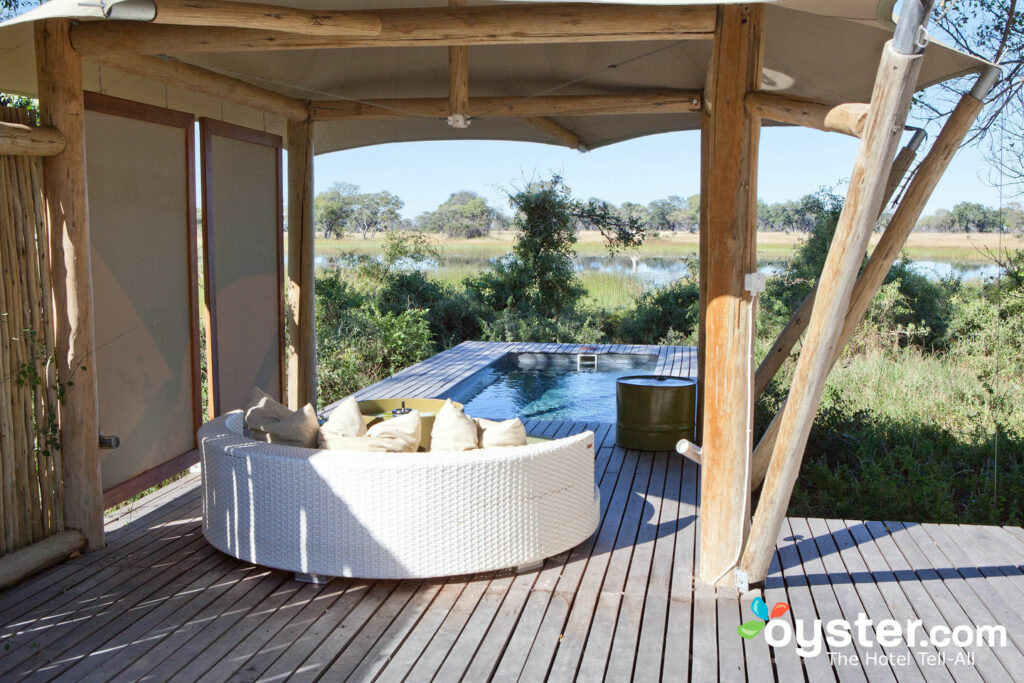 This ultra-remote, luxurious safari lodge on an island in Botswana's Okavango Delta isn't a hotel, it's an experience, where everything — including the excellent food and the guided excursions (game drives, bush walks, river cruises) — is included in the price of the stay. Guests can get up close to exotic wildlife on both land and water (think: lions and hippos), and even arriving to the property is an adventure, requiring transport by small plane, safari vehicle, and a boat. The nine safari "tents" are fully screened in and thoroughly high-end, with huge soaking tubs, four-poster beds, lots of wood, and private pools. The decor blends rustic charm with bright, contemporary style — not an obvious combination, but it mostly works.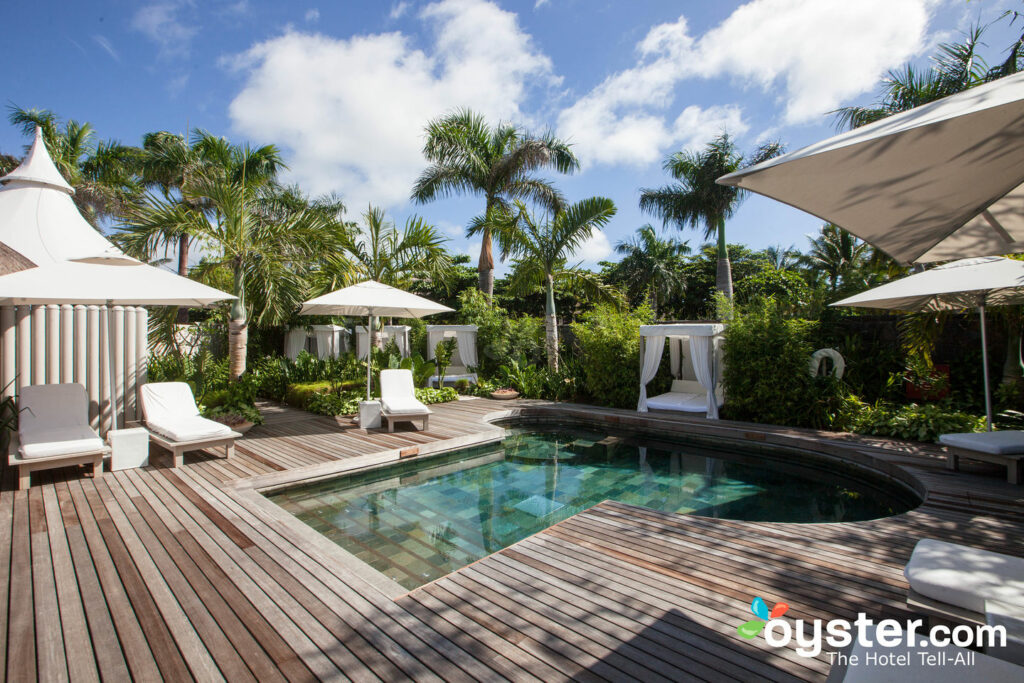 LUX Belle Mare is an ideal spot for families or couples who want to feel removed from the world, but don't want to sacrifice style. This five-pearl property is located on a quiet coastline in Mauritius and has a relaxed, modern, and timeless vibe. There are four delicious restaurants (and a Michelin-star chef), a microbrewery and local rum hut, and 174 enormous suites and villas with sea views and loads of features. The resort offers the largest swimming pool on the island, as well as water sports, a PADI-certified dive center, and a kids' club, plus guests can relax on a gorgeous stretch of white sand beach.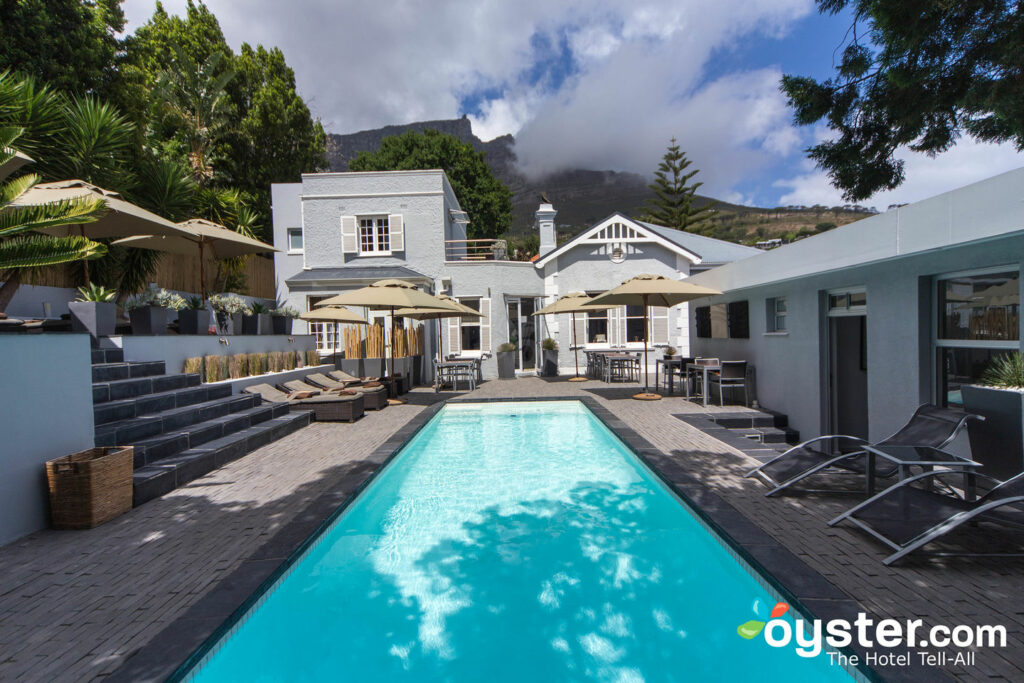 The 2inn1 Kensington is a small, upscale boutique hotel a short taxi ride from the center of Cape Town. A renovated Victorian house, the property is smart, stylish, and oozes African charm. The size of the hotel ensures that guests are given personal attention, and many guests rave about friendly owners Kris and Klaus, who can give excellent local recommendations. The location may not be the most central, but the tranquil atmosphere, incredibly attentive service, attractive outdoor pool, modern rooms, fabulous views of Table Mountain, excellent breakfast, and small spa help make this one of Cape Town's most popular hotels.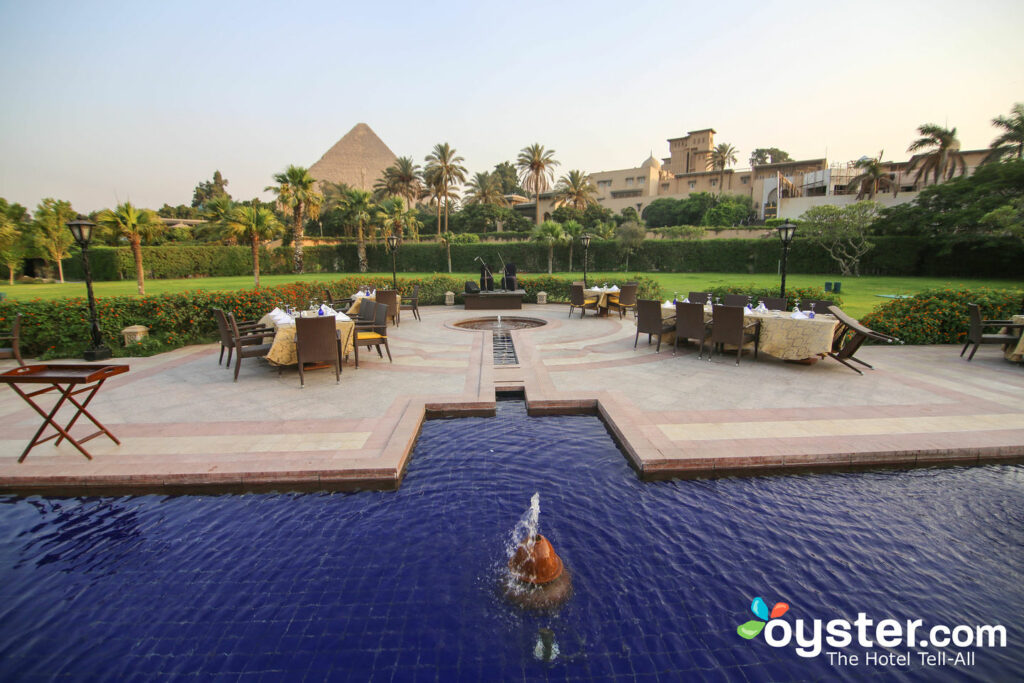 The 523-room Mena House Hotel is a luxury, historic Egyptian property, with views of the ancient pyramids, tropical gardens, 24-hour laundry service, limousine service, a heated outdoor pool, a spa and gym, golf course, and elegant meeting rooms. The Mena House Hotel's rich history, dating back to 1869 when it was built, is recorded in its guest book that has entries from Dwight D. Eisenhower and Winston Churchill. Modern rooms and suites have gorgeous furnishings, flat-screen TVs, minibars, and balconies with pyramid views. Suites have antique designs and terraces. In-room Wi-Fi, though, comes with a fee.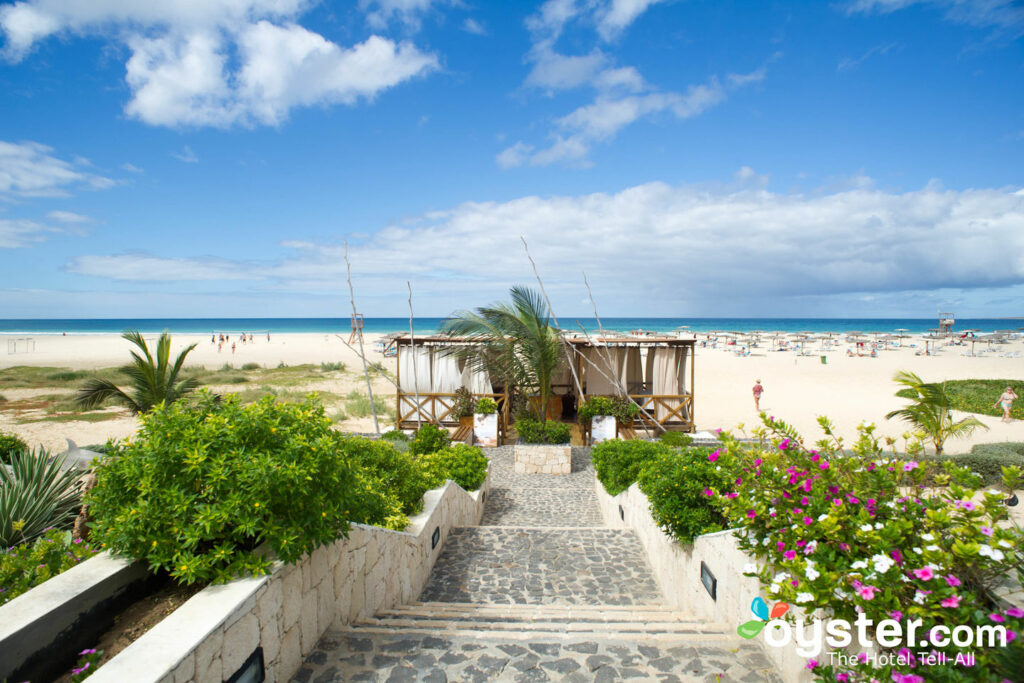 For guests who want the features of an all-inclusive without the hectic atmosphere such resorts tend to come with, the Royal Decameron Boa Vista is a great option in Cape Verde. This 300-room, mid-range chain hotel offers a beautiful beach, two pools (including a quiet pool), a well-reviewed buffet restaurant, and two a la carte restaurants. There are plenty of sports on offer, plus activities for kids. Rooms are bright and simple with balconies or terraces, and suites with separate living areas are available. Wi-Fi is not included, and some guests have found the predominantly French staff to be cold to non-French speakers.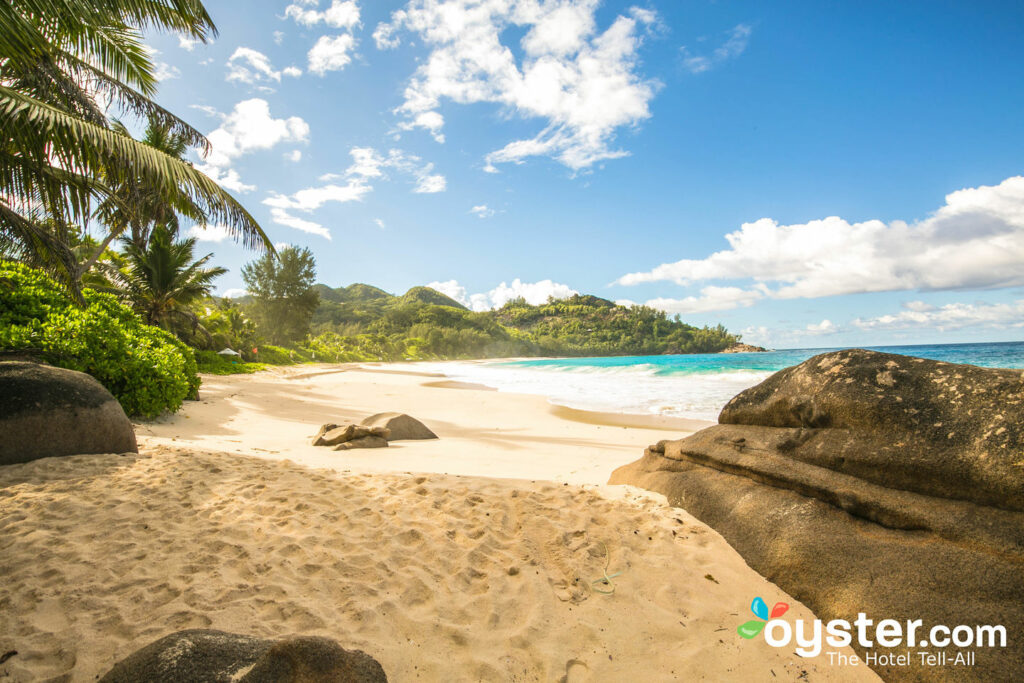 The 60-unit Banyan Tree Seychelles is a luxury property made up of individual villas lining a Mahe hillside above Intendance Bay. The Banyan Tree focuses on preserving the cultural and historic flavor of the property, its Creole architecture, and plantation-style decor. Villas are walled off from passersby, and each has a private pool, a pavilion, a hot tub, and an outdoor shower. However, the experience doesn't come cheap — the food in particular is pricey — and the property is removed from the city, making it a good choice for those looking for quiet, but less than ideal for those who prefer being in the heart of things.
Located in Marrakech's historic Medina, the elegant Riad Noir d'Ivoire is a luxury boutique hotel masquerading behind a traditional riad's walls. The entire riad has been restored with rich modern furnishings with both Berber and more typically Marrakeshi artwork, textiles, and accents, and the sprawling courtyard is home to two swimming pools. The kitchen serves exceptional Moroccan and French food throughout the day — in addition to the free continental breakfast — to wherever on the grounds guests would like to eat. The nine spacious, sumptuous rooms have flat-screen TVs and the rare-for-Morocco alcoholic minibar; the five suites have private balconies. The riad also has a hammam, small gym, lounge bar, boutique, and library. Wi-Fi is included.
Matetsi Water Lodge is located on a massive game reserve by the Zambezi River, about 40 minutes north of Victoria Falls. The lodge's 18 suites are intimate and surprisingly luxe — each suite has its own plunge pool, patio, and a large bathroom with a separate shower and tub. The bedroom doors open onto to a river view.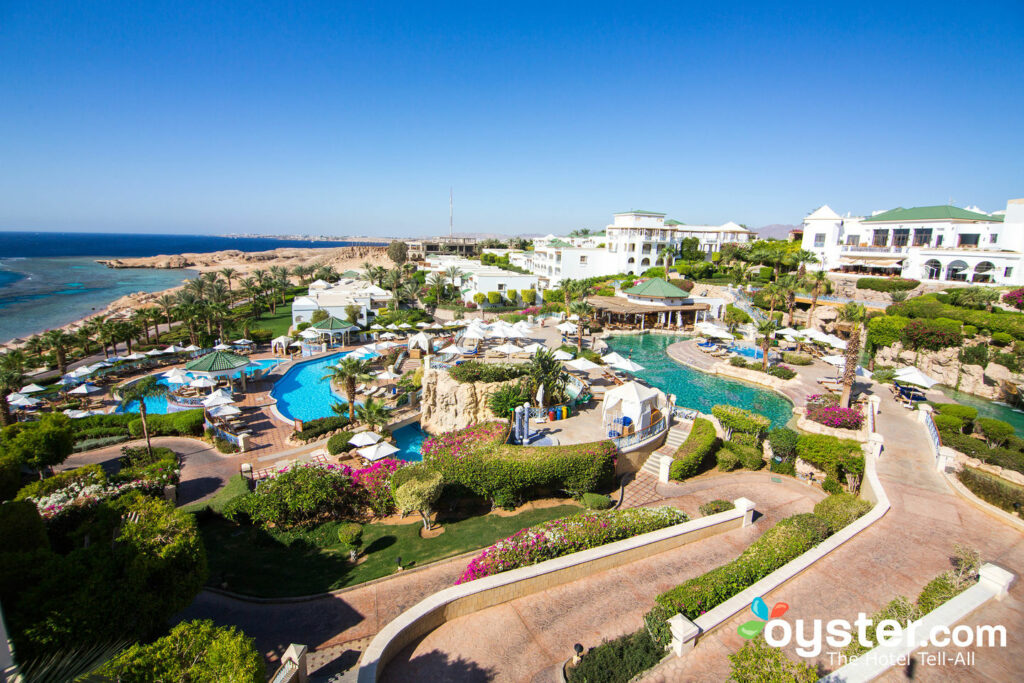 This Hyatt Regency hotel overlooking Gardens Bay is an upscale resort popular with both couples and families and located a five-minute drive from Sharm El-Sheikh's tourist hub of Naama Bay. Attractive architecture is matched by lush gardens, with no shortage of water features and colorful flora throughout the property. The pool complex features cascades, hot tubs, and a waterslide, while the sandy beach offers great snorkeling and a coral reef. Dining options are tasty and aplenty, but can be expensive, and free Wi-Fi throughout is a real bonus. The 432 rooms are spacious and offer private balconies with sea views. All in all, this is one of the better upscale resorts in the area for the price, although some rooms are awaiting renovation.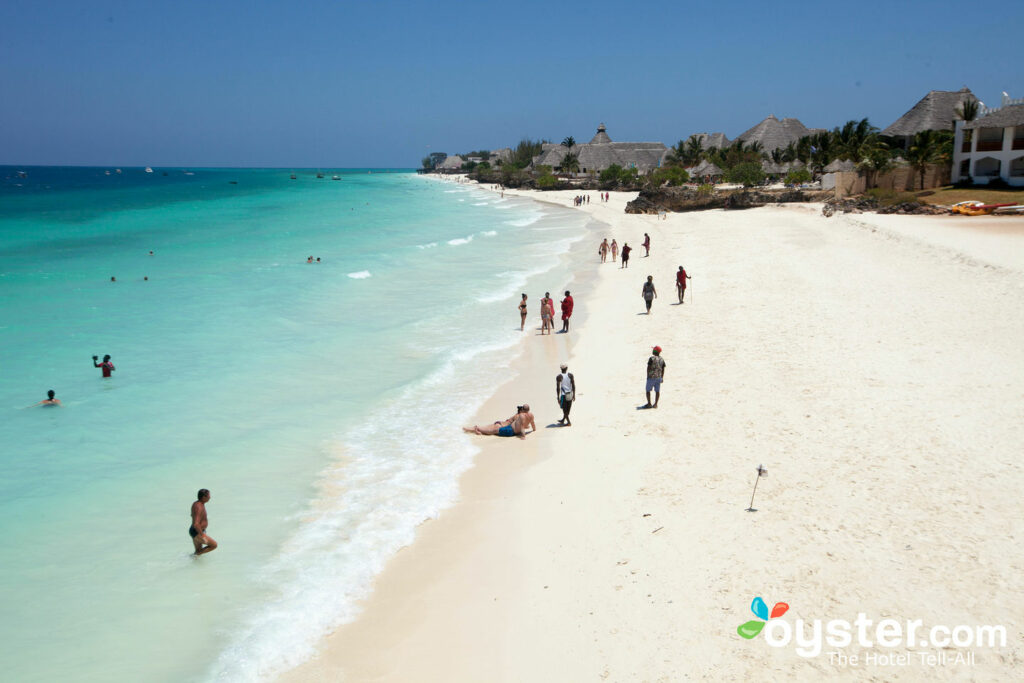 The Royal Zanzibar Beach Resort in Tanzania is an upscale, all-inclusive hotel set on 20 acres of gardens overlooking the Indian Ocean in the northwest tip of the island. The gorgeous, white-powder beach is indeed superb and popular with guests, though not private and hence prone to hawkers. While the 96 rooms, including 16 suites, are a bit unembellished, they have large balconies and bathrooms, and several offer sea views. The property's four freeform swimming pools are among the most impressive on the island, and the ocean-facing massage rooms are a standout. There are two restaurants on-site as well.
NOW WATCH: 11 Trips You Need to Take Before You Die
https://www.youtube.com/watch?v=GodEaq_h4Tk
Related Links:
All products are independently selected by our writers and editors. If you buy something through our links, Oyster may earn an affiliate commission.