Sure, beaches bring on gorgeous views, pools present a place to stay cool, and water parks serve up exciting rides. But swimming holes, which offer all three of those features plus more, often make a bigger splash. From a freshwater spring, cavernous pool, and refreshing grotto tucked inside a state park to a waterfall slide off the side of a highway, these natural oases come in all shapes, sizes, and luckily, locations. Here, we rounded up 10 awesome swimming holes around the country, so that when the temps go up, you know where to cool down.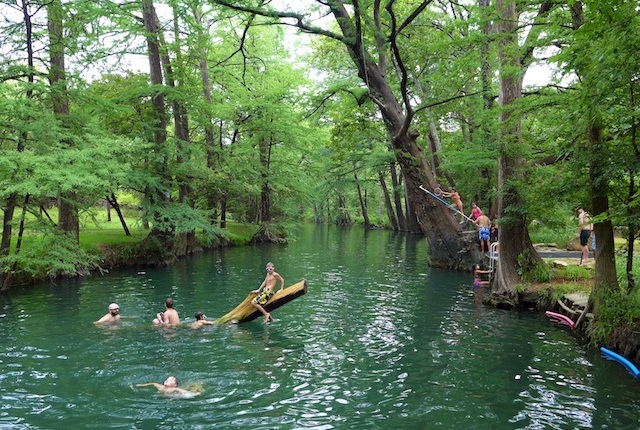 Swimming holes and Texas go together like summer and blazing heat. On fiery afternoons, locals flock to this cool, spring-fed pool in Wimberley with inner tubes. The surrounding cypress trees and grassy, picnic-perfect nooks mean shady business — in the best way possible. And if a lazy float session doesn't sound like your idea of fun, perhaps the rope swings will spark some excitement. Just channel your inner Tom Sawyer.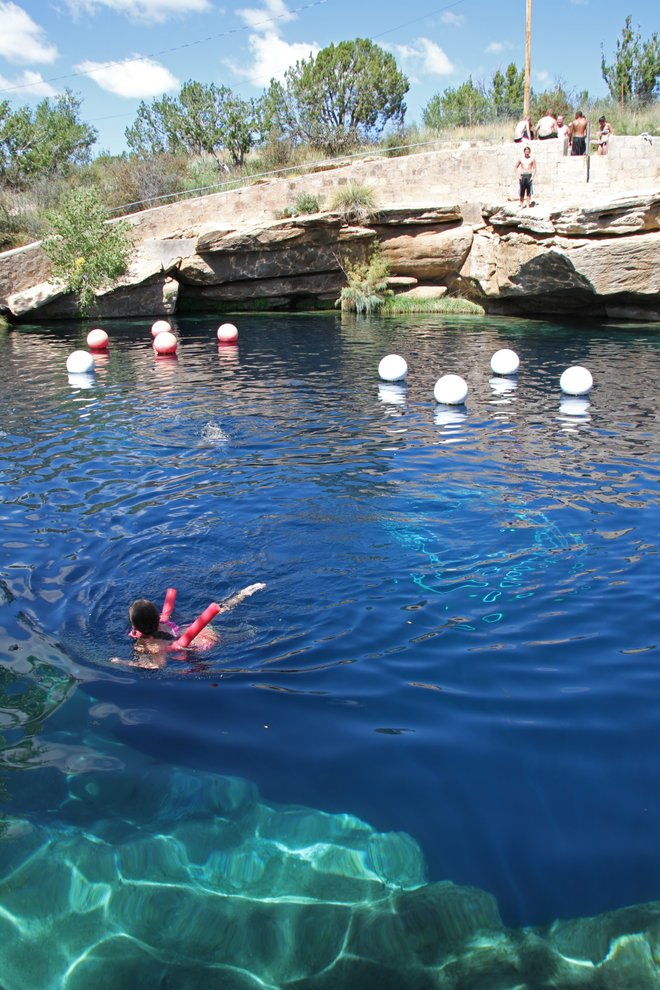 When in the New Mexico desert, make a mad dash to the coolest (in more ways than one) place you can find. Just off Route 66 in Santa Rosa, lies the 80-foot, 60-degree sapphire-colored swimming hole. Often referred to as the scuba diving capital of the southwest, the spring-fed oasis welcomes cannonballs, too. Go ahead and take the plunge.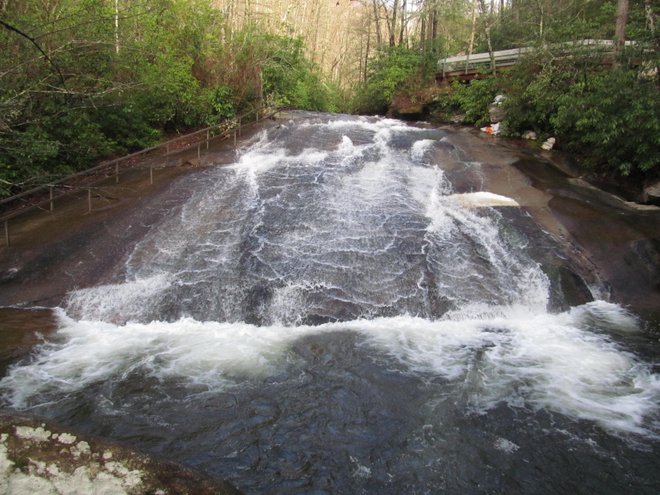 Looking for a place to keep your cool during the dog days of summer? Head to Highway 276. Stay with us. Tucked in the heart of the Pisgah National Forest (a.k.a. "The Hunger Games" film location), off the highway, sits Mother Nature's very own waterslide. Locals and visitors, including families with kids of all ages, line up in a single file line to dart down the 60-foot rock slip n' slide and into a seven-foot swimming hole. The waters reach chilly temps — around 50 degrees — making it a pretty popular (read: crowded) spot to beat the heat. But may the odds be ever in your favor.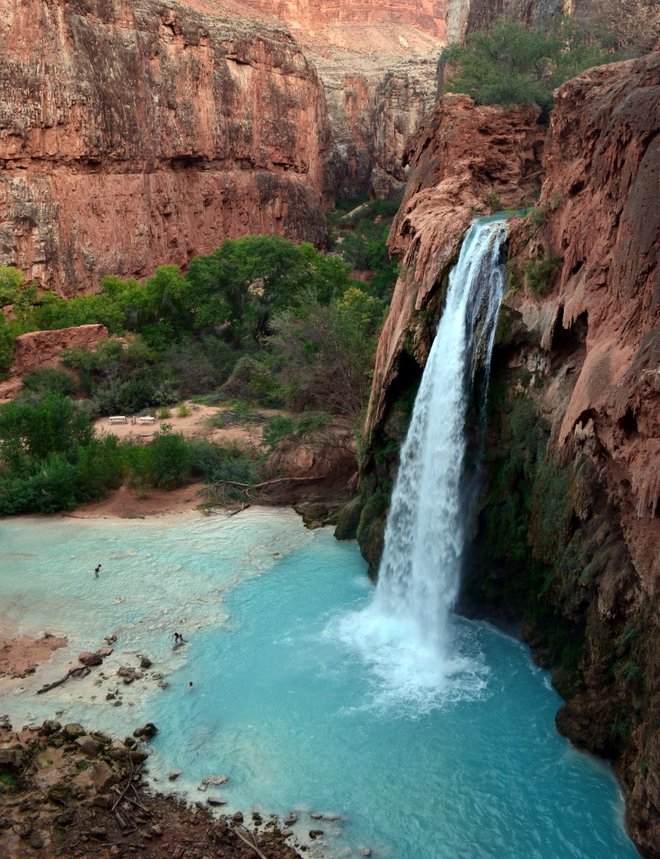 Getting to this hidden gem, which is located near the Havasupai Indian village of Supai, is a schlep — it requires a 10-mile hike through the Grand Canyon. But make no mistake, the juice is worth the squeeze. Upon arriving at this secluded hideaway, you'll be rewarded with views of cascading waters that rush against red rocks and collect in a crystal-blue pool 100 feet below. Take a dip in the balmy waters (it stays a comfortable 70 degrees year-round), sunbathe in the surrounding area, or simply soak up the striking scenery. Whichever you fancy, the payoff will be worth the burn.
5. The Homestead Crater, Utah
https://www.instagram.com/p/BH8tgLxjhMe
Swimming holes aren't only made for the summer. Take this 10,000-year-old geothermal spring in Midway, Utah, for example. Here, waters top 90 degrees, making it a toasty retreat during the frigid winter (and the only spot for warm-weather scuba diving in the continental U.S.). If you'd rather keep your head above water, opt for a paddleboard yoga session. And although accessing this therapeutic, mineral-rich pool is pretty easy today (a major thanks to Homestead Resort for creating a ground-level tunnel entrance), this wasn't always the case. Back in the day, folks had to rappel through the limestone top.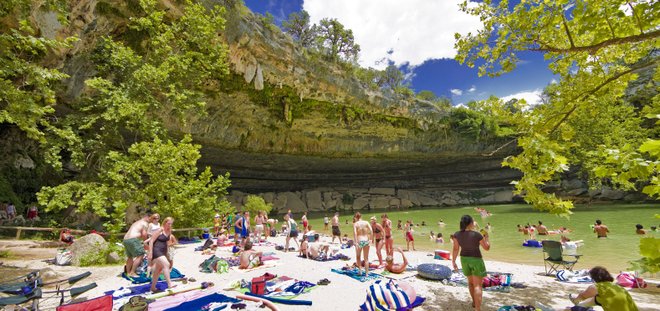 Dodge the scorching Texas summer by taking a dip at Hamilton Pool, a naturally collapsed grotto that's located about 30 miles from Austin by car. Nestled inside a 232-acre nature preserve, the refreshing refuge boasts chilly freshwater and a magical 50-foot waterfall. The surrounding picnic tables and hiking trails make for a nice break between splash sessions, too. Tip: rise and shine early to beat the crowds.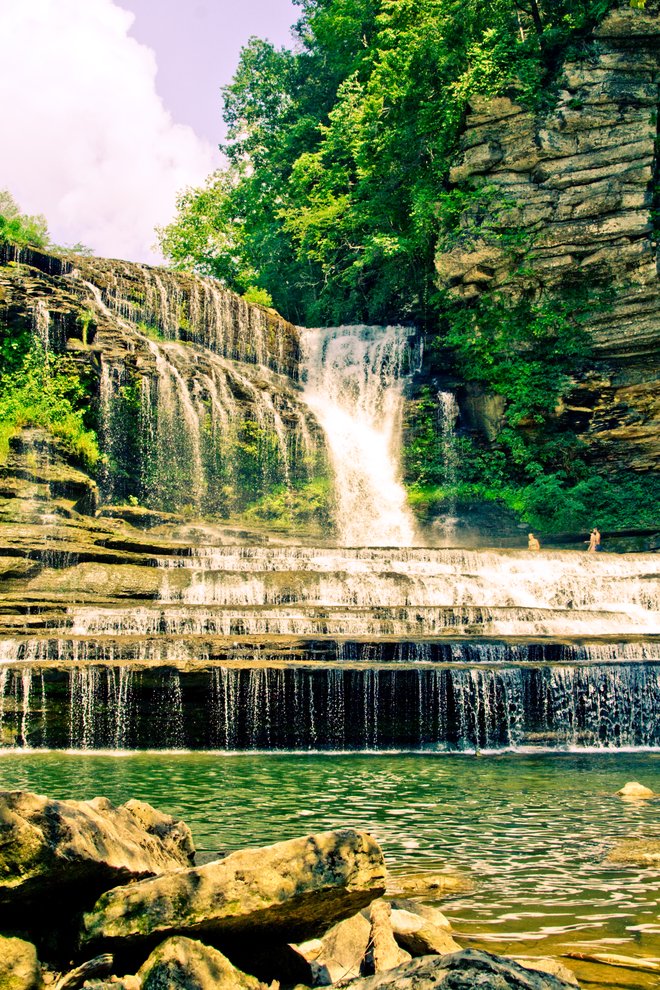 Located inside the 211-acre Cummins Falls State Park, this idyllic swimming hole knows a thing or two about helping you stay chill. After all, it does have more than 100 years of experience under its belt. The gorgeous scenery, including a 75-foot waterfall, only enhances things. Keep your sweat in check, then enjoy a BYO picnic in the park area.
8. Enfield Falls, New York
https://www.instagram.com/p/BGu1e6zvE9M
Positioned inside Ithaca's Robert H. Treman State Park, this family- and college student-friendly hangout calls for a hike before cooling down. But with rugged views, miles of walking trails, and a pretty gorge, this spot has it all — and then some. And by some we mean, several waterfalls, including one that rushes into a swimming sanctuary 115 feet below. Wait your turn for the diving platform, then take the leap.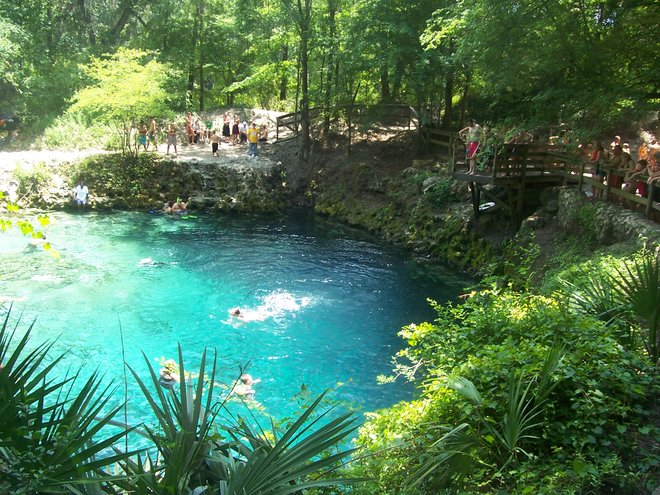 Escape the crowded, humid Florida beaches (and stale air-conditioned house) and head to this swimming hole instead. Situated in a magical forested park along the banks of the Withlacoochee River, the limestone haven only throws the good kind of shade. Dive into the 25-foot turquoise waters, follow it up with a picnic on one of the park tables, and cap off the experience with a quick shower.
10. South Yuba River, California
https://www.instagram.com/p/BSPSG8jhAHh
About a half-hour drive from Nevada City lies an approximately 22-mile state park. Inside this trail-packed oasis, expect to stumble along enchanting emerald pools that are fed by rushing rapids. Unwind in the brisk H2O or find a spot on one of the surrounding granite rocks and bask in the sun. If you're searching for a little more action, the high cliff jumps should do the trick.
Related Stories:
All products are independently selected by our writers and editors. If you buy something through our links, Oyster may earn an affiliate commission.