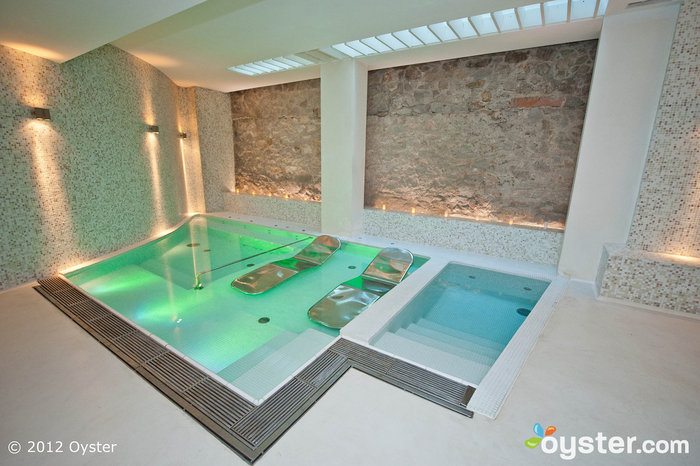 This exclusive, 15-room luxury boutique embodies contemporary style at its best, making it a natural fit in a city that treasures design. Rooms are avant garde, from the clean, white and beige decor, to the modern under-lighting, from the remote-controlled blinds, to the Bang & Olufsen sound system. And the hotel's amazing spa with Turkish baths shouldn't be missed, nor should the hotel's Michelin-starred restaurant.
The 98-room Mandarin Oriental is one of the most luxurious hotels in Barcelona, and certainly has one of the most recognizable hotel brand names in the city. It has a great location on Passeig de Gracia, and offers all the high-end amenities one would expect from the chain, including a rooftop dipping pool, a beautiful spa, and numerous restaurants (one has a Michelin star). But with just 98 all-white rooms — some with balconies — this Mandarin offers an intimate, boutique-like vibe. While the service is excellent, some guests complain about street noise.
With a fairly removed location in the hills that ring the city, the 70-room Gran Hotel La Florida has a history as a luxurious, star-studded getaway far from the frenzy of Barcelona's crowds. Built in 1924, it has drawn celebrities from writer Ernest Hemingway to actor Rock Hudson throughout the years. Relaxation is the focus here — from the beautiful indoor/outdoor pool to the tranquil Zen Zone Spa. Guest rooms feature contemporary furnishings in soothing neutral tones, great views of either the city or the Pyrenees Mountains, and spacious marble bathrooms. Apart from an adjacent amusement park, there is not much in the immediate vicinity, so those who seek convenient sightseeing should consider a hotel in the city center.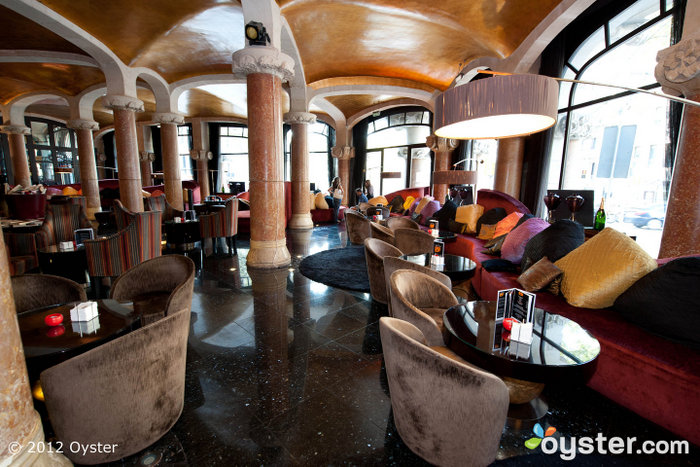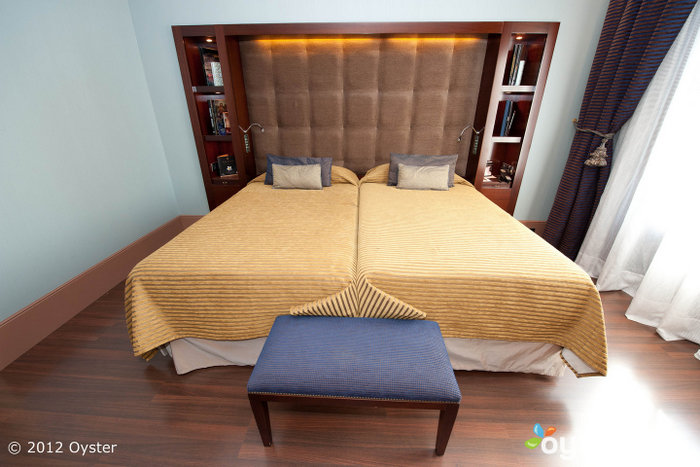 The 105-room Casa Fuster is an upscale historic boutique surrounded by high-end shopping and Modernist architecture. The building itself is one of the most prominent examples of this style, with an elaborate façade and ornate marble interiors. Elegant rooms have pastel-colored walls, oversized headboards, and great amenities such as flat-screen TVs, free Wi-Fi, Loewe toiletries, and surround sound systems. Some even have small in-room saunas, balconies and hydro-massage showers. The downside? quarters can be tight, and king-size beds are really two smaller beds pushed together. Nonetheless, the hotel offers great features including a Mediterranean restaurant as well as a beautiful rooftop deck with a small pool and gorgeous panoramic views of Barcelona. Beautiful Café Vienes is a favorite among artists, intellectuals and locals, and its weekly jazz nights have hosted performers such as Woody Allen and the New Orleans Rag Trio.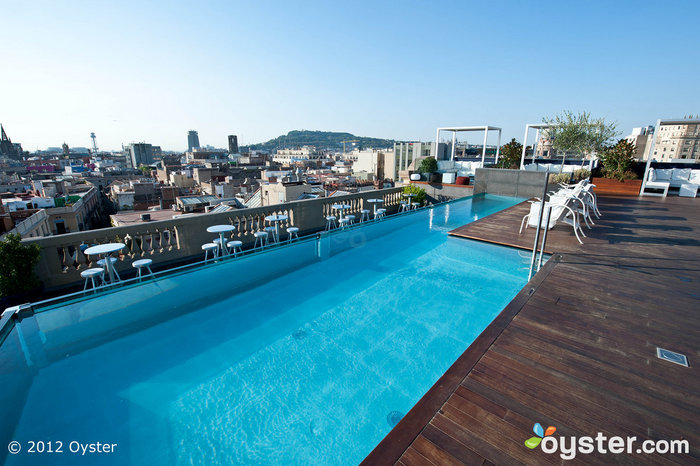 The stylish and luxurious Ohla hotel is centrally located in the Gothic Quarter of Barcelona. This boutique option offers 74 modern rooms with high-tech amenities and free Wi-Fi. One stand-out feature here is sexy stall showers that are located right in the middle of the rooms. The chic rooftop pool and lounge offers incredible city views along with a space to sunbathe. Dining options include Sauc Restaurant (which has a Michelin star), an inviting tapas bar, and a separate cocktail bar. This is the place for an upscale romantic getaway, and an eco-friendly one at that: Ohla Hotel contains solar panels, LEDs, and natural toiletries.
Housed in a lovely 19th-century building, the Hotel Murmuri is an elegant boutique that has been completely modernized — and yet maintains a romantic feel (picture plush interiors and low lighting). Rooms are stylishly decorated in creams and browns, and feature full-body mirrors and floor-to-ceiling windows; some have charming balconies. Stand-out features include the chic Murmuri Restaurant and artsy Marfil Bar. The property has limited amenities, however, as it only offers a small rooftop terrace and lacks a pool and fitness center (though guests do have free access to facilities at the nearby Majestic Hotel sister property).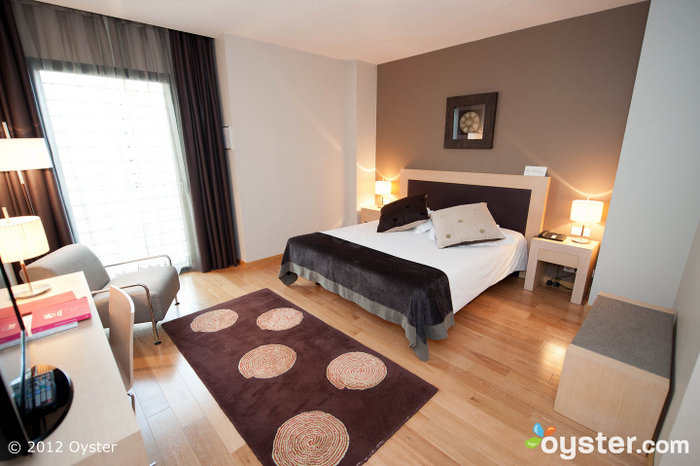 The Villa Emilia is a chic boutique option close to the Passeig de Gracia and the metro. Rooms are cozy, clean, inviting, and large by Barcelona standards. Floor-to-ceiling windows actually open fully, maximizing fresh air in the room. Sleek bathrooms sport stone stall showers and some have large soaking tubs. The common areas of the hotel — such as the tasty Zinc restaurant and the rooftop — maintain this stylish vibe. With free Wi-Fi and a superb central location, the 53-room Villa Emilia is a solid pick.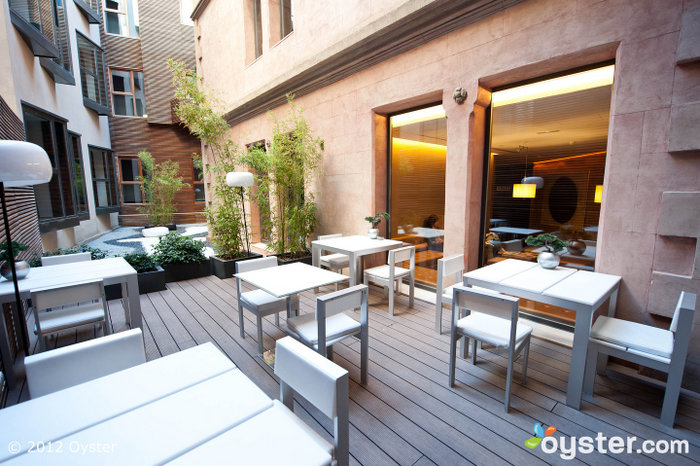 Located near great shopping and dining as well as many tourist attractions, this modern 71-room hotel sits on a quaint residential street in the Gothic Quarter. The hotel's decor is similar to many others in the area — minimalist and sleek, with lots of gray and white. Better than most, though, is the rooftop pool, which is large and attractive with nice lounge seating as well as comfy round chairs. There's also a tasty brasserie on-site where guests can grab a quite bite or enjoy a leisurely meal.
The SixtyTwo Hotel is a boutique hotel where old meets new: This stylish, modern spot is located in a historic building on the fashionable Passeig de Gracia in the center of Barcelona. Rooms are sleek with bright, minimalist furniture and sexy open bathrooms that are large for Barcelona standards. Additional room perks include iPod docks, flat-screen TVs, and Nespresso machines. Beyond the inviting design and a free wine tasting for guests every Wednesday, the hotel's location — in the upscale Eixample neighborhood, within walking distance of numerous attractions — is a major draw.
With a unique design, white-on-white decor, mirrors galore, and a few stylish amenities such as the wonderful restaurant and the rooftop pool, this upscale boutique sets the bar for Barcelona chic. Sleek rooms are clean and feature all-white furnishings with a couple of beige accents, huge murals, large flat-screen TVs, and comfortable beds.
RELATED LINKS: