Some travelers prefer the beach and nature, others have a soft spot for the pool, and everyone wants a killer view. For all those times when you can't choose between the two, there's an infinity pool. Merging the man-made and natural, these ultra-luxe pools seem to melt into their surroundings -- the tranquil ocean, towering mountains, and lush greenery -- for miles. Below, we dove (sorry, we couldn't resist) into some of the best infinity pools around the globe, from the Tuscan countryside to Caribbean Sea. So whether you're looking to virtually escape the shorter, colder days at home or are simply searching for some travel inspiration for your next getaway, these spots are the perfect cure. Sit back and enjoy the view.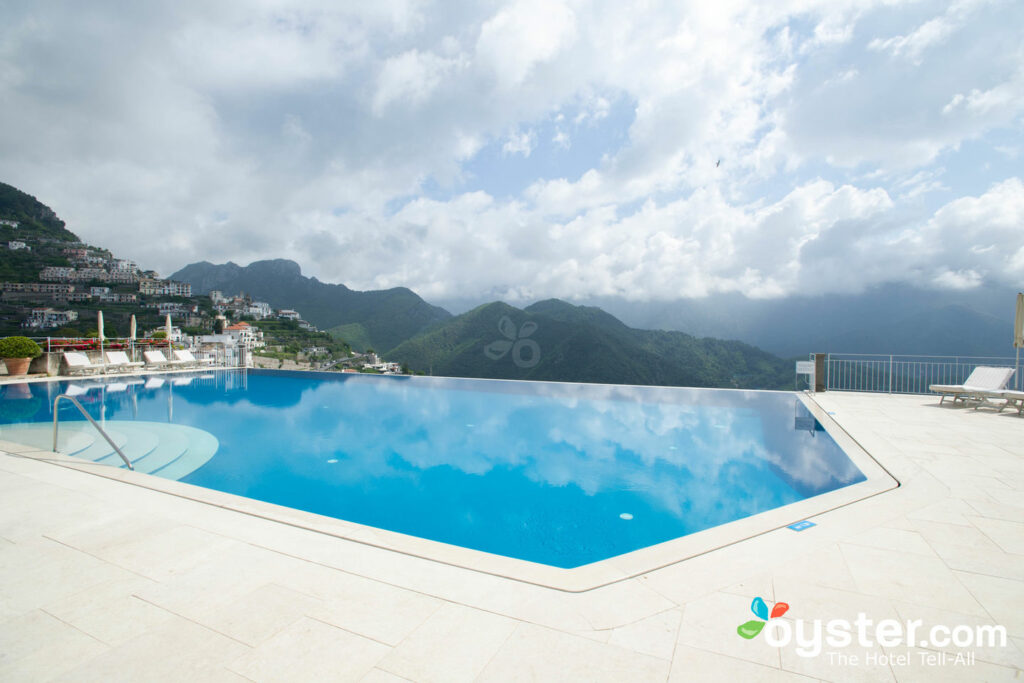 Situated in an 11th-century palace, the Belmond Hotel Caruso in Ravello is perched above the Tyrrhenian Sea and surrounded by terraced gardens. For the best view from the hotel, stake out a spot in the infinity pool, which overlooks the sea. The pristine blue water, which acts as the centerpiece to flower-filled clay pots on the stone-tile deck, appears to drop off into the Amalfi scenery. But what makes this infinity pool stand out from the pack is not its gorgeous views — or even the white-cushioned sun loungers lining the area — but the impeccable service. The concierge pampers guests to the max, even making poolside deliveries of iPods pre-loaded with guests' choice of music.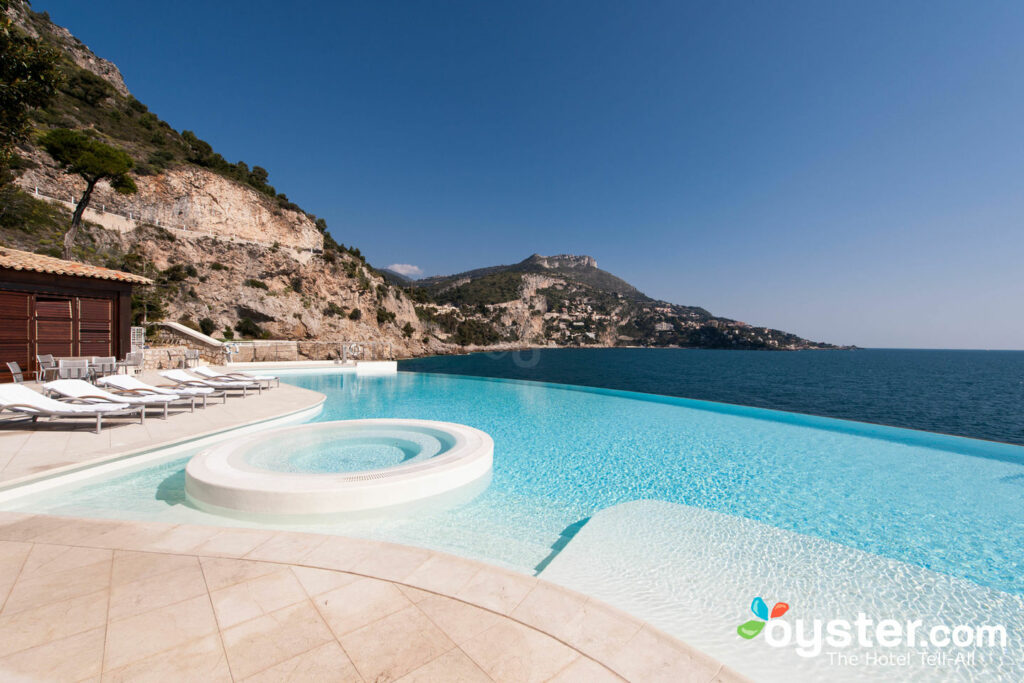 Nestled among green lawns and tall trees, the cliffside Cap Estel Hotel offers a secluded retreat for those who are willing to cough up a pretty penny. And you'll get what you pay for — that is, a small private pebble beach, Michelin-starred restaurant, spa, cinema room on-site, and above all, an outdoor infinity-edge pool and hot tub that sits on the terrace and looks like it melts into the sea. Lucky for you, you'll get to the enjoy the seawater pool even when the weather turns nippy, as its heated during colder months.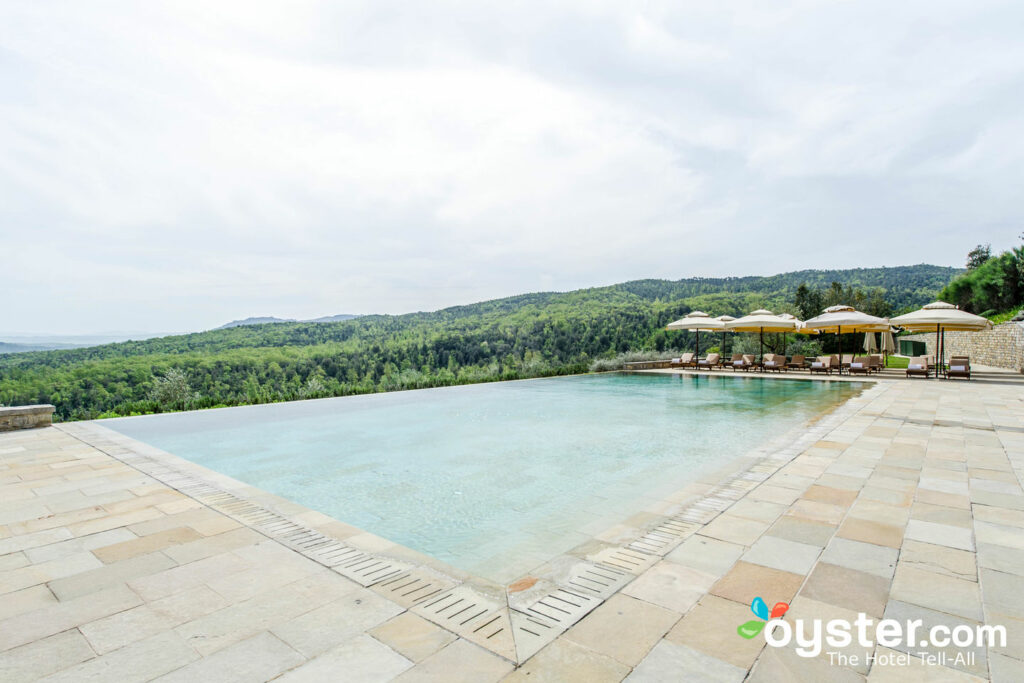 Opening as a luxury Rosewood outpost in 2015, Castiglion del Bosco is an 800-year-old estate situated in the Tuscan countryside in the Val d'Orcia, a UNESCO World Heritage site. This 23-suite, 10-villa property, which spans thousands of acres but maintains an intimate vibe, is easy on the eyes. Nowhere is that more apparent than at the hotel's infinity pool. Admire the hilly, lush surroundings while soaking in the water, which is kept at around 82 degrees Fahrenheit. Even the pool itself, which is paved in Tibetan stone for a gorgeous water color, is a beauty.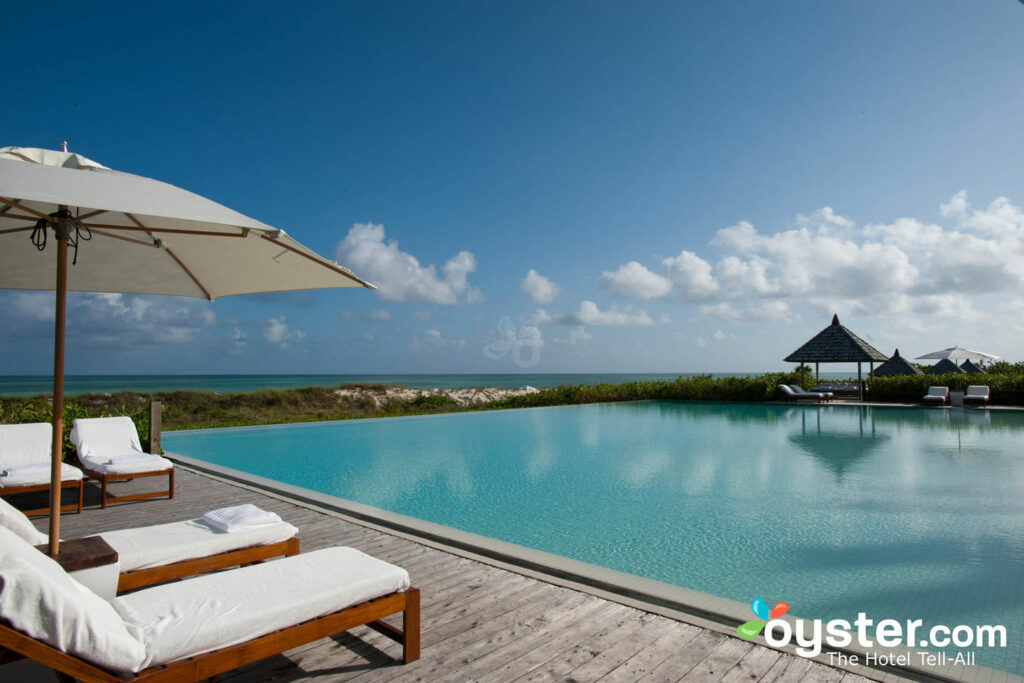 Accessed via a 30-minute boat ride from Providenciales, this 1,000-acre resort on a private island is the epitome of tranquility, thanks to its world-renowned spa, Balinese-style villas, and miles of pristine beach. And that serene vibe is only further emphasized on the property's spectacular infinity pool. While many villas come with private pools, make sure to stop by the main oceanfront infinity pool for the beautiful Caribbean views, luxe loungers, and plenty of shade on sunny days.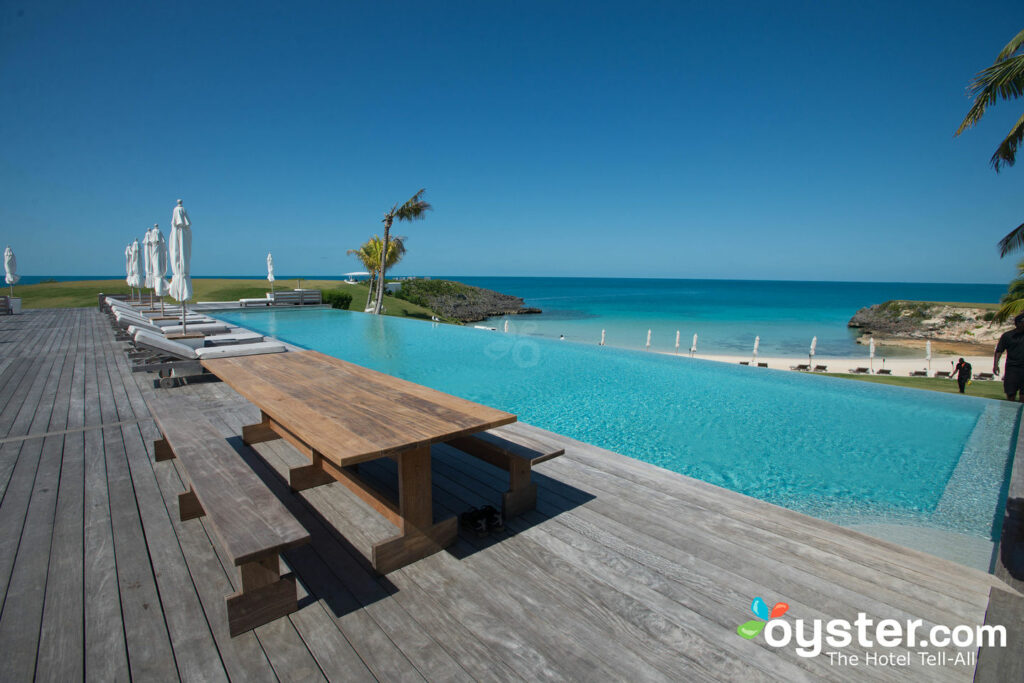 Just when you thought you couldn't be more impressed by this 40-acre resort, which offers a restaurant with a full-time sushi chef, cliffside bar, and free kayaks, snorkel gear, paddleboards, and bicycles, it throws in an outdoor infinity pool for good measure. This pool, which sits between two man-made, pink-sand beaches, spills out into the turquoise sea. It's no wonder the property has become such a hot spot for celebs and couples seeking the utmost privacy and luxury.
Lily Beach Resort & Spa in South Ari Atoll is one that caters to both lovebirds and little ones. On one end of the island, there's a family pool with an adjacent kiddy pool and on the other, you'll find an infinity pool and in-ground hot tub with views of the surrounding lagoon, water villas, and Tamara Spa. Tiled with light and dark mosaics and surrounded by chic, cushioned loungers, sunbeds, and couches, this oasis also comes with an all-day, all-night pool bar. And although this area is not for adults only, it is a designated "quiet zone." In other words, it's the perfect spot to find some peace and quiet or get lost within the pages of a book.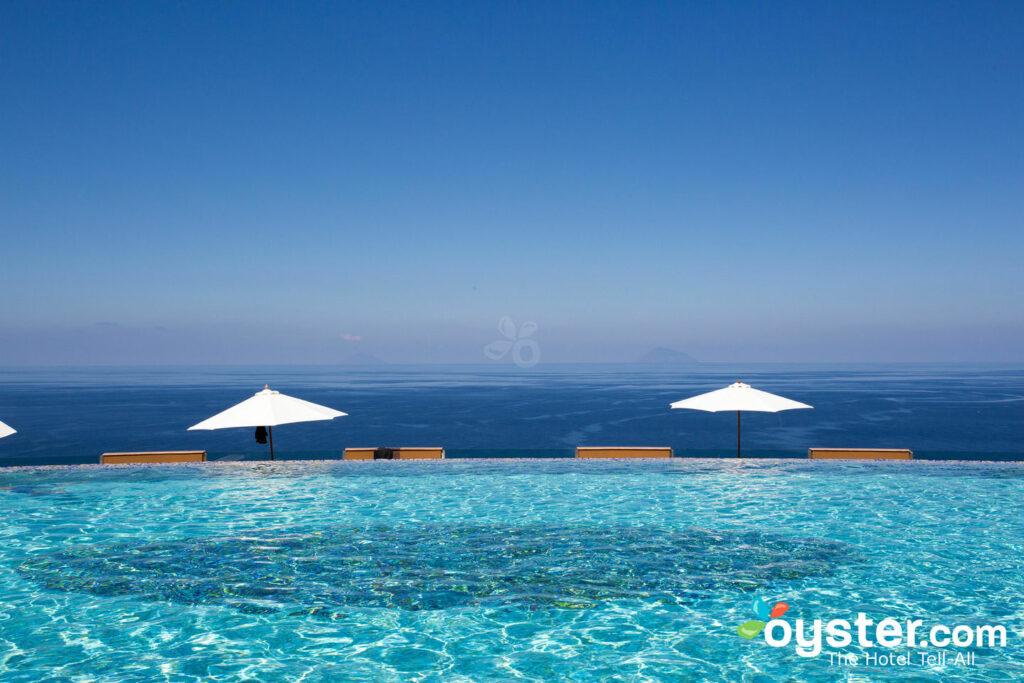 Hotel Avalon Sikani, which is located up on the hillside town of Gioiosa Marea on the northern coast of Sicily, is a real stunner. And the hotel's infinity pool takes full advantage of the property's prime position. Whether you take a dip to cool off or lounge in one of the chairs that line the pristine water, you'll be greeted by incredible views of the Tyrrhenian Sea from every angle.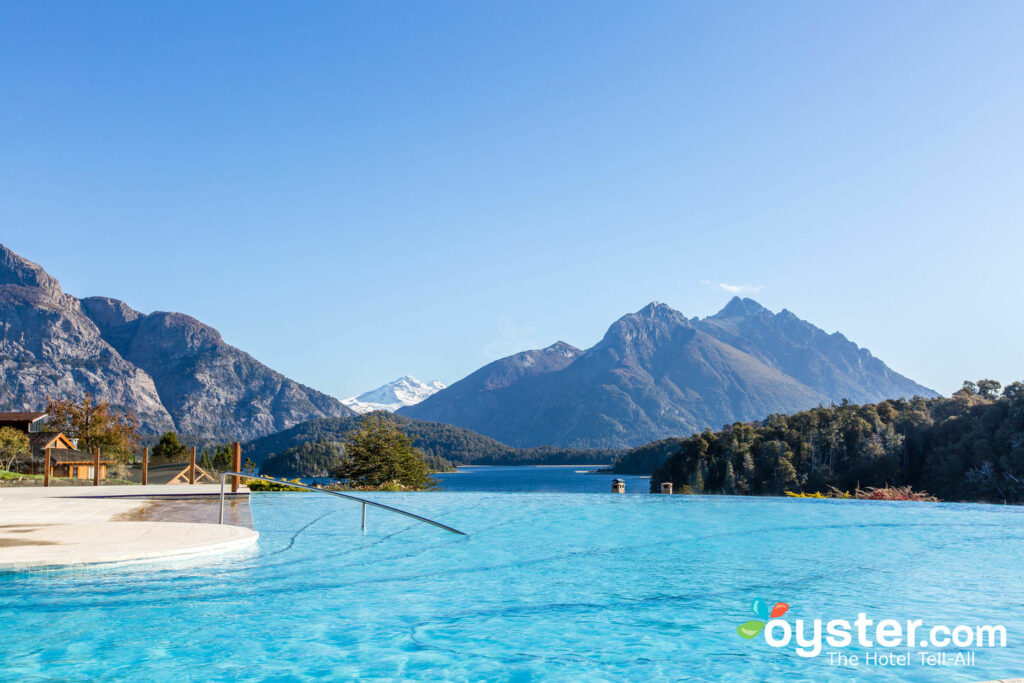 Tucked on a hill between Nahuel Huapi Lake and Moreno Lake, this picturesque property offers some pretty spectacular accommodations — namely in the Moreno Wing. Here, the suites come with private whirlpool tubs, contemporary décor, large balconies, and views of Moreno Lake and Tronador volcano. Stealing its thunder, however, is the hotel's infinity pool, which will get you even closer to the breathtaking mountains, lush greenery, pretty lake, and manicured lawns.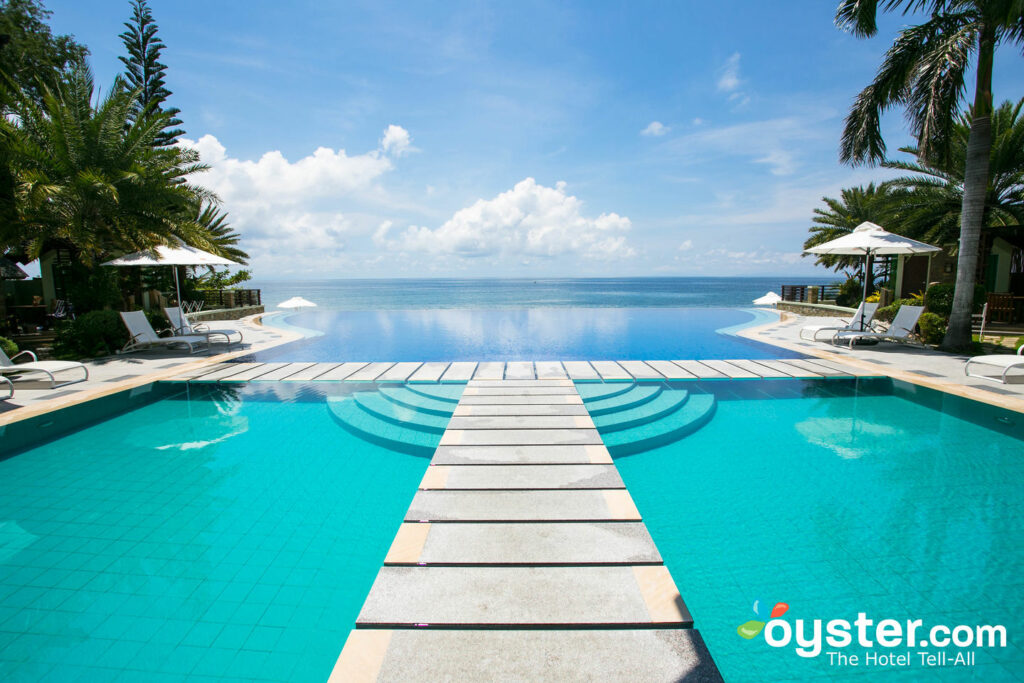 Sure, all the infinity pools on this list have jaw-dropping views, but not all come with a floating bar. Thankfully, this 21-room property in the Philippines has you covered, so you can grab a cocktail without trekking too far. But that's not to say it's without an outstanding view — the pool seems to meet the beautifully blue sea here. Enjoy the panoramic scene from the pool, or walk down to the sand for some beach volleyball or kayaking.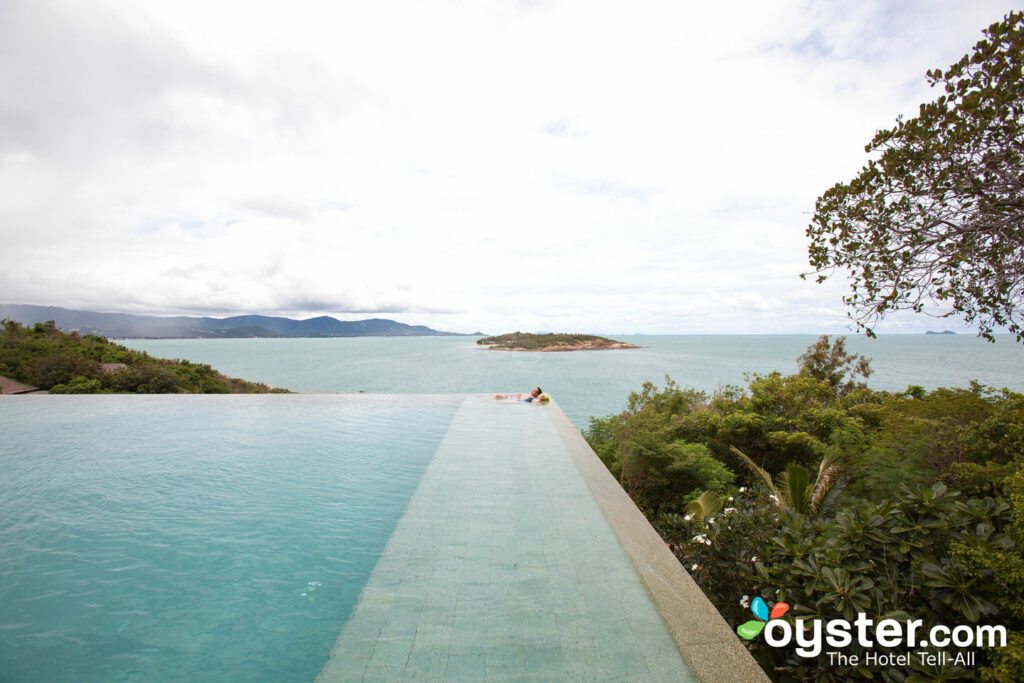 One of Koh Samui's finest resorts, Six Senses Samui is built to highlight its location. Case-in-point: all 66 spacious, rustic-chic villas offer terraces, many with private infinity pools that gaze out onto the sea. Beyond the sea-facing rooms, there's also an infinity pool perched on a hill overseeing the Gulf of Thailand. And that's just the beginning. The fitness center, two fine-dining restaurants with cocktail bars, and white-sand beach with kaykas, sailboats, and motorboats are major perks at this property as well.
Now, watch our video on the most stunning hotel infinity pools around the world >>
https://www.youtube.com/watch?v=gZr6wv0V-uU
Related Stories:
All products are independently selected by our writers and editors. If you buy something through our links, Oyster may earn an affiliate commission.