Private islands are usually reserved for the rich and famous, but there are a number of them around the world where you can actually spend the night -- although to do so on most, you still have to have some serious cash. Whether it's a tiny resort or a standalone estate property for a single booking, these are the top spots to make you truly feel away from it all.
1. Wilderness Collection's North Island, Seychelles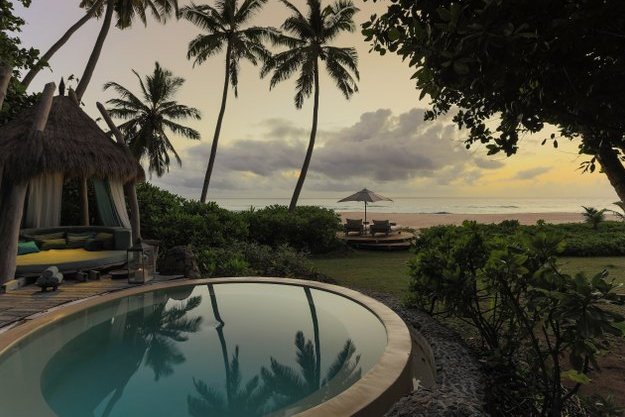 There's a reason royalty and celebrities alike stay at this property. Guests of the 11 hidden villas on the private island enjoy farm-to-table dining at every meal, holistic spa treatments, and beachfront accommodations. Although it's intimate, there's enough room to roam around here and get that sense of adventure. From mountain biking through the cool forest trails to snorkeling or diving in the warm seas, there's plenty to do to pass the time. The island also has a library, helipad, activity center, spa, and gym. Of course, paradise comes at a price; rates start around $3,280 per person, per night.
2. andBeyond Mnemba Island, Tanzania

While you won't get the entire island
to yourself at Mnemba, it will still feel like a private getaway as the property can only
hold up to 20 guests at a time. You could spend your whole time on this Indian
Ocean island in your private beachfront hut and never see another soul if you
want. Indulge in massages, waterfront dinners, and snorkeling to pass the time
before heading back to reality. Rates begin at $1,155 per person per night.
Check out another stunning andBeyond property in Botswana >>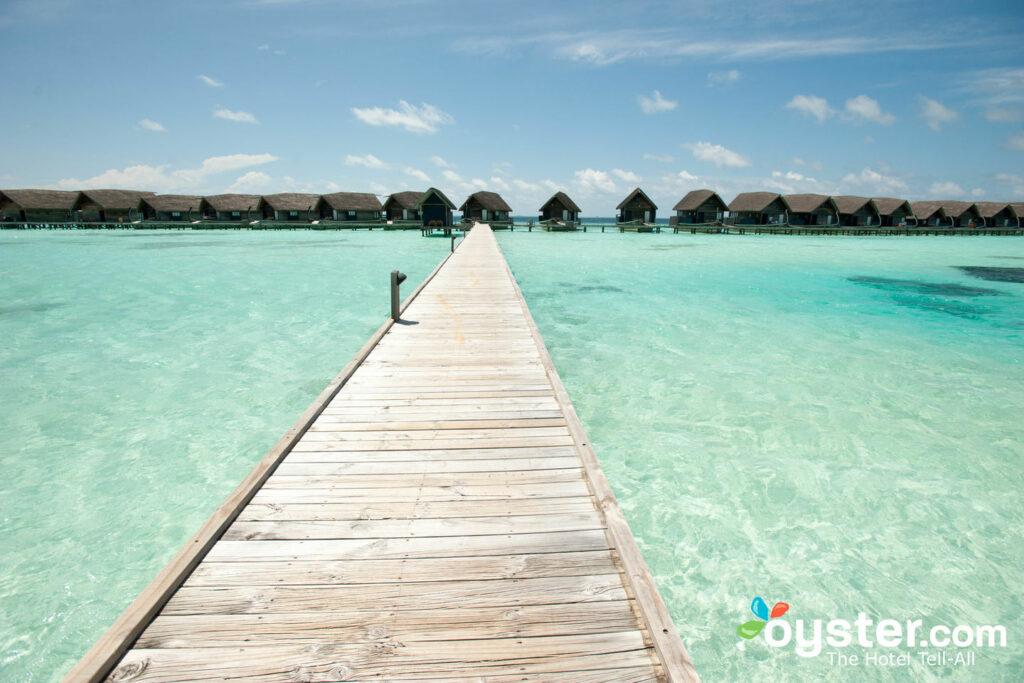 To say you're away from it all here is an understatement. Surrounded by nothing but crystal
blue waters, this five-star resort in situated in the middle of the Indian Ocean, a 45-minute boat ride from the airport. As you would expect from your very own private island,
you'll be waited on hand and foot as you lounge in your overwater villa, of which
there are only 33. Rates
start at $1,000 a night.
4. Constance Tsarabanjina, Madagascar
Every one of the 25 villas here has stunning
views of the azure blue water and is surrounded by tropical greenery to ensure
total privacy. You'll get that Robinson Crusoe experience of no TVs,
phones, or shoes — but with all the luxuries of a five-star resort. Spend your
days scuba diving, walking on the beach, or relaxing as
you get a one-of-a-kind spa treatment, with the sound of the ocean as your musical accompaniment. Rates
start at $550 a night.
Six expats initially
purchased this private islandjust off the coast of nearby
tourist-destination Bintan Island for personal use. But, after building a small
village and hiring a staff, it made sense for them to open a hotel. Though
they've added amenities like a pool, restaurant, and bar, the owners have stayed true
to the laid-back vibe that first attracted them. There's no air conditioning, the
bedrooms are linked 
by elevated walkways, and bare feet are always welcome. Rates
start around $263 a night.
6. Cayo Espanto, Belize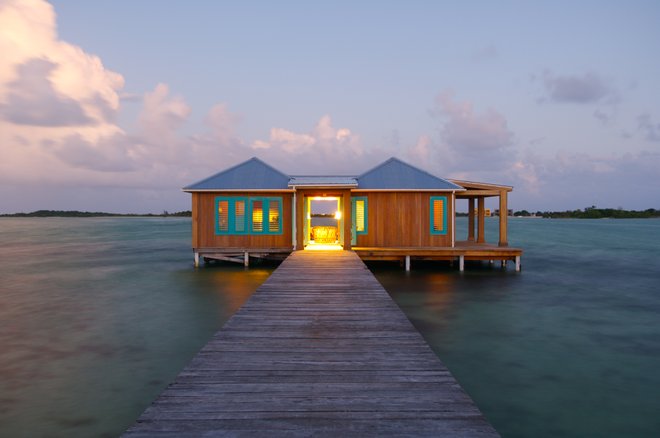 Seven villas dot the shore of this secluded Caribbean island
and are situated so you never have to see another guest for the duration of
your stay. Jump into the crystal blue waters from your personal dock, take a
dip in your private plunge pool, and enjoy an individual butler to take care of
your every need. So you'll feel even more like a king (or queen!), the resort actually sends you a
pre-arrival questionnaire to create a bespoke menu for your stay. Rates start
at $1,853 a night.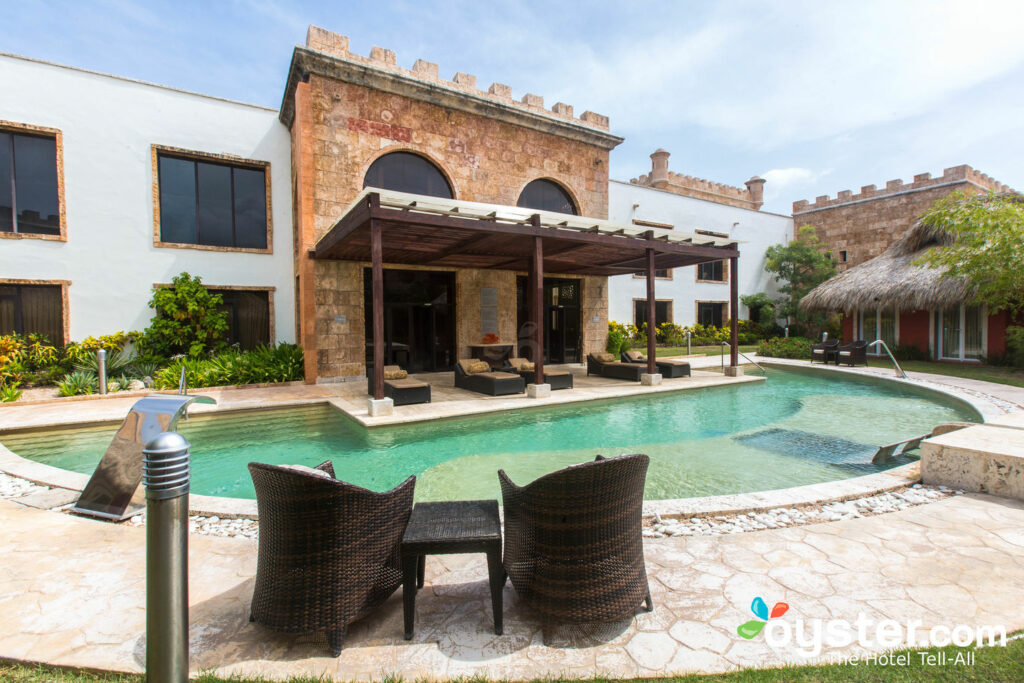 Although the
main hotel isn't on an island, this adults-only resort offers a
two-bedroom, two-level Castle Island Suite set on its own private
island with butler service, three swimming pools, and oceanic views of
the Caribbean. And if being secluded is starting to wear on you, there's always
ping-pong, dance lessons, and cocktail classes on the
main land. Rates begin at $1,250 per night per couple, or guests can opt to stay in a room in the main hotel for less.
8. Outrigger Konotta, Maldives
It's a 30-minute
journey in a luxury yacht from Kaadedhdhoo Airport just to get to this tiny little
island that's barely visible on a map. Once there, guests stay in one of the
property's 53 villas surrounded by turquoise waters and a well-formed
reef where sightings of turtles, eagle rays, and dolphins are the norm. Whether you want to dine beachfront or jump
into the waters to see the animal life first hand, the staff is ready to take
care of your every request. Rates start at $765 a night.
Take a look at the luxe Outrigger property in Phuket >>
9. Necker Island, British Virgin Islands
Live like a legit
billionaire on this island that Richard Branson calls home (at least one of his
homes). Luckily, the entrepreneur is willing to share a slice of paradise by
renting out the property. Guests
can just book individual rooms for stays of seven nights during what he calls
"Celebration Weeks" for $30,000 a couple, or you can reserve the whole
island for $2,300 per person per night. The steep bill includes luxury
accommodations, all meals, a dedicated staff of 100, two pools, two hot tubs,
tennis courts, water sports, and one night of a DJ spinning.
Spy Necker Island from more laid-back accommodations at Bitter End Yacht Club >>
10. The Lodge at Little St. Simons, Georgia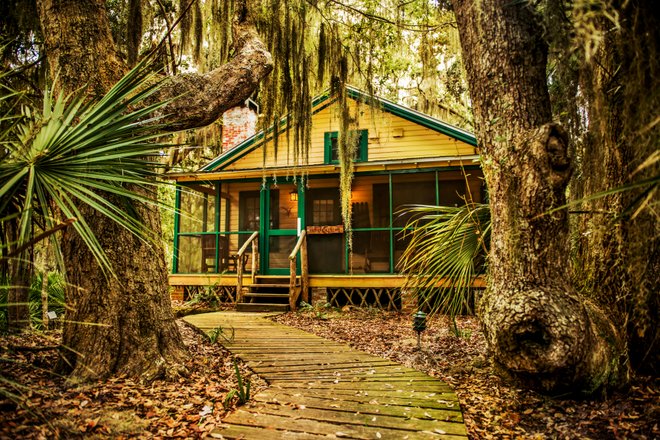 Accessible
only by boat, this private barrier island just off the coast of Georgia is
the quintessential Southern getaway. With 10,000 acres of maritime forests and
marshlands and seven miles of
beaches, this spot is a nature-lover's dream. No
more than 32 overnight guests are allowed at a time, so you'll be able to
wander freely or kick back on your front porch under the moss-draped trees. Rates
start at $400 a night.
Related Links:
All products are independently selected by our writers and editors. If you buy something through our links, Oyster may earn an affiliate commission.