If you see hostels as falling somewhere between dorm rooms and jail cells in terms of their chicness and comfort, these properties will elevate your opinion. Gone are the musty lounges with beanbag chairs; the rusty lockers of questionable security; the plain rooms with flimsy mass-produced furniture. In their place, you'll find urban artwork, design-conscious furnishings, and lounges so hip, they're destinations for locals, too.
And this explosion of uber-chic budget spots -- dubbed "poshtels," as in posh hostels -- aren't just for the junior backpacking set. Artsy urbanites of all ages are drawn to these properties -- both the recent grads and the recent grandads. Ultimately, though, the most game-changing element of these budget beauties is that they've transformed hostels from places only suitable for sleeping to ones that you'll happily linger in during daylight hours. Here are our 10 favorite hostel hotspots.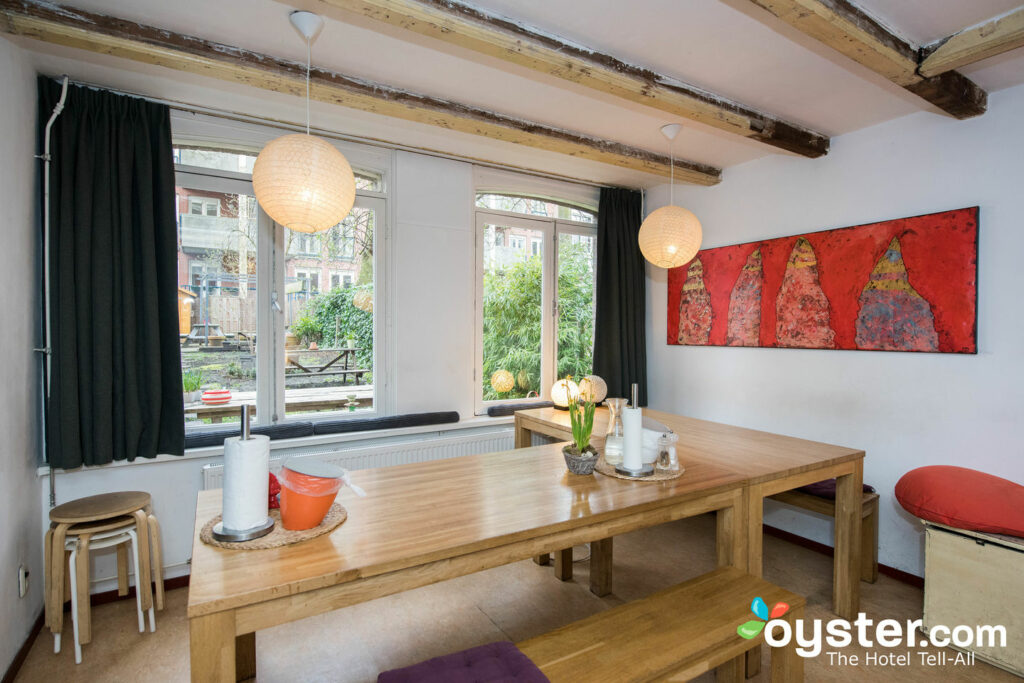 Cocomama is proof that properties can
embrace their history and local culture without being stuffy, uncool, or loaded
with dusty antiques. The self-described "boutique hostel" in Amsterdam has
individually decorated rooms with Dutch themes (e.g. "Tulips" or "Van Gogh").
Windmills, clogs, and Delft-blue pottery abound, but never without a touch of
cheeky humor — just witness the cow figurines in the private "Farm" Room. The wood-beamed ceilings, a narrow
staircase, and a resident cat are conventionally Dutch, too. But bold orange
and blue accents inject the historic town house with a jolt of youthful fun.
The looping cursive graffiti by the pool reading "love love"
pretty much sums up our feelings for the Freehand. The building is pure 1930s glamor; the
furnishings are mid-century hip; and the pool scene is cool. Private rooms are available,
but even the Quad bunk-bed rooms are thoughtfully designed, with jaunty navy
accents and little privacy curtains between the bunks. Retro bikes with
lipstick-red frames and leather seats are available to explore the area, should
you ever want to leave.
This
high-design gem has quickly become a media darling. From the front desk with metal rivets and a
bright marquee sign baring its name to the communal bathrooms
with tiles that spell out cheeky messages like, "Text me, I dare you," delightful
little details abound. It's these touches that make the rooms feel more luxe than what you'd expect at a hotel.
Private rooms have fold-away nightstands and trompe l'oeil bookcases behind the
beds. But even the shared rooms have nice details like leather butterfly
chairs. If you're visiting the City of Love with your paramour, consider the
private Twin Terrace Room with a little balcony furnished with striped loungers
and a hammock. And if you're going solo, you may find romance en route to the
Generator's bar, decked out in curved subway tile to mimic a stop on "Le
Metro."
New York City's epicenter of cool
long ago decamped from Manhattan, and while the Wythe Hotel makes a good
argument that Williamsburg is where it's at, The New York Loft Hostel (and just
about every episode of HBO's "Girls") will tell you it's in Bushwick. This
property is a primer in all things "Brooklyn cool." Bright, punchy arrows lead
guests all over the property, to the shaded courtyard with grills and sun
loungers, to the shared kitchen with its looming ceilings and exposed brick,
and to the rooftop lounge complete with purple ping-pong tables. The slinky,
red-lit bar has room for bands to play, too.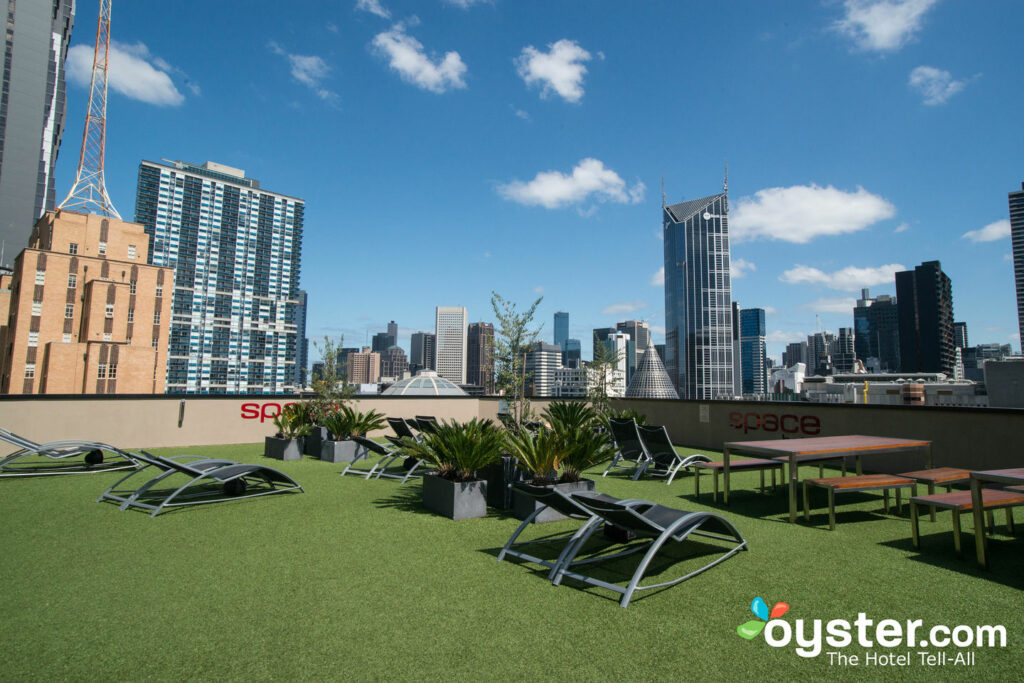 True to its name, this hostel is far from the typical
cramped, dark backpackers' den. Instead, it's airy and streamlined practically
to the point of being aerodynamic. The communal kitchen has sleek chrome ranges
and built-in refrigerators; tables are white lacquered surfaces paired with
backless benches; bunk beds have industrial frames and flat ladders — even the
black sun loungers are made up of arcing metal legs joined with mesh. The decor may avoid embellishments, but the
amenities, including a sprawling roof deck
and giant hot tub, add plenty of bells and whistles to the property.
In many ways, Clink78 was the property that kicked off the
invasion of the poshtels; its blend of historic building with punky,
fashion-forward decor is the blueprint that other like-minded properties strive to copy.
Stencil graffiti and graphic patterns climb the walls of this 19th-century courthouse all the way up to the lobby's stained-glass skylight. Occasionally,
it takes a Banksy-esque turn, like the stenciled coat rack with real hooks
protruding. Some of the rooms are converted jail cells and have the reinforced
doors to prove it. The bar, named after The Clash who faced trial here, is a
riot of color with teal leather couches, red-tasseled lamps, and foosball and
pool tables.
Most hostels are decorated in clashing
colors and a cacophony of graphic patterns, but Golly&Bossy bucks that trend. Rooms, both shared and private, are a study of
white-on-white minimalism, with white platform beds, white walls — even white
flat-screen TVs. There's no in-room artwork to detract from the airy serenity,
and built-in storage lockers are devoid of handles. But one accent
color — the hue of a sour apple Jolly Rancher — keeps things from looking
institutional. And it radiates off the lacquered floor of the restaurant, which
is illuminated by bare bulbs hanging from tendrils of wires. It's the perfect jolt of electricity to wake
up guests before they tumble out into the terrace and back into the Technicolored
world.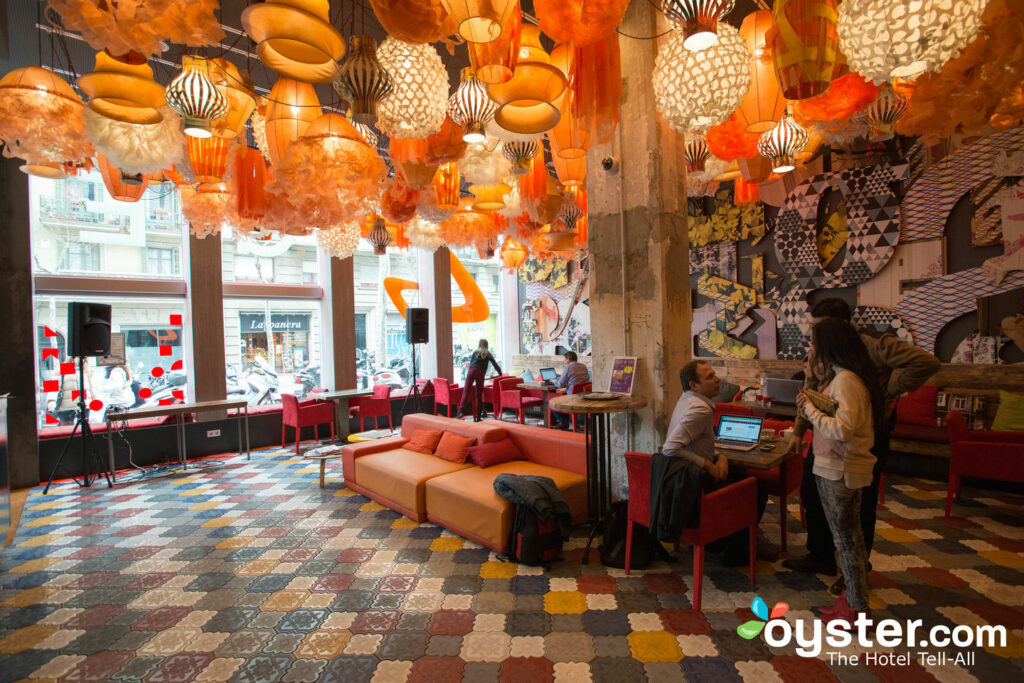 Blowing out design trends is what the
Generator does best: If one paper lantern is pretty, why not cover the entire
ceiling of the restaurant? The result is a hostel that feels like a design fun
house with swing-arm lamps the size of fridges and couches upholstered in two
different fabrics. Barcelona has a legacy of flamboyant design — this is the
land of Gaudi, after all — and the Generator clearly brought it's interior
design A-game to the city. But it's not
a museum piece. Guests can be found cramming into the photo booth, playing
foosball, or swinging from suspended loungers. Overall, the lively energy here and
fresh look give its Paris sister property a little continental competition.
L.A.'s Stay on Main has an exterior that's red-carpet
worthy. And the lobby, with its columns, statues, and balconies, looks like
it's been dipped in gold — thanks to brass and gilt trim used generously
everywhere. The lobby bar is a nod to Hollywood Regency style, with white
leather tufted banquets and mirrors in a jumble of frames. (Note the bar's
small popcorn-maker — only in L.A.!) But rooms are a bit more modern and
simplified, with boldly printed sheets and hand-shaped chairs. Its location,
between The Standard, Downtown L.A. and The Ace Hotel Downtown Los Angeles,
completes a sort of hipster golden triangle.
If the high-octane design of many of the previous properties
gives you a headache, consider the calm Casa Gracia. There's no splashy
graffiti or throbbing lights. Instead, the understated elegance of a boutique
hotel quietly hums throughout. Parquet floors, wall moldings, and white columns
set the backdrop, but a dash of chrome light fixtures and weathered leather
furniture keep things from getting precious. The result feels like a marriage
between Restoration Hardware and Urban Outfitters. Rooms, even the ones that sleep six, have regal details like crystal pendant lights or tiny wrought-iron balconies. It's
a civilized little hostel that'll give you cause to linger long after the free
continental breakfast has ended.
All products are independently selected by our writers and editors. If you buy something through our links, Oyster may earn an affiliate commission.