Did the billion-dollar Powerball jackpot have you dreaming of what you would do with that money? Us too. As typical travel enthusiasts, we imagined (re)visiting the hundreds of luxe island properties on our site that are typically frequented by celebrities and others with deep pockets. (Trust us, when we went, it was in the name of "work.") But if you're saving up for a celebrity-approved resort -- or just want an inside look at the stunning destinations where the rich and famous relax -- we found 10 island getaways where you can vacation like a star.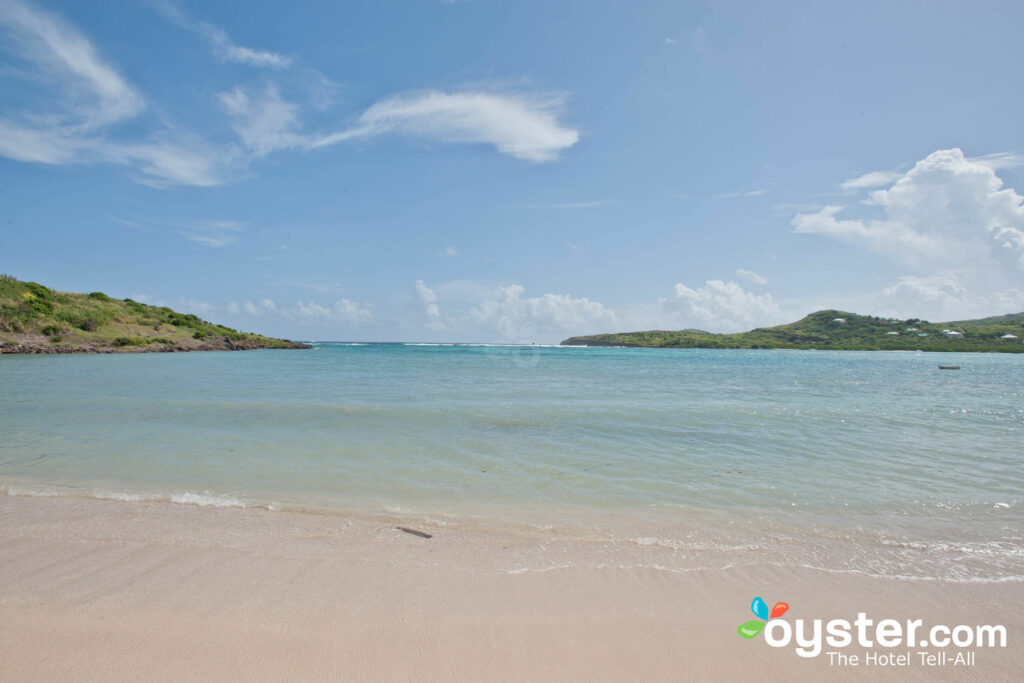 St. Barts has been a favorite destination of the rich and famous for a while, with celebs like Jimmy Buffet and Steve Martin even owning property on the island. Hotel Guanahani is a beautiful resort on the northeast side of St. Barts that attracts well-heeled guests and celebrities (Bethenny Frankel came here for her honeymoon). The hotel offers 75 rooms and separate cottages, all of which feature terraces, colorful, beachy decor, and modern amenities such as large flat-screen TVs, iPod docks, and free Wi-Fi. The extensive amenities include a pool, two kids' clubs, tennis courts, several delicious dining options, and a top-notch spa, ensuring that there's plenty to keep both couples and families happy — though the hotel does tend to attract more couples. The beach has numerous activities, but is relatively small, so many guests take day trips to the nearby beaches.
Just 50 miles off the coast of Florida, the Bahamas is a year-round destination thanks to its warm weather, world-class scuba diving, and friendly locals. The best place to stay is the appropriately named One&Only, as there's nothing quite like it in the Bahamas. The 106 rooms and suites, split into two sections, are luxurious, though those in the newer Crescent Wing are a bit more modern and stylish. Expansive manicured grounds have two outdoor pools, a romantic garden and statuary modeled after Versailles (a dream for weddings), and the endless stretch of white-sand beach and turquoise waves. Health and wellness nuts are spoilt for choice with daily yoga, an 18-hole golf course, tennis courts, an indoor/outdoor fitness center, and a Balinese-style spa with private villas. After a day in the sun, guests return to the room to find champagne and strawberries waiting, and many choose to begin their evening with sunset drinks at Jean-George's Dune restaurant.
Anguilla is a favorite destination of celebrities, like Beyoncé and Jay-Z, and the five-pearl CuisinArt Resort & Spa will certainly make you feel like a star. One of the best-known resorts in Anguilla, it's a sprawling beachfront property dotted by white, Grecian-like buildings. It features numerous amenities, from an extensive spa to the only golf course on the island, but the real standout here (not surprisingly given its CuisinArt ownership) is the food; several on-site restaurants offer gourmet meals with a focus on fresh ingredients from the resort's hydroponic farm, and guests can nosh on Japanese, Italian, or Mediterranean fare. Though the hotel exudes an upscale vibe throughout, rooms don't quite live up to its status. But they're modern and at least partial ocean views can be seen from each of the 98 rooms.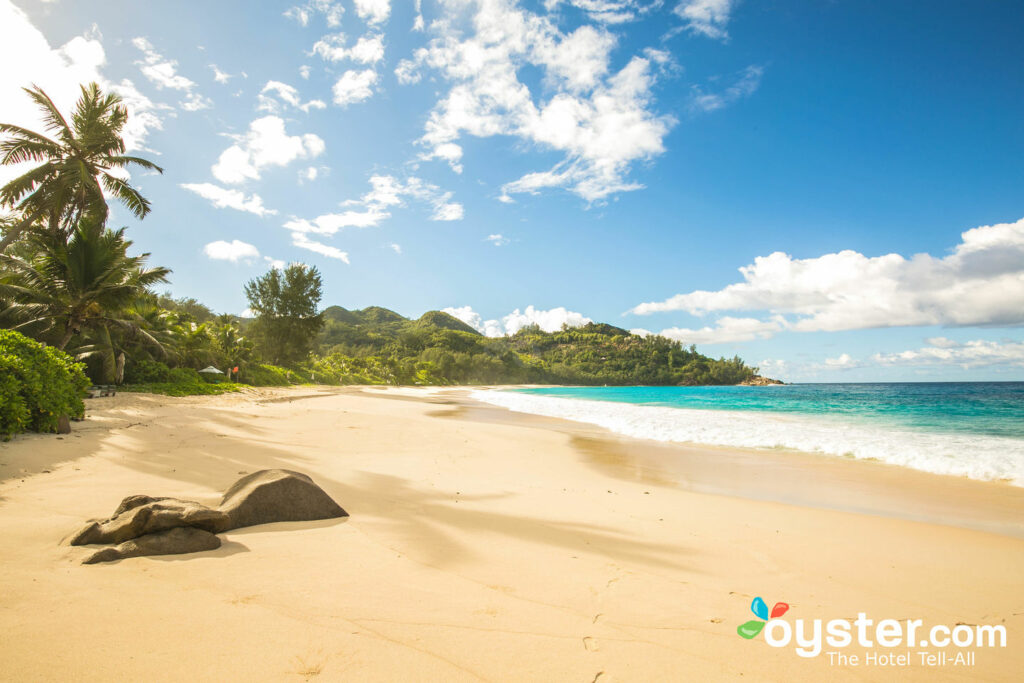 An archipelago of 115 islands off East Africa, Seychelles makes a great secluded getaway. Topping the area's luxury hotels is the 60-unit Banyan Tree Seychelles, a property made up of individual villas lining a Mahe hillside above Intendance Bay. The Banyan Tree focuses on preserving the cultural and historic flavor of the property, its Creole architecture, and plantation-style decor. It's also located on the property that once belonged to George Harrison and "Pink Panther" star Peter Sellers. Villas are walled off from passersby, and each has a private pool, a pavilion, a hot tub, and an outdoor shower. Of course, the experience doesn't come cheap — the food in particular is pricey — and the property is removed from the city, making it a good choice for those looking for quiet, but less than ideal for those who prefer being in the heart of things.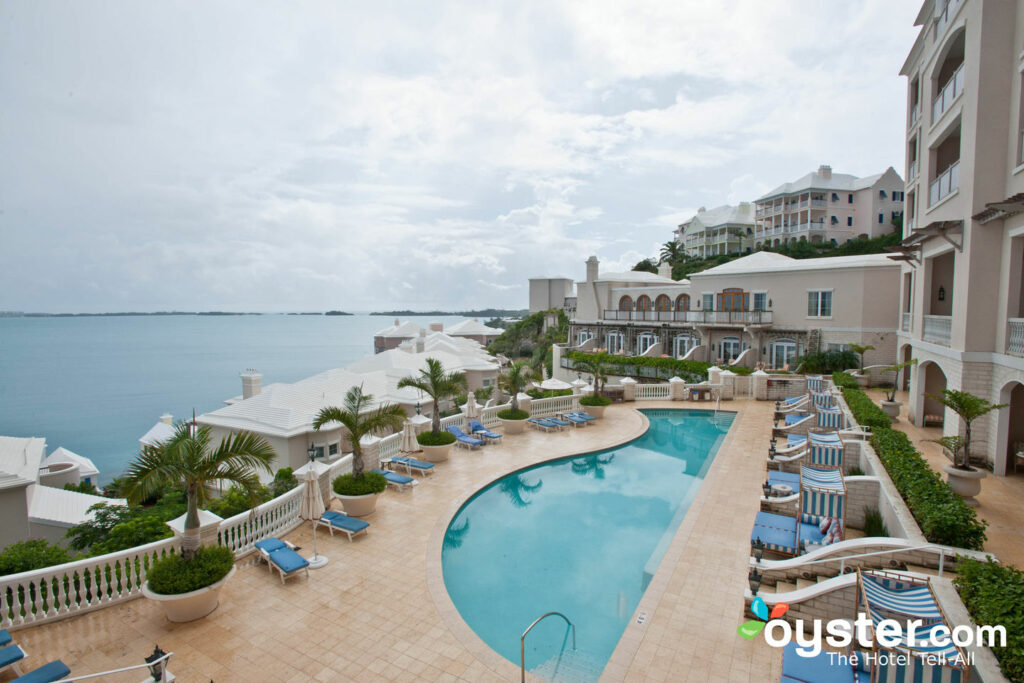 Beautiful pink sand beaches, turquoise waters, great scuba diving, and two-hour flights from the East Coast make Bermuda an easy island getaway for NYC-based celebs. One of the most luxe hotels on the island is Rosewood Tucker's Point, known for drawing an affluent clientele. As a result, you will pay the island's most expensive rates. But if you can afford it, you'd be a fool to pass it up — no other property on the island has quite the sparkle and shine of this stunning 200-acre resort with immaculate grounds, four pools, four restaurants, a championship golf course, a private beach, a tranquil spa, and spacious rooms featuring million-dollar views.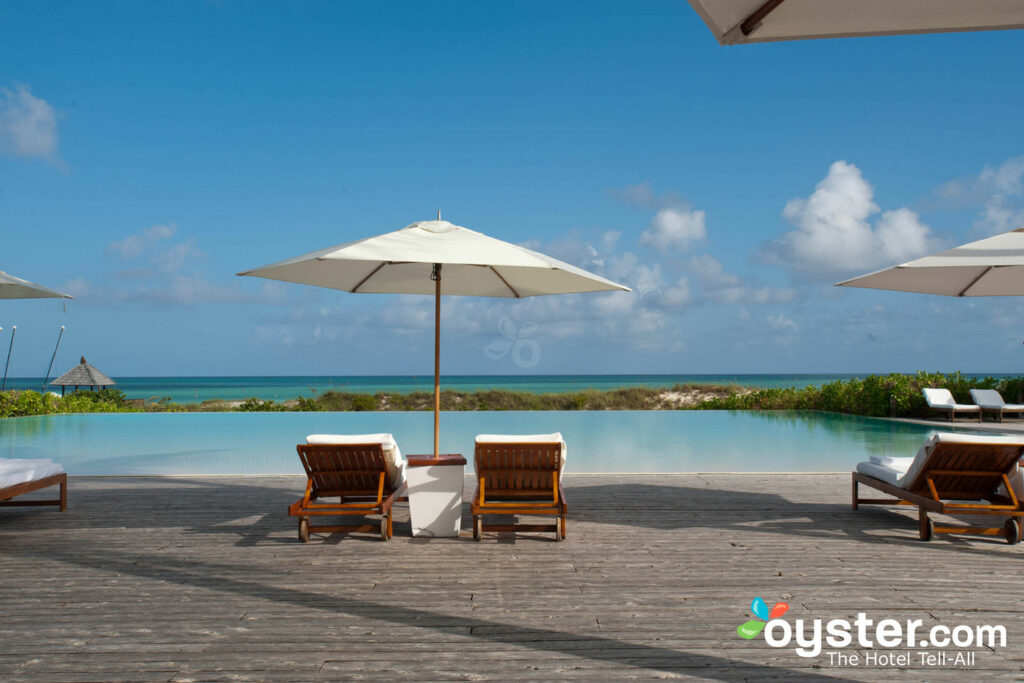 Accessed via a 30-minute boat ride from Providenciales, the 1,000-acre all-inclusive Parrot Cay by COMO resort is on a private island. With an incredible infinity-edge pool, world-renowned COMO Shambhala Spa, waterfront Balinese-style villas, doting service, and more than three miles of pristine beaches, it's easily one of the most luxurious and romantic options in Turks and Caicos. Each villa is privately owned (with Donna Karan, Keith Richards, and Bruce Willis among the reported resident list) and thus each has its own design flair. But hefty price tags put it out of reach for many, and the rare level of privacy comes as the cost of convenience — a boat commute is required to reach any nightlife or shopping.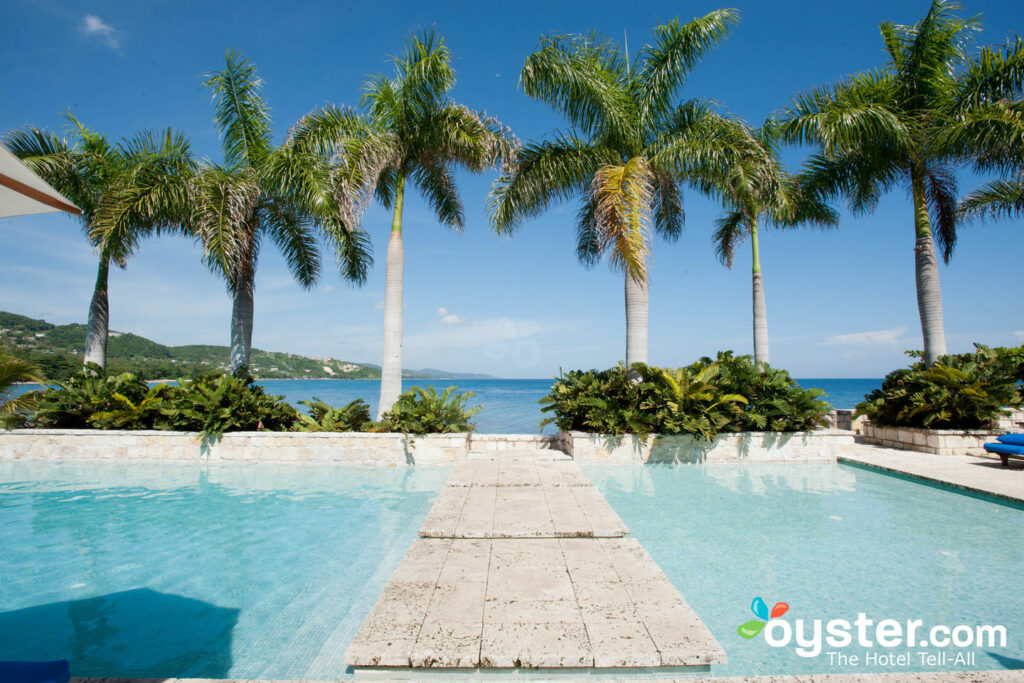 Round Hill is a near perfect hotel in the always popular Jamaica. Sincere, intimate hospitality; private child care; large, beautifully designed rooms by Ralph Lauren; and breathtaking grounds (to which no photo can do justice) — it is easily among the best resorts in Jamaica, even with a few mosquitoes and ants in the room. As expected, a laundry list of celebs have stayed at this ultra-luxe resort, including Anna Wintour, Paul McCartney, and JFK and Jackie who honeymooned here. From the delicious Jamaican food to the stunning infinity pool, Round Hill delivers a memorable experience.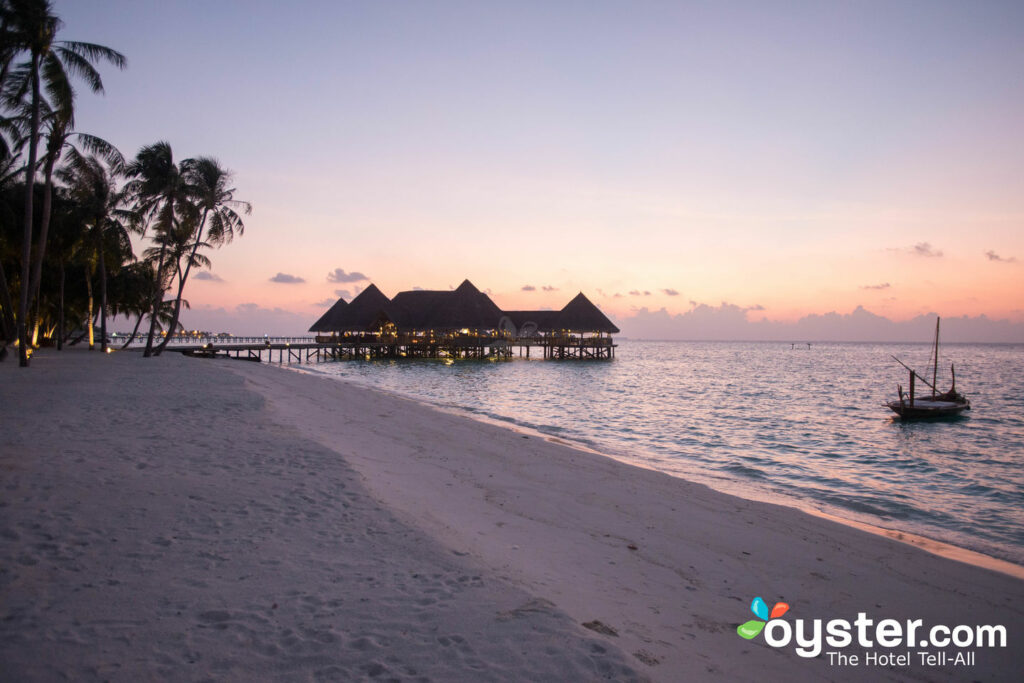 Gili Lankanfushi is widely considered to be the top resort in the Maldives, and for good reason. This stunning, 46-villa, eco-friendly resort just 20 minutes from the airport succeeds in delivering truly unpretentious, relaxed luxury. Bare feet are encouraged (shoes are removed as soon as guests get on the boat from the airport), and each guest is taken care of by a personal butler with the title Mr. Friday. The spacious, charmingly simple overwater bungalows are made of several types of wood, and have outdoor (and rooftop!) decks with views that might induce tears of joy. On land, the beautiful island with 683 palm trees offers a range of activities and dining options. This special gem in the Maldives has more authenticity than other brand-name resorts of the same price point — just ask tennis pro Novak Djokovic, practically a regular here.
Decked out in signature pink, the 112-room Sandy Lane is the creme de la creme of Barbados — indeed, it's one of the most luxurious resorts in the world — known for unparalleled service and distinct touches. Guest amenities run rampant; perhaps the most noteworthy is access to the super exclusive Green Monkey golf course with a separate apparel line that can only be purchased after completion. A Rolls Royce Phantom, top-notch spa, outstanding restaurants, and celebrity sightings are just a few aspects that set the elegant Palladian-style hotel apart from the rest. This is a very special place, for those who can afford it. As far as celebs go, the Beckhams, Rihanna, and Gwyneth Paltrow have stayed at the hotel, and Tiger Woods was married here.
St. Martin has all the major requirements for an ideal island getaway: excellent beaches, fantastic snorkeling, and a solid nightlife scene. Easily the most luxurious resort in St. Martin, the 55-acre La Samanna resort brings tranquility to an otherwise tourist-filled island. Featuring two beautiful pools, an extensive wine cellar, a yoga and Pilates studio, a European-style spa, and the island's most pristine beach, this 81-room, eight-villa retreat is hard to beat. The vibe is about as fancy as it gets for St. Martin, so of course everything — from the nightly rates to the dinners and spa treatments — comes at a sky-high cost. The posh resort has played host to Oprah, Jackie O, and a slew of other celebrities.
Related Links:
All products are independently selected by our writers and editors. If you buy something through our links, Oyster may earn an affiliate commission.