We may be a little late to the game, but after our recent visit to Prague (where we visited and photographed a whopping 67 hotels), we're totally obsessed with the European city. True, the capital of the Czech Republic really didn't come to the forefront of tourism until the 1980s, and even now it's often overlooked for European destination "staples" such as Paris, London, and Barcelona...but for the past two years, Prague has secured a spot on TripAdvisor's Travelers' Choice Destinations list so it must be doing something right. There are many reasons why it's such an amazing place to visit, but we've narrowed it down to 10. And to help us keep the list from topping 1,000, we're telling you 10 reasons why you should book a trip to Prague this fall -- no time to waste!
1. Its Cobblestone Streets Are Lined by Stunning Architecture.
Prague is a city of gorgeous architecture, with buildings representing Romanesque, Gothic, Baroque, Renaissance, and Art Nouveau styles. It is home to many a gold-dipped tower, and the bright red roofs that are characteristic of the historic areas are absolutely lovely.
2. Prague Castle is the Largest Ancient Castle in the World.
Set atop a hill, Prague Castle allows visitors to soak in the city below. But it also has plenty of other sights on-site, including St. Vitus Cathedral, royal gardens, a handful of museums, and of course, over 700,000 square feet of castle to explore.
3. Fall Means Mild Weather, Fewer Tourists, and Lower Hotel Rates.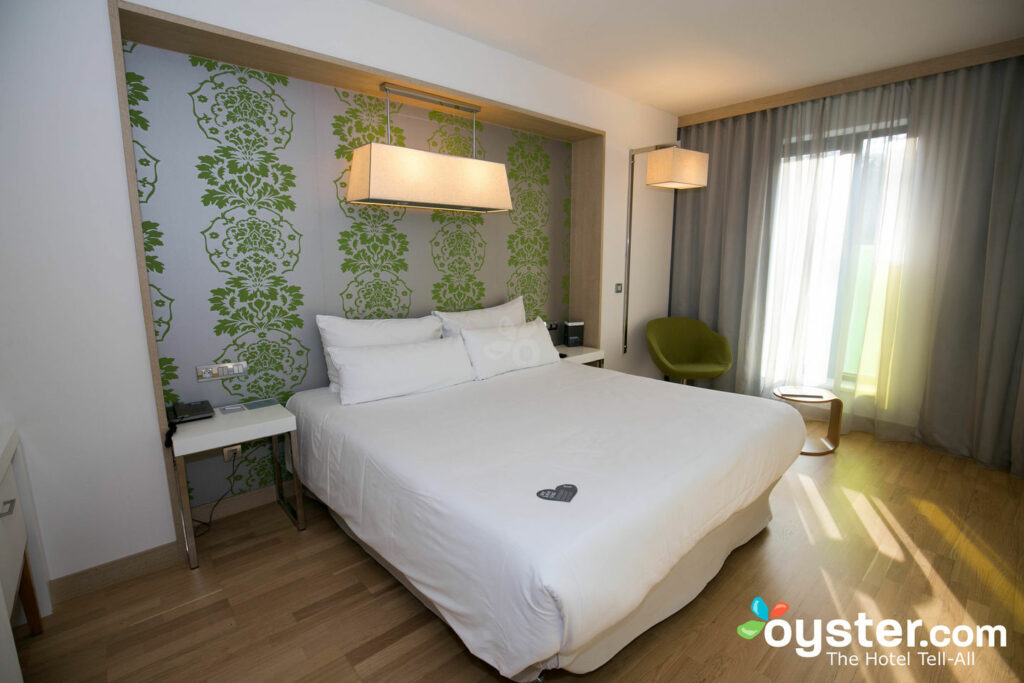 Most visitors flock to Prague in the summertime, but fall is equally enjoyable — if not more so. While winters are harsh here, temperatures during the fall can still reach up to the 60s, and — since it's off-peak season — fall also means fewer crowds and hotel rates that are often half what they were just a couple months before. Offering bright, modern suites with sleek bathrooms, Barcelo Praha Five tops our list of the Best Value Hotels in Prague.
4. Beer is Cheaper Than Water.
This is 100% true, and 100% awesome. Another fun fact about drinking in Prague is that the most popular bars are located in cozy cellars.
Related Link: Beer-Lovers' Favorite U.S. Cities
5. The Historic Districts Are Kept Pollution- and Noise-Free.
Thanks to a law that prohibits public transport buses from entering, Prague's historic districts are incredibly clean, and lack much distracting or irritating noise. But don't worry about what this could mean for getting around in Old Town and New Town; electric-powered trams make their ways around these districts.
6. It's Easy to Navigate by Foot and Bicycle.
And if you'd rather avoid public transportation altogether, the city is easily navigable for walkers and cyclists; in fact, Prague has about 75 miles of bike paths. Bike tours are popular tourist activities.
7. Weekday Lunch is Taken Very Seriously.
Meals in Prague are hearty, and they're taken seriously — even during the work week, locals take time to load up on pork, sausage, dumplings, cabbage, and potato pancakes. This is perhaps because many restaurants in the city offer discounted lunch menus; visitors will have to search for these spots, as restaurants in more touristy areas don't provide the same deals.
You Might Also Like: The 7 Cities with the World's Best Chocolate
8. It's Easy to Take a Day Trip to Neighboring Vienna.
Prague is a convenient location for those looking to explore other areas of Central Europe, and many drive or take the train the four hours to Vienna, home to world-renowned museums, restaurants, and shops. Various tour guides offer day trips from Prague to Vienna, with transportation and meals included.
9. The Strings of Autumn Festival Takes Place September through November.
Another reason to visit in the fall specifically: The Strings of Autumn Festival. This musical festival includes performances by international musicians specializing in all musical genres. Families can also get in on the fun, as there are various kid-centric activities and events throughout the festival's multi-week run.
10. The Vltava River is the Perfect Spot for a Romantic Stroll.
Prague is considered one of the most romantic cities in Europe; take a nighttime walk along a streetlamp-lit bridge over the Vltava River, and you'll know why.
Related Link: The 9 Most Romantic Hotels in Prague
All products are independently selected by our writers and editors. If you buy something through our links, Oyster may earn an affiliate commission.