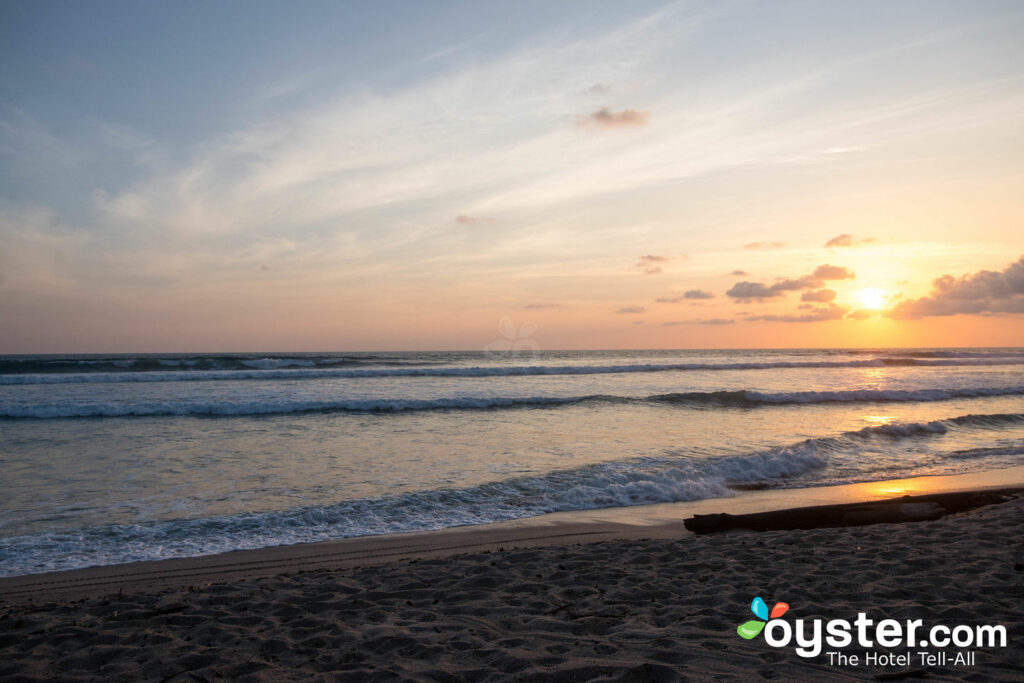 Active volcanoes, dense rain forests, pristine beaches, and crashing surf -- when it comes to tropical getaways, Costa Rica just might have it all. Oyster.com has been all over the world, and time and time again we find ourselves returning to this special place, in part because we can't get enough of its rustic-chic hotels.
What is rustic chic, you ask? Well, it's a lot of things, really. Rooms can range from cabins in the middle of the jungle to beachside bungalows, but in each case, the rustic-chic hotel both embraces and tames its habitat with polish and style. The 10 hotels that made our list provide are a primer in the rustic-chic aesthetic done right, and prove that getting back to nature doesn't always mean roughing it.
Plenty
of visitors beeline it from San Jose straight to Costa Rica's Pacific Coast,
and hotels like Tulemar are a big part of the reason. Set on 33 acres of untouched
jungle, these luxury bungalows offer mod-influenced contemporary style
alongside a plethora of organic decor. Polished hardwood floors glisten, while
bold hues on the walls make all manner of rustic-chic furniture pop — the
tree-trunk headboards, travertine walls, and stone-tile living room floors are especially nice touches in the Casa las Nubes that
we visited. Design varies from bungalow to bungalow and villa to villa, but
with multiple pools and a pretty little beach, it doesn't get much
better than this.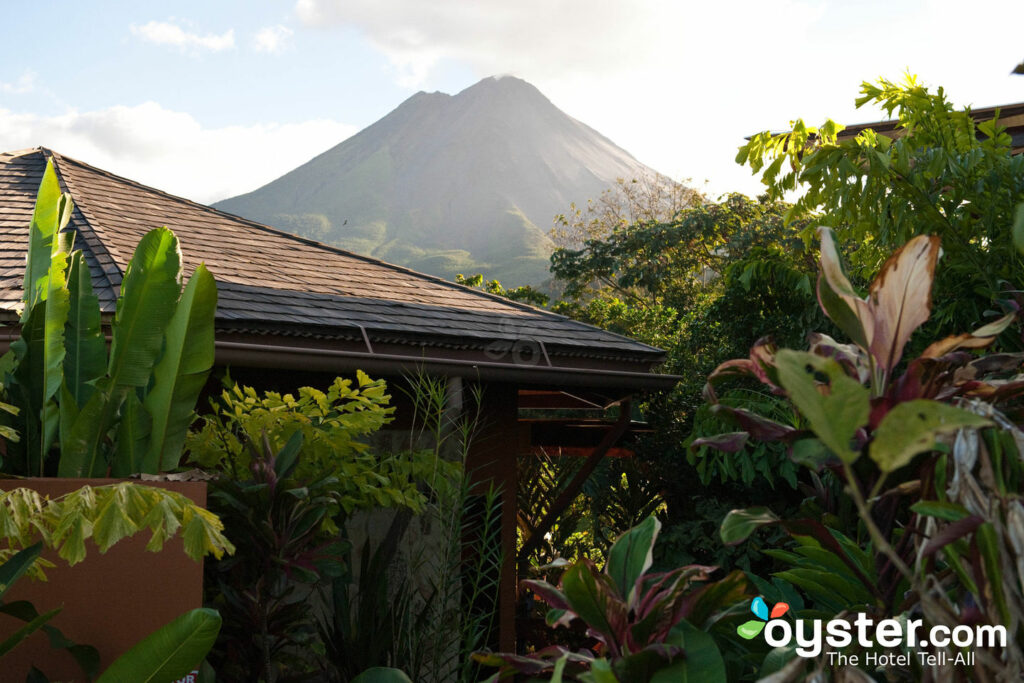 It's a feat when a hotel
can make its guests feel pampered and swallowed by the jungle at the same time,
and Nayara Hotel, Spa & Gardens manages to pull off exactly that. Tucked
inside of Arenal Volcano National Park — and with views of the iconic peak
throughout — this hotel is equal parts luxury resort and back-to-nature retreat.
Want to be spoiled? There's an open-air spa lined with stone and hardwood, hot
tubs set amid decks looking out into dense forest, pools, and a wine bar. Want
to take a deep breath and be one with the jungle? Simply look in any direction or meet up with the resident bird watcher. The villas,
suites, and casitas here are a stylish blend of all things natural and modern
— bamboo ceilings, hardwood floors, jute throw rugs, outdoor showers, and
walls that open to the jungle sit alongside modern luxuries like private hot
tubs, flat-screen TVs, and iPod docks.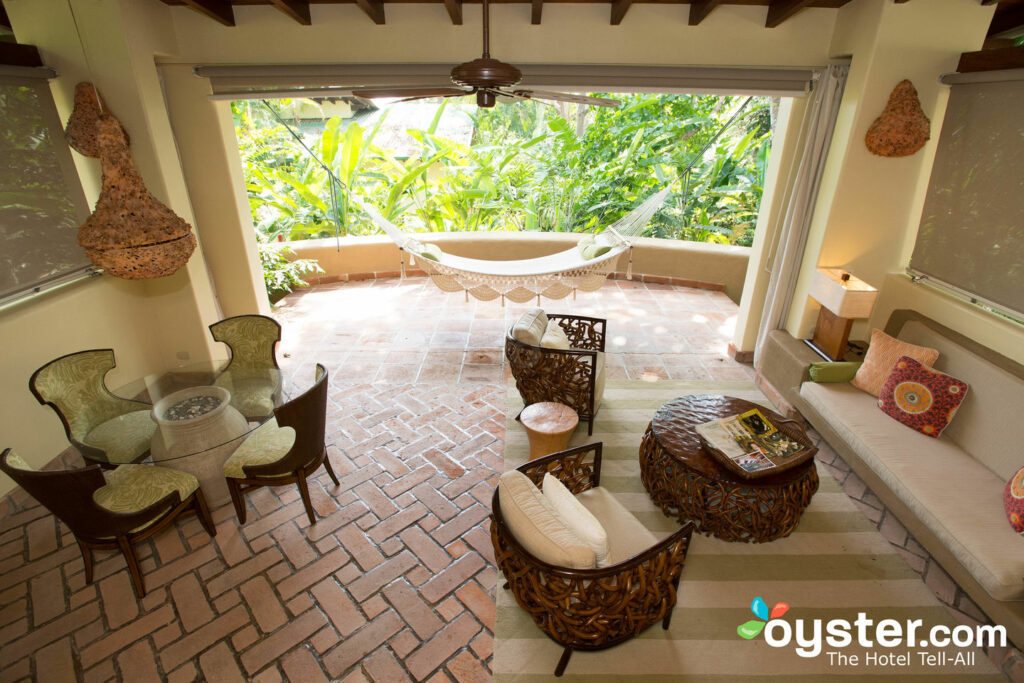 We love the sheer volume
of boutique resorts on offer in Costa Rica, and properties like Florblanca draw visitors back to the country year after year. The 11 standalone
villas at this beachfront resort in Santa Teresa incorporate hand-crafted
details and design-conscious furniture to create an intimate and laid-back
escape. Expect to see stone and brick floors set with chairs and tables hewn
from reclaimed tree branches; exposed ceiling beams; and wall-hangings inspired
by natural forms, like beehives. Locally made items like hand-woven hammocks are
strung on lovely patios, upping the sustainability quotient, and the free
surfboards and yoga classes next to the ocean keep civilization feeling far,
far away.
No phones, no Internet,
no TVs — Lapa Rios Ecolodge takes rustic to the extreme. To be honest, it
actually takes rustic to an upscale, eco-conscious extreme, and those willing
to make the trek to Costa Rica's remote Osa Peninsula will reap the chic
rewards.
Set on a 1,000-acre wildlife reserve, the bungalows are a treat. Romantic,
if entirely utilitarian, mosquito netting cascades around the beds underneath
towering thatched ceilings while gorgeous polished hardwood floors are
underfoot — this is rustic done right. Small details, like clothing hangers crafted
from tree branches, are part of what boost this hotel's rustic-chic credentials. But don't expect the experience to be truly roughing it. Bathrooms have
contemporary fixtures like vessel sinks and walk-in showers, and the hotel's
sparkling pool offers views of the coast in the distance. Tranquility like this
doesn't come cheap, though — Lapa Rios is one of the most expensive hotels on
this list.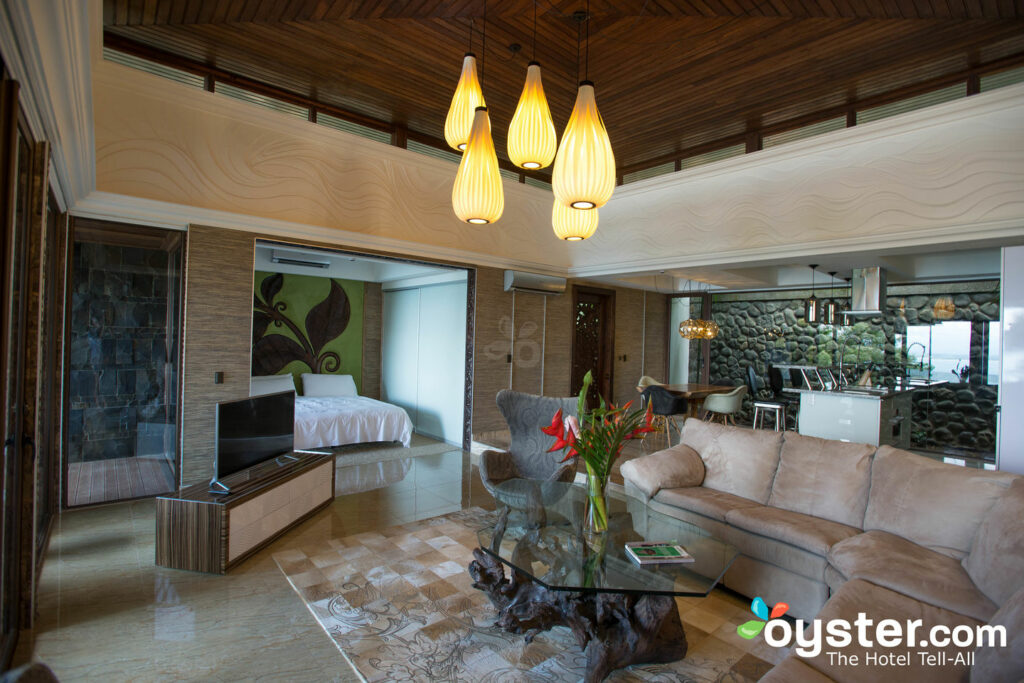 No, Makanda By The Sea
isn't right on the beach — in fact, it's a 10-minute walk to the nearest
stretch of sand in Manuel Antonio — but the trade-off comes in the form of some
seriously swish digs that utilize natural materials in sharp, modern ways. Design elements vary from room to room, but can include volcanic stone
walls, country-style wooden dining tables with artsy carvings, and outdoor
infinity pools that look right into the dense jungle. The abundance of
neutral tones throughout the hotel help it blend unobtrusively into its
surroundings, while contemporary accents like geometric pendant lighting and
Pollock-inspired murals keep the look fresh.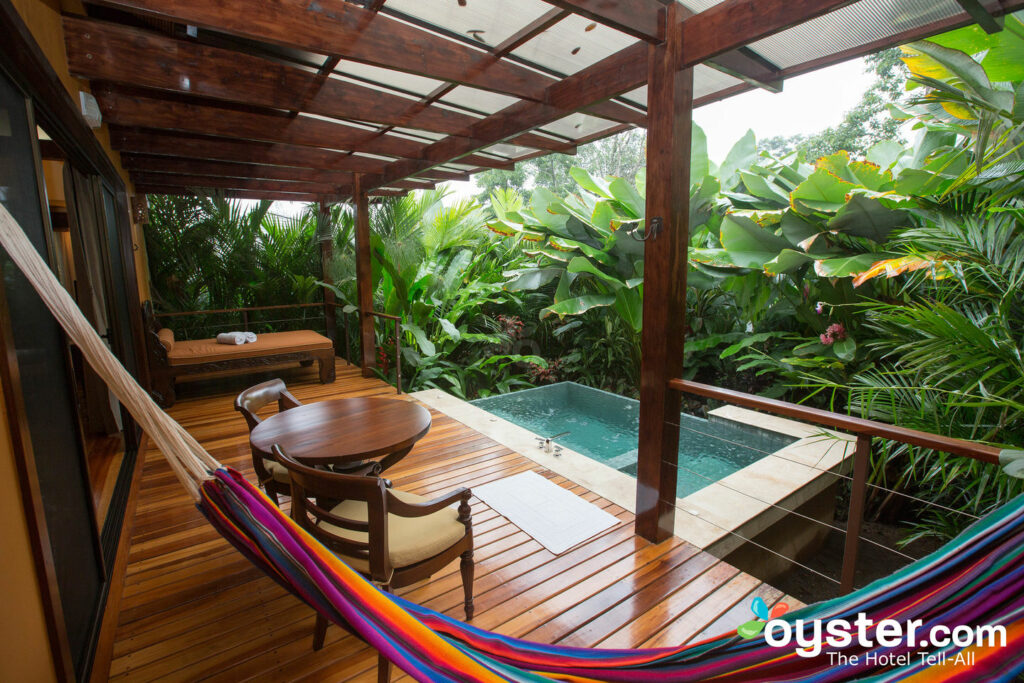 It would be unfair to mention
this hotel's older sister — Nayara Hotel, Garden & Spa — without giving
its adult-only, boutique sibling a nod as well. In fact, Nayara Springs manages
to out-luxe Nayara Hotel, Spa & Gardens, with its massive 1,500-square-foot
rooms that include features like Bluetooth music players and espresso machines.
This 16-unit hotel balances intimacy and romance with a slightly more colorful
palette than its neighbor and sister hotel (though it does lack the Nayara
Hotel's Arenal Volcano views).
Each of the bungalows
feels secluded from the next, and rooms can include strikingly patterned
hardwood floors, canopy beds, massive marble bathrooms, paddle fans spinning
from bamboo ceilings, and colorful hammocks swinging over sleek wooden decks
with private pools. With live Costa Rican musicians playing in the bar during the week, a
resident bird-watcher (that's shared with the Nayara Hotel), and Middle Eastern
cuisine on-site, there's little reason to ever make the 15-minute drive into La
Fortuna, the nearest town.
The dirt road leading to
Pranamar is rustic. The undeveloped nearby beach is rustic. It's a bonanza of
rustic at this Santa Teresa area retreat with a special emphasis on health and
wellness. The property's 10 villas are made from local wood and bamboo and their
decor draws heavily on Balinese design — from the bed frames to the artful wall
carvings. Units like the Oceanfront Villa that we visited have slatted walls
that offer peeks of the surrounding greenery alongside wooden floors, a blend
of rough-hewn and sleek furniture, and light neutral fabrics. With one of the
best yoga studios in the area and features like a swish outdoor pool, this
hotel is a fine way to unplug or get back in touch with a part of yourself you
just might have forgotten.
Let's make one thing
clear: The region around Manuel Antonio National Park is in no way a secret
escape, but the abundant wildlife, gorgeous beaches, and undisturbed jungle
draw tourists in droves for a reason — it's a small slice of paradise. Gaia
Hotel And Reserve is one of the most high-end choices in the region. There
are vistas across the green hills and excellent jungle views at almost every
turn — plus, a multi-level pool that cascades down along the hillside into
which the hotel's built.
Rooms are on the polished
end of the rustic-chic spectrum, and the look is smart and minimalist. Fine
wood floors are set with stylish wicker furniture, while leaning standalone
mirrors add a bit of boho sophistication. White linens on everything from the
beds to the chairs add a breezy quality, and framed landscape art
provides a final elegant touch. Don't expect to be cut off from modern life at
this hotel, though, as each room has a premium sound system, modern
electronics, air-conditioning, and free Wi-Fi.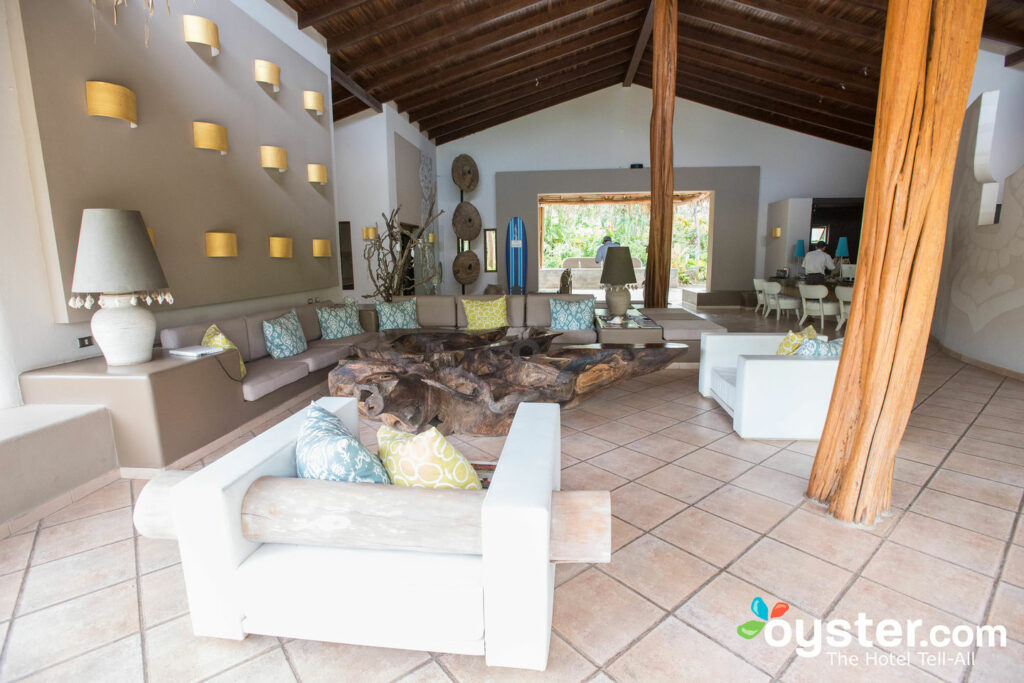 A five-minute drive from
the busy little coastal town of Tamarindo, Cala Luna offers one of this list's more
contemporary twists on rustic chic. Styled after Sardinian
guesthouses on the Mediterranean coast, there's a beachy vibe throughout this
hotel. The lobby is a breezy exercise in the use of natural materials and it's
impossible to ignore the sculptural masses of driftwood that serve as handsome
coffee tables, or the comfy armchairs with tree-branch backs, or the towering
pillars fashioned from tree trunks. Handsome woven art pieces and bright
textiles give the interiors their modern edge.
One of the more
distinctive properties on this list, the name of the Tree House Lodge says it all. The fact is that not
every unit here is a tree house, but there's an ecological consciousness that
defines the sharp architecture throughout the grounds. The most striking of the
individual units available is actually the Beach House, which sits just over
250 feet from the ocean and was constructed using fallen Nispero trees from the
surrounding forests. The Beach House's bathroom is crafted from adobe and stone,
with accents like carved-block sinks and rainfall showers. The living spaces are
almost entirely clad in hardwood, from tables and chairs to the spiral
staircase that leads to the master bedroom
Related Links:
All products are independently selected by our writers and editors. If you buy something through our links, Oyster may earn an affiliate commission.