If you want to drive along America's East Coast, chances are you'll motor on I-95 for a good portion of it. Beginning in Maine and ending in Florida, the highway passes through more states than any other in the U.S. -- 15 in all. Interstate 95 is also the country's longest North-South road, but not all of that thoroughfare is exactly scenic. Many miles have wonderful coastline views and some exits are just a few traffic lights away from great American history. However, there are also some stretches that seem like one rest stop after another. Here's a shortlist to remind you when to pump the brakes during your I-95 road trip, plus some nearby hotels where you can rest your head.
1. Castillo de San Marcos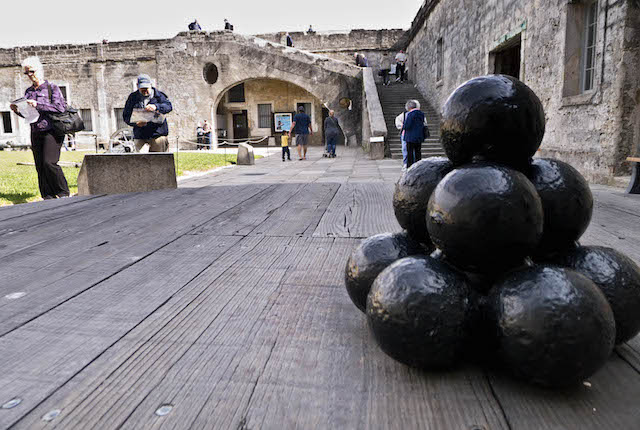 Some consider St. Augustine the oldest city in the United States, while others say it's the oldest continuously occupied area developed by European settlers. Either way, this northeast Florida destination is filled with lavish Spanish-style mansions and artifacts of a complicated colonial history. Spanish conquistador Pedro Menéndez de Avilés founded the coastal city in 1565, and pirates later invaded it. In the 1700s, British loyalists made it a destination and Napoleon's armies turned it into a target in the early 1800s. The masonry walls of the Castillo de San Marcos witnessed most of those skirmishes and is still standing tall, making it an excellent place to study classic army architecture or just play a game of pretend.
Our Hotel Pick: Old City House Inn and Restaurant
Constructed in stone and stucco and topped by a terra-cotta roof, this upscale bed and breakfast, wrapped in wood balconies and porches, has preserved its historic details. All seven rooms come with private entrances, flat-screen TVs, and free Wi-Fi; some have mini-fridges and jetted tubs. Included in the room rate are a homemade breakfast and an evening glass of wine at the bar.
2. Savannah Historic District and Bonaventure Cemetery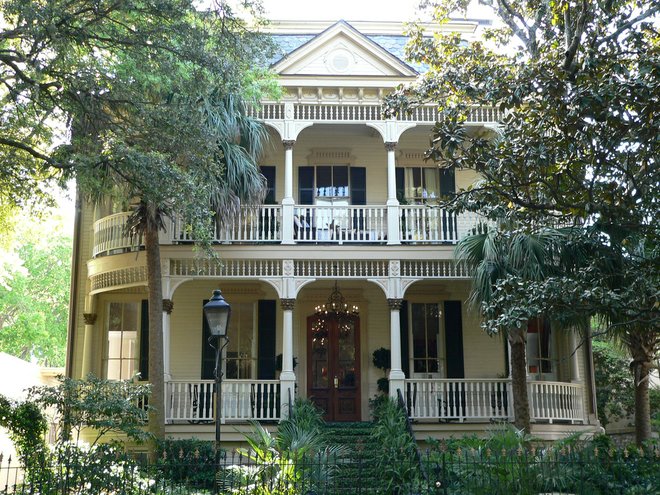 In British colonial times, Savannah was the capital of the Province of Georgia, and remained under the king's rule until 1782. Today, travelers come to the port city to inhale the genteel breeze that lingers over the well-worn cobblestone streets and ripples through intricately detailed Victorian homes. In addition to numerous historic buildings, the town is home to Old Fort Jackson (which has daily cannon firings) and the mysteriously creepy Bonaventure Cemetery (made famous in the book "Midnight in the Garden of Good and Evil"). Foodies also visit Savannah for the traditional and innovative takes on Southern cooking, which can be found in restaurants like Mrs. Wilkes Dining Room, Cotton & Rye, and Nairobi's Grits & Gravy.
Our Hotel Pick: Mansion on Forsyth Park, Autograph Collection
The Mansion on Forsyth Park is arguably one of the best — and most special — hotels in town, with a wonderful art collection, a great cooking school, a solid spa, an outdoor relaxation pool and a popular restaurant on-site. Spacious rooms have eclectic designer-level decor, with vintage furnishings and contemporary touches, plus deep soaking tubs, high-tech amenities, and original artwork on the walls.
3. Congaree National Park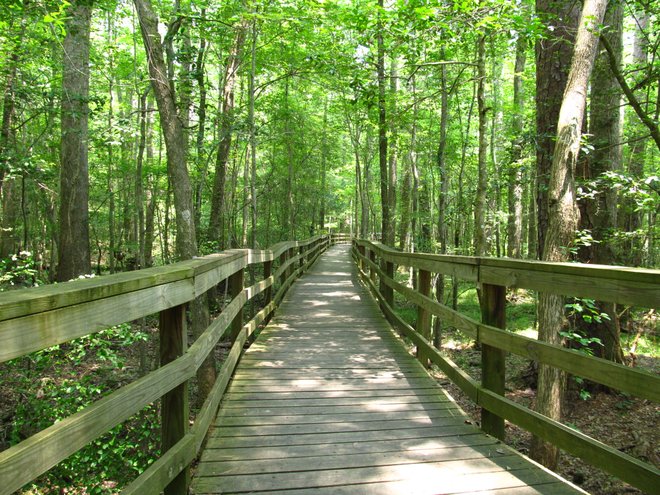 Once a logging forest, Congaree National Park, which contains the largest remaining area of old growth bottomland hardwood forest, received its official federal designation in 2003. The 26,000 acres of South Carolina parkland has one of the biggest concentrations of champion trees, including a 167-foot point loblolly pine and a 157-foot sweet gum tree. The park also offers plenty of opportunities for campers, hikers, and kayakers to get active. Bird watchers can hunt the skies for red-tailed hawks, yellow-bellied sapsuckers, warblers, or one of the many species that nest in the area. If you simply want to take a leisurely stroll, the Boardwalk Loop tracks through a swampy ecosystem filled with cypress trees that are over 500 years old.
Our Hotel Pick: The Westin Poinsett, Greenville
This pet-friendly property offers many modern amenities including good Southern restaurants, concierge service, spacious fitness center, free Wi-Fi and airport shuttle, and popular event space for up to 1,000 people. Its 200 spacious rooms and suites are clean, traditionally decorated, and well outfitted with mini-fridges, coffeemakers, and robes.
4. Museum of the Cape Fear and Airborne and Special Operations Museum
https://www.instagram.com/p/BC3eFPWq638
Today, Fayetteville, North Carolina, is best known as the home of Fort Bragg, but it also has plenty of military history dating back to the Civil War. When Union general William Sherman marched his troops through town, they notably destroyed the arsenal and offices of the local newspaper, "The Fayetteville Observer." One of the last great calvary battles of the war occurred at Monroe's Crossroads. Details about these events can be found at the Museum of the Cape Fear. Another local repository, the Airborne and Special Operations Museum tells the history of the 82nd Airborne Division, which has its roots in nearby Fort Bragg.
Our Hotel Pick: DoubleTree by Hilton Hotel Raleigh
You can't really go wrong with a DoubleTree. Situated near the heart of the city, this hotel is an ideal spot for a quick stay in the area that's close to all of the spots you're going to want to see.
5. Downtown Fredericksburg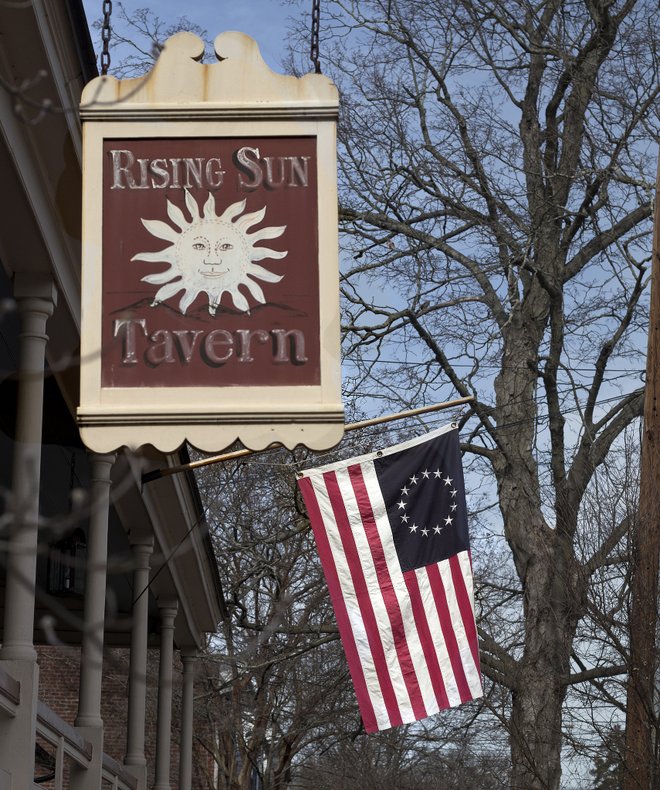 The spirit of the 18th century is still very much alive on the streets of Fredericksburg, Virginia. The downtown historic area has several sites that date back to the Revolutionary and Civil Wars. The Hugh Mercer Apothecary Shop reverently recreates an early American pharmacy. The Rising Sun Tavern is a watering hole in what was once a house built for George Washington's younger brother, Charles. George Washington's family moved to nearby Ferry Farm when the future president was six years old. Plus, there are contemporary restaurants like Fahrenheit 132, which serves up innovative versions of the area's traditional cuisine.
Our Hotel Pick: Sofitel Washington DC
With its spacious rooms, stylish bistro and bar, and a decidedly European feel in the center of old downtown near Lafayette Park and the White House, it's popular with both international and domestic business travelers and families. Its setting practically around the corner from the White House can't be beat.
6. Philadelphia's "Rocky" Steps and Mütter Museum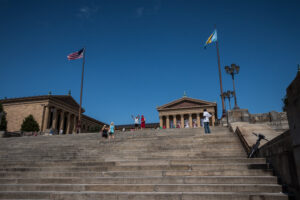 While the nation's birthplace has plenty to offer American history buffs, there's a lot of fun and culture beyond the typical attractions. If you've already stood in line to see the Liberty Bell and the seats in Independence Hall, dash up the 72 steps located before the entrance of the Philadelphia Museum of Art (free of charge). These steps were made famous in the "Rocky" films. Go inside to check out world-renowned works by Duchamp and Cézanne. Then, head over to Mütter Museum, which has a collection of medical oddities, including the conjoined livers of siamese twins Eng and Chang.
Our Hotel Pick: Le Meridien Philadelphia
Le Meridien is one of the most stylish hotels in Center City, with a striking combination of historical and modern design.
7. Battleship New Jersey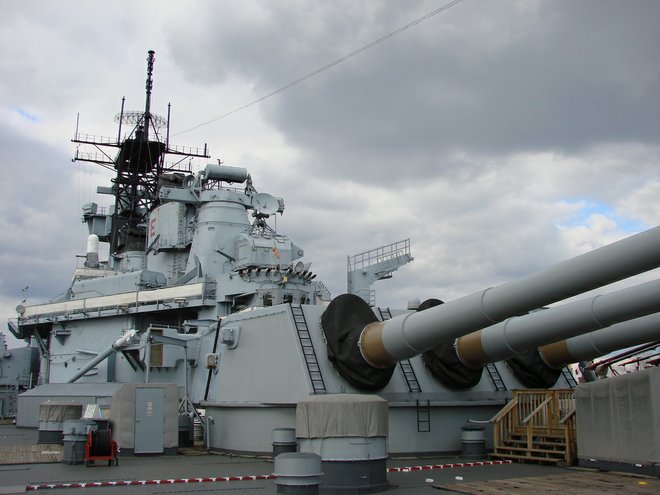 Across the river from Philadelphia is one of the largest and most decorated battleships ever built. Docked in Camden, the Battleship New Jersey offers tours of the main deck, bridge, and cabins. Everyone can take a seat in the captain's chair and also learn how the turrets were loaded and fired. Along the way, you'll learn about the Battleship New Jersey's role in World War II, the Korean War, and Vietnam. Hardcore enthusiasts can even arrange to stay the night in one of the bunks.
Our Hotel Pick: Warwick Hotel Rittenhouse Square
A top option in Philadelphia, the Warwick Hotel Rittenhouse Square resides in a historic building — but the overall vibe is supremely modern, from the lobby with bright furniture, funky lighting, and script along the walls, to the rooms with massive flat-screen TVs, free Wi-Fi, and leather furniture.
8. Mystic Seaport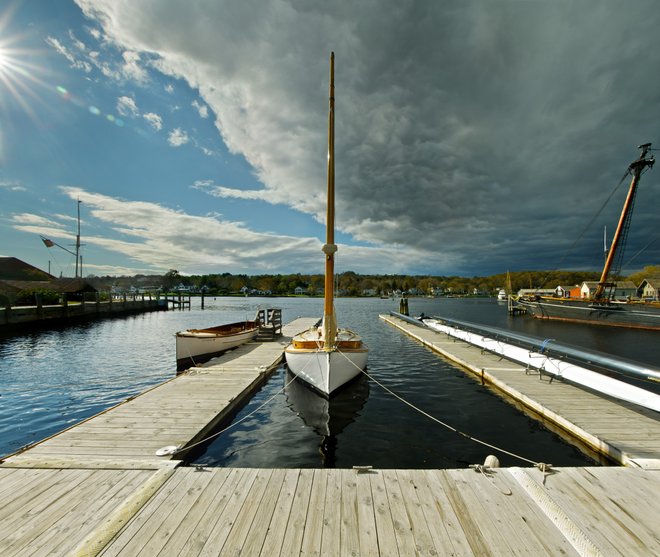 If you've ever seen "Mystic Pizza," starring Julia Roberts, then you are probably familiar with Mystic, Connecticut. Its seaport recreates a 19th-century village with over 60 restored buildings and more than 500 historic ships. Amble through the docks, listen to a sea shanty, and be sure to stop for a pizza pie, in Julia's honor.
The upper-middle-range Hilton Mystic has modern nautical designs inspired by the seaport, and a location across from the Mystic Aquarium. The entire hotel was remodeled in 2015 to include a stylish bar and restaurant, plus chic glass fireplaces on the outdoor terrace. Gray interior design schemes create a modern feel in the 182 rooms, which offer mini-fridges, coffeemakers, and in the suites, whirlpool tubs.
9. The Breakers
There are houses, there are mansions, and then there's The Breakers, one of the grandest "cottages" ever built. Commissioned by Cornelius Vanderbilt II, the Newport, Rhode Island, summer home was inspired by the palaces of 16th-century Italy. It has 70 rooms, large chandeliers, and an abundance of gilt. Fun fact: Journalist Anderson Cooper is a descendent of the Vanderbilt family and "Nothing Left Unsaid" — a documentary about his mother, Gloria Vanderbilt — had a screening at The Breakers.
On a quiet corner of Bellevue Avenue, the Hotel Viking is a four-pearl option in Newport. The 208 rooms are divided into two categories: newer Newport Rooms and older Historic Rooms. All rooms feature flat-screen TVs, Starbucks coffee, and Lather toiletries, but the Historic Rooms are more limited on extra amenities.
10. Eleanor Cabot Bradley Estate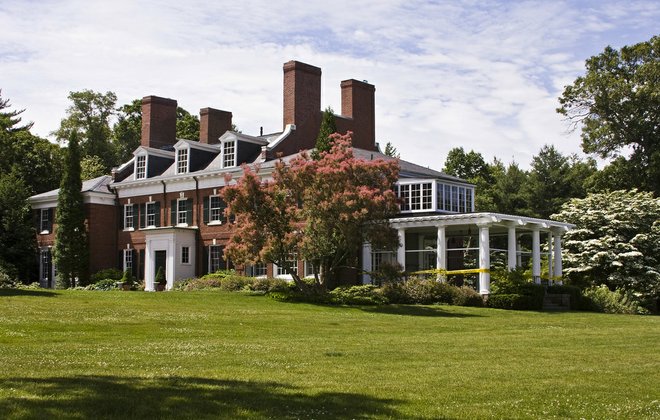 Want to know what it was like to be a part of a tony New England family? Stop by the Eleanor Cabot Bradley Estate in Canton, Massachusetts. Built at the turn of the century about 15 miles outside of Boston, the 90-acre grounds are home to an English-inspired mansion and formal gardens filled with geraniums, coral bells, and irises. Folks can even rent out the estate for weddings.
Our Hotel Pick: Kimpton Marlowe Hotel
With large, playfully furnished rooms, the 236-room Hotel Marlowe is one of Cambridge's most family-friendly hotels.
There's no need to sacrifice style when spending long, sunny days on the road. Having 100% UV protection, Ray-Ban sunglasses aren't only stylish, but they do the job they're supposed to.
You'll Also Like:
All products are independently selected by our writers and editors. If you buy something through our links, Oyster may earn an affiliate commission.