Dumbo? Check. Space Mountain? Done. Picture (with Minnie) in front of Cinderella's Castle? Yep. Walt Disney World in Orlando, Florida is a land of iconic experiences that many want to see at least once, if not more. But even the most devout Mickeyphiles may eventually begin to wonder if there's anything fun that they haven't done yet. We dug up 10 such under-the-radar activities. It's a safe bet to say these to-dos most likely don't make it onto the majority of visitor itineraries. And that's a shame because they're all pretty awesome. Get ready to shake up your Disney World touring plan.
1. Ride a Surrey Bike
Yes, really. Within a 10-minute walk of the Epcot exit near the United Kingdom Pavilion in World Showcase is the boardwalk at Crescent Lake, a tribute to Coney Island back in the day. And it's a pretty close approximation, with its midway games, jugglers, saltwater taffy, and surrey bikes. You can rent a two-, four-, or six-person conveyance to tool around the lake for either 30 or 60 minutes. It's refreshing fun for sure, but a few tips: the riders in the front seem to need the most leg strength (and energy). Also, the side of the lake farthest from the rental stand goes uphill. Unless you're doing this for exercise — unlikely, what with the bell you ring when pedestrians get too close and all — the half-hour rental will probably suffice.
Where to Stay: Disney Boardwalk Villas are in the center of the area's action and a quick walk to the Epcot gates. No driving or waiting for a shuttle.
2. Go Horseback Riding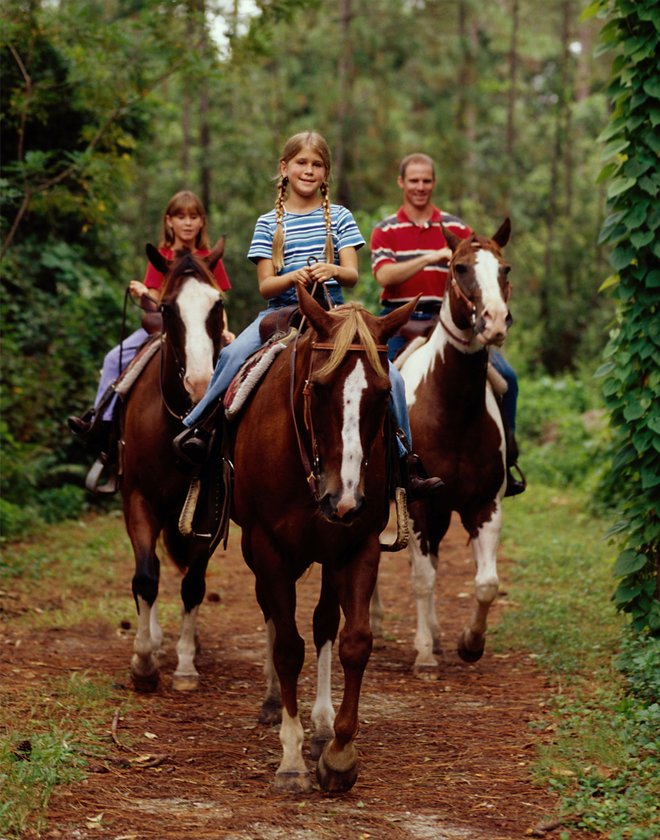 The Tri-Circle-D Ranch at the Fort Wilderness has plenty to lure wannabe equestrians. Horseback riding sessions are offered six times a day. Ranch hands at least nine years old can hit the trails for the 45-minute guided ride through the woodlands. Younger children need not pout: ponies are waiting for the little ones to climb aboard; carriage rides are another option. Hay and wagon rides are popular in the fall, while December brings horse-drawn sleigh outings. Call 407-WDW-PLAY to make reservations.
Where to Stay: Disney's Wilderness Lodge is near the ranch and captures that western spirit in its decor, not least of all the erupting geyser.
3. See Cirque du Soleil
Practically synonymous with Las Vegas, Cirque du Soleil can be soaked up right in the heart of Florida. The name of the show in Disney Springs is La Nouba, which comes from the French "faire la nouba," which translates to "to live it up." And like its Vegas cousin, this East Coast version is packed with wall-to-wall, ceiling-to-floor international acrobats, aerialists, singers, trapeze artists, jugglers, and clowns — all bathed in color, light, and stirring music. One of the newer acts here is a pair of bamboo artists, performing a Chinese art form while dangling on what is essentially a stick from the (really high) ceiling. La Nouba also introduces breakdancing into Cirque du Soleil for the first time.
Where to Stay: Disney's Old Key West Resort is close to Disney Springs and has a quiet riverside setting.
4. Run a Marathon
https://www.instagram.com/p/BJBJqN0AX2Z
No disrespect to New York, Chicago, or Boston, but the runDisney marathons are arguably the most fun. If you had no idea you could run a 5K — let alone a 10K — at Disney, here's the scoop. They're held regularly on weekends throughout the year, and have a variety of themes, courses, and lengths. Whether you decide to tackle a half marathon or a full one, you're encouraged to dress for it. And that means more than running shoes. Participants traditionally dress according to the theme (think tutus and crowns for princess marathons; Luke Skywalker for the Star Wars races; and a hat with big ears for Goofy's Race). The two-day events wind through all four parks: Hollywood Studios, Animal Kingdom, Magic Kingdom, and Epcot. And yes, you can walk part of it if you'd like.
Where to Stay: If you're running a marathon, you deserve to relax big time at the Waldorf Astoria Orlando.
5. Get Your Chef On
They largely manage to stay out of the limelight, but the table service restaurants in Disney's Animal Kingdom Lodge are superb. Even less well known than their gourmet cuisine is the fact that Jiko, The Cooking Place and Boma, Flavors of Africa open their doors for a free tour. Both of these eateries are seen on the same tour, which is led by cultural representatives who hail from Africa. On the tour, you'll get the backstory on the decor, recipe creation, and more of the inner workings of the establishments. Taste testing is part of the thrill, too, of course. It starts at 4 p.m. daily at the Boma podium. Note: They don't take reservations for the 30-minute tour. If you're coming from across the park, it may make sense to call 407-938-3000 to double check that it's going off as scheduled.
Where to Stay: Disney's Animal Kingdom Lodge, of course! Set on a wildlife sanctuary, you might forget you're not on the Serengeti.
6. Bowl a Strike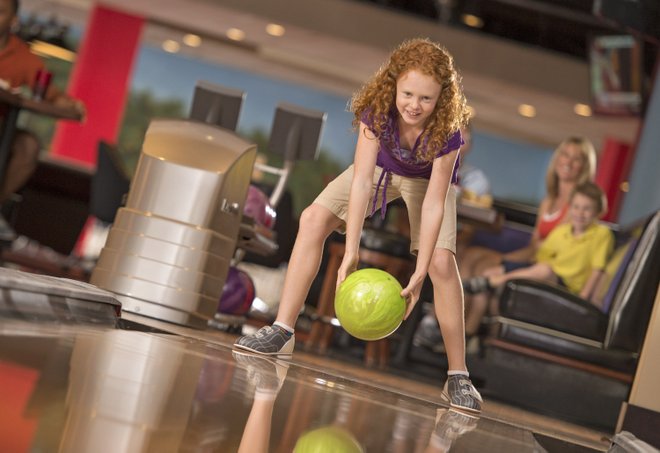 Forget everything you think you know about bowling alleys. The Splitsville Luxury Lanes are clean, bright, cheery, and chic. You read that right: a chic bowling alley. Located in Disney Springs, this hideaway is a great spot to spend a few hours if the heat is starting to melt your determination to tough out the line at the It's a Small World ride. Here, servers bring delicious refreshments right to your lane. We're talking a menu with authentic sushi (try the Volcano Roll if nothing else), ahi tuna salad, and fresh veggie rice bowls. It also happens to be a popular spot for bachelor and bachelorette parties.
Where to Stay: Disney's Coronado Springs Resort has the best rooms and beds of the Disney moderate resorts. Plus, since it gears itself to convention-goers as well as tourists, the environment is more calm than other properties in the area.
7. Get a Haircut
https://www.instagram.com/p/BKjWwvegHUJ
You know the string of old-timey shops along Main Street as you head towards Cinderella's Castle? On the left, you'll see the Harmony Barber Shop. It's not a facade, but a real working business. So if you forgot to get that trim before you left home, or your kiddo's bangs are obscuring her eyes in all the Instagram shots you're posting, here's your chance to make a routine experience fun. Sometimes the Dapper Dans, Disney's barbershop quartet, show up. Little ones getting their very first haircut can get special Mickey ears and a certificate. The barbers also provide hot towel shaves and other grooming services along with cuts. Call 407-WDW-PLAY to make an appointment.
Where to Stay: Disney's Pop Century Resort is one of the best value hotels in Orlando and offers direct shuttle service to the parks.
8. Go Scuba Diving
What kid — or grown-up, let's admit it — hasn't once wondered what it would be like to swim in a beautiful undersea world and make friends with the denizens of the deep? Disney — in the business of making dreams come true, after all — fulfills that fantasy for scuba-certified guests inside The Seas with Nemo & Friends Pavilion at Epcot. Through the DiveQuest program, visitors descend into the 5.7-million-gallon Caribbean coral reef aquarium, which is among the largest in the world. The entire experience, which includes a "backstage" tour to see how the essentially man-made ocean is cleaned and maintained, is three hours long. You get 40 minutes to mingle with the 6,000 sea turtles, angelfish, dolphins, eagle rays, and sharks. Your fellow travelers who aren't taking the plunge can watch you through a wall of 56 windows. Make a reservation by calling 407-WDW-TOUR.
Where to Stay: TheWyndham Bonnet Creek Resort is five minutes from Epcot and a free shuttle is provided. The pools with lazy rivers are top-notch.
9. Sail on a Luxury Yacht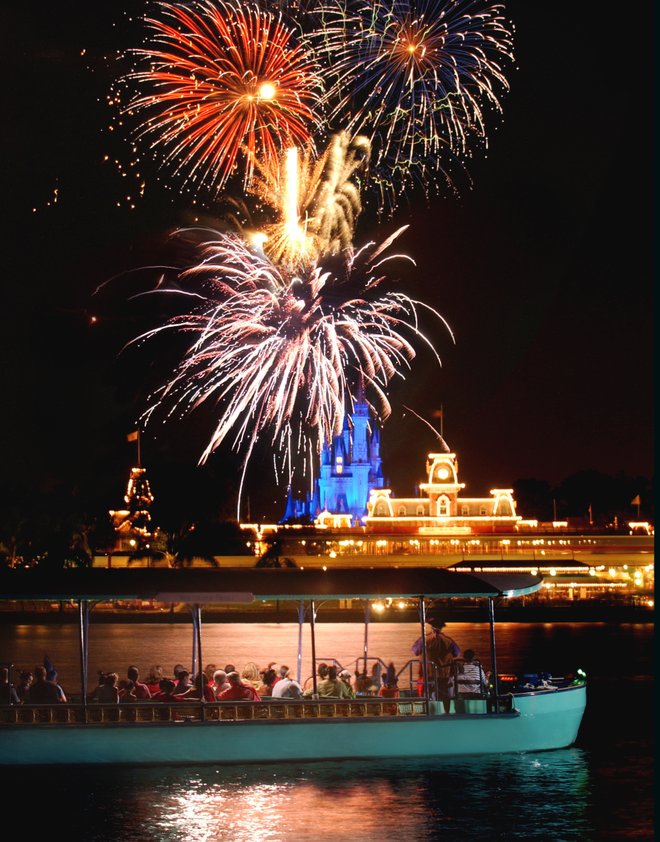 Board the posh Grand 1, a 52-foot Sea Ray Sedan Bridge Yacht, at Disney's Grand Floridian Resort & Spa. You'll enjoy a cruise around Bay Lake and Seven Seas Lagoon with up to 12 other guests. The whole thing is guided by a professional captain and deckhand. The evening sailing is the most popular, since that one comes with a front-row seat to the fireworks show over Cinderella's Castle plus audio from the yacht's speakers. Given the small group, it's common for couples to arrange for private dining. Custom create a dinner menu for two, or order up a perfectly simple platter of strawberries and bottle of bubbly. Marriage proposal, anyone? Make a reservation by calling 407-WDW-TOUR.
Where to Stay: The elegant Disney's Grand Floridian Resort & Spa is on the monorail and is the launching point for this and other sailing experiences.
10. Explore Underground Tunnels
Ever wonder what's underneath the Magic Kingdom? No? That's understandable. After all, who knew that the utilidors lurked beneath your feet? What the biggest Disney buffs know, but the rest of us may not, is that the Magic Kingdom is not built on ground level. It seems that way, but before the park ever opened, a vast network of utility corridors (utilidors) were laid in and then covered up with the soil that came from digging out the Seven Seas Lagoon. So the back lot, so to speak, of Magic Kingdom, is actually underground. All manner of mundane functions and spaces are concealed, including trash extraction (direct from the cans above!), computer systems, supply deliveries, and locker rooms, to name a few. The Keys to the Kingdom tour, which also shows you other behind-the-scenes areas, includes a descent to this little-known lair. Make a reservation by calling 407-WDW-TOUR.
Where to Stay: Disney's Polynesian Resort is on the monorail, just 10 minutes from the Magic Kingdom, and sleeps five in its standard rooms.
Related Stories:
All products are independently selected by our writers and editors. If you buy something through our links, Oyster may earn an affiliate commission.