As much as we love to travel (which is a whole heck of a lot), we have to admit that sometimes it can also be incredible stressful -- especially with the little ones in tow. We recently shared a few of our favorite travel tips to help everyone have a smooth and sane journey, but we've got a few more up our sleeve, specifically selected to help all the moms and dads out there. So whether they are time-tested tricks that have been handed down through generations, or just simple apps you have to download that can help out during a complex situation, here are our 10 tips that make traveling with kids and babies as breezy as the beach at your final destination. (Or almost as breezy, at least.)
Have you ever relied on these tips? Have some others to offer? Let us know in the comments section below! Sharing is caring.
1. Create a Go-To Pack List
Save yourself a lot of time and frustration by creating a general pack list — for everyone in the family — that applies to all trips and includes everything from socks, to first-aid kit items, to coloring books, and so on. Type it up on the computer (that way you can easily edit it) and print it out before each trip. This makes packing less frantic and more organized. Once you know you won't be forgetting any of the basics, you can add trip-specific items like bathing suits or scarves. It's also wise to crank out separate pack lists for both domestic and international travel, as things like adapters and passports are essential for overseas, but not so much when heading to grandma's house.
2. Set Your Mental Clock Ahead
Rare is the person who can accurately time-manage themselves, especially when working with such unpredictable travel companions as kids. Adorable (most of the time), they are. Time savers, they are not. An easy way to battle the clock is to set your mental clock 30 minutes to an hour ahead; if you need to get to the airport by 9 a.m., act like you've got to be there at 8 a.m. Have a noon check out? Pretend it's 11 a.m. Worst-case scenario you're (gasp!) early to something.
3. Give Them Goodie Bags
A great occupier for kids ages two to six, personal travel goodie bags may just end up being your best friend on family vacations. Filled with things like favorite snacks, activity books, small toys, and stuffed travel pals, these packs make kids feel special and (hopefully) less impatient. Throwing in information on the destination or items that can be used once you get there is also a fun way to get kids interested in the trip. Think clean and avoid packing snacks like Cheerios and crushable chips, though, since these make messes (and enemies) in cars and on planes.
4. Let Them in on the Fun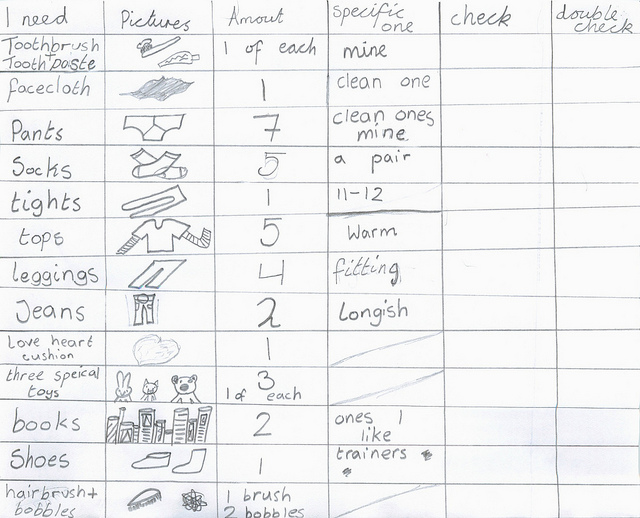 Kids are often left out of the travel planning process, but we believe you should get them started early! You'll be surprised what a difference it can make when you let them join in on the fun. Whether its making their own packing lists, selecting activities, or picking out new pajamas to wear in the hotels, kids love being a part of the process. This also gets them invested and excited about the trip and, depending on what their tasks are, can teach them responsibility as well.
5. Valet Your Car
Sure it costs more than self-parking, but depending on how young your kids are and how many kids you have in tow, using an airport valet service can shave lots of time (and stress) off your journey. No one wants to start or end a trip on a bad note, so rather than stretching out travel time by 30 to 45 minutes on each side, valeting the car means you'll get from Point A to Point B with so much more ease. Time is a valuable commodity.
6. Strap Them on Through Security
If you're traveling with a newbie, forget the ins and outs of strollers and just strap your tiny little bean to your chest when making your way through airport security. It saves tons of time, fuss, and finagling with stroller straps and latches — plus, it keeps your hands free to take out laptops, remove shoes and belts, and give knowing high-fives to other travel-savvy parents.
7. Get a Travel-Ready, Two-in-One Carseat
If your kid is too big to strap to your chest (or you just aren't that keen on it), make sure you snag a carseat travel cart instead. This game changer is a two-in-one that functions as both a stroller and car seat. It's a super-convenient and safe way (safest way
for baby to fly is in an airplane-approved car seat) to get from the car to airport to plane in just a few easy snaps! Simply pull the carseat out of the car and attach it to the travel cart while you roam through the airport — you can even get carts that have room for small carry-ons. When you are ready to board the plane, you just detach the seat (most airlines will let you check the stroller part for free) and you are ready to go.
8. Get a White Noise App
Leave the noise machine at home and download one of the many noise apps out there to your phone or tablet. It's one less thing to pack and will help keep baby soothed, especially during turbulence or at the end of a long day of traveling.
9. Request Bulkhead Seating on Planes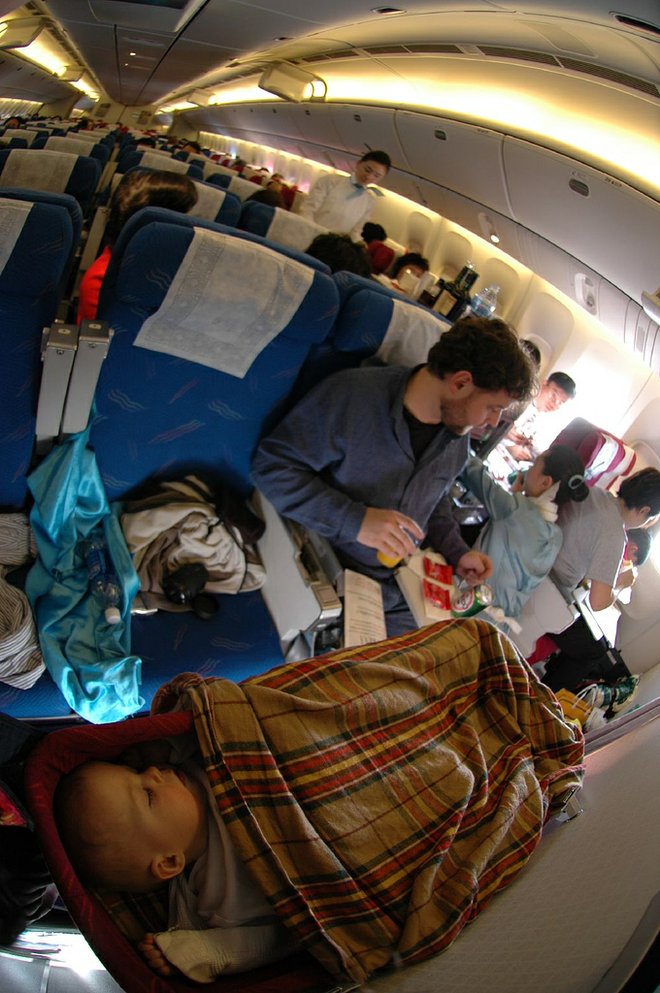 A great tip for new parents: Request a bulkhead seat and bassinet on airplanes. Depending on the airline, families will usually have priority access to these seats because of the space for bassinets. Bassinets are baby-friendly baskets that attach to the front wall, providing a small, makeshift crib for your little one throughout most of the flight. Many airlines provide the bassinets for free, but be sure to check before you get to the airport.
10. Check for Travel Apps
Technology and travel go hand-in-hand these days, and we LOVE it. There are tons of family-friendly travel apps out there especially designed to keep kids busy (and parents sane) while traveling. We especially like the Roadside America app which has suggestions on cool places to
stop along the road (that aren't just limited to rest stops) where kids can get out, run around, and expend some energy.
All products are independently selected by our writers and editors. If you buy something through our links, Oyster may earn an affiliate commission.