Orlando is many things to many people—an escape from the brutally cold winter in the north, a place to keep the kids endlessly entertained during a family vacation, a spring break destination for college-age pals, a honeymoon pick, and a spot to satisfy adventure cravings at the theme parks. No matter your reason, however, being able to jump in a pool factors heavily during any visit (it can get hot, after all).
And while any hotel can fill a hole with chlorinated H2O, we give extra credit to those that make it a point to stand out. You know, the ones that keep the fun going long after you've left the theme park (or let's be honest, offer an oasis to cool off and relax after a long day of standing in lines). Here, we rounded up 11 outdoor hotel pools in Orlando that are making a splash. Just don't forget to pack the sunscreen.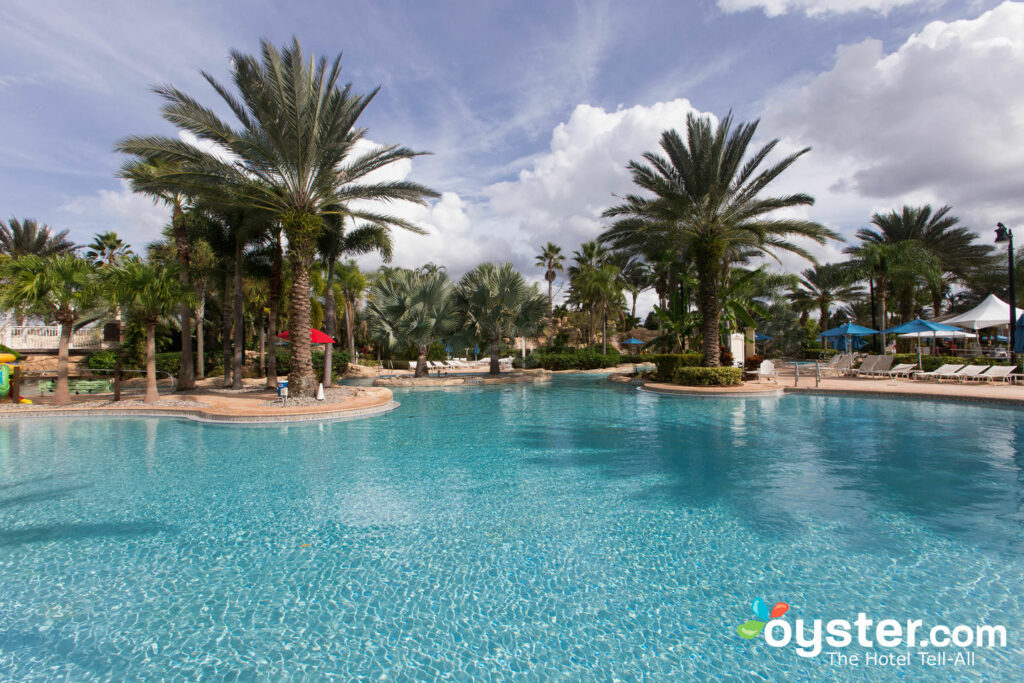 Located about 20 minutes south of Magic Kingdom, this 411-room Orlando resort plays a lot of roles—wedding venue, golf reunion getaway, family vacation spot, and corporate retreat location, to name a few. That's all thanks to its plentiful amenities, which encompass a full-service spa, golf courses, tennis courts, multiple restaurants, and best of all, 11 pools, including a five-acre water park with a lazy river, several waterslides, kids' play area, and lots of space to lounge.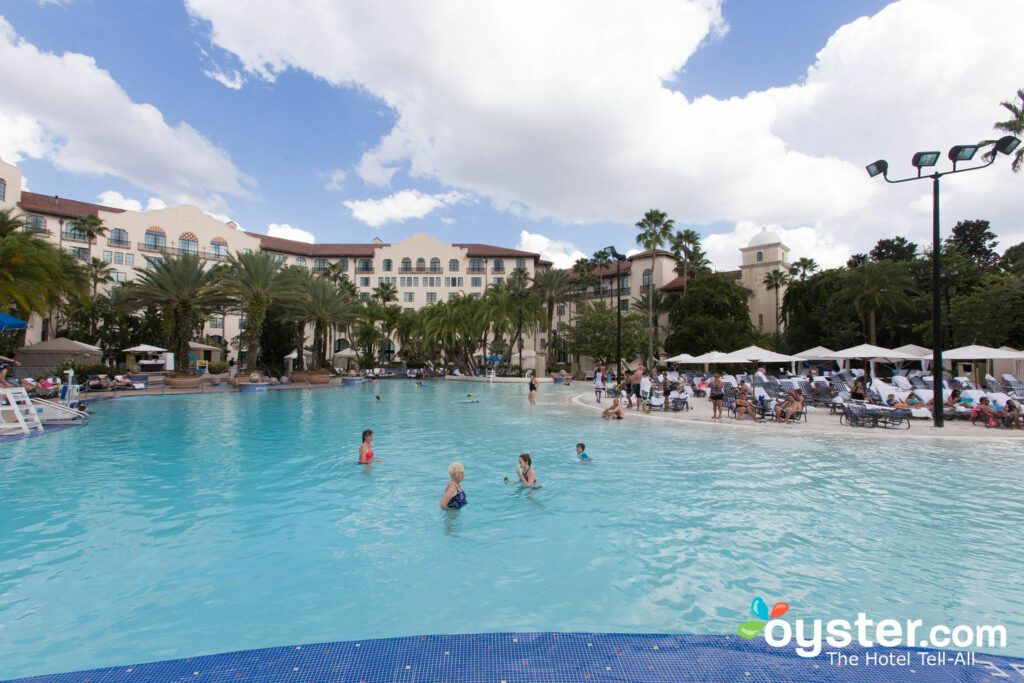 This 650-room hotel embraces a rock-and-roll theme—and a rock star experience is exactly what you'll get, from the stylish, music-themed rooms to the resort-style pool. Speaking of the latter, the enormous 12,000-square-foot oasis is surrounded by sand and features a 260-foot waterslide, hot tubs, and an underwater sound system, which means you can groove while you're perfecting your breaststroke. Better still, the resort is ideally located near Universal Studios theme park, so you can go from roller coaster to refreshing dip in a jiff.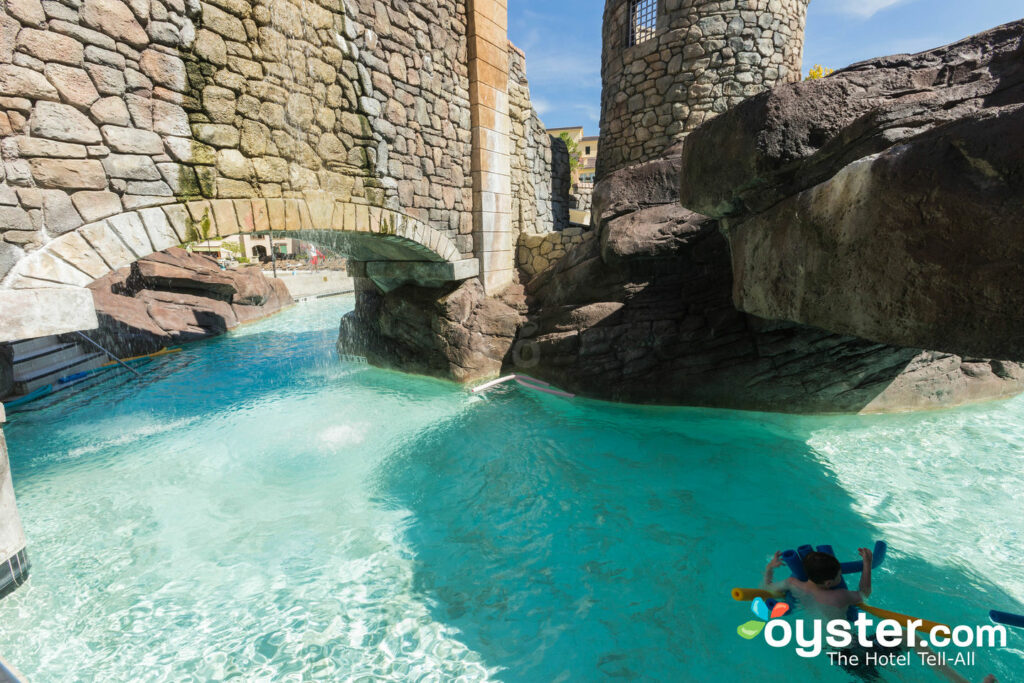 This Loews hotel strives to please both couples and families—and manages to pull it off. How, you ask? In addition to its beautiful guest rooms, top-notch spa and fitness center, great Italian restaurants, and a quaint piazza with nightly entertainment, the property also offers three very distinct pools that cater to each type of guest. The main pool, the de facto children's pool, is a large stone fort with a sandy shore, shallow zero-depth access, lifeguards on duty, food and drink service, and a Roman aqueduct-style waterslide. Lovebirds might prefer the scenic villa pool, a lap pool framed by palm trees and manicured lawns, or the hillside pool, an oval pool that's nestled at the edge of the property.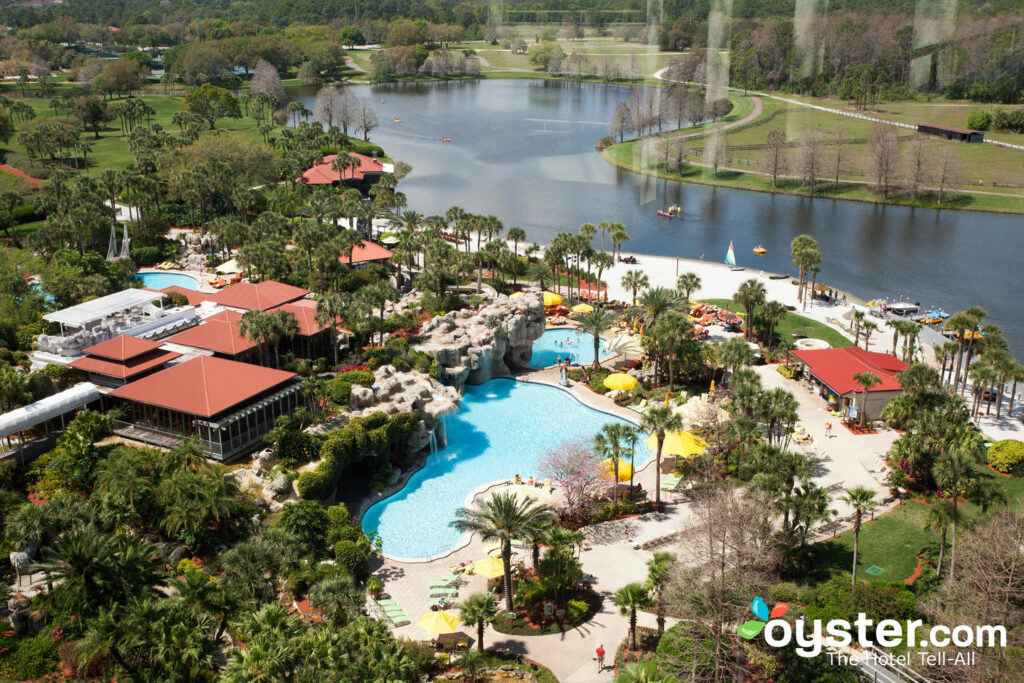 The Hyatt Regency Grand Cypress might be situated in the heart of Orlando's crowded theme park landscape, but with 1,500 acres of private grounds, it offers guests ample space to spread out and catch a break from the bustle. The rooms here boast balconies overlooking the resort's pool area or Lake Buena Vista—with views of fireworks at Epcot and the Magic Kingdom. That cool factor is only furthered by the hotel's huge lagoon-style pool, which comes with a waterfall and man-made caves sheltering hot tubs. The pool area also throws in a 124-foot waterslide, an interactive water play area, rock climbing, and a large sundeck just for good measure.
Why stop the fun-in-the-sun after you've walked out of the theme park gates? Located one mile from Disney, this kid-friendly resort is home to a rambunctious pirate-themed pool. It's certainly on the smaller side compared to some others on this list, but it packs in a lot of personality, with a pirate ship, water cannons, waterfalls, hot tubs, and a festive tiki bar.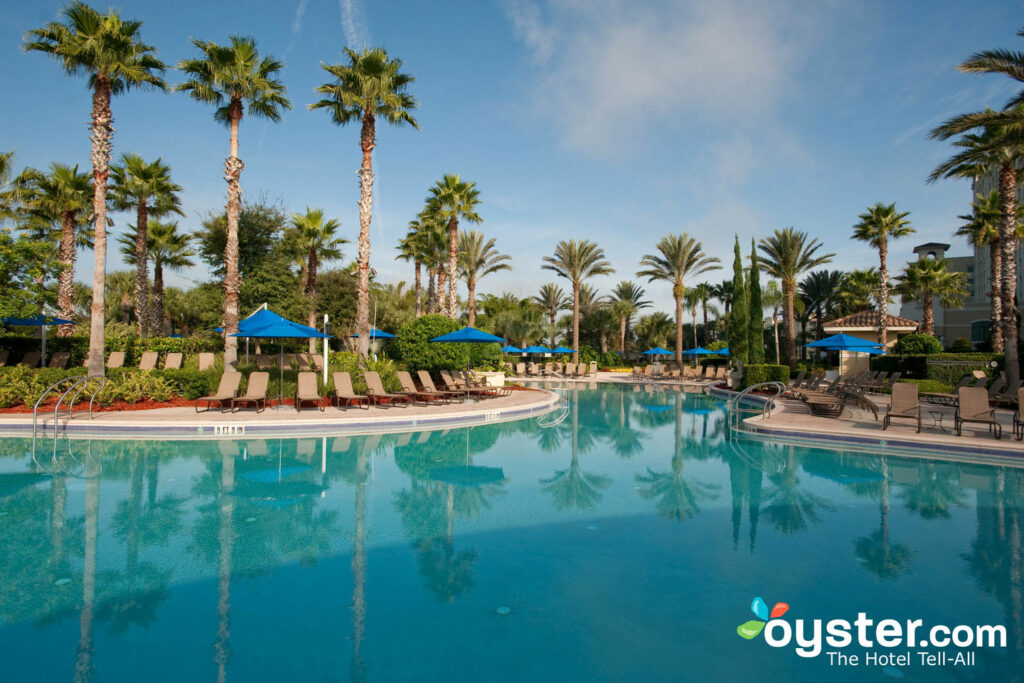 Three—that's the number of pools this resort, located 10 miles south of Disney World, offers guests. Catch up on some reading or get some shut-eye at the formal pool, which comes with eight poolside cabanas available for rent. Those who are looking for a more energetic vibe can speed down the 125-foot corkscrew waterslide at the family pool. Or, drift along the 850-foot lazy river on an inner tube, and keep your eyes peeled for shooting water cannons, a rushing waterfall, tunnels, gentle rapids, and hidden canyons. (Note: the property is scheduled to undergo renovations in spring 2017, so check for closures of certain areas).
This 1,001-room Hilton hotel might be located near the frenetic theme parks, but it provides a calm vibe for adults who are seeking it (think subtle fragrance instead of "Alvin and the Chipmunks" tracks in the lobby and muted color schemes sans Disney-themed details). But a tranquil atmosphere doesn't equal no fun. In fact, there's plenty of that to go around at the property's huge lagoon-style pool, which also boasts a waterslide, lazy river, and hot tub.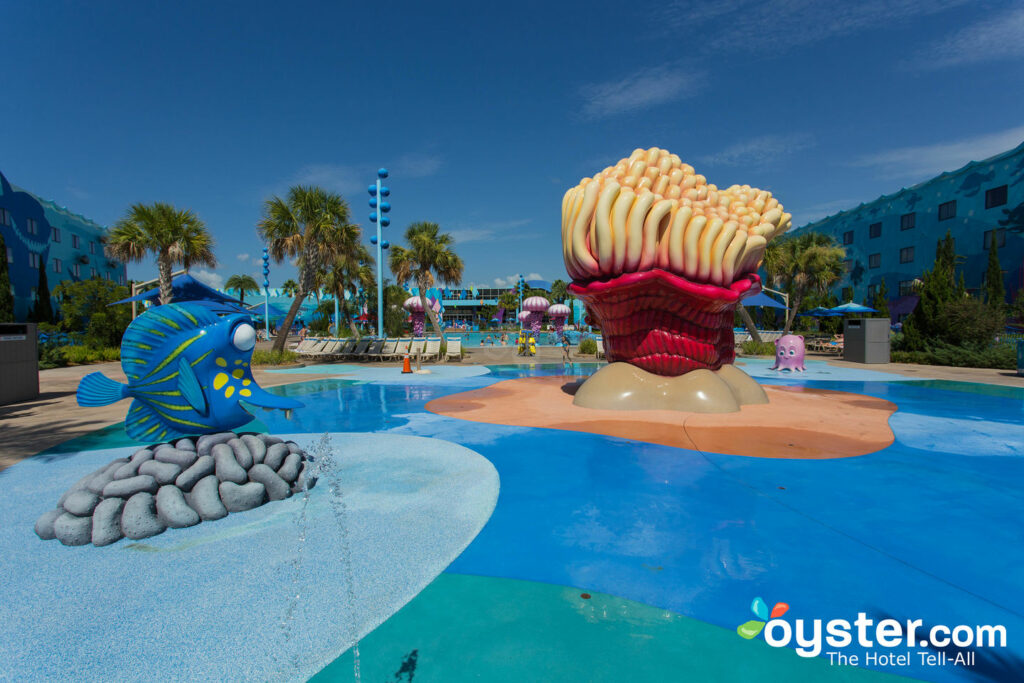 This budget-conscious property is situated in the Disney resort complex and it makes it a point to remind you of that everywhere you turn, with Disney paraphernalia and replicas of beloved characters. That even holds true at the hotel's three outdoor pools. For example, the Big Blue Pool not only stands out for being the largest hotel pool on a Disney World property (over 308,527 gallons!), but also for its "Finding Nemo" theme (picture giant set pieces of Nemo, Crush, and other film favorites) and underwater speakers. The other two pools are inspired by "Cars" and "The Little Mermaid." Dive in.
An amusement park in itself, this 1,800-room hotel inside Universal Orlando comes with a bowling alley, arcade, and rooms outfitted in zany colors. Even more fun are the two big pools and lazy river, where guests can float around on tubes past tropical plants, faux islands, rocks, and waterfalls. Both pool areas give off a mini water park vibe, with a sandy "beach," a kids' fountain play area, and a large waterslide. Between dips, stop by the pool bar area, which features a mini rocket ship and colorful machines swirling daiquiris.
When things get heated, cool off in this hotel's refreshing outdoor pool complex, which features several pools—one with a playscape for little ones and another quiet, adult option with a whirlpool. Once you work up an appetite after swimming laps or splish-splashing around, grab some light bites at the pool bar.
Give your legs a rest after a long day of waiting on theme park queues and head to the property's winding lazy-river pool. A canopy of trees tilt toward the water, creating a "Jungle Book" vibe and offering some shade. (Guests also have access to the pool at the nearby Ritz-Carlton resort.) Cabanas, cushioned lounge chairs, and floaty rafts await.
You'll Also Like:
All products are independently selected by our writers and editors. If you buy something through our links, Oyster may earn an affiliate commission.