For travelers on a budget, a jaunt to the Mediterranean might seem off limits. Known for its gorgeous scenery, temperate climate, sumptuous cuisine, and sky-high price tags, the area is often thought of as a playground exclusively for the rich and famous. But we believe everyone deserves a fabulous vacation and a trip to the Mediterranean is, well, fabulous! So our team of Oyster investigators has searched high and low to find hotels across the Mediterranean that are a little more wallet-friendly than you'd expect. (We don't expect any thanks and we thoroughly enjoyed ourselves but, sure -- you're welcome). Here are 11 of our favorites.
Villaggio Colostrai is a budget traveler's best bet in Sardinia. The hotel offers a free breakfast buffet, nightly activities for adults and children, and free parking. Rooms are pretty basic, and the hotel doesn't offer Wi-Fi, but its manicured grounds and incredible pool, with sweeping views of the Mediterranean, will certainly make up for any shortcomings.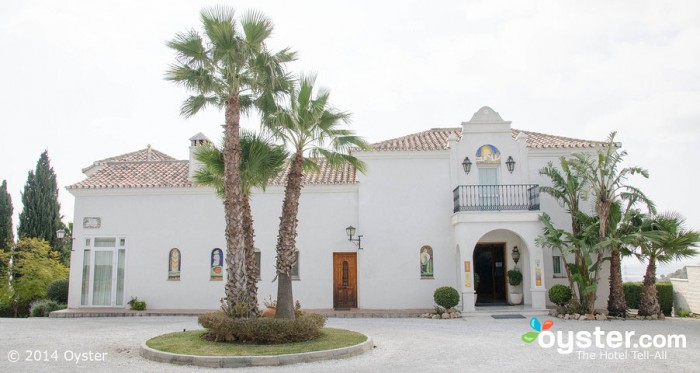 Located in Spain's famed Costa Del Sol region, the Hotel Villa Guadalupe is a family-owned boutique hotel that overlooks the city of Malaga. There is a beautiful pool with mosaic tile-work and an acclaimed gourmet restaurant on-site. Guests will have to rent a car or take taxis to the center of town, however, as the property is a bit removed from Malaga's main attractions. But this helps drive down prices.
Oia, a tiny town on the northern end of Santorini, is known to have some of the world's best sunsets. Thus, the aptly named Oia's Sunset is not only a perfect viewing spot, but also an awesome budget-friendly hotel. Oia's Sunset is a relaxed and friendly apartment complex, where all rooms have kitchens and private terraces. There is a small (but relatively deep) swimming pool, and the hotel is conveniently located in the center of town.
The Best Western City Hotel is ideally located in downtown Genoa, only a short distance from Old Town. Rooms are richly decorated with warm colors and plush areas rugs, and range from small single occupancies to larger suites with excellent views of the city. The on-site restaurant serves free daily breakfast, which includes espresso and sparkling wine…how's that for value?!
Perhaps the most stylish option on our list, U232 Hotel is a no brainer when it comes to budget travel in Barcelona. This chic hotel has a modern, Art Deco vibe, but the dark colors and warm wood accents make it quite inviting. While a bit far from the city center, U232 Hotel is conveniently located one block from a metro stop. And though it doesn't have a pool, there is an awesome sun terrace on the 10th-floor roof with great lounge chairs and excellent views of downtown.
Athens Center Square is a trendy hotel with great features. Perks such as free Wi-Fi, a rooftop bar with views of the Acropolis, and clean, brightly colored rooms with modern bathrooms make this hotel a fabulous option for those on a budget. The surrounding neighborhood is somewhat seedy at night, so families traveling with children might want to consider Hotel Hermes, which is located in a much quieter neighborhood and also often offers affordable rates.
Location, location, location! Right in the middle of central Rome, Hotel Condotti is perfectly situated for visitors who wish to see the sights. Famous Roman landmarks such as the Trevi Fountain, Spanish Steps, Piazza del Popolo, and the Pantheo, are all within walking distance. Though the decor is a bit tired, and the rooms a bit small, the Hotel Condotti offers budget-friendly prices in this otherwise ritzy area.
If a hip, yet inexpensive place to stay if what you're after, then consider Hotel Piazza Bellini the perfect spot. Rooms are sleek and nicely furnished, while common areas have beautiful hardwood floors and brightly colored walls. Its location in the heart of historic Naples cannot be beat, and freebies like Wi-Fi and a continental breakfast aren't too shabby either. There's even a charming courtyard that frequently hosts art exhibits.
With stunning scenery around every corner, two beautiful pools, and access to a private beach, the Adonis Asonitis Apartments are a fabulous choice for travelers of all budgets. While the apartments themselves are a tad bland, the lobby, restaurant, and other communal areas are rather charming. Corfu is quieter, and less built up than other Greek islands such as Santorini or Mykonos — perfect for those looking for the splendor of the isles without the high price tag.
Tucked along a tiny, pedestrian-only street, Hotel Puerta del Mar feels more like a cozy guest house than a hotel. Meticulously kept rooms have cheery yellow walls and decorative blue tiles, and bathrooms are spacious, if somewhat basic. Nerja is a quaint coastal town in Spain's Malaga region, perfect for travelers seeking a peaceful seaside retreat.
L'Antico Frantoio (meaning "The Old Mill") is a delightful hotel on the site of a former olive mill. Its gorgeous restaurant serves regional fare, and is open year round, unlike the hotel itself. Potential guests will want to check the hotel's website before booking, as accommodations are usually only available from spring to autumn. If visitors are lucky enough to score one of L'Antico Frantoio's eight rooms, they'll be able to enjoy the property's lovely gardens and on-site spa.
Check out Oyster's page on Google+
To learn more about Alex Creange, visit her on Google+
RELATED LINKS:
All products are independently selected by our writers and editors. If you buy something through our links, Oyster may earn an affiliate commission.