Los Angeles is infamous for its congested freeways, lack of adequate public transport, and (subsequently) walking-adverse residents. I lived in L.A. for nearly 10 years before I learned that there was a small network of underground trains rumbling underneath our roads. Barely any of my friends had bikes, and no one walked longer than a block or two to get where they were going -- period.
However, all this started to change when the oil prices more than doubled between 2007 and 2008. Subtly (but suddenly) traffic lightened; fewer cars were on the roads, people began to investigate this mythical underground metro system, "fixie" bikes became all the rage, and more and more people were actually walking in LA. And why not? It makes perfect sense -- parts of they city are actually really quite walkable.
So here we bring you 11 spots that prove Los Angeles is actually a walkable city. Read on to find out why you might not even feel the need to rent a car (or rely on multiple Ubers) the next time you are in the City of Angels. Imagine that.
The Arts District and Little Tokyo
Downtown LA's famous and trendy Arts District, and the adjacent neighborhood of Little Tokyo, make for a stellar day of exploring by foot. You can reach this area by taking the Metro Gold Line to the Little Tokyo stop. From here, pump your feet on the pavement anywhere between Alameda Street, Los Angeles Street, East 1st Street, and East 4th Street to explore Little Tokyo's authentic Japanese vibe. Slurp ramen, stuff your face with sushi, eat Japanese tapas at an izakaya and sip sake, visit the peaceful Japanese gardens, or just peruse oddities at the shops. You can also get your museum fix at the Japanese American Museum and the Geffen Contemporary at MOCA. But, if you want to experience art as it's happening, then cross east over Alameda Street to hit up the lively and colorful Arts District. Here, you'll find craft breweries, large street murals, a few boutiques, great coffee shops, and a cozy spot that will fill your pie stomach.
Little Tokyo Hotel Pick:
Downtown L.A. is one of the more connected areas via the Metro, thanks to a handful of stations. You can jump off at 7th and Metro or Pershing Square to start your walking tour. Down here, the vibe is gritty, busy, and so pedestrian you might forget you are in Los Angeles — if it weren't for the swaying palms above. While there are several shops — lots in the clothing and jewelry realm — this area is a hot spot for bars and restaurants, and thus, a perfect place to do a bar crawl with friends. Popular daytime activities include a self-guided food tour through the Grand Central Market, a free tour of Frank Gehry's whimsical Walt Disney Concert Hall, an architectural walking tour from the Los Angeles Conservancy, and the Grammy museum at LA Live.
Downtown Hotel Pick:
Chinatown and Olivera Street
Los Angeles' Chinatown, first located by Union Station and then relocated in 1938, also has its own stop along the Gold Line, though it is within a 15-minute walk of Little Tokyo if you're heading from that direction. However you get here, plan on a few hours walking mostly along Hill Street, popping in and out of the small shops and Chinese medicine stores lining the streets, grabbing unforgettable dim sum or roasted duck, and soaking in the historic architecture and malls (argued as the first in America) that make L.A.'s relatively small Chinatown unique. If you do decide to take the walk to/from Little Tokyo or Union Station, be sure to make a brief detour to Olivera Street — a small stretch of Mexico hidden behind the intersection of Cesar Chavez Avenue and Alameda Street.
Los Feliz
Los Feliz is a small-but-trendy, easily walkable neighborhood between Silver Lake and Hollywood. Here, between the shady sidewalks of Vermont Avenue and Hillhurst Avenue, you can make stops at vintage stores, old-school (and functioning) movie theaters, the post office, bars, and restaurants — including the Swingers-famous Dresden on Vermont. On Hollywood Boulevard, you can walk over to the Goodwill, Ollie Dots vintage store, or check out the bizarre art gallery, La Luz de Jesus Gallery, at the back of Wacko bookstore. Just on the edge of Los Feliz, you can climb up Barnsdall Art Park for nice views of the 'hood, sculptures, and sometimes catch events like Shakespeare in the Park.
It should come as no surprise that Venice Beach is one of the more walkable spots in Los Angeles. After all, we're all hip to the fact there's a long and lively boardwalk stretching the length of the beach. You could spend a day sauntering up and down the boardwalk, checking out shops, restaurants, psychics, beach bars, murals, and performers lining this famous area. While the Muscle Beach section of the boardwalk may be a little of a let down, the built-in skate park area is a good spot to grab some entertainment if you tire of street performers, and there's always the beach.
Venice Beach Hotel Pick:
Beverly Grove and the Fairfax District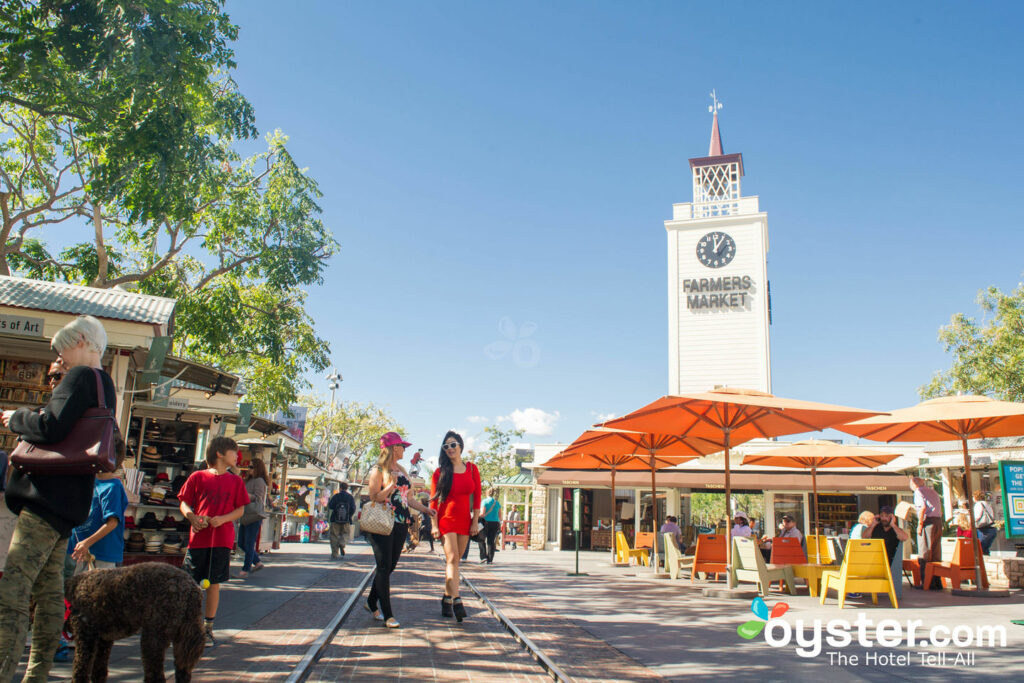 The Beverly Grove and Fairfax Districts may seem like they aren't super walkable, but it's not true. There is a ton of fun stuff to explore and experience here by foot, from the bustling Farmer's Market and the Grove shopping plaza, to the renowned LACMA museum and next-door La Brea tar pits (this is a great spot to plop down and picnic, if you can power through the wafting smell of bubbling tar). If you're seeking something more one-of-a-kind on your shopping excursion, you can walk over to the upscale boutiques along West 3rd Street, stopping in to one of the restaurants dotting the way.
Fairfax District Hotel Pick:
Melrose
Melrose Avenue has long been tricking Angelinos into walking more than a few blocks. The 16 blocks between North Fairfax Avenue and North La Brea Avenue is packed with so many shops that it is easy to lose track of how far you've ventured. This famous shopping stretch is almost like a rite of passage for first-time visitors and is an easy way to spend half a day or longer. While you'll see more higher-end boutiques off West 3rd, Melrose feeds the need for vintage, fetish, up-cycled, and trendy street wear. Don't worry, there are plenty of spots along the way to break for coffee, drinks, and food.
Akin to the Venice boardwalk, downtown Santa Monica is one of the most pedestrian-friendly spots in Los Angeles. In fact, the pedestrian-only Third Street Promenade shopping area has been closed to cars since the mid 1960s. Aside from the hundreds of retailers lining the consumer-heavy streets, your feet can take you past dinosaur-shaped hedges, a movie theater, library, post office, and talented buskers — all with solid people-watching along the way. If you aren't super keen on shopping, you can walk over to the Santa Monica Pier, where you can watch waves crash and the sun set, try your hand at a few carnival games inside the arcade, or hop on the Ferris wheel for the best views.
Santa Monica Hotel Pick:
Related Stories:
All products are independently selected by our writers and editors. If you buy something through our links, Oyster may earn an affiliate commission.