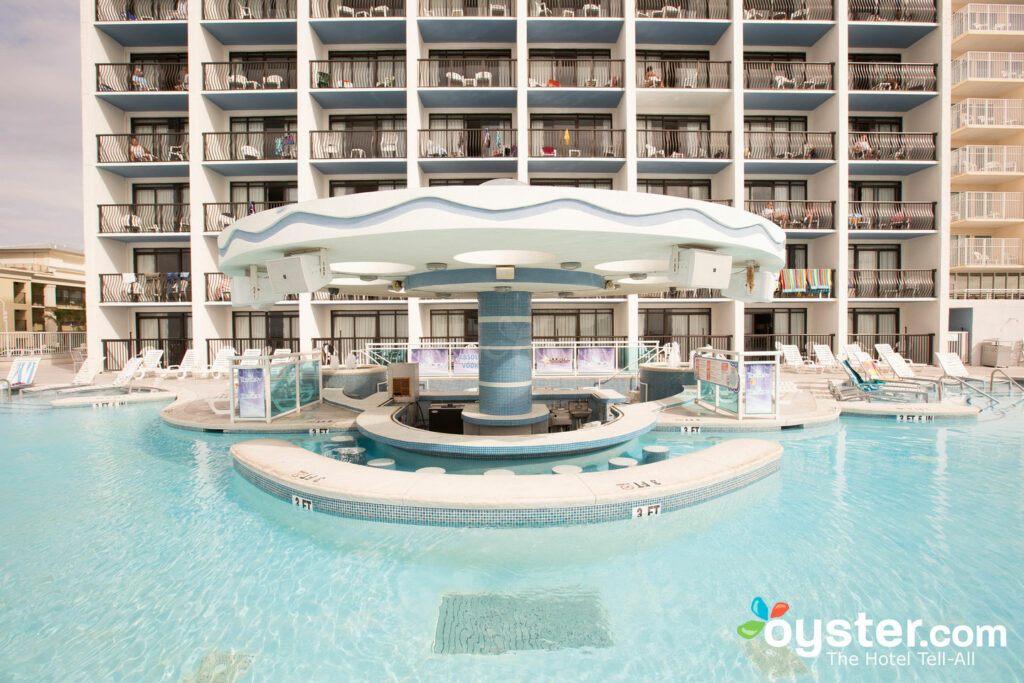 When you're on a warm-weather vacation, there's something highly alluring about being able to order a cocktail poolside, but it's even better if you can do so without ever leaving the pool. Enter the wonderful world of swim-up bars! We've discovered the best spots across the U.S., but please, promise us you'll get out of the pool when nature calls.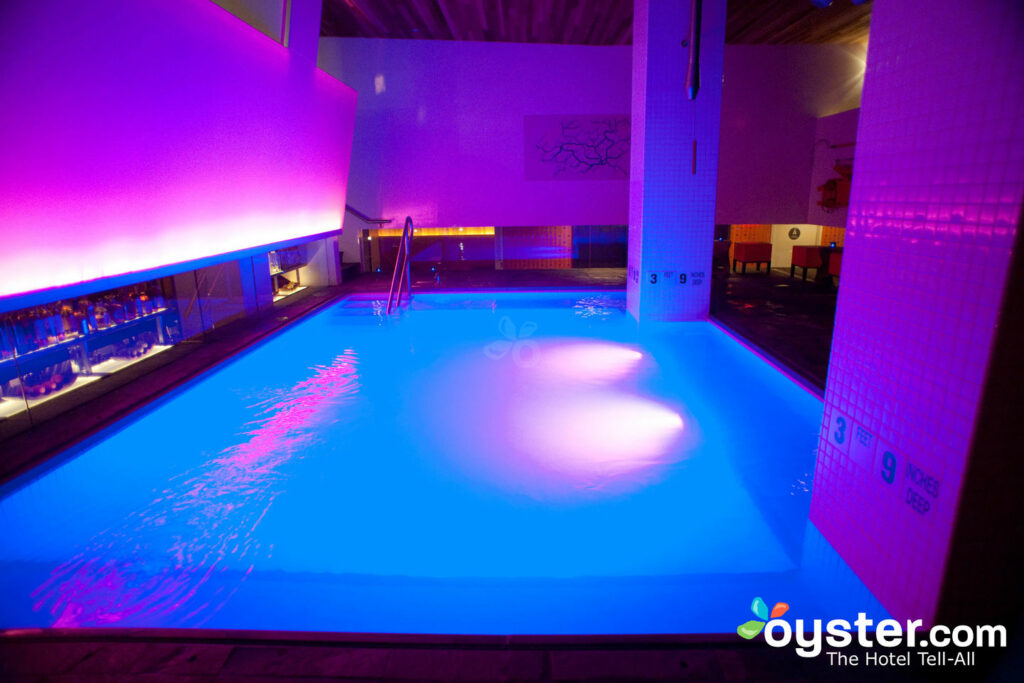 We bet you might not have guessed that there'd be a swim-up bar in New York City. After all, the Big Apple not known as a pool hot spot. But the Room Mate Grace in Times Square is home to the city's one and only swim-up bar. The 24-hour pool is indoors, so you can enjoy it year-round, but visitors should note that the bar is only open from 10 a.m. to 8 p.m. (The public is welcome, but there's a cover charge.) On Wednesdays, the hotel hosts a popular gay party at the pool, which runs later into the night.
In the Arizona desert, the Westin la Paloma offers an oasis of water features, including five pools, a 177-foot water slide, and a swim-up bar at the poolside restaurant, Sabino's. The bar and grill is only open from 11 a.m. to 5 p.m., but the pools themselves are open till 11 p.m. At night, the hotel shows family films that can be watched from the pool.
At the heart of the Hard Rock Hotel's infamous Rehab Beach Club, which throws summertime parties from Thursday to Monday, is an in-pool cabana with a bar and blackjack — and it even has swim-up gaming tables. While you'll have to play in order to imbibe at the tables, you can do so without ever leaving the pool
This family-friendly luxury resort in Galveston has plenty for both kids and adults. While the young ones can enjoy a 45-foot water slide, adults can relax at the swim-up bar or in the grotto spa. Once you've had enough of the pool, the beach is only just across the street.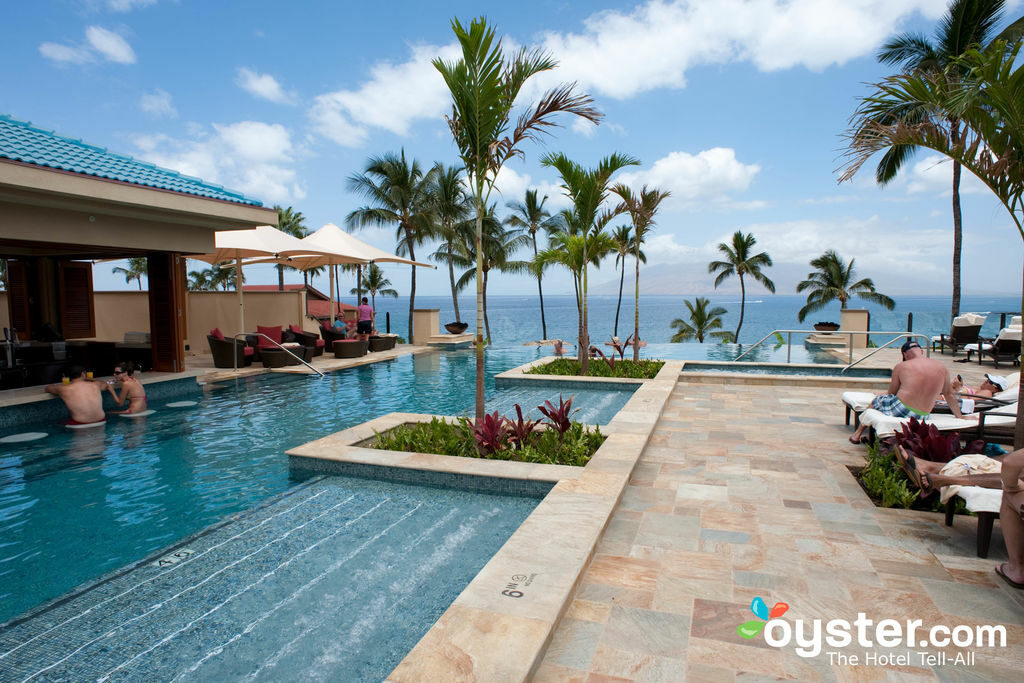 There are three outdoor pools at the Four Seasons Maui, and each has a different different purpose. The fountain pool (which, yes, does have a fountain in the middle) is for all guests, while there's an adult-only pool with a swim-up bar and underwater music system as well as a kids' lagoon pool with a small water slide. All three overlook the ocean.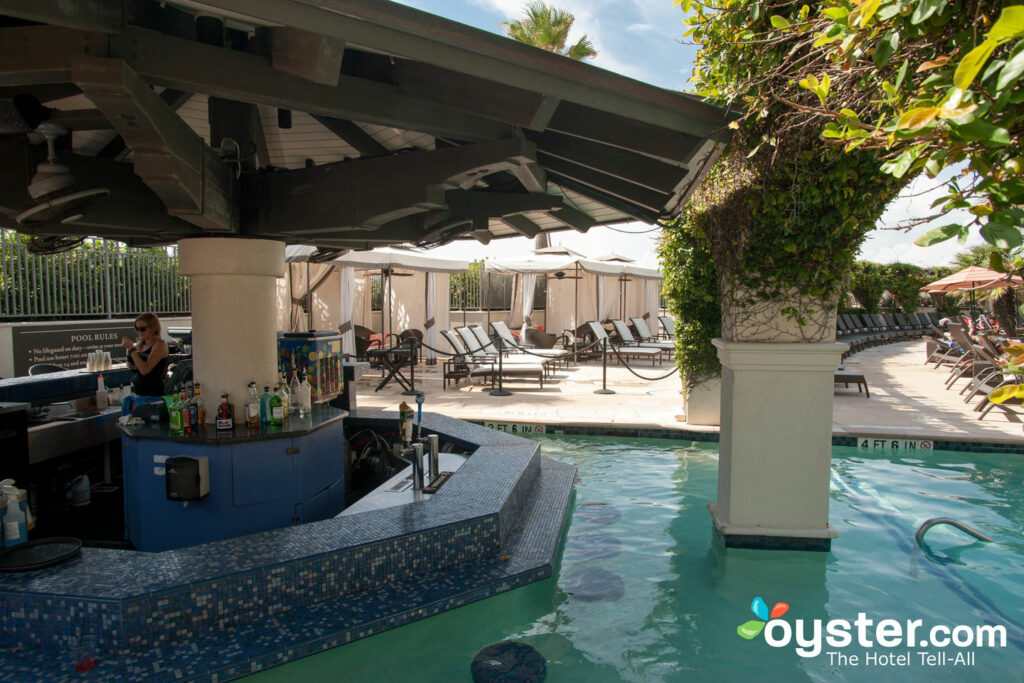 The saltwater pool at Hotel Galvez and Spa is a beautiful oasis surrounded by vine-covered columns, and it has a seasonal swim-up bar. The hotel itself is over 100 years old, built after the great hurricane that once devastated the island, and it offers a free 25-minute history audio tour — and an audio ghost tour — via an app.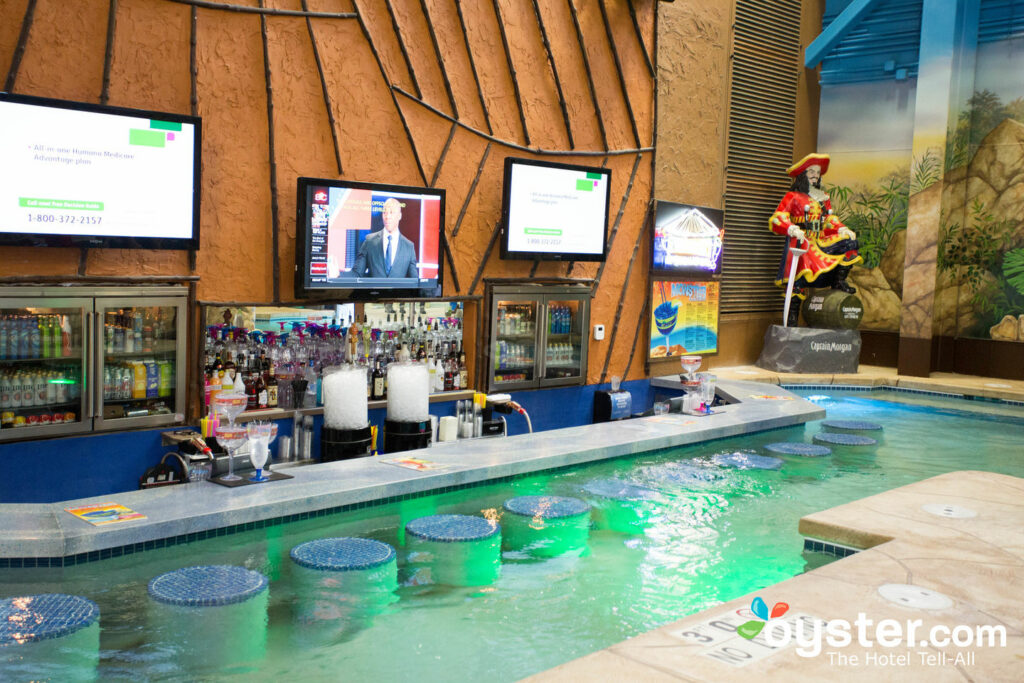 The land of water parks, Wisconsin Dells, was bound to have a swim-up bar — and it does, at the Kalahari Resorts and Conventions hotel. The hotel's massive indoor water park, which has a surfing simulator, a wave pool, a lazy river, and plenty of slides, is also home to the Mud Hud swim-up bar. It's a great spot for adults to hang out as their kids explore the attractions.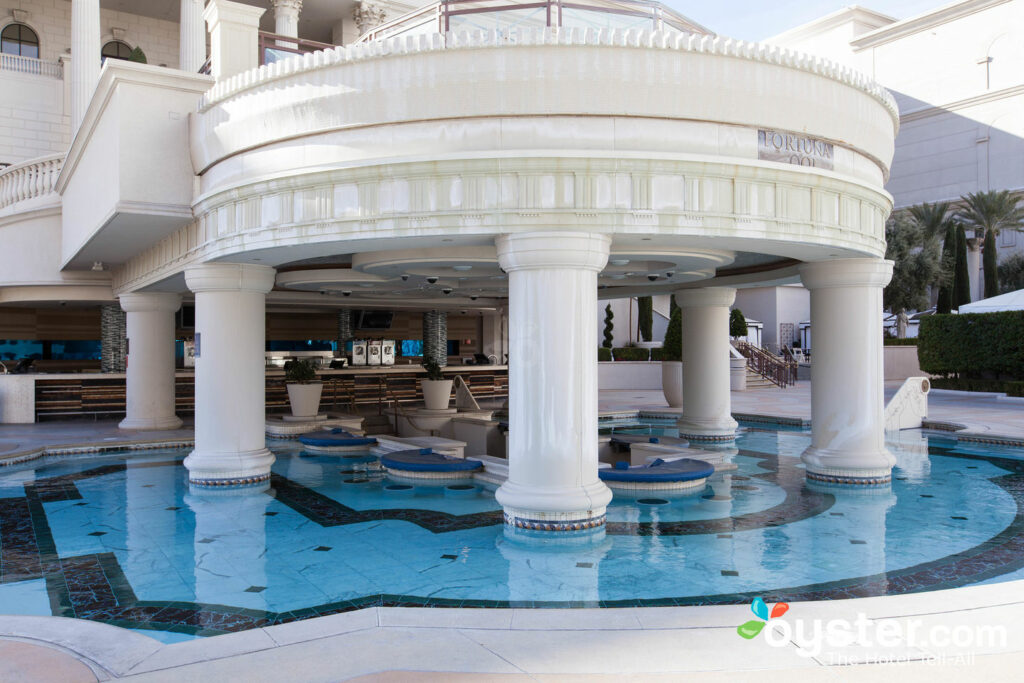 Like the Hard Rock, Caesars in Las Vegas offers swim-up blackjack tables at which you can enjoy a drink if you're playing. You can find the tables at the Fortuna Pool in the hotel's Garden of the Gods complex, which has seven other watering holes. The extensive pool area is open to the public (age 21 and up), pending seating availability — you need to reserve your lounge chairs and cabanas online.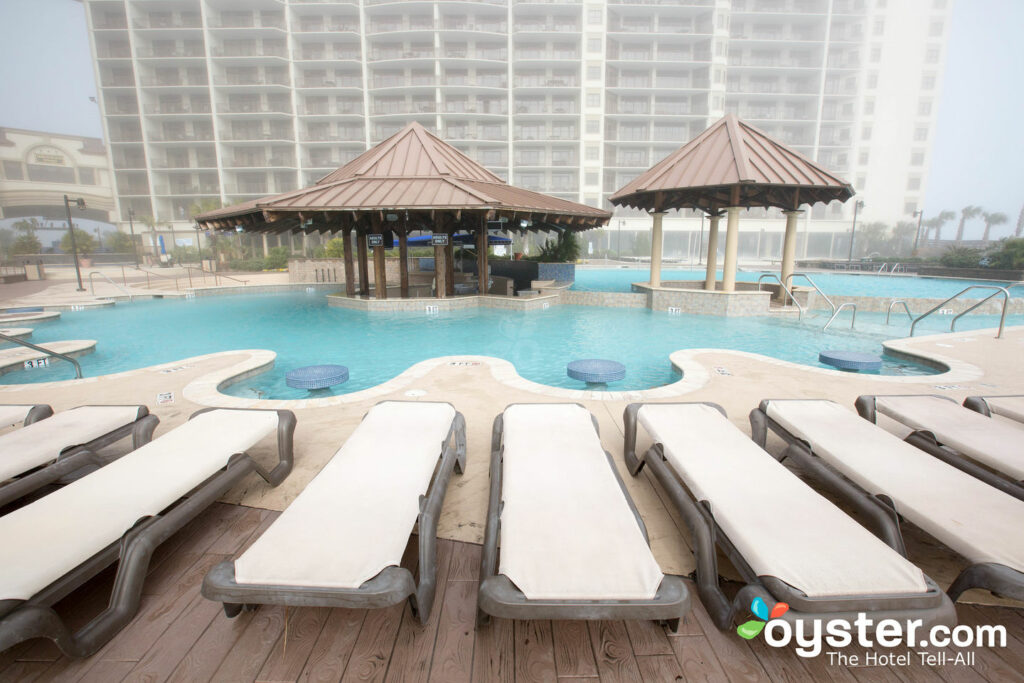 While Myrtle Beach is considered a more budget-friendly beach destination, North Beach Plantation is one of the few upscale hotels in the area. As it's located on the northern end of Myrtle Beach, away from the boardwalk, it's a quieter area — but that doesn't mean it's any less fun. There's a swim-up bar at the hotel's Caribbean-themed pool.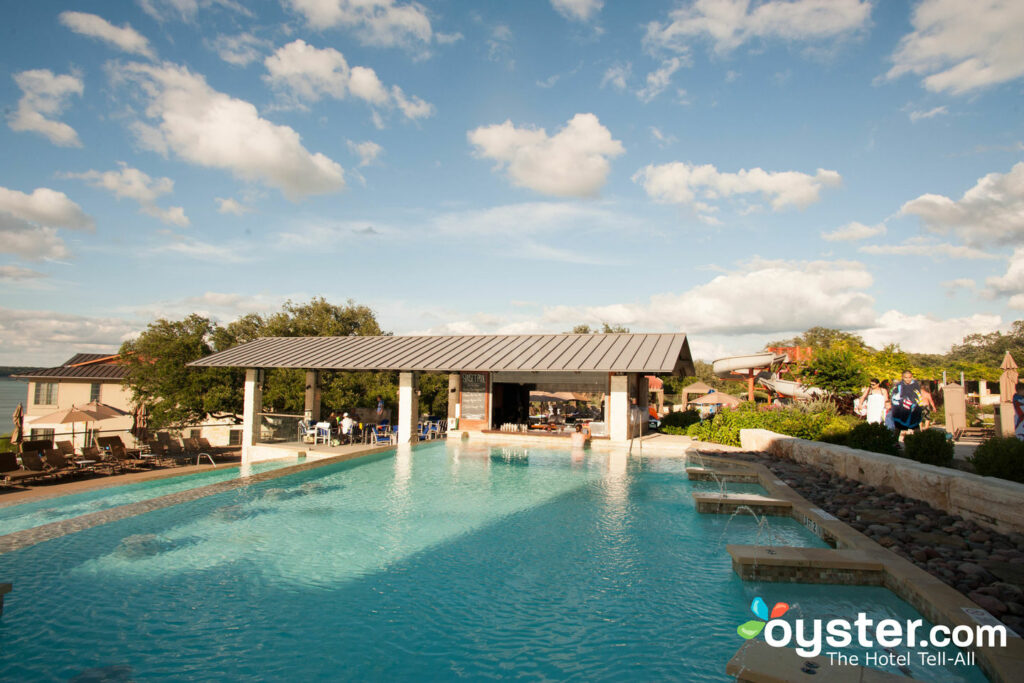 If you thought that swim-up bars were limited to beach destinations, Vegas, or indoor water parks, think again. This lakefront resort on the outskirts of Austin has three pools, including an infinity pool that has a swim-up bar. It's a great spot for a staycation if you're a local, but it's also a solid choice for visitors who need a respite from the action of the city.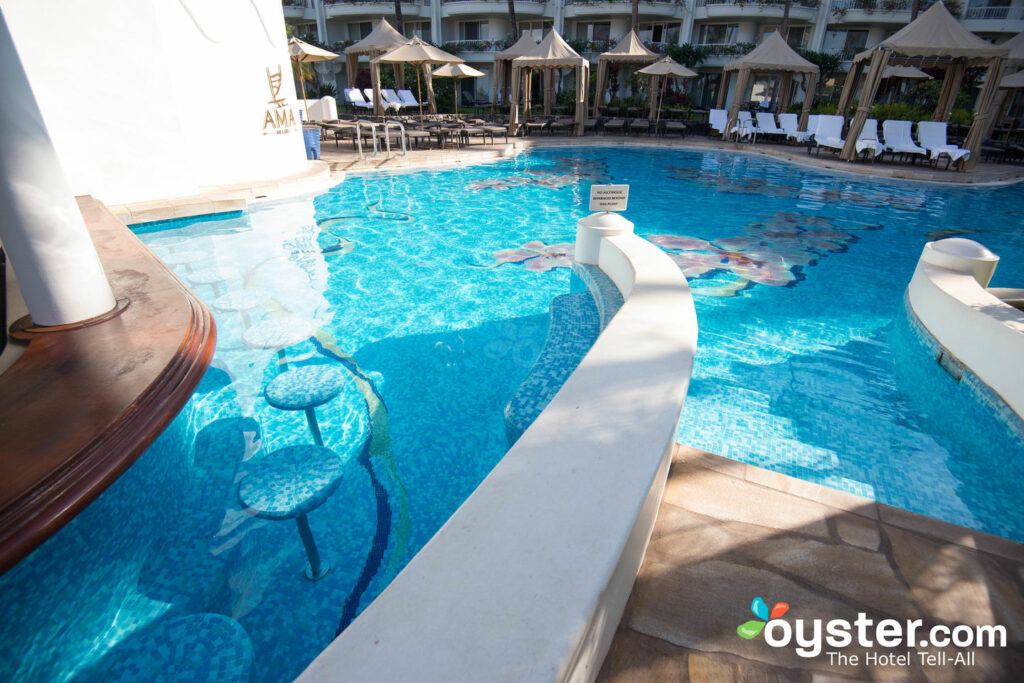 You won't (usually) find your typical barflies at the swim-up bar at The Fairmont Kea Lani Maui. This four-and-a-half pearl hotel draws a relatively well-heeled, but laid-back crowd. You can sip on a range of tropical cocktails, from classic pina coladas to Mai Tais, or enjoy a local brew. The pool with the swim-up bar is just one of three.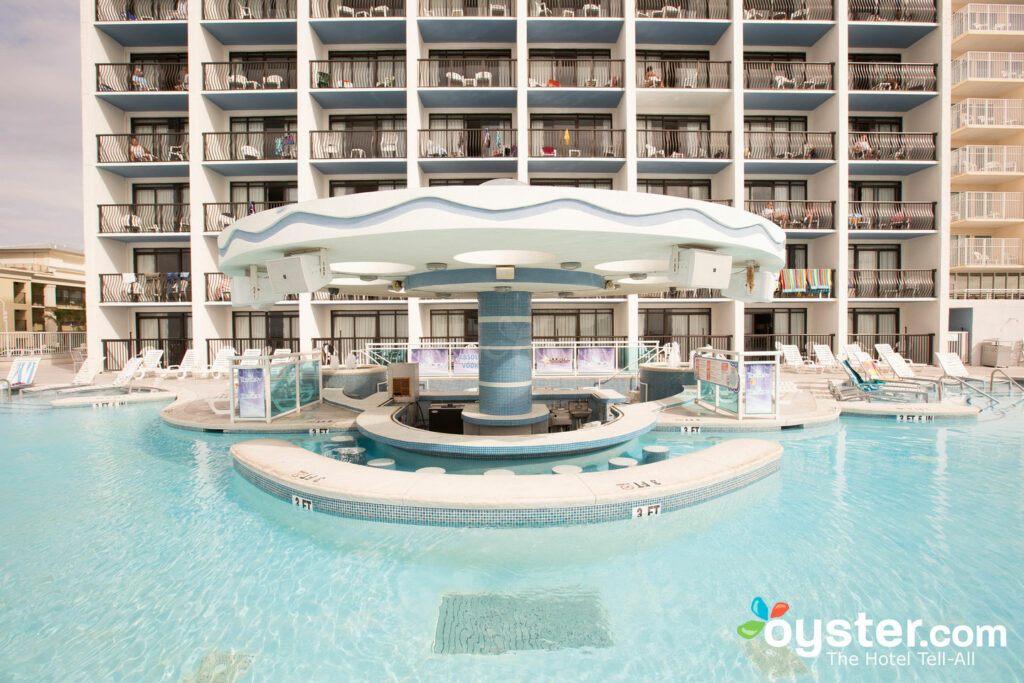 The main crowd at Hotel Blue is fun-loving young adults, so you can expect the pool area to be quite lively — especially at the swim-up bar. And by quite lively, we mean filled with partying and loud music blasted by DJs. If you're looking for a party scene in Myrtle Beach, this is it.
Summersalt offers super bolt yet classic swimwear for any type of woman, ranging from sizes 2-24.
You'll Also Like:
All products are independently selected by our writers and editors. If you buy something through our links, Oyster may earn an affiliate commission.