Newsflash! Visiting the world's most expensive cities doesn't necessarily mean you'll be forced to stay in the world's most expensive hotels. Though the suite life can be tempting when hoteling in the globe's most affluent destinations, what's feasible for the rich and famous often doesn't align with what's feasible for the rest of us. Thankfully, there are fantastic budget options in pricey towns that offer a lot of bang for your buck -- so you can use that extra cash towards your eight-euro bottle of water. From London to Singapore and back again, we've got the lowdown on hotels that won't break your bank...in cities that threaten to do just that! Though some cities are even too rich for Oyster's blood -- we'll get to you soon Lausanne! -- here are our top picks for the best budget stays in the world's most expensive cities.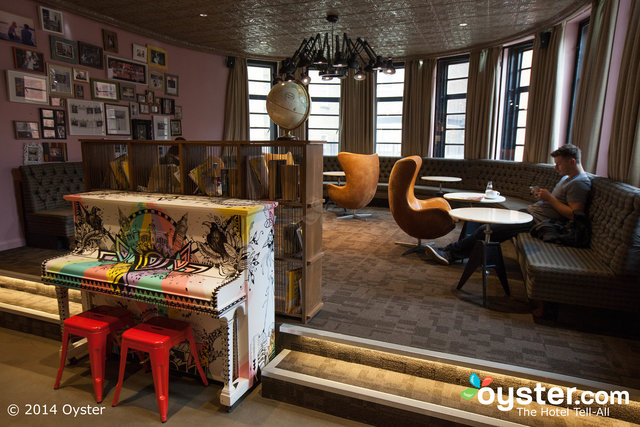 The Generator Hostel represents a new type of high-end "hostelling" which puts a real emphasis on creating fun, chilled-out atmospheres conducive to interaction between guests. The Generator is one such property and is a good choice for both young solo travelers and groups, offering dorms for up to 12 people as well as private rooms (though some are cramped). The cafe, bar, and cinema room are all great spaces to relax, and the hostel's event program is a nice touch. There are few properties with as good a central London location that also promise such a snazzy vibe on the cheap in the world's most expensive city.
In pricey Oslo, finding a room for under $200/night is largely unheard of, but at the Scandic Vulcan, visitors have a shot. The 149-room upper-middle-range boutique hotel outside of the city center features contemporary rooms with stylish furnishings and eye-catching graphic art. There are few frills, but the shops and restaurants of Grunerlokka are within walking distance and an excellent free breakfast, a trendy restaurant and bar, and a small gym are perks.
New York City: Pod 39
Price: $120/night
The idea of the 366-room Pod 39 hotel is to offer very small rooms (even by New York City standards, a city notorious for small hotels rooms) for low prices (again, by New York City standards). Rooms range from 55 to 140 square feet, and prices start at $119 per night. There are three seriously cool — and colorful — public spaces: an upscale Mexican restaurant, a rooftop bar with unique architecture, and a hangout space called the Playroom. It's a great option for anyone who wants a low price tag without sacrificing cleanliness, comfort, and style.
Singapore: Hotel 1929
The Price: $129/night
The Hotel 1929is a hip boutique located in a historic building just outside of Singapore's Chinatown. It has 32 clean and stylish rooms, and is known for its extensive designer chair collection (we're not kidding). While rooms are on the small side (some are seriously teeny-tiny), they have flat-screen TVs, iPod docks, minibars, Nespresso machines, and free Wi-Fi. Hotel highlights include an international restaurant open for lunch and dinner. Plus, Singapore's nightlife is conveniently near-at-hand.
The 43-room Hotel de la Porte Doree is an elegant, homey mid-range hotel located outside of the Paris city center in the 12th arrondissement. The hotel is quiet and charming, with a true Parisian feeling. Loft-like rooms have plush bedding and wood floors, and blend modern amenities (Blu-ray DVD players, iPod docks, and free Wi-Fi) with vintage details (gilded mirrors and crown molding). Because this is a boutique, there's not much in the way of property features, but there is a DVD lending library and breakfast buffet (for a fee) served in a cute cafe-style room. Overall, for a hotel under $100/night in the City of Light, this is a hidden gem waiting to be uncovered (and we guess we kinda just did).
San Francisco: Good Hotel
The Price: $139/night
Situated on a somewhat desolate stretch of San Francisco's artsy SoMa neighborhood, the Good Hotel earns its moniker "hotel with a conscience." With features like water-conserving toilet-top sinks, the Good is environmentally friendly, charmingly quirky, and — for those who don't mind venturing a bit off the beaten path — one of the best budget hotels in the city. Rooms are bright and spacious, and the hotel comes with free Wi-Fi, loaner bikes, and volunteer opportunities for those who want to get to warm fuzzy feeling while on vacay in one of the country's most expensive spots.
Located in the lively Darlinghurst neighborhood of Sydney, the Kirketon Hotel Sydney is a 40-room, art-inspired boutique hotel that fuses contemporary style with classic Parisian influences. The rooms have sophisticated decor, crisp white bedding, coffeemakers, mini-fridges, DVD players, and flat-screen TVs. Standard Rooms are tiny, and are meant for single occupancy, thereby offering a great way to save money in this pricey city. The speakeasy-styled cocktail bar, Eau de Vie, is a definite highlight — it's one of the trendiest spots in the city, and it's right in your hotel so no cab fees!
This budget option in Hong Kong may not be as luxurious as its high-rise neighbors, but the Hotel Bonaparte does promise guests a solid value. The 80-room hotel features an all-black, swanky lobby and small rooms with updated amenities like flat-screen TVs, minibars, and modern platform beds. Peek-a-boo bathrooms are tantalizing or trashy, depending on your view — in more ways than one, but they all feature iridescent tiles and walk-in showers. The property lacks a spa, fitness center, and meeting spaces, but there is a small cafe with a good happy hour special. With a central location near major metro lines, Hotel Bonaparte is a great option for both business travelers and tourists looking to save a few dollars on their Hong Kong adventure.
Stockholm: Berns Hotel
The Price: $156/night
This 65-room contemporary boutique is part of Stockholm's historic Berns Salonger complex, which includes a bistro, top-notch Asian restaurant, ballroom, and nightclub. The club makes for some loud at the Berns Hotel, but it often hosts well-known performers, and the hotel's location is superb — right on a park, just blocks from great shopping and many tourist attractions. Stylish rooms have hardwood floors and bold, quirky wall art, but be prepared to take the room names literally — the Extra Small Room is, truly, extra small, at just 107 square feet. In this pricey Scandinavian city, staying here is an excellent way to save a Kroner or two.
Honolulu: Maile Sky Court
The Price: $120/night
Budget travelers who don't mind a short walk to attractions can find a good deal here — the Maile Sky Court is known for offering some of the lowest rates in Honolulu. A nice perk here is that higher floors have views of the ocean over the tops of other buildings. The decor is dated — but also fun, in a Hawaiian kitsch kind of way — and amenities are few, but the basics are there, including a small pool. Plus, guests are blocks from Waikiki Beach's best shopping and restaurants. Better to spend your money there than on your hotel room, right?!
The Flying Pig Downtown is a friendly, fun-focused Amsterdam hostel. Located on a busy, central shopping street, this hostel is surrounded by many of the city's nightspots, while also being a short walk to popular historic sights and the Red Light district. Private rooms are available in addition to the secure and tidy dorms, and the property is largely frequented by a backpacking clientele. There is a modern guest kitchen, cozy smoking lounge, and lively bar on-site. The oh-so-affordable nightly rate is the cherry on top.
The 206-room Parkview Hotel is a solid upper-middle-range option south of Melbourne's city center where rates often drop below $150/night. The hotel overlooks Albert Park, but reaching most sights will require a drive. Room decor is contemporary if chain-like, and modern bathrooms have big walk-in showers with rainfall showerheads. All rooms have swivel flat-screen TVs with laptop hookups that are inset in the entertainment units, as well as free Wi-Fi. Hotel features include a small fitness center with floor-to-ceiling windows and city views, a jetted rooftop plunge pool under a domed glass ceiling, a sauna, and laundry facilities — all adding to its value.
Washington, DC: Hotel Helix
The Price: $199/night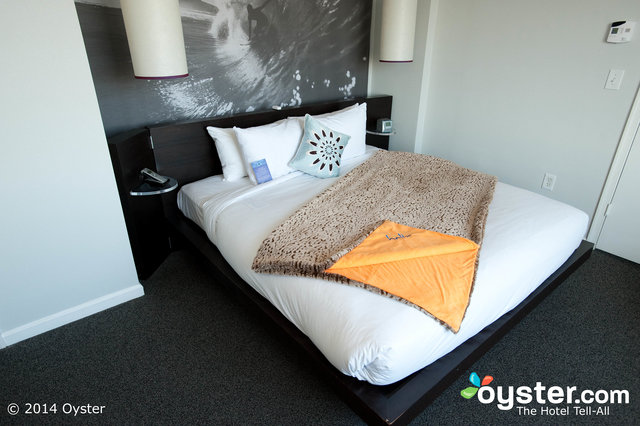 An eccentric, reasonably priced, 178-room Kimpton hotel (a chain with seven D.C. properties), Hotel Helix opened in 2002 on a once-sketchy but now pretty block of Rhode Island Avenue in the Dupont Circle vicinity of Washington, DC. It was revamped in 2009 with extra-large guest rooms, free Wi-Fi, modish decor, and a relaxed mood, but it is some distance from major tourist sights. Still, for travelers on a budget — and with a certain taste for whimsy — the Hotel Helix is one of DC's best budget stays.
N.B. Prices were accurate at time of posting and may vary depending on dates and room types booked.
Check out Oyster's page on Google+
To learn more about Kristina Fazzalaro, visit her on Google+
RELATED LINKS:
All products are independently selected by our writers and editors. If you buy something through our links, Oyster may earn an affiliate commission.