You thought you were bad at Thanksgiving? That feast is really just the amuse bouche to all the holiday eating that goes down at the end of the year. After all, the month of December is pretty much stuffed with events where we stuff our face. And let's face it, all the holiday parties, festive happy hours, appetizer-fueled functions and events, and awkward office parties with little plates full of sweet and savory treats all lead up to the main event -- Christmas dinner. Here, set on the table, we look forward to seeing our old pals like ham, stuffing, mashed potatoes with gravy, sweet glazed veggies, tangy cranberry sauce, and all the pies and cookies you can manage to squeeze in. But while these may be staple Christmas dishes across the states, you can find others around the world tucking into some different eats to celebrate the holidays. So we went on a bit of a foodie tour and found 13 traditional Christmas dinners from around the world.
Take a look at these 13 traditional dinners and then let us know -- which sounds the most delectable to you?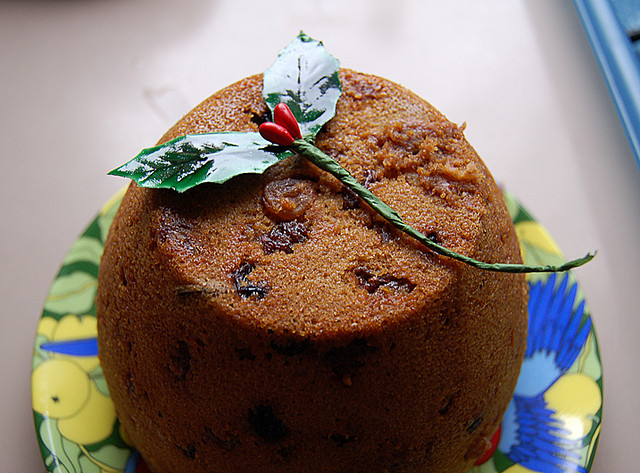 Possibly considered the most quintessential of all Christmas meals is the spread found atop the decorative red, green, and gold tablecloths in the UK. Unsurprisingly, it's not that much different than what you'll find on plates across the US, with staples like roasted or mashed potatoes with gravy, stuffing, roasted root veggies, cranberry sauce, and Brussels sprouts — but there are a few minor, yet noticeable, differences. Instead of a traditional Christmas ham, the Brits traditionally serve up a roasted bird like turkey, goose, or pheasant, and pigs in a blanket (in England this is a sausage wrapped in bacon) make regular appearances, as do meat pies, Christmas pudding (plum pudding), and the disturbingly textured bread sauce.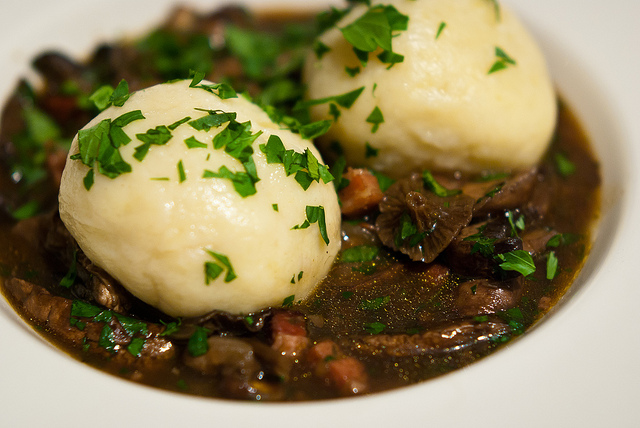 Since Santa Claus is from Germany, it's a little disturbing to find venison on the Christmas dinner menu here, though carp and roasted goose are actually much more common. If you see goose, it's probably stuffed with various things like apples, plums, chestnuts, onions — you might even find meat inside the meat via some savory mince meat stuffing. Sides often include German-style dumplings called Klöße, that are made from either potatoes or bread, slow-cooked red and green cabbage, and of course stollen, a dense fruitcake with nuts and dried fruit and a snow-like sprinkling of powdered sugar on top. Depending on whether you're dining in the north or Bavaria, you may also spot creamed or pickled herring, Weisswurst, and decorative Christmas biscuits called Springerle.
While most of Europe and America are noshing on juicy oven-roasted meats, Italy looks to the sea for Christmas Eve dinner. Also known as The Vigil, this mostly Southern Italian tradition was born out of the common religious practice of abstaining from milk and meat dishes on the eve of certain holidays. As the name suggests, seven different types of seafood dishes cover the table, from clams, cod, and calamari to shrimp, smelt, and scallops; oysters, octopus, and snails also make appearances. Not into seafood? Don't fret, there are also generous sides of pastas and veggies — and, of course, wine. It's Italy, after all.
4. Israel
https://www.instagram.com/p/8A9suLvlkj/
While Israel's Christmas dinners can feature a Middle Eastern variation of the roasted turkey — these birds are seasoned with pepper, cinnamon, and nutmeg, roasted, and then stuffed with rice and almonds — it's also common to find qidreh, a wood-fire oven cooked lamb and rice dish, and malfouf, which is ground lamb and rice rolled in cabbage leaves. Sides include hummus, butter cookies filled with date paste, and Santa-shaped Christmas chocolates served alongside liquor, wine, or arak, a licorice-tasting aperitif made from anise.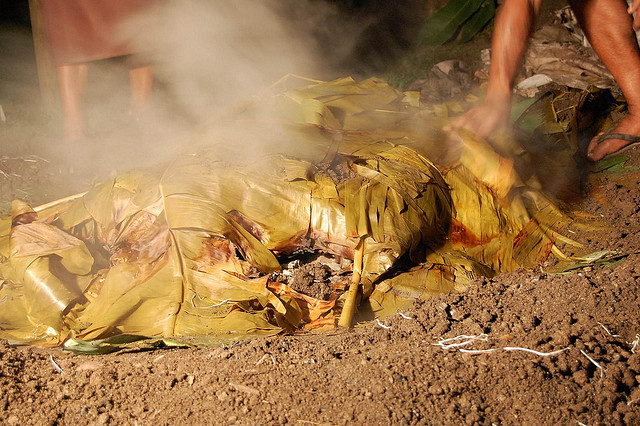 Even the tiny and remote island of Fiji has its own unique way of dressing the Christmas table with a special feast. Here, you're likely to chow down on hearty island fare like garlic-spiced and stuffed chicken, fish in banana leaves, and a tasty pork dish cooked in an underground hot stone oven. There's also boiled cassava (what we know as tapioca root) and a spiced mutton dish that's wrapped in a large leaf and cooked in a coconut cream sauce.
Like Italy, France chooses to look beyond land for most of its traditional Christmas dishes. The seafood-heavy menu makes for no poor man's meal, with typical dishes that include high-class shellfish like lobster, oysters, and scallops (the latter are baked and served atop their own shells). The Grench Christmas spread also includes an assortment of cheeses, crepes, and fruit — and what's a holiday celebration in France without a little foie gras? And let's not forget the famed buche de Noel, a delicious chocolate cake in the shape of a log, often topped with a sprig of holly.
While Cuba has been accused of having some not-so-great food, we think the country's traditional Christmas spread sounds pretty darn delicious. On the table here, you're likely to find Moros y Cristianos, a rice and beans dish that shows up at nearly every Cuban occasion and on the menu at almost every restaurant in the country; there's also whole-roasted young suckling pig, a nutty nougat called turron. Plus, Christmas revelers fill their cups with crema de vie, the Cuban take on eggnog, which combines condensed milk, lemon rind, cinnamon, rum, egg yolks, and simple syrup — yes, please!
Okay, so this one's totally unexpected — but also totally (and weirdly) true. We found out firsthand how hard it is to find a traditional American Christmas dinner in Japan. In it's place we were expecting to find hot bowls of ramen, sublime slices of sushi, or some hearty okonomiyaki on Christmas tables here. Instead, we found buckets of fried chicken and sides of corn and mashed potatoes and gravy — from KFC?! Thanks to a campaign in the 1970s, Japan has become obsessed with eating the Colonel's chicken on Christmas, so much in fact, that regular ol' KFC stores (which are widely popular as it is) in Japan actually take reservations on Christmas.
If you wish you could stuff your face with over 12 days of Christmas dinner, then Trinidad and Tobago just might be your Christmas miracle. Prepared and eaten from about mid-December all the way through to the new year, this twin island country's festive meal consists of baked ham (often made with sorrel), fruits like apples and grapes, home-baked sweet breads, roasted turkey, tamale-like pastelles, and lots of traditional black fruit cake. These cakes are extra potent as they have been soaking in sherry, wine, and rum for several months before they hit the table.
We are totally on board with Iceland's decision to include smoked lamb leg on the country's typical Christmas menu, but what's really piqued our interest is the slightly smoked puffin. Served on Christmas Eve, the bird is offered alongside other typical Icelandic Christmas dishes that include salted pork rib or goose served with a creamy sauce and sides like boiled veggies, pickled cabbage, and beets, and ginger biscuits and/or a raisin, cinnamon, and sugar rice pudding for dessert. In some spots of Iceland, you'll find more uniquely Icelandic dishes like fermented skate fish with melted lard.
Poland's Christmas Eve dinner, known as Wigilia, is a huge meatless feast where families break their fasts by sharing a Christmas wafer at the first sight of a star in the evening's night sky. Then, they dig into dishes heavy on the herring, carp, root vegetables, fruit compote, sauerkraut, and those famously delicious potato pierogies! Desserts often include makowiec, a poppyseed cake, and honey ginger cookies. This is probably one of the most traditional meals on the list, but not because of the menu; Polish Christmas dinners are filled with religious-based traditions that can be seen in the number of dishes presented (12 dishes for the 12 apostles), the empty plate left on the table (in case a visitor stops by), in the sharing of the Christmas wafer while wishing each other well in the coming year, and the placement of straw or hay on the table to symbolize the floor of the manger. (Don't confuse this for a sneaky side!)
While the Polish feast is big, if you really want to go all out, hit up a Joulupöytä in Finland! Literally translating to "Yule table," this is the Finnish version of a holiday smorgasbord and features a main dish (usually a large ham), gravlox and other smoked (or pickled) fish, potato casserole, liver casserole, carrot casserole, rutabaga casserole (you get the point, they love casserole), Rosolli, a salad made from boiled beetroots, carrots, potatoes, apples and pickled cucumber; mushroom salad; and sometimes, depending where in Finland you are, karjalanpaisti, a hearty root vegetable and meat stew served in a hot ceramic pot. Helsinki's Hotel Arthur puts on a mean spread for Christmas, so if you're staying here, be sure to pack your drawstring pants.
Since it was colonized primarily by the Dutch and English, South Africa is a place where the Christmas menu is loaded with similar dishes to what you'll find in England and the Netherlands — which can be quite confusing since, traditionally, these foods come from cold weather climates, and South Africa is blazing hot in December. So, the easiest solution? Make it a braai. One of the best parts about South African cuisine is the braai — similar to a barbecue but with a wood-burning fire instead of charcoal or gas — which gives the traditional Christmas meats like ham, lamb, turkey, and even prawns, a great summer flavor. If you are extra lucky, you'll find a host who will forgo these traditional meats in favor of something much more tasty and unique, like blesbok, springbok, borewors sausage, or kudu.
Related Links:
All products are independently selected by our writers and editors. If you buy something through our links, Oyster may earn an affiliate commission.