This post originally appeared on Yahoo! Travel.
We here at Oyster.com have done all types of travel. We've trekked to some pretty far-off places, we've slept under the stars, and we've pinched pennies at some budget (but nonetheless awesome) locales. But we gotta say, our favorite kind of travel is luxury travel. Of course, there's something to be said for roughing it and that whole getting-back-in-touch-with-nature thing, but given the choice between a tent and a massive presidential suite? Um, we'll take the suite any day -- without hesitation. Suites vary from hotel to hotel, and from destination to destination, but throughout our extensive travels we have come across a handful (fourteen, to be exact) of gorgeous, over-the-top hotel suites that are so luxurious, they're quite literally mind-blowing. From a Vegas suite with its own pool and mini-golf course to a gigantic "Sultan Suite" overlooking the Bosphorus in Istanbul, these fourteen suites take luxury to the next level.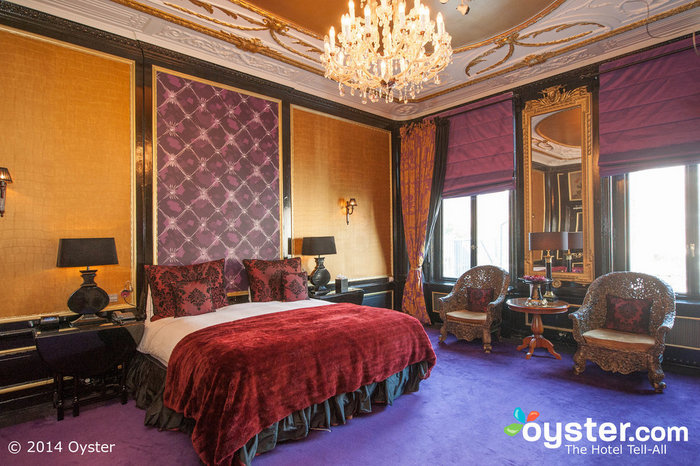 This romantic boutique hotel near the Anne Frank House has historical significance: It was once used as a safe house in WWII. The Toren family bought the property in 1968 and expanded it over time to include additional accommodations along the Keizersgracht canal. Today there are 38 rooms and suites ranging from smaller standard size, to spacious, elaborate options like the Royal Bridal Suite. This over-the-top, dual-level suite promises romance and opulence; it sits in a second building, removed from the main house, for added privacy and features rich decor (such as gorgeous antique furniture, chandeliers, and murals), a fireplace, a deep soaking tub, and a private entrance with a patio.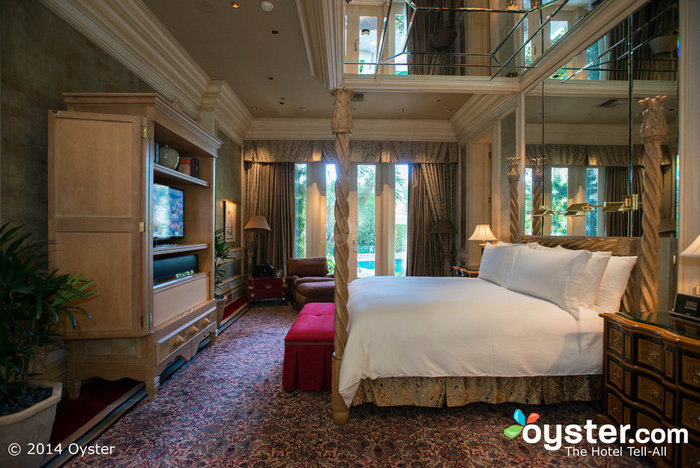 You'd think deciding on the most over-the-top suite in Vegas would be tough, but the exclusive Villas hotel-within-a-hotel at The Mirage made it easy. The Villas are set apart in a separate wing from the rest of the resort by a private gated entrance, and all guests have round-the-clock access to butlers, concierges, and chefs. Along with free access to hotel hotspots like 1OAK, all villas come equipped with iPads, Mac computers, massive flat-screen TVs (even in the bathrooms and backyards), and private pools. Plus, Villa #2 sits alongside its own putting green.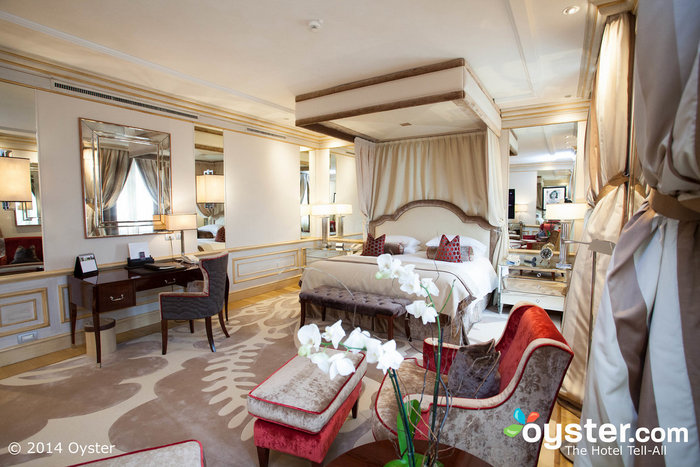 Since the 1920s, the Principe Di Savoia has held an undisputed position as Milan's top luxury hotel. All rooms are luxurious, but the signature suites go above and beyond. Only the Presidential Suite bests the Imperial Suite, a massive multi-room crash pad designed by renowned architect Celeste Dell'Anna. Overlooking Piazza della Repubblica and its public gardens, it features a plush, canopied bed, gorgeous decor accents in rich reds and dark woods, a walk-in closet, and a beautiful modern bathroom with mosaics, a flat-screen TV, a massaging shower, a Turkish bath, and a chrome-therapy system.
Rosewood Mayakoba is a gorgeous, peaceful retreat within the resort community of Playa Del Carmen, set on a mile-long stretch of beach. The 128 suites feature attractive contemporary decor — picture clean lines, white walls, and rich woods — as well as high-tech amenities and private outdoor plunge pools. All offer plenty of luxe features, but only the Deluxe Overwater Lagoon Suites have swim-up access. Extra overwater suite perks include butler service, boat docks, free tequila, bottled water, and fresh fruit, and sexy open bathrooms with deep soaking tubs and private outdoor patios.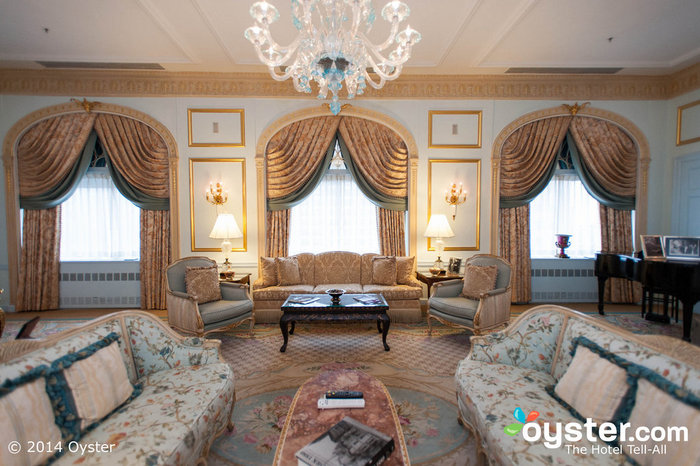 The Waldorf Towers occupies the top floors of the iconic Waldorf Astoria hotel in Midtown East. It is an exclusive boutique with 117 classic, individually decorated rooms, some of which have a rich history of famous guests and long-term residents. Most amenities are shared with its sister property — including the great (but pricey) restaurants, high-end Guerlain Spa, and beauty salon — but the hotel has its own lobby, fitness center, elevators, and concierges. The luxurious Royal Suite is a whopping (for New York City, at least) 1,800 square feet and boasts two bedrooms, two and a half baths, a dining room, and, most importantly, gorgeous views of Park Avenue and St. Patrick's Cathedral. Former guests include Edward VIII, the Duke of Windsor and his Duchess Wallis Simpson.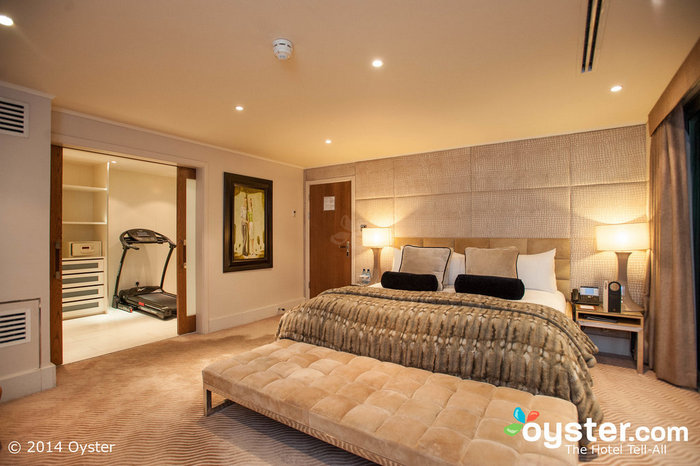 Known for its celebrity sightings (Leonardo DiCaprio, Brad Pitt, and various high-earning soccer players have been spotted here), its A-list bar, casino, and private theater (which often hosts red carpet events), the five-pearl May Fair is luxurious and prestigious but without the stuffy pomp and circumstance of some of its neighboring competitors. Its 388 rooms and 12 suites are lavish yet playful, including the Penthouse Suite — yes, that is a treadmill you spy in the corner. Nothing has been overlooked in these luxe digs; the two-bedroom suite includes a beautiful balcony, a working fireplace, a walk-in closet, and a massive bathroom with his-and-hers sinks and a deep soaking tub. And for some fun time, one of the beds is circular.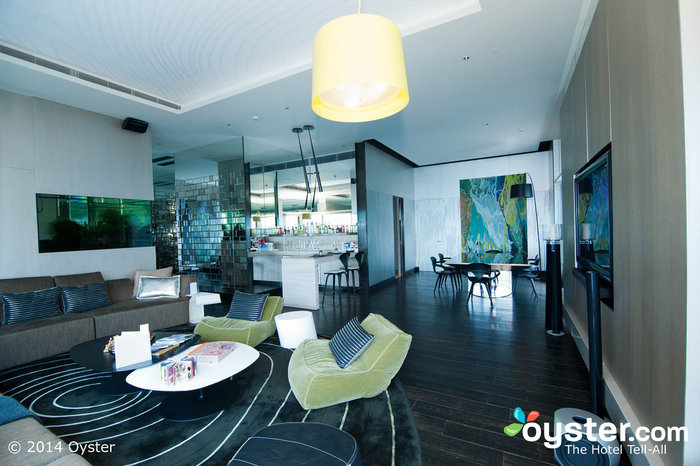 The 393-room W Hong Kong is a fun, modern hotel in Kowloon, a popular tourist area. In many ways, this W feels like all others, with funky decor and a lively bar. But this W feels a bit more special, and luxurious, than some you might find in the U.S. The Bliss spa is absolutely gorgeous, with beautiful teak tubs and soft lighting, and the stunning rooftop pool on the 76th floor offers poolside service and dizzying views. What else has amazing views of the harbor? The Extreme WOW Suite, which also boasts a kitchen, dining area, sexy bathroom, every high-tech gadget you could hope for, and hip decor that makes the space the perfect spot to host a party that's extremely, well, WOW.
The luxurious, 189-room Gran Meliá Colón is a Seville landmark, steeped in history and tradition but also emphasizing modernity and quality. Meliá Colón embraces the culture of Seville's painters and bullfighters in its architecture and decor. For example, the Penthouse Suite features doors painted to look like framed masterpieces by some of Seville's famous artists. Oh, and it also features a terrace with a hot tub and gorgeous views, a sexy peek-a-boo bathroom, an aroma menu, large flat-screen TVs with Wii, and amazing perks like a personal butler, free access to the RedLevel Lounge with champagne, coffee, and snacks, and in-room breakfast.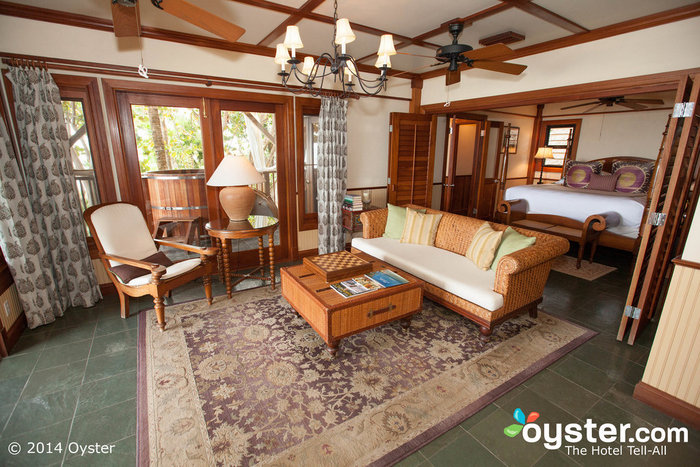 This adults-only boutique property epitomizes tranquility; set on its own private island in the Florida Keys, Little Palm is accessibly only by boat or seaplane, and features just a handful of standalone, private villas. The most luxe option is the Grand Suite, which embraces an upscale beachy vibe with teak shutters, crystal chandeliers, and slate floors. The 1,000-square-foot space includes a private deck overlooking the ocean, a bathroom with his-and-hers bathtubs, a spacious bedroom that opens up to an even larger living room with ocean views, an outdoor hot tub, and exclusive beach access with loungers and a fire pit. VIP perks include guaranteed beachfront dining in the restaurant and champagne and fruit upon arrival.
Ciragan Palace Kempinski is the grand dame of Istanbul. It wows guests at every turn, from the sprawling, manicured grounds, to the heated infinity pool right on the Bosphorus, to the refined suites. And considering that the hotel is the former palace of an Ottoman sultan, the over-the-top Sultan Suite is aptly named. One of the largest suites in Europe, let alone Istanbul, this massive suite features a 12-person dining room table, an opulent living room with wood floors, floor-to-ceiling windows framed by luxe curtains, and historic artwork, and two bedrooms (each with their own seating areas) with canopied beds. But the most impressive feature here is the master bathroom, which includes a handmade marble hammam, a steam room, a rain shower with gold-plated faucets, a claw-foot bathtub, and views of the peninsula. The beautiful Bosphorus can also be spotted from nearly every room.
The 96-room Boscolo Aleph, near the Piazza Barberini, is both luxurious and a bit eccentric, with a playful heaven and hell theme. The underground spa has heaven-inspired decor, and is entered through the vault doors of the old bank, while public areas and restaurants are decked out in dramatic reds. Attractive rooms have Murano glass fixtures and artful black-and-white photos of Roman street life; some have terraces. But the whopper of all terraces can be found in the Grand Suite, where the terrace includes seating, loungers, and a hot tub. Other perks of this spacious suite are the bar area, the sexy bathroom, and the high-tech amenities.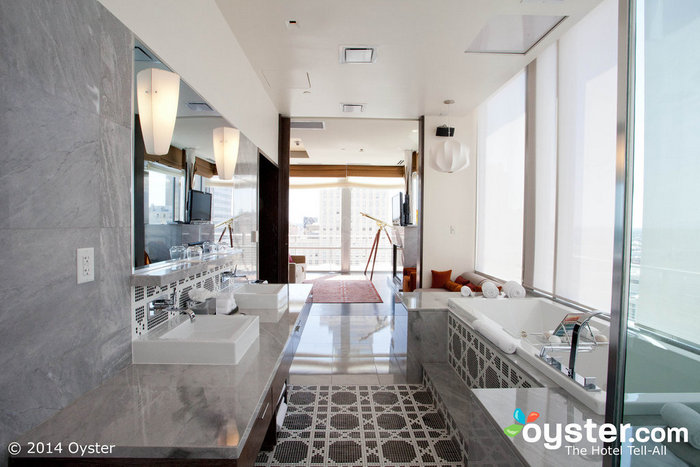 The Joule is one of the coolest — and most luxurious — hotels in Downtown Dallas. It's known not only for its cantilever pool, which juts out over Main Street, but also its impressive art collection, which includes works by Andy Warhol. The multi-level Penthouse Suite features two bedrooms, features over-the-top amenities such as a fireplace, a martini station, and gorgeous photography by artist Bram Tihany. But we gotta say, the bathroom takes the cake; we love the black-and-white floor mosaic, the open vibe, and the staggering views of downtown from the deep soaking tub.
This unique luxury resort in St. Lucia is made up of 32 one- and two-bedroom villas, each carefully carved into the surrounding hillside overlooking the island's iconic twin Pitons. The One-Bedroom Villa Suite has a missing fourth wall in order to accommodate a plunge pool with breathtaking views. It features beachy decor throughout, and island-themed murals in the showers are a fun touch. The resort also features some fabulous amenities, such as an infinity lagoon pool, a gorgeous open-air restaurant and bar, a (tiny) open-air fitness center, and a lovely spa with black water soaking baths.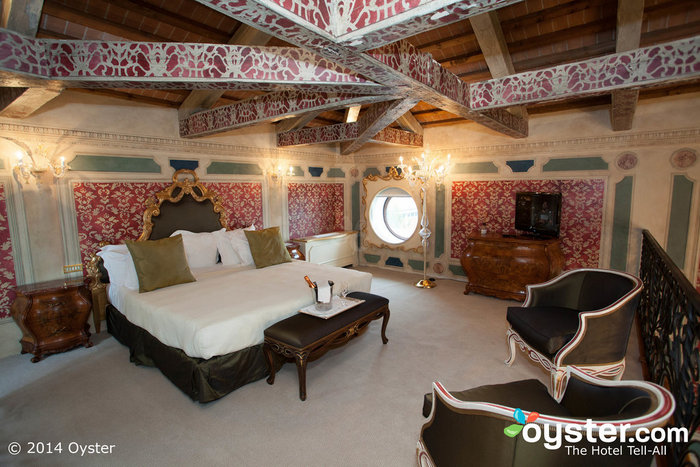 A luxurious, 72-room converted palazzo in the northern edge of Venice, Boscolo Venezia Autograph Collection is a quiet retreat from the chaotic heart of the city. The rare, private garden and spa with hot tub, sauna, and steam room are highlights. And the Presidential Suite is one of the most unique suites we've ever seen. Intricate wall murals, wood-beamed ceilings, a gilded headboard on the plush bed, porthole-style windows, crystal chandeliers, antique furniture, a modern bathroom with a massive tub, and canal views all add up to make it arguably the most luxurious stay in Venice.
Check out Oyster's page on Google+
To learn more about Jane Reynolds, visit her on Google+
MORE FROM YAHOO! TRAVEL:
RELATED LINKS: