The Maldives are the stuff dreams are made of -- as in dream vacations inspired by those impossibly perfect pictures you've seen, or those pesky fantasies about quitting your day job to live on an exotic island for the rest of your life. You know, the places that can't possibly live up to your expectations of beauty and wonder. Well, we found out that the Maldives actually does live up to every single expectation. It looks exactly like those stock images floating across your screen: bright sun, transparent blue lagoons, house reefs teeming with fish, low waters with baby reef sharks and rays, and white sand beaches that stretch out into nothing but miles and miles of turquoise waters and blue skies.
While the image of the Maldives is familiar, there are likely a few surprising things you don't know about this South Asian island nation. That's especially true because a visit here is an investment: There are a fair few budget properties in the Maldives, and everything from food to getting around is pricey. You'll also need to take into account when is the best time to visit the Maldives, and what local customs you'll need to abide by while you're here. So whether or not you've got a trip in the works (or in its fantastical planning stages), you'll want to know these 17 facts about the Maldives before you go.
1. The Maldives is made up of over 1,000 small islands.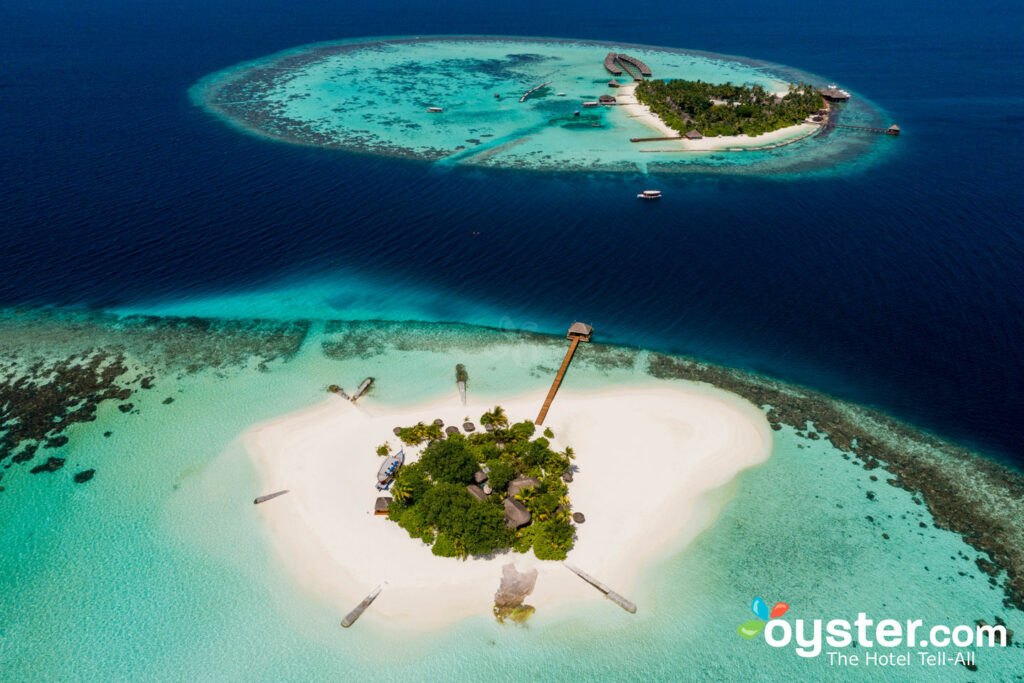 Yep, you read that correctly. The Maldives is made up of around 1,190 individual islands peppered across the Indian Ocean, located to the south and west of India and Sri Lanka. But we aren't talking about an archipelago like Hawaii here — some of the islands in the Maldives are so small that you'll have to zoom in all the way on your Google map before you even notice they're there. Others are barely more than a strip of sand jutting out of the water. That means that, aside from the most populous island of Male, many islands have no more than one resort or hotel on them.
Sign up for a seven-night Maldives island hopping tour.
2. Not all of those islands are inhabited.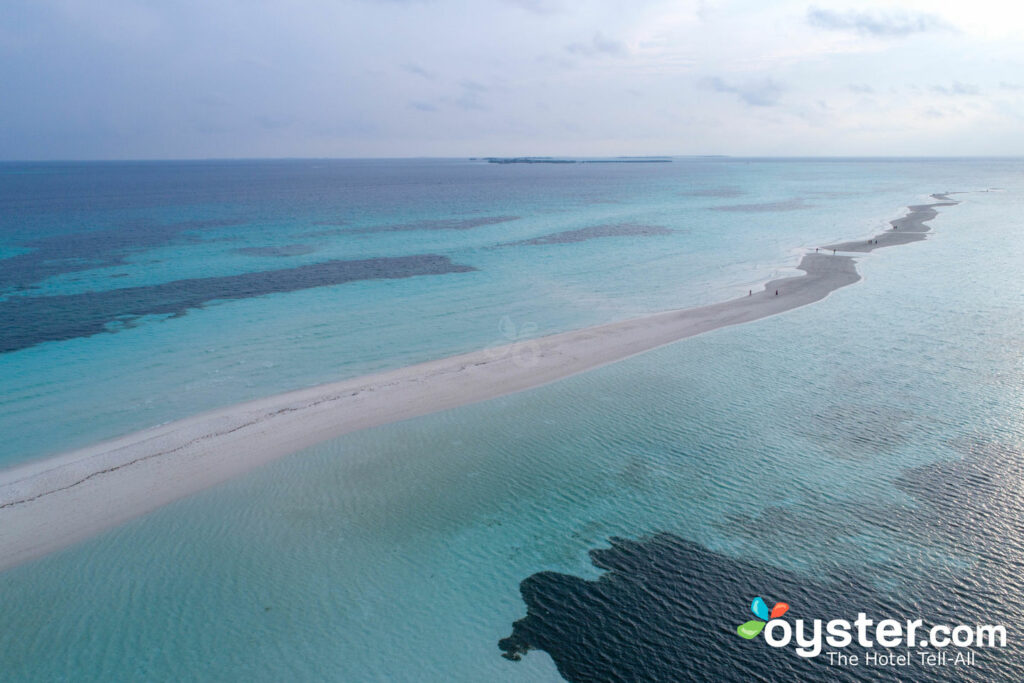 Out of the hundreds of islands within the Maldives, there are 26 different atolls (or collections of islands). But only about 200 of those are actually inhabited by people. These include islands with year-round, permanent populations like Male Island, as well as farming towns and fishing villages. There are also islands where tourists are prohibited from visiting, despite being populated by locals. Aside from these, the uninhabited islands of the Maldives are used for farm or industry, or as "picnic" islands for resorts, which tourists can visit for the day for private, romantic meals.
3. Some islands in the Maldives are man-made.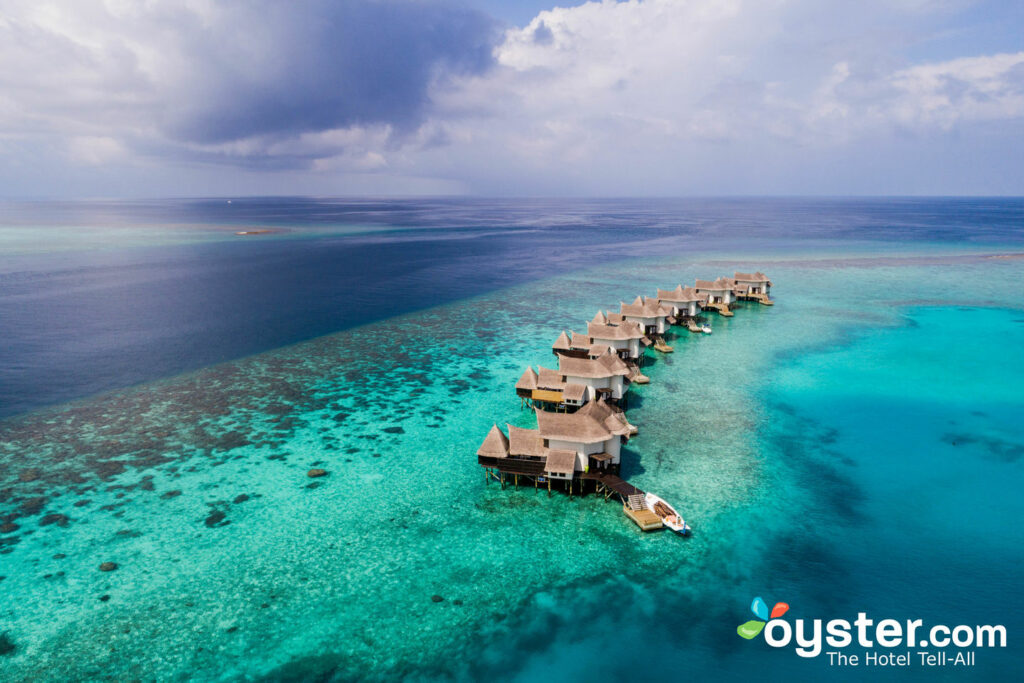 While it's believed that most of the islands in the Maldives were formed by volcanoes (and that most of the islands themselves are the very tops of what's left of those volcanic islands that are further built up by coral), some islands are actually manmade. For example, Huhulmale, the island closest to the main airport in Male, is a "reclaimed" or "artificial" island that was created in 2004 by dumping loads of sand and concrete to make a foundation. Today, it looks like a full-fledged town with paved roads, shops, housing, and a coastline.
4. Climate change may cause serious trouble for the Maldives.
If you need any kind of encouragement to get you to finally take that dream trip to the Maldives, let it be this — it might be disappearing. In fact, several dozen islands have already disappeared thanks to natural erosion from the sea, natural disasters like 2004's Indian Ocean tsunami, and rising sea levels. Additionally, coral is the geological basis for most of the islands in the Maldives, and is particularly sensitive to rises in ocean and sea temperatures (those are going up in this part of the world, for the record).
And even if it takes some time for islands to start disappearing, the lack of potable water due to the salty seas interfering with fresh-water aquifers, as well as flooding, will pose risks to human life. What's more? The reefs upon which the Maldives sit provide the fisheries that sustain much of the life and economic activity of these islands.
Even if these facts aren't alarming enough, for many of the remaining islands, beach erosion continues to be a huge problem — so don't be surprised if you see seawalls built around the islands to help break waves or pumps on the beaches, pumping sand back onto land.
5. The Maldives has bioluminescent beaches.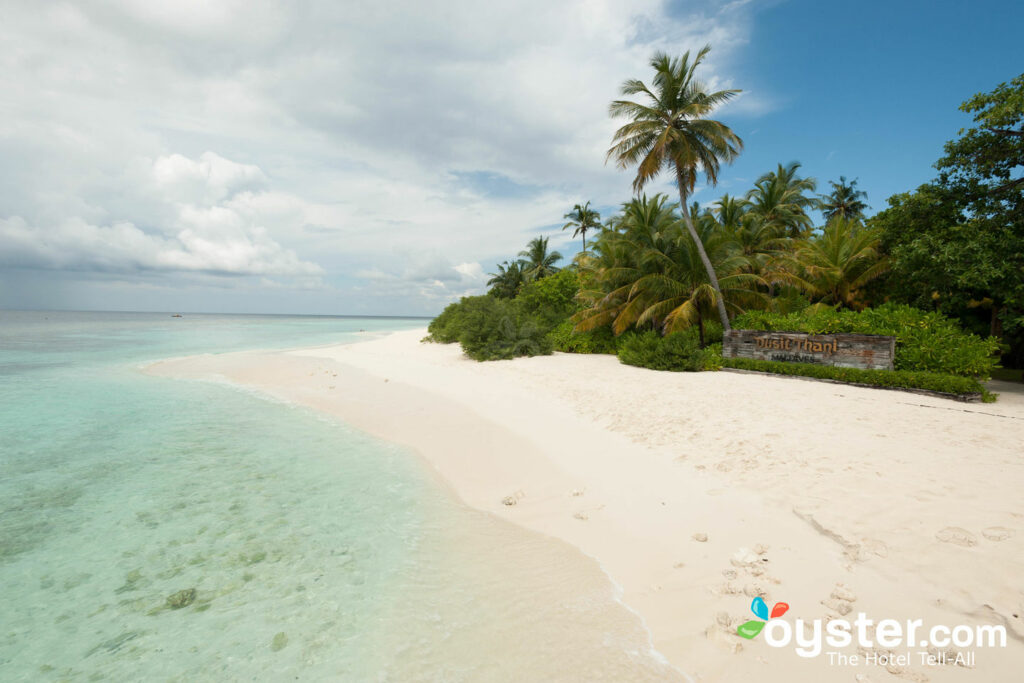 One of the rarest treats for travelers heading to the world's beaches is stumbling across a bioluminescent stretch of sea. There are only a handful of places around the world where bioluminescent phytoplankton light up the water year round. In the Maldives, the phenomenon has a habit of showing up here and there throughout the archipelago. However, there are a few places where you can see the oceans aglow more reliably. That includes the Dusit Thani Maldives in the Baa Atoll. During certain times of the year, this resort's beach comes alive with light — at night — giving off a starry-sky look in the dark waves. We were lucky enough to witness the spectacle during our visit, though other spots in the Maldives may offer similar experiences as well. It's an unforgettable experience, but be sure to check on the timing of this spectacle with the hotel if you're booking specifically to witness the lights.
6. The Maldives has a 100 percent Islamic population — and customs must be considered.
To be clear: Foreign travelers to the Maldives are unlikely to encounter many infringements upon their vacationing freedoms. However, you should know that this is a Muslim country. In fact, the only other country in the entire world with a 100-percent Muslim population is Saudi Arabia. Keep this in mind when you plan your trip, especially if it coincides with Ramadan. During this month of fasting and prayer, most of the local staff you'll be encountering at the airport and resorts will be unable to eat or drink anything during daylight hours and many shops and services — including on resort islands — will be closed at certain times for prayer. Because this is a strictly Muslim country, there are specific bans on some things you may bring into the Maldives. To avoid any hassle or confusion at the airport, leave the pork products, alcohol (even duty-free from a connecting stop), tobacco products without a health warning printed on them, and any religious texts (including the Bible) that may be construed outside of personal use — at home. The local customs and culture also come into play for travelers in other ways — read on below.
7. Alcohol, bathing suits, and public displays of affection are illegal in public places in the Maldives.
Since the Maldives is a Muslim country, there are a few extremely important and strictly enforced rules that you may not know exist. For example, there is no alcohol available in the cities and towns — strict Muslims aren't even allowed to touch anything that contains alcohol. Homosexuality is also highly frowned upon and illegal in the country. Women are barred from wearing bathings suits or revealing clothing (i.e. nothing revealing the elbows, shoulders, or knees) in the towns and cities. Other restrictions include pork products, public displays of affection, and even quick kisses — all are against the law. While the Maldives is generally a bit more lenient on clothing restrictions for visitors arriving at the airport, we think it's always good form to be respectful when in a foreign country. With that in mind, dress modestly as you pass through the airport and onward toward your resort. If you're only planning on staying in hotels in Male or other larger inhabited islands, you should expect to abide by these laws at all times, as you'll likely be leaving your hotel. If you're on a resort island, the story is much different.
8. Resort islands in the Maldives play by their own vacation-friendly rules.
While budget travelers will likely have to abide by the cultural restrictions in place in the cities and towns of the Maldives' most populous islands (where the wallet-friendly hotels are located), those with money to spare will have an entirely different vacation in the Maldives. In fact, all of the above rules do not apply on resort islands (although — Europe, we're looking at you — there's absolutely no nude sunbathing). Tourists staying at the resort islands are free to drink alcohol, eat pork, canoodle, and wear bikinis, spaghetti-strap tops, dresses, and shorts. But please do remember, if you take a day trip to a local island, you'll be expected to follow the local customs, particularly when concerning women's attire, PDAs, and the like.
9. Essentially every resort in the Maldives is on its own private island.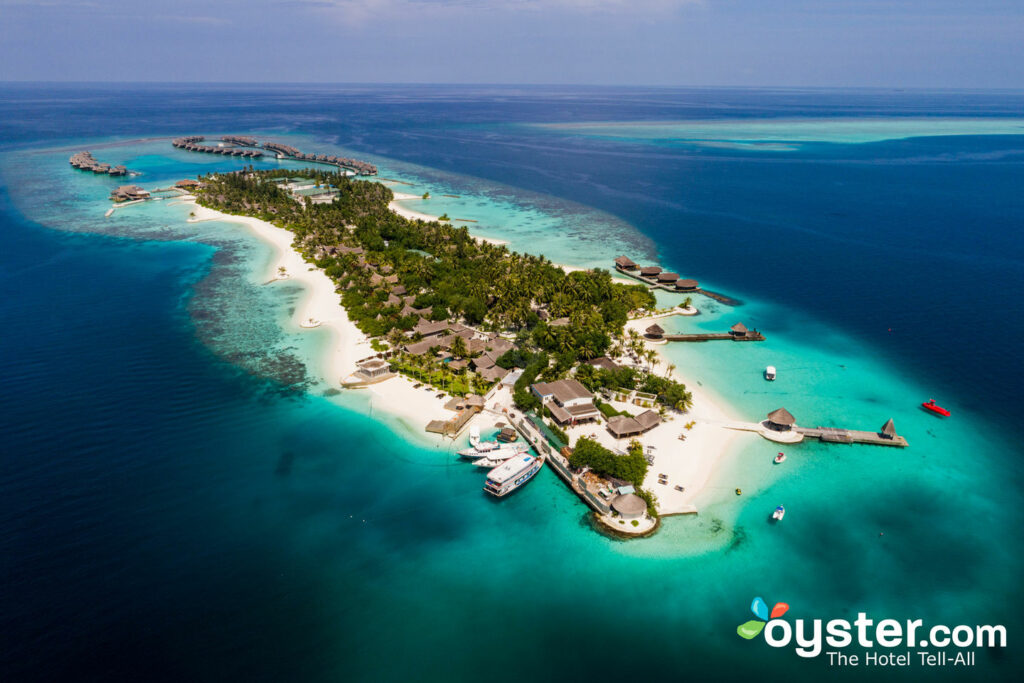 This one may come as shock, but just about every resort in the Maldives is on its own island. This basically means that any fantasy you've had about whisking yourself off to a remote island in the middle of nowhere can pretty much come true if you visit the Maldives. This also means that most of the islands are extremely small, so you'll be around the same people all the time, and unless you take a day trip, you're on the same small square of sand for the entirety of your vacation. There are no malls, movie theaters, or food, drink, and entertainment options outside of your resort, so be sure to research your digs well. That being said, if you want to unplug in the lap of luxury, and want nothing but sea, sun, and sand as far as the eye can see — the Maldives is for you.
10. The best time to visit the Maldives is November to April.
While temperatures in the Maldives are generally stable year-round — you're in the tropics, after all — if you're shelling out the cash to come all this way, you'd better make sure you're getting your share of sun. The Maldives is susceptible to the southwest monsoon, which is responsible for its rainy season and roughly coincides with the months from May through October. November through January can be a bit windy, but you'll get dry, sunny weather. Even if you choose to visit during the rainy season, you're likely to see more sun than clouds. However, climate change is altering meteorological patterns around the world, and the islands can get socked in for days on end.
11. Overwater villas are stunning, but can be overrated.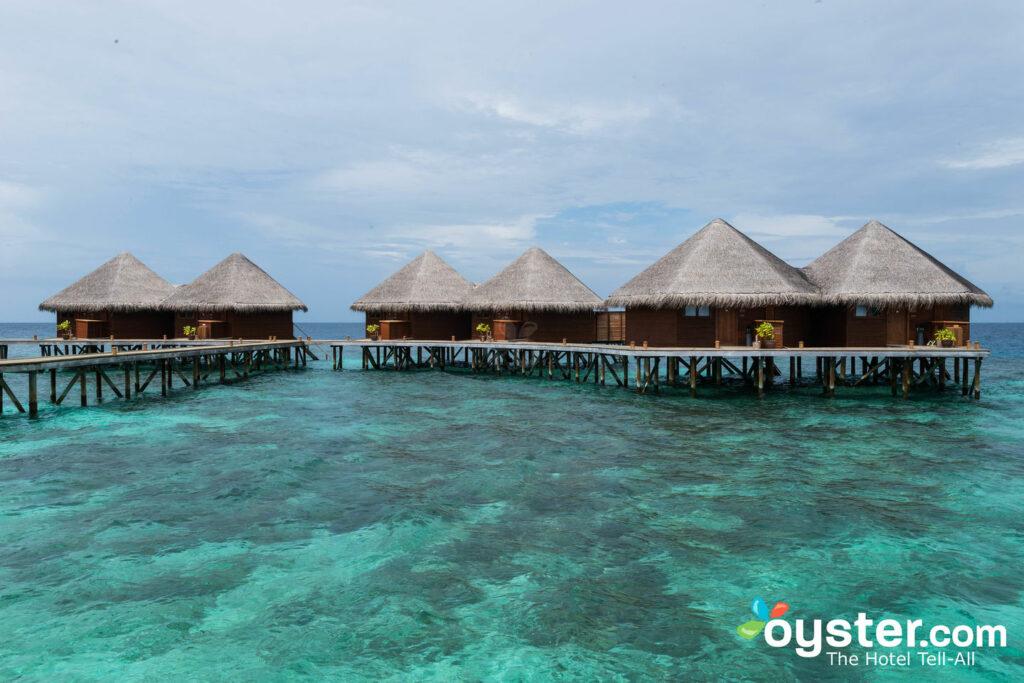 You've seen the pictures: That-roofed huts that sit atop stilts and seem to float magically over the Maldives' neon-blue water. They cut a striking visual image and are exactly what many travelers are craving when they start to plan a trip to the Maldives. However, they aren't for everyone. While overwater bungalows do offer a unique point of view and your own private steps into the ocean, they are usually set at the far end of the resort, making them a hike to other facilities. Additionally, some aren't that private, and have a range of inconveniences from dank-smelling bathrooms to poorly-lit jetties that make nighttime after-drink navigation a tad scary. But it really comes down to whether you'd prefer your backyard to be a deck over the water or set directly on a tropical beach. We vote for the latter, though if you're after this once-in-a-lifetime experience, we'd suggest splitting your time between an on-land unit and one over the water.
12. The drinking water in the Maldives is different.
As the limited freshwater in the Maldives continue to fall victim to climate change, drinking water is becoming an ever bigger issue. Resorts here have figured out a workaround, but it comes with some consequences that we learned about. During a recent trip to the Maldives, we had a conversation about drinking water with the folks at Kandohlu Island. Most of the water you'll be drinking in the the Maldives will have been recycled, treated, and produced via reverse osmosis desalination. While this process makes the water totally safe to drink, it also takes out all the natural minerals from the H20, rendering it less beneficial. (For the record, Kandohlu remineralizes their water).
What happens when you are sitting on the beach for days and days, soaking in the island sun and sweating out those city toxins? You're also sweating out precious salts and minerals — and since most of the water you'll find on the islands is demineralized — you might not feel quite quenched; you may even feel a little sluggish after a few days. Unfortunately, rehydration and sports drinks are virtually impossible to find because "everyone here just drinks energy drinks," but if you are in a bind or prone to getting dehydrated easily, it may be worth picking up some rehydration salt packets at the main airport's pharmacy
13. The Maldives are incredibly safe.
If crime and terrorism are concerns for you when you plan your holidays, you can take a big sigh of relief if you're coming to the Maldives. Rates of petty and violent crime, as well as any major instances of terrorism, are low to nonexistent. As of the time of writing in 2019, the country was given a Level 2 threat level from the U.S. State Department , which is the same as the U.K., France, Spain, and Italy. In fact, the major dangers you're likely to face here are natural: strong currents along beaches, for example, that have caused drownings (the Indian Ocean is one of the most fierce on the planet, after all). Of course, take the normal precautions with your personal items by using in-room safes. You may also want to consider downloading a VPN while you're traveling, as the government censors the internet and you may be blocked from some sites you normally use.
14. Seaplane flights may double the cost of your trip, and there's no seaplane schedules in the Maldives.
Your flight from Male airport to your resort island may only be 15 minutes, but that doesn't mean it'll be cheap. We were surprised at the high cost of the short journeys. In many cases, return airfare on a seaplane can be upwards of $800 to $1000 USD per person. Depending on which country you call home, this could double your flight budget. But honestly, the once-in-a-lifetime views are worth every penny…almost. However, don't be surprised if you roll up at the Male Airport seaplane terminal after a 12- or 22-hour flight only to wait for another four hours for your seaplane to take off. Why? Well, because of the way the flights work out and the daily change of pickups and drop-offs, there's no set schedule for seaplane flights. In fact, they only even get a general idea of flight routing the night before the flights themselves. Keep in mind that the Male Airport has very few amenities, so those of you that snag hotels with airport lounges — like those for the W Maldives and Constance Moofushi — will be living it up in comfort and style.
15. Visiting the Maldives is incredibly expensive.
Perhaps it's no surprise that a remote outpost of thousands of micro-islands, flush with private overwater bungalows and luxury resorts is expensive. It sort of goes without saying, to be honest. However, there are some nominally budget-friendly secrets for travelers looking to save some money. For starters, it's cheaper for Europeans, those in South and Southeast Asia, and Middle Eastern residents to get here. For those travelers, combining lower airfare with budget-friendly hotels in the major inhabited islands and bigger cities, like Male, will mean you're paying less. However, you'll have to adhere by the local customs and plan to shell out to get to the beaches and other atolls.
If you're considering an upscale or luxury resort getaway on a private island, you're looking at average rates of around $500 per night in the high season. Many of these resorts are all-inclusive, so your soft drinks and food will be included. However, you may have to pay extra for alcohol, as well as any activities and spa treatments. If you're not staying in an all-inclusive resort, expect to pay a huge premium on all meals and drinks. Don't forget to add on the cost of the seaplane ride to your resort, as detailed above. In conclusion: The Maldives is a special-occasion kind of place, unless you're incredibly rich. But with these kinds of views, and the stunning level of service found at many resorts, it's really a once-in-a-lifetime experience.
16. You've got some of the best odds in the world to see large marine life in the Maldives.
The Maldives is home to some of the best marine life viewing, both above and below the water. South Ari Atoll is well-known for having a year-round population of whale sharks, making it one of the top spots to see them in the world. There's also a big chance you'll spot some active pods of dolphins around this area as well. In the North Male Atoll, there's a high concentration of Manta rays; it's sometimes possible to see them from the air as your seaplane glides past Manta Point. And for a real thrill, the Rasdhoo Atoll is one of the only places in the world that is able to boast Hammerhead shark dives. This is all in addition to endangered sea turtles, rays, colorful fish, and reef sharks that are commonly sighted along most resort house reefs.
Embark on a snorkeling safari.
17. You can actually dive underneath some of the islands.
If diving with Hammerheads seems a bit too life-threatening (we don't blame you), there's another unique experience you can have underwater in the Maldives. It's rare, but unlike most islands that are "built" from the seafloor up, creating lots of layers of coral shelves to snorkel and dive down to, some Maldivian islands are actually concave. This means you can dive underneath them, giving you a totally cool and absolutely unique point of view.
Enjoy snorkeling and a sunset cruise.
Easily one of the most stunning and luxurious properties in The Maldives, the Soneva Fushi impressed us to no end when we visited in 2018. With its lush jungle setting, secluded villas and suites, and island-camp vibe, it ticks every box for travelers coming to The Maldives. Is it cheap? No. But this once-in-a-lifetime escape has 65 villas, private butlers, incredible food, an outdoor theater, and stunning scenery around nearly every corner. The chic style is also hard to top.
Related Links:
All products are independently selected by our writers and editors. If you buy something through our links, Oyster may earn an affiliate commission.