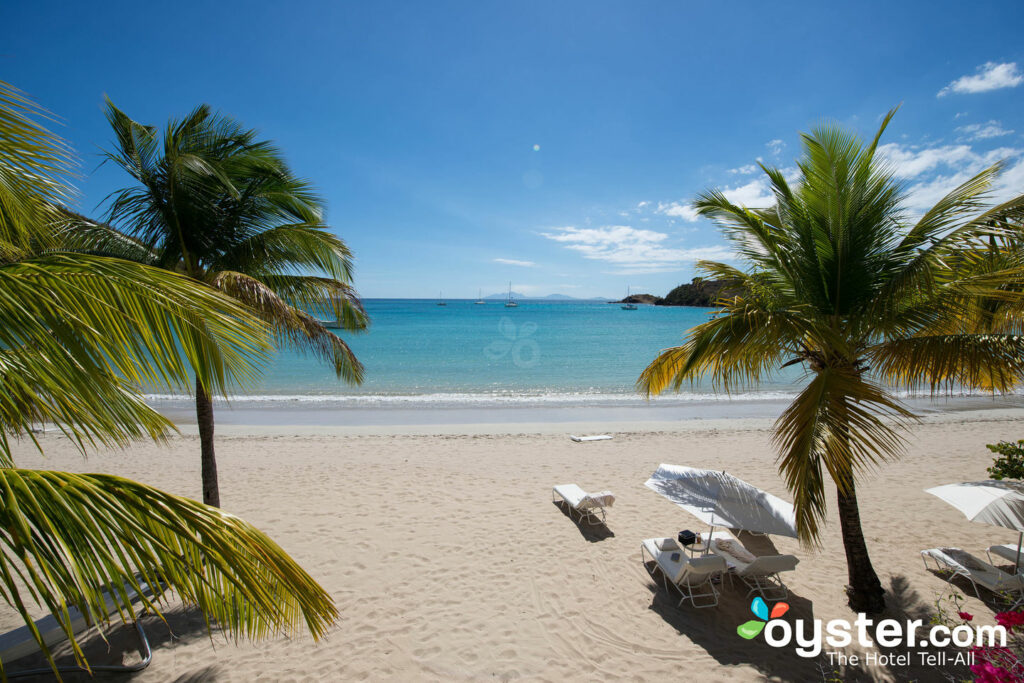 The view from the Carlisle Suite at Carlisle Bay is stunning. The resort has dedicated sections for both families and couples, and successfully appeals to both with its lovely white-sand beach, calm ocean, free non-motorized water sports, and impressive kids' club. The 82 rooms are modern and sophisticated if not very distinctly Caribbean, and the food is both expensive and unimpressive. But the extensive features and services (many of which are free) still make this one of the island's top luxury options.
This pretty view is from the Beachfront Cottage at Bitter End Yacht Club. The resort is snuggled into a steep hill on the scenic North Sound, is a relaxed, family-friendly resort. The tech-free rooms (no TVs or Wi-Fi here) feature stunning views from the balconies, and the sliding doors allows breezes to sweep through; some rooms do not have air-conditioning but most guests find they don't miss it. While some rooms feel up-to-date (with bright comforters, sleek bathrooms, and comfy lounge chairs), others have dated furniture and are in need of renovations. The white-sand beaches at the hotel are narrow, but they are still the highlight here, offering plenty of water sports and relatively calm waters.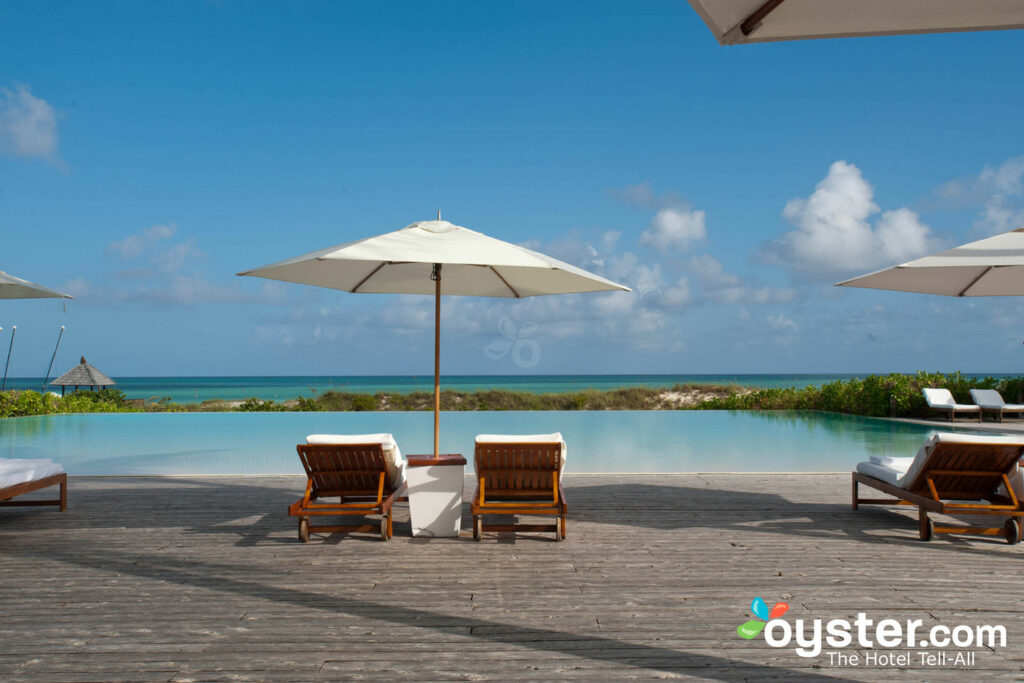 Accessed via a 30-minute boat ride from Providenciales, this 1,000-acre all-inclusive resort on a private island is the definition of tranquility. With an incredible infinity-edge pool, world-renowned COMO Shambhala Spa, waterfront Balinese-style villas, doting service, and more than three miles of pristine beaches, it's easily one of the most luxurious and romantic options in the Caribbean. But hefty price tags put it out of reach for many, and the rare level of privacy comes as the cost of convenience — a boat commute is required to reach any nightlife or shopping.
The relaxed, tranquil environment of the adults-only Galley Bay is a major part of its appeal. This isn't Antigua's fanciest property, but it doesn't need to be: Simple Caribbean style (think: thatched roofs, stone, and rattan), a truly gorgeous beach, and all-inclusive food that's better than average for the island make for a winning combo. Water sports are also included in the rate, but the ocean here can get a bit rough so guests shouldn't count on being able to swim in it every day.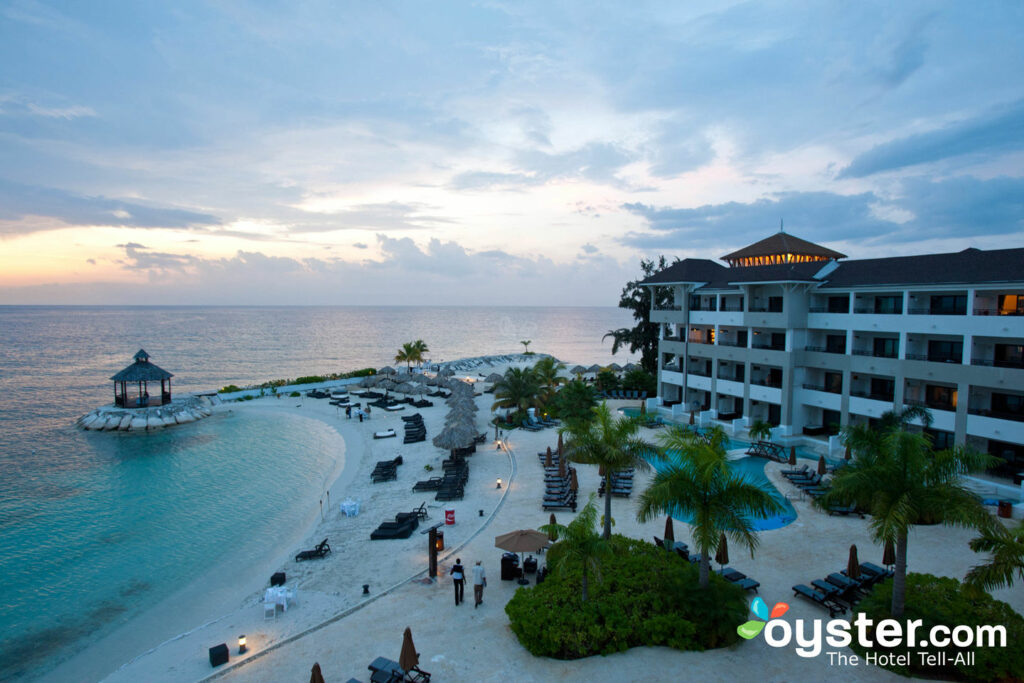 The sprawling Secrets Wild Orchid is one of the more luxurious adults-only all-inclusive resorts in Montego Bay, and has a laundry list of property features, including eight restaurants and five bars, and a host of activities: a theater, a spa, a water sports and dive center, a shopping center, and a casino. But the resort shares virtually all of its amenities with the next-door Secrets St. James, and some of the best amenities and freebies are reserved only for the VIP guests staying in the "Premiere" part of the resort.
The 215-room Langley Resort is on Bas Vent beach on the less visited side of Guadeloupe and guests essentially have this beach to themselves. The property offers tons of activities for all ages, from a wooden child-sized fort to Hobie Cat rentals to tennis courts to a petanque court. The clean but small and rather flavorless rooms pale in comparison to the beach scene, with most situated in a hulking building overlooking the ocean. Those who looking for a less crowded scene in the area might prefer the Caraibes Bonheur just up the hill, or the smaller Caraib'Bay or Habitation Grande Anse, which are within walking distance of another beach.
One of the newer properties on the island, the chic 60-room Sugar Ridge boutique resort was built in 2009 and feels modern and fresh. What makes the property unique are the sweeping views — it's situated high on the side of a hill looking out over the west coast of the island. However, the hillside location means that Sugar Ridge is not on a beach, and guests will have to take a shuttle to get to the sand. The main draws here are the stylish pools, excellent gym, and Aveda spa. Sophisticated rooms have four-poster beds and decks.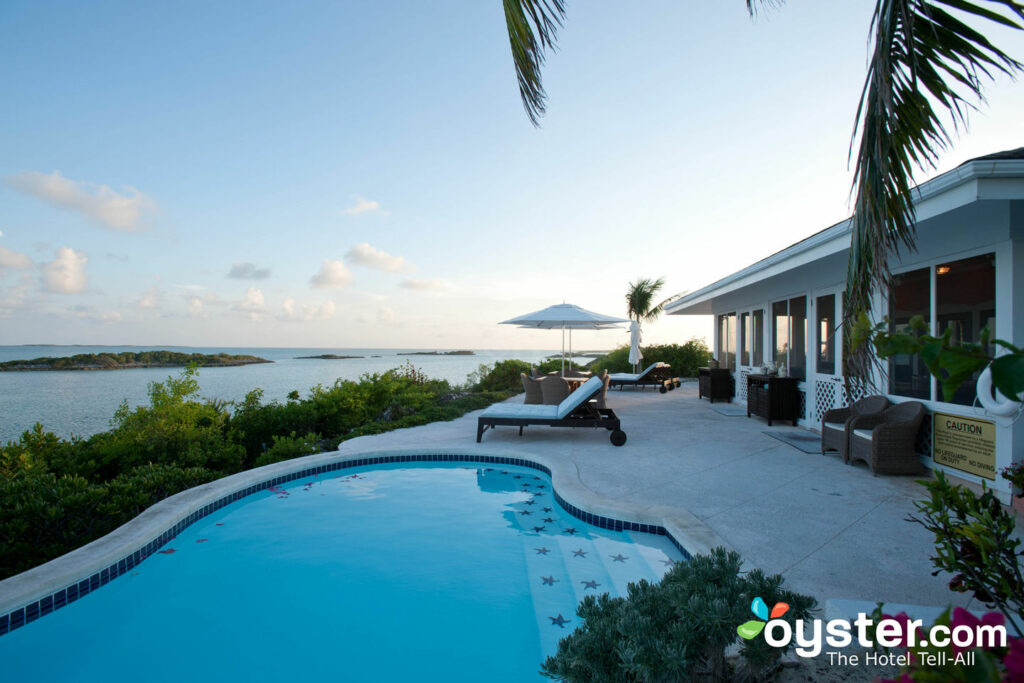 Crowded beaches are unheard of on this private island resort where a maximum of 28 guests at a time have free range of 50 acres and three beaches. Personal boats for daily excursions, on-call service, spacious villas with fully stocked kitchens and wet bars, and a host of all-inclusive activities make Fowl Cay a standout gem in the Exumas. However, some of the villas feature outdated decor and worn furnishings that seem inconsistent with the resort's high nightly rates.
Twinkling lights, sunsets, and palm trees come together for a breathtaking view at the Lions Dive & Beach Resort Curacao. The large upper-mid-range resort is a hub of sporty activities and family-friendly fun. With a popular dive shop, a 50-meter lap pool, and an excellent fitness center, there's plenty to keep busy. For those coming for the famed Caribbean sea, the resort has a lovely, wide white-sand beach. The apartments and suites are modern and sleek, though hotel rooms are in need of some updates. There are four restaurants on-site, but this is a lively location and several more dining options are within a five-minute walk.
This gorgeous photo was taken from the Ocean Suite at The Cove Atlantis. The 600-suite tower opened in 2007 and displaced Royal Towers as the best, and therefore most expensive, address at Atlantis. Chic open-air surroundings, oceanfront suites, and an air of exclusivity attracts families and couples who prefer to be slightly removed from the thickest crowds. Modern, sophisticated suites (many with views) have modern technology, balconies, and extra large bathrooms. The property shares a separate beach and large family pool with neighboring Reef Tower, but only Cove guests have access to the party pool called Cain at the Cove — for adults only — with private cabanas, outdoor gambling, and a live DJ.
Thanks to lifted sanctions, we were able to enjoy this pretty view in Varadero, Cuba. The 420-room Ocean Varadero El Patriarca is arguably the most modern family-friendly all-inclusive in the area. Its rooms are truly upscale, its a la carte restaurants don't require reservations (a rarity), its coffee bar serves first-rate brews (not often found at competing properties), and there's great evening music at the swanky piano bar. Unlike at the larger, neighboring Paradisus Varadero, there are no rooms with ocean views, but guests seeking a more intimate environment and more stylish room decor will be happier here.
The most upscale of all the Elegant Hotel properties and one of the most exclusive resorts on the island, The House is the definition of luxury. Located on the ritzy west coast, the adult-only property doesn't even have a sign out front on the road. The property is secluded and private, with manicured gardens, koi ponds, and a chic lounge area. The rooms are spacious and contemporary with upscale amenities including a massage jet shower and a free bottle of rum punch. Thoughtful freebies include welcome drinks, champagne breakfast, and jet lag revival massages.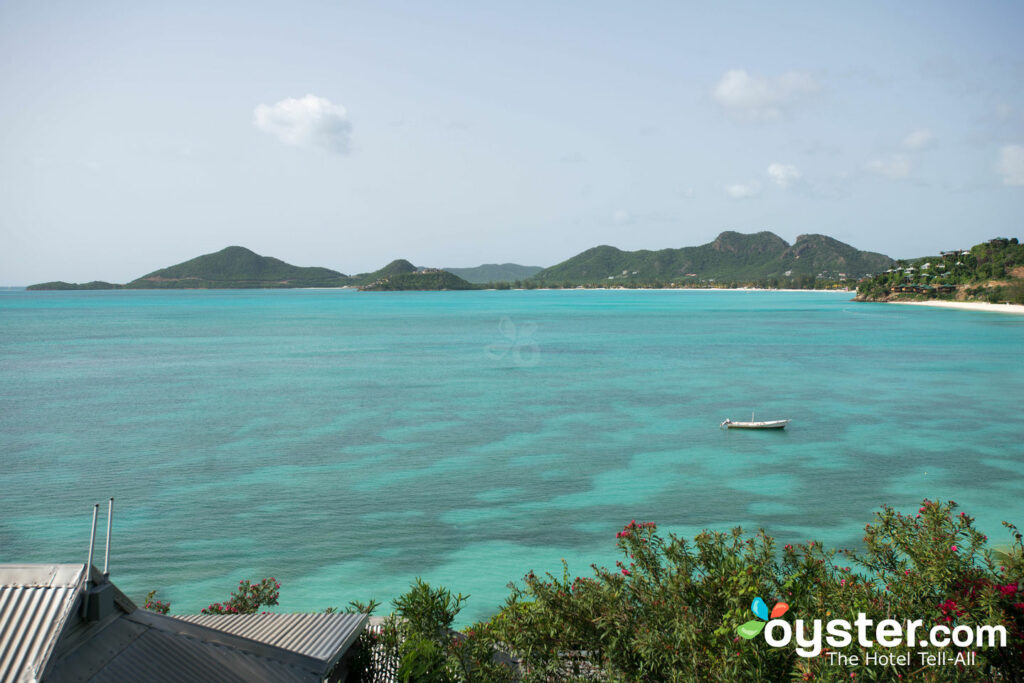 You'll have to stay in the Deluxe Cottage at Cocobay Resort to get this view. This charming all-inclusive boutique resort, situated on a bluff overlooking the sea, features 57 separate cottage-style rooms painted in Caribbean pinks and blues. The rooms have a rustic style featuring exposed wood beams, and some have private plunge pools. It is a posh adults-only property catering to couples, wedding parties, and honeymooners — but it offers a much more intimate atmosphere than massive couples-only resorts like Sandals.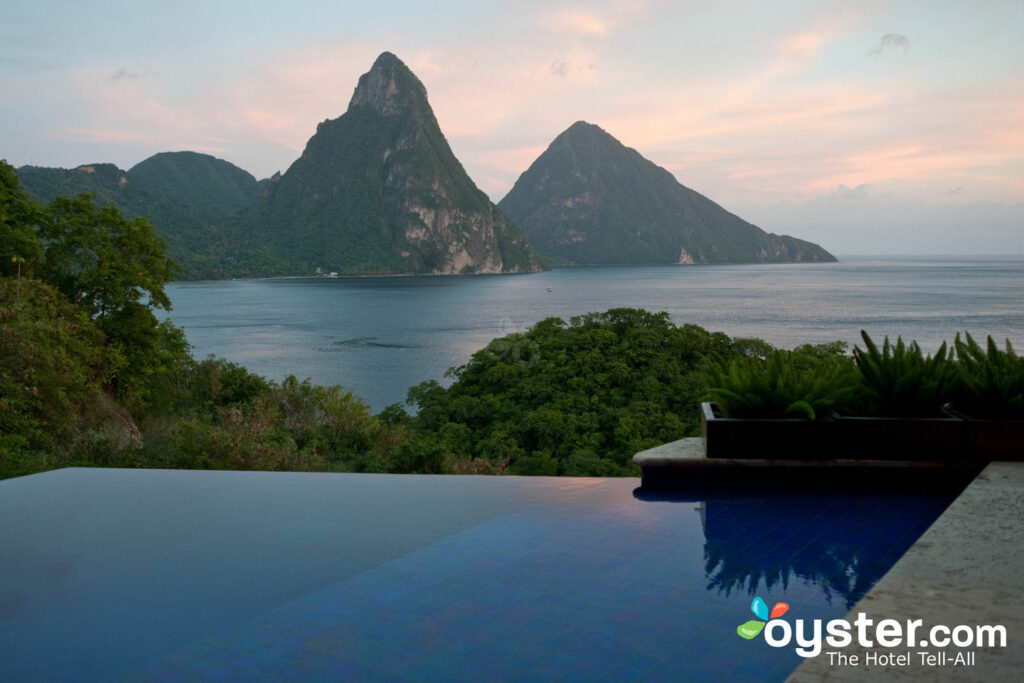 Romantic? Undoubtedly. Unique? Absolutely. Expensive? For sure. Through an innovative, open fourth wall, each of Jade Mountain Resort's 29 enormous suites overlooks the sea from its chromatherapy-lit whirlpool tub, canopied bed, and private infinity pool. Getting to Jade Mountain can be tedious, even nauseating, but its organic cuisine, doting service, unwavering silence (no TVs, radios, or children), and extraordinary design make the long journey worthwhile.
Gorgeous blue water, golden sand, and green trees? That's the recipe for an impressive view. This one is from the Oceanfront Butler Suite at the Sandals Royal Plantation. Quiet and classy, the colonial-style, 74-room, adults-only hotel snatched a prime patch of beach when it was built in the 1950s along with luxury icons Round Hill and Half Moon. Excellent food, service, beds, and spa — it's Ocho Rios's best luxe for the buck.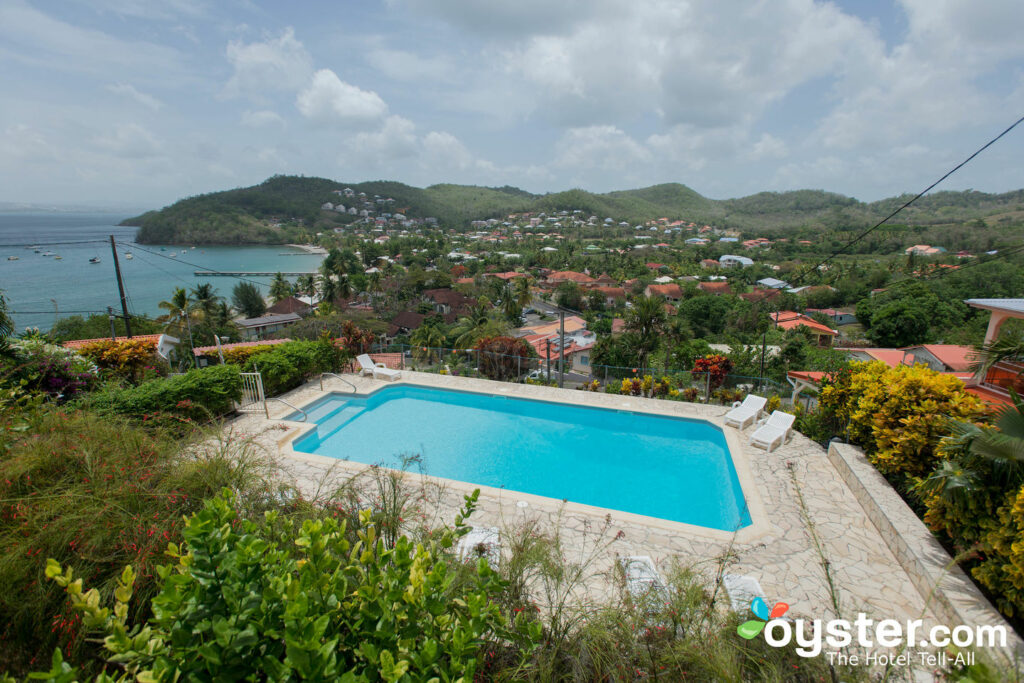 You don't have to be right along the water to have a great view in the Caribbean. Set on a breezy hilltop overlooking Anse-a-l'Ane beach, Le Panoramic has 36 Studios and Bungalows styled with colorful yellow kitchens, modern Caribbean-inspired decor, and ocean views from private terraces. Martinique is called the "Island of Flowers," and the hotel emphasizes the label by surrounding the pool and trimming the stone paths that traverse the hillside with a variety of colorful flowers and trees. While not located directly on the beach, the hotel shuttles guests down the hill on request.
What's better than a palm tree and ocean-filled view? Enjoying said view from your private whirlpool at the Christopher St Barth hotel. The 42-room, luxury property balances an urban chic ethos with contemporary French design and tropical island vibes. Large rooms offer rustic charms like peaked wooden ceilings alongside accents like minimalist four-poster beds and glazed concrete floors. The lush grounds house a Sisley Spa, a pricey ocean-front restaurant, and the ultimate hotel pool — an elegant infinity number overlooking the ocean that's large enough to make up for the lack of an on-site beach.
Undoubtedly one of the most prestigious hotels in St. Barts, this exclusive 15-villa luxury resort with a Parisian flair sits amid 28 lush acres of natural hills and beachfront. The private villas are spacious and airy, each with its own infinity-edge pool. And the views here are jaw-dropping. The French restaurant is one of the island's most renowned, one of the many reasons celebrities come here to relax. Rates are nothing to sneeze at, but you'll definitely receive the all-star treatment that should come with such a hefty price tag.
Guests staying in the Swim-Up Junior Suite at the Calabash Cove Resort and Spa get a view of the pretty pool, ocean, and flowering plants from their terrace. Opened in 2009, the upscale 26-room boutique rests on a gently sloping hill above Bonaire Bay, providing stunning Caribbean Sea views from virtually everywhere — whether at the stunning infinity pool, the open-air restaurant and spa, the cozy library, or on the private beach. Three very distinct room types create varying experiences for guests, though all feature elegant furnishings and private balconies.
Secret Harbor Beach Resort is an upscale boutique property located on Nazareth Bay on the East End of St. Thomas. The resort's beach is truly a tropical paradise, with palm trees, hammocks, loungers, white sand, and turquoise water. The resort has two on-site restaurants and a lively beach bar. Guests have a choice of Studios or One- or Two-Bedroom Condos, and each has updated decor (except for some bedspreads) and fully equipped kitchens. All units are beachfront and offer great views. The pool is slightly off-site, a two-minute walk to another property, but with this beach, you won't miss it.
Related Links: