Walking on water is an uncommon ability. I think we can all agree on that.
However, ever since Stand-Up Paddling (that's "SUP" to you!) hit the scene, the sensation of gliding along a liquid surface is more accessible.
Everyone who is anyone -- and many of us who are not featured regularly in tabloids -- is climbing atop these big boards and paddling her way towards blissful serene summer moments, not to mention an amazing total body workout.
From our friends at SELF.com, here are 5 reasons why you should run -- don't walk (even on water) -- to the nearest SUP session to try this surfing/canoeing hybrid:
1. Celebs Love It: If Kate Hudson jumped off a bridge, would you? Well, maybe if there was a bungee attached. This new water sport has an insane amount of A-list traction: Jennifer Aniston, Jennifer Garner, Owen Wilson, Matthew McConaughey, Cindy Crawford, Adrian Grenier, Rihanna, Denise Richards and Ben Harper are just a few of the hard-bodied celebs spotted getting their SUP on.
Where to SUP: The Fairmont Orchid, Hawaii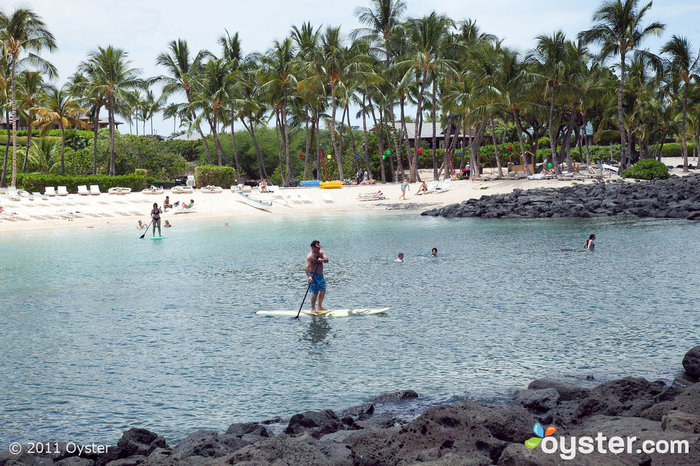 2. It Seriously Works Your Core:
According to Billabong-sponsored pro-surfer Sam Hammer, founder of Sam Hammer Surf Camp in Lavallette and Spring Lake, NJ, "Paddle boarding is a lot easier to learn than surfing. People will stand on the first day." Interestingly, Hammer reports that around 65% of his SUP students are women. For beginners, he recommends a larger board and starting on less turbulent waters like a lake or bay, as the water makes for an unstable, wobbly surface and wind can be tricky when you're paddling against it.
Either way, you'll get a serious workout. "It's one of the most complete full body exercises you could imagine, he explains. "Your core is being activated at all times to stabilize. You'll work your legs, arms, back — even your feet and toes will be sore if you do it for long enough. Your calves and quads will be on fire." Once you've got it somewhat down, SUP can also be serene and relaxing, according to the expert: "It's a great exercise and a stress reliever, but it's still going to feel unstable and tough the first few times. Be patient and don't give up — it's worth it!"
Where to SUP: The Kahala Hotel and Resort, Hawaii
3. You Can Try These Moves With Confidence:
Brody Welte, creator of Paddle Fit in Tampa, Florida, shared these "landlocked" SUP-inspired core moves in SELF's July issue:
Inchworm Whittler: Do one push- up, then lift hips and walk feet to hands, keeping legs as straight as possible. Walk hands away from toes to return to start. Do 10, with a push-up between each rep.
Slimming Touch: Stand on right leg, knee slightly bent. With back straight, reach left arm up. Bend forward, reaching left arm to right toes, keeping knee bent and extending left leg behind you for balance. Return to start. Do two sets of 15 reps on each side.
Where to SUP: One Bal Harbour Resort & Spa, Florida
4. You Can Do It On Vacation!
Resorts all across the country are catching onto this trend, offering SUP in everything from lakes to ocean enclaves. Visit these 10 varied domestic spots, for example, and you can get a paddle workout, while you relax:
1. Adventures On The Gorge, West Virginia
2. The Surf Lodge, Montauk
3. The Fairmont Orchid, Hawaii (Try Flo-Yo or Floating Yoga!)
4. Ravella at Lake Las Vegas
5. Kahala Hotel, Oahu
6. The St. Regis Bahia Beach Resort, Puerto Rico
7. St. Regis Princeville, Kaua'i (**SUP was invented by Laird Hamilton in Kaua'i).
8. Park Hyatt Aviara Resort, San Diego
9. The Inn at Palmetto Bluff, South Carolina
10. ONE Bal Harbour Resort & Spa, Florida
And even abroad …
1. Le Meridien Bora Bora
2. Hayman Island, Australia (Paddle skiing!)
3. The Four Seasons Resort, Nevis
4. Rosewood Little Dix Bay, Virgin Gorda B.V.I.
5. The Four Seasons Punta Mita, Mexico
5. What's SUP?
Sorry. I couldn't resist. But, once you learn, you'll be able to use the lingo with confidence and abandon, just like I am here.
Plus, with a workout like this, you could never ever be board.
More from SELF:
All products are independently selected by our writers and editors. If you buy something through our links, Oyster may earn an affiliate commission.