Let's face it; when you think of American cuisine, leafy salads, quinoa, lentils, and organic poached eggs don't spring to mind. In fact, one of the most impressive aspects of American cooking is its ability to pack on even more calories to an item already considered to be a naughty indulgence. Americans took peanut butter and added jelly, turned pumpkin into pie and deep fried cheese sticks. The thing is, it's delicious. We're not suggesting that you eat like this every day but if you're on vacation in the U.S. and find yourself faced with the choice of a salad versus one of our favourite indulgences below, we say, screw the salad.
1. Deep-Fried Buffalo Wings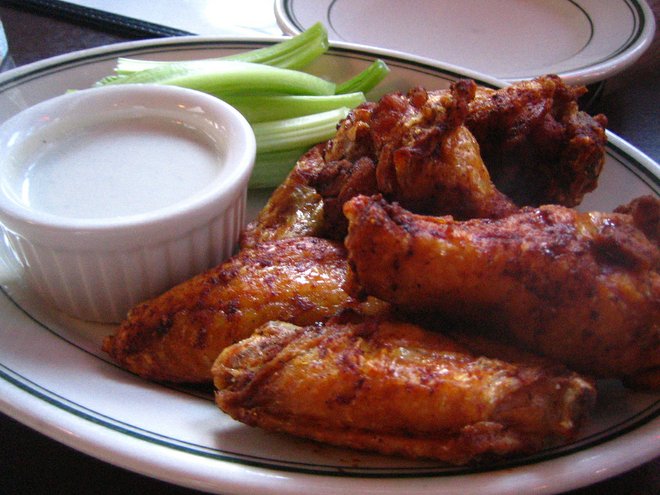 If you can handle the heat, deep-fried buffalo wings are well worth the 78 calories per wing. There are plenty of claims about who came up with the idea to deep-fry chicken wingettes with a coating of butter, cayenne pepper, and hot sauce instead of bread crumbs, and no wonder someone would want the credit because they're a genius! You'll usually find these spicy snackets accompanied with blue cheese dressing and carrot or celery sticks. Delicious.
Where to Stay: Days Inn & Suites – Niagara Falls / Buffalo
An affordable option for travelers on a budget, the Days Inn & Suites Niagara Falls/Buffalo is convenient to the attractions and activities in both the Niagara Falls region as well as nearby Buffalo, New York. The free daily breakfast, free Wi-Fi, and free parking add value, and property features include an outdoor pool and guest laundry facilities. Rooms received updates in 2014, and some have kitchenettes and whirlpool tubs, but don't expect many frills; thin patterned bedspreads are still the norm.
2. Ribs
Ribs, ribs, ribs. Whether they're sticky beef ribs, tangy baby short back ribs, baked spare ribs, St. Louis cut ribs, or barbecued boneless ribs, Americans tend to love their ribs. There's a variety of classic sides to choose from to accompany this American favourite, from creamy potato salad, to mustardy coleslaw, and cheesy corn casserole. Carnivore travellers should be warned that once you start, it is very difficult to stop — just bear in mind that you'll rack up around 306 calories for every 100 grams you consume.
Where to Stay: Hotel Saint Cecilia, Austin
Stylish Hotel St. Cecilia, with just 14 rooms, is a boutique hotel in the truest sense of the word. It features a sexy lounge (complete with patio seating), spacious grounds, and uber-chic rooms that meld with Austin's weird vibe and cool music scene via distinct decorative touches and amenities. The centerpiece is an historic Victorian home fronting spacious, sylvan grounds and harboring four of the hotel's beautiful suites. The long, narrow pool offers a classy place to beat the Austin heat. Plus, it's located in one of Austin's coolest neighborhoods, close to downtown shopping, historic sites, and entertainment.
3. Roast Beef Sandwich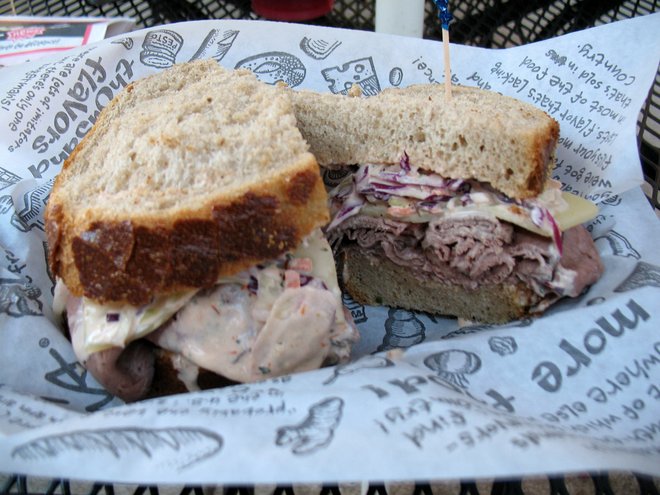 The roast beef sandwich which is said to have risen to fame from Eastern Massachusetts in the 1950s, is no ordinary sandwich. Proving the greatness of simplicity, this bad boy consists of cold roast beef, lettuce, red onion, chilli pepper, mustard, mayonnaise, and of course American cheese, wedged in between two slices of sandwich bread. At 473 calories a pop you should probably only have one, or two per sitting.
Where to Stay: The Westin Copley Place, Boston
With 29 meeting rooms and over 800 guest rooms, as well as several restaurants, retail stores, and gift shops, The Westin Copley Place is one of Boston's largest hotels. Despite its size and location within the massive Hynes Convention Center, it doesn't feel overwhelming, and provides spacious and luxurious rooms, a large fitness center and pool, and a number of dining options. Prices are often higher than those at other upscale hotels in the neighborhood, but many guests are willing to pay more for the breadth of features and convenient location — steps away from Copley Square, the Prudential Center, and the Charles River.
4. Mac & Cheese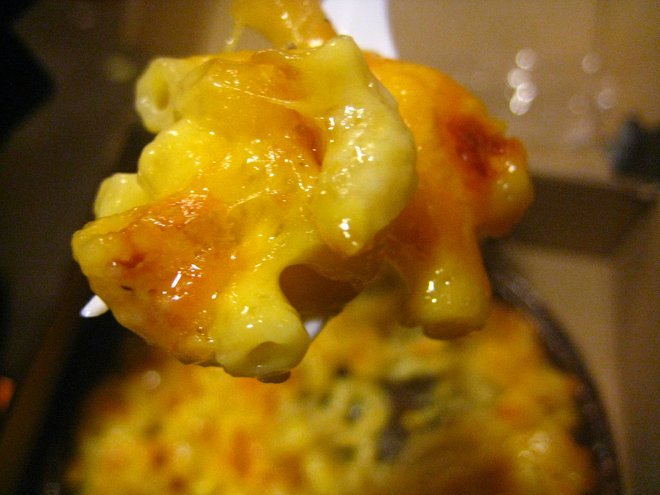 An American comfort dish that was first formally introduced to
the U.S. by the clever Mary Randolph, in her cookbook The Virginia Housewife in 1824, mac 'n cheese is a classic crowd pleaser. Mary's recipe was simple: layer macaroni pasta, cheese,
and butter, and bake it! Nowadays there are plenty of variations on this recipe
from adding meats such as bacon to the mix, stove-top cooking, and the easy peasy pre-packaged microwavable
mixes. This is an iconic dish, well worth indulging in, especially on July 14th,
which has been coined "National Macaroni and Cheese Day" in the U.S.
Where to Stay: The James New York
This 114-room Soho boutique, with a stunning rooftop bar and pool, great freebies (including free Wi-Fi and free nightly wine and cheese), a restaurant by David Burke, and a hotel art curator, embodies the hip, creative neighborhood it inhabits. Its bright, minimalist rooms are smaller than those at some of its luxury competitors (including the nearby Trump SoHo), but they're full of enough thoughtful details to make up for it.
5. Lobster Roll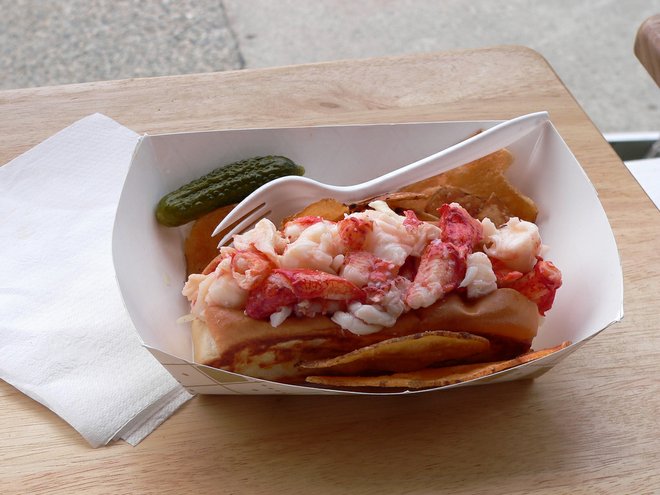 The lobster roll is a classic fatty summer indulgence that ranges in calories dependent on the maker, from 600 to a whopping 1440 calories per serving. This American favourite is claimed to have originated in Perry's restaurant in Connecticut in the 1920's, and traditionally comprises of lobster meat that's first soaked in butter and then wedged into a hot dog roll. Common sides include pickles, potato chips, and a cup of creamy mayonnaise.
Where to Stay: The Tides Beach Club, Maine
The Tides Beach Club in Kennebunkport was fully renovated in 2011, and the vibe evolved from cozy to South Beach-esque trendy. Two suites designed by Jonathan Adler, spectacular ocean views, and a contemporary restaurant with a sophisticated menu are just some of the upgrades that came with the renovation. The prices are a bit more Manhattan than Maine, but if it's beachfront luxury you're after, this is it — The Tides sits on a semi-private three-mile stretch of Goose Rocks Beach.
All products are independently selected by our writers and editors. If you buy something through our links, Oyster may earn an affiliate commission.