If you're starting to have major FOMO (that's fear of missing out) while scrolling through your friends' vacation posts right about now, chin up. While you might not be able to marvel over the Colosseum in Rome, snap pics at the Taj Mahal, or reflect at a temple in Japan, there are plenty of culturally authentic and budget-friendly activities for New Yorkers to indulge in in their own backyard. From cooking with immigrants in their home to soaking in an old-school Russian bathhouse, here are a handful of experiences that might just be the next best thing to the real deal.
1. Let an immigrant school you on cooking authentic cuisine.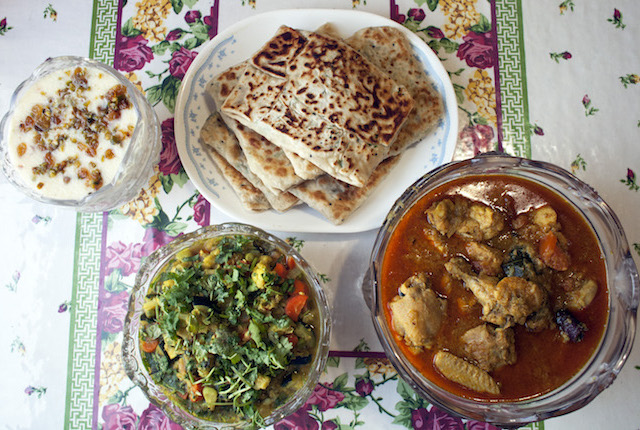 Sure, you can flock to Flushing for traditional Chinese food, Brighton Beach for Russian fare, and Astoria for Greek grub, but League of Kitchens takes authentic eats to the next level. Founded by Lisa Gross, the series taps immigrant women from around the world (Uzbekistan, Japan, India, Argentina, Trinidad, Greece, Bangladesh, and Lebanon) to teach intimate, five-person cooking workshops inside their abode. Learn to make pumpkin hanum (large steamed dumplings filled with cumin-scented butternut squash and onion) from Damira, okonomiyaki (savory pancakes with veggies and squid) from Aiko, and chorizo y morcilla (grilled spiced sausage and blood sausage) from Mirta, to name a few. Then, feast on the fruits of your labor while swapping stories about culture. And the fun doesn't end there — students go home with a booklet of their family recipes and in-depth shopping guide to recreate the experience over and over again for all those times wanderlust hits you big time, but your wallet can't follow through.
2. Get a home-cooked meal from an Italian grandmother.
https://www.instagram.com/p/BDHlIcFwyIe
Staten Island's Enoteca Maria appears to be your regular, run-of-the-mill Italian restaurant from the outside, but inside, it's unlike anything you've seen before. The brainchild behind the biz is Joe Scaravella, who dreamt up the idea after losing his mom and sister. Missing sitting down with his family for lunch and dinner, Scaravella created a place to go out for home-cooked meals. The authentic menu (i.e. you won't see chicken parm here) isn't helmed by a fancy executive chef either. Instead, a rotating group of legit Italian grandmas, or nonnas, straight from the Boot cook things up. The menu changes daily, but you can expect anything from peperoni ripieni piccanti (long hot peppers stuffed with crumbled hot sausage, grated cheese, and breadcrumbs) or melanzane ripiene (baked eggplant stuffed with rice, mozzarella, ground beef, peas, and ricotta cheese). Little Italy, you've finally met your match.
3. Sweat it out at Russian & Turkish Baths.
https://www.instagram.com/p/BCd3foSRcBx
Do as they do in Russia and schvitz it out inside a banya. Built in 1892, this old-school communal bathhouse in the East Village has been a refuge for locals and A-listers for over 120 years. Upstairs, you'll find a café, locker rooms, and a roof deck for warmer months. Downstairs hosts a variety of saunas and steam rooms, including a Russian sauna (made with 20 tons of granite and cooked overnight to make it a steamy experience), a Finnish cherry-wood sauna, an aromatic steam room, and a white-tiled Turkish room where eucalyptus and lavender are the name of the game. Massages and traditional services like the platza treatment and scrubs will also help you feel world's away in the heart of a bustling city.
4. Go shopping in Jackson Heights.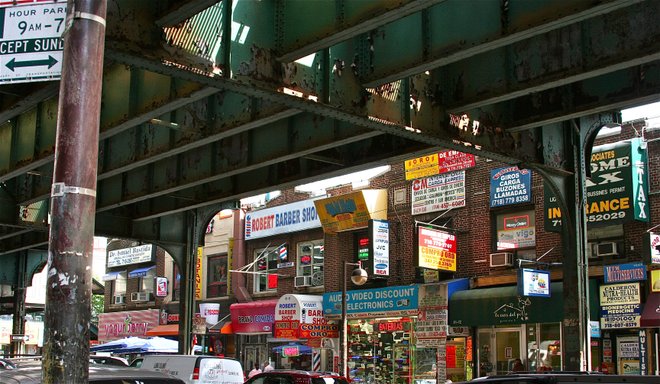 Stepping off the subway into Jackson Heights can feel a lot like walking off an airplane. One of the most diverse neighborhoods in New York City, the area is home to a melting pot of cultures, including South American, Indian, Pakistani, Tibetan, Nepalese, and Bangladeshis, to name a few. Here, the wafting scents of curries and spices almost immediately flood your nostrils, while the shops peddling bright fabrics and jewelry serve as eye candy. Stop by Karishma, two boutiques that hawk saris, salwar kameez suits (a traditional tunic and trouser combo), and other bedazzled fabrics and trinkets that resemble something straight out of a Bollywood film. Then, continue your cultural experience at Gulzar's Beauty Salon, which offers intricate traditional henna mehndi designs. Cap off the day at Terraza 7, an entertainment venue that features live Afro, Middle Eastern, Latin, and Caribbean tunes as well as art shows, DJs, and film screenings in a space decked out in comfy couches, functional hammocks, crochet streamers, and twinkling lights.
5. Take a classical Japanese dance class.
https://www.instagram.com/p/BCgMFMguzo1
You may have quit ballet when you were young and your current dance moves consist of doing the robot. Redeem your twinkle toes at a Japanese classical dance class at Long Island City's Resobox. Also called nihon buyō or nichibu, this style was born in about 1603 along with the first performances of Kabuki theater. Here's the run-down: dancers get their groove on in a kimono (or leotard) while interpreting poetry that's being sung. A mix of small props (think umbrellas, fans, and hand towels) are also be provided as an assist with the movements. Get ready to steal the show.
Related Stories:
All products are independently selected by our writers and editors. If you buy something through our links, Oyster may earn an affiliate commission.