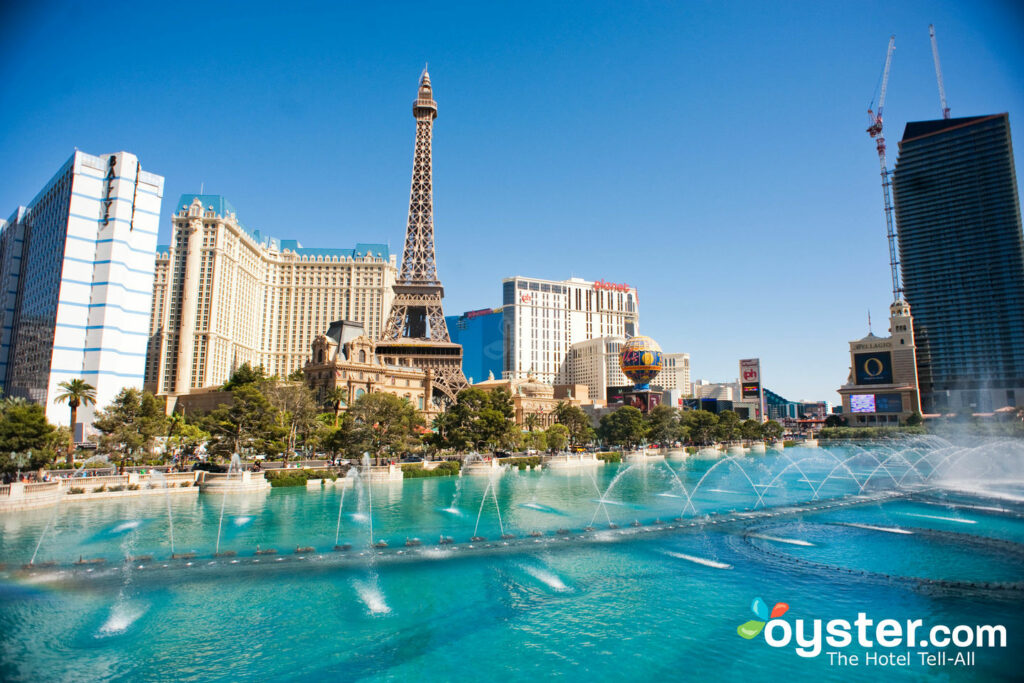 A Las Vegas vacation can be a crazy, curious proposition in that it's one of the few cities where part (or most) of the adventure rests on the risk of losing your money. That's precisely one big reason to hedge your bets with the hotel you pick. If luck strikes on the roulette table or in a private poker room, then you can blow some serious cash on one of the many luxury hotels that Sin City has to offer. If you happen to lose more than you bargained for on the slots, worry not—we've got you covered with a selection of more affordable alternatives to Las Vegas' high-roller hotels. From classic Strip icons to properties that are known for their entertainment, here are five top luxury hotels in Las Vegas and their cheaper (but similar) alternatives.
Anybody who has seen the movie "Ocean's Eleven" will be familiar with the Bellagio and its mesmerizing fountain show that runs from morning till night. Built by hotel magnate Steve Wynn (he also developed the Wynn Las Vegas and The Mirage, among others), the Bellagio embodies classic Vegas luxury. From the stunning indoor botanical gardens and elaborate Italian-themed courtyard with five swimming pools to the upscale restaurants and entertainment like Cirque du Soleil, the hotel is more than worthy of its five-pearl rating. Rooms are sophisticated, and their marble bathrooms are appointed with soaking tubs, perfect for relaxing after a day in the famous casino. Along with impeccable style and formal service, guests will also find arguably the best buffet on the Strip at the Bellagio.
There aren't many hotels that compare to the Bellagio, even in the luxury bracket. For a stay worthy of being called an alternative, you'll have to look for a different side of Vegas. Located in downtown Vegas, the Golden Nugget Hotel & Casino is a classic in its own right. Hosting one of the city's oldest casinos (first opened in 1946), the property was a top resort in the pre-Strip mega-resort era. Located off the Strip, the Golden Nugget features the bustle of Fremont Street, two pools, multiple bars and restaurants, and the popular on-site nightclub, Gold Diggers, for entertainment. The mix of old Vegas style and modern amenities make it an iconic budget alternative, but guests should be forewarned: booking rooms is a crapshoot, as some are smokey, some are dated, and some are subject to late-night noise.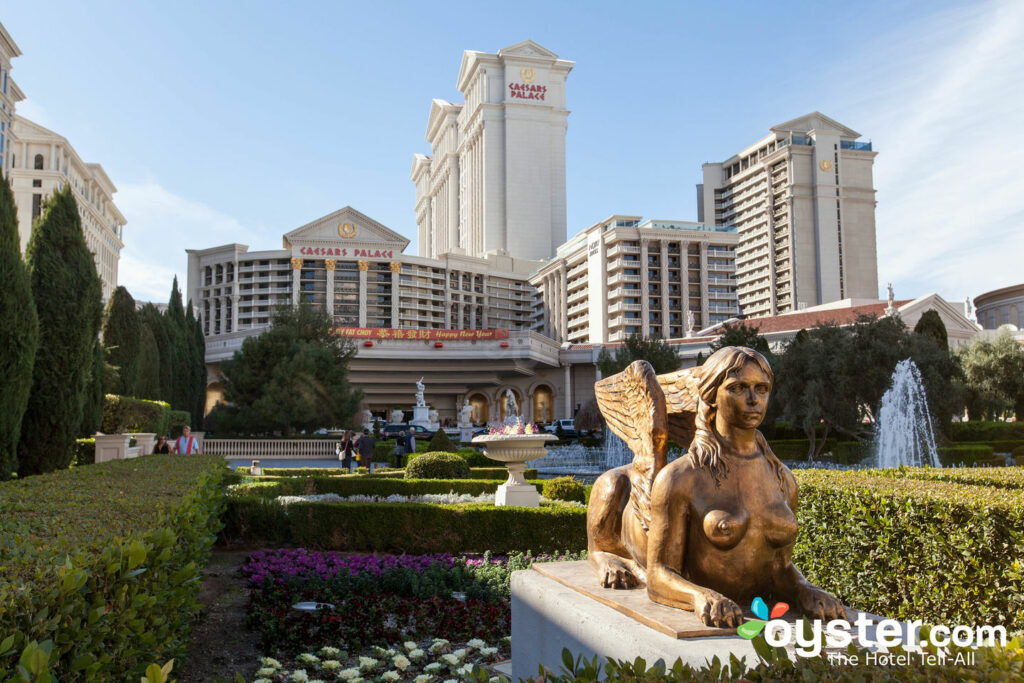 Forget the Bellagio fountains, The Mirage's manmade volcano, and the Venetian's gondolas—the best entertainment in Vegas can be found at Caesars Palace Hotel & Casino. Depending on when you visit, you can take your pick of shows by Celine Dion, Elton John, Rod Stewart, and Jerry Seinfeld. A-list superstars headline the in-house Colosseum nightly. In addition to the stars on stage, the property features a massive 5,000-square-foot Roman spa complex with elaborate mosaics and classical architecture surrounding the pools, one of the city's biggest casinos, and both upscale and affordable dining options. Plus, if you win big, you can drop some cash at Caesars' vast on-site shopping mall, Forum Shops.
How does any hotel compare to the likes of Rod Stewart and Mariah Carey for entertainment? It utilizes its prime location on one of the liveliest streets in Vegas to great effect. Located next door to the Fremont Street Experience, guests at the Fremont Hotel and Casino have immediate access to the Viva Vision Light Show, the Slotzilla zipline, The Neon Museum that's filled with historic Vegas signs, and the chance to take a million dollar photo at Binion's. The affordable rooms are clean and quiet, and four restaurants and four bars provide good dining options. Guests also have access to the rooftop pool at the nearby California Hotel,
MGM Grand Hotel & Casino, the biggest hotel with the biggest casino in town, isn't just Vegas famous, but world famous. That's partially thanks to its delicious restaurants, enormous pool complex, and huge range of on-site entertainment options. In fact, the property is so big that everyone can find what they want, even if the service is unexceptional. The 171,000-square-foot casino offers tons of table games, a race and sports book, thousands of slots, and particularly active craps tables. Renovated rooms and suites were revealed in late 2012, as part of MGM's $160 million revamp. All that said, this is a solid candidate for those looking to find all the extravagance and variety of Vegas, and comfortable rooms, under one roof.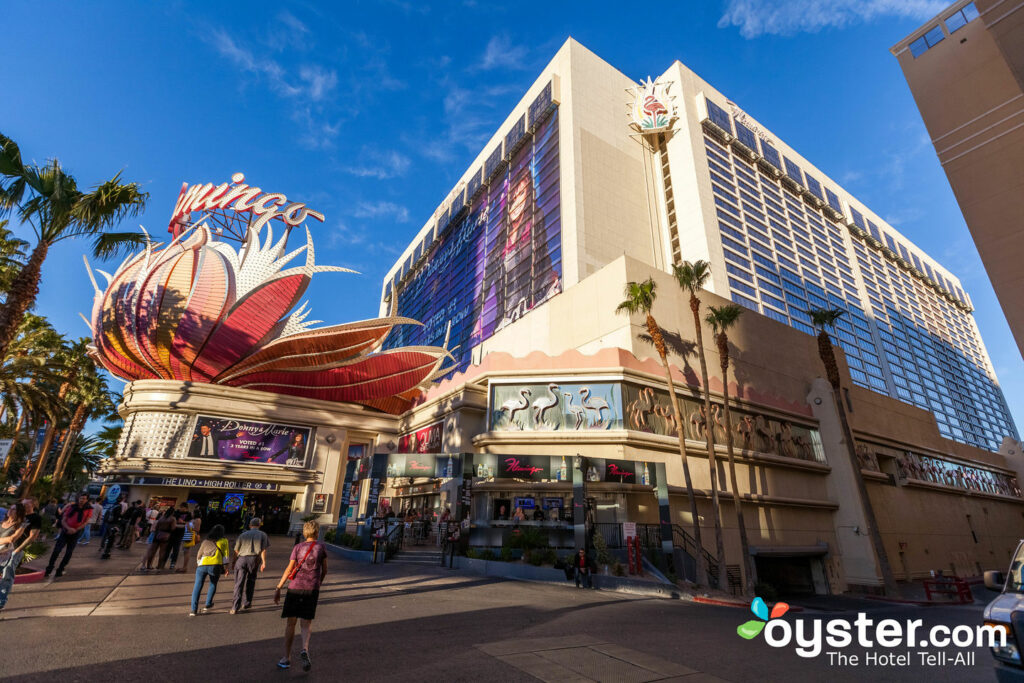 First opened in 1946, the Flamingo Las Vegas is one of the most iconic hotels on the Strip. In addition to all the standard Vegas amenities (multiple dining options, a huge casino, top-rated shows, and a number of wedding venues), this upper-middle-range hotel offers a bustling party pool, a spa, on-site shops, and the popular Wildlife Habitat, complete with exotic birds, turtles and fish. Rooms are hit or miss (some are dated and basic, while others have stylish and contemporary decor), but rates are still some of the lowest on the Strip. Those on a budget should keep in mind that the resort fee is added on checkout.
From the huge rooms with top quality beds to the 18-hole on-site golf course, the Wynn Las Vegas focuses on luxury through and through. And while it features a great spa, high-end shopping options, and numerous acclaimed restaurants, it still puts up stiff competition as one of the best Vegas hotels for partying. Home to some of the Strip's most popular nightclubs, the Wynn is the ultimate place to party if you have the money. Hosting superstar DJs like Diplo and Eric Prydz, the hotel's nightclub, Surrender, attracts a young, hip crowd. On the other hand, Intrigue, another on-site nightclub, offers a more refined scene with stunning interiors and state-of-the-art light and sound.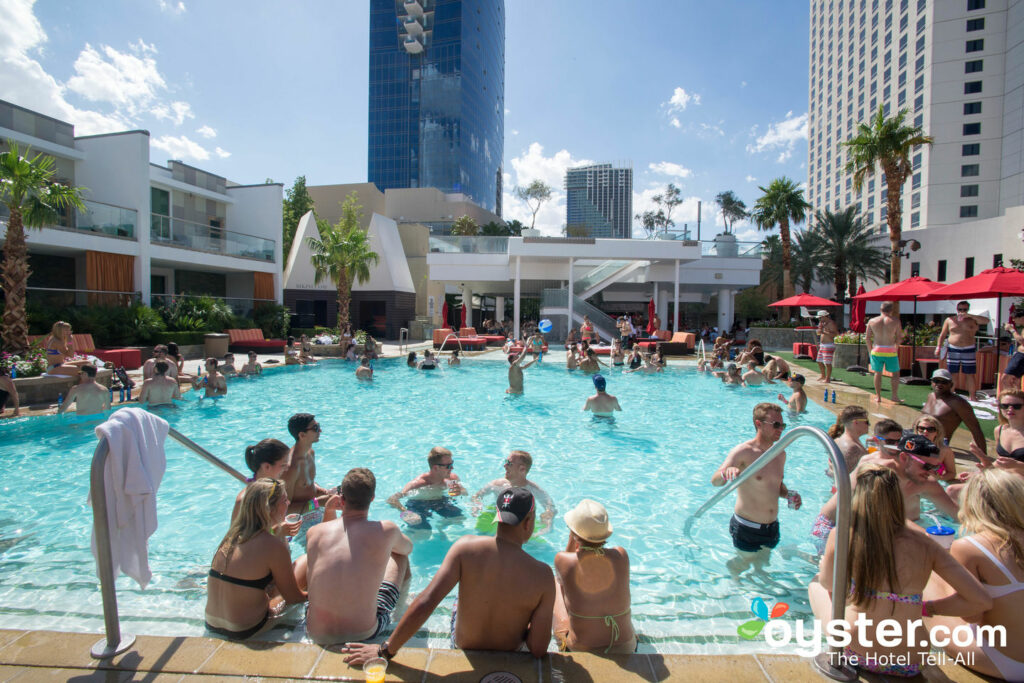 With two pool complexes—one for partying and one for relaxing— The Palms Casino Resort has one of the best party scenes in Vegas. Attracting a young, hedonistic crowd, as well as a smattering of celebrity guests, the Palms has a range of fun nightlife spots, including the famous rooftop Ghost Bar, the dance club Rain, and the penthouse nightclub Moon. When the party's over, guests will find that the rooms are stylish and contemporary with large flat-screen TVs and high-end sound systems. And while it's a short cab ride to the Strip, the quality of the property's party scene makes it a much more affordable alternative to Wynn Las Vegas.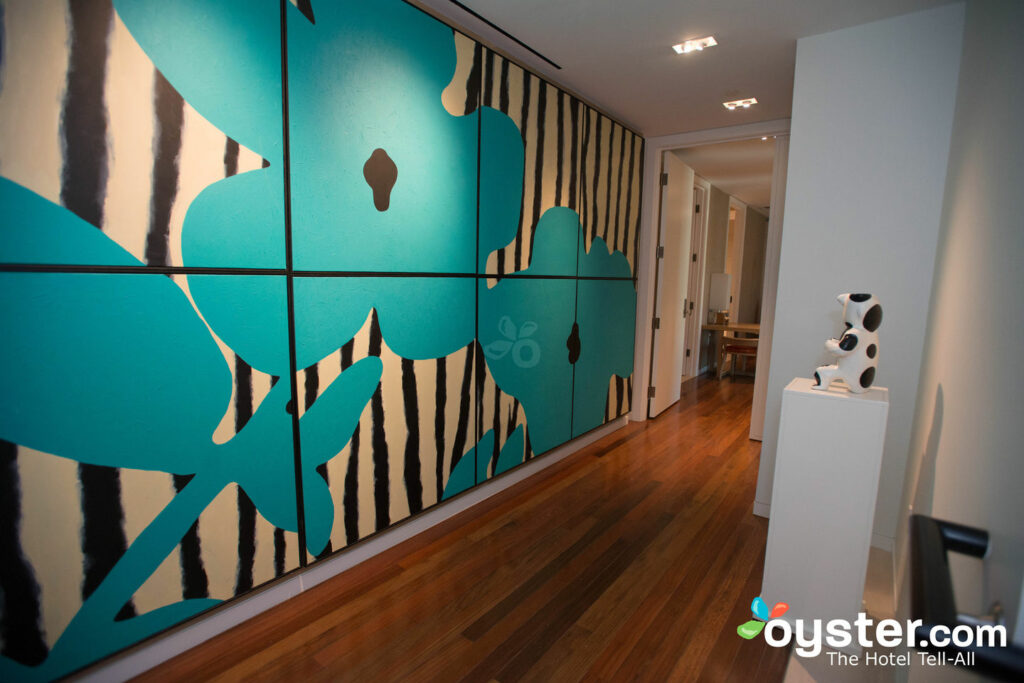 Vegas isn't exactly known for doing things on a smaller scale, making boutique hotels harder to find. That's not to say that they can't be found, though—you just have to look a little harder. The 51-room hotel is the luxury section of MGM Grand, offering some of the most exclusive accommodations within the hotel (and all of Vegas, for that matter). All of the rooms are one-, two-, and three-bedroom duplex lofts with big living areas and sophisticated but understated urban decor (prices are usually upwards of $1,000 a night). High-end extras include airport transfers in a Rolls-Royce Ghost limousine; a calm, private reception area for Skylofts guests with a separate entrance; in-loft check-ins (no waiting in line!); and access to Skylounge on the 29th floor for cocktails and appetizers. Note: most facilities, such as the main fitness center and the spa, must be shared with MGM guests.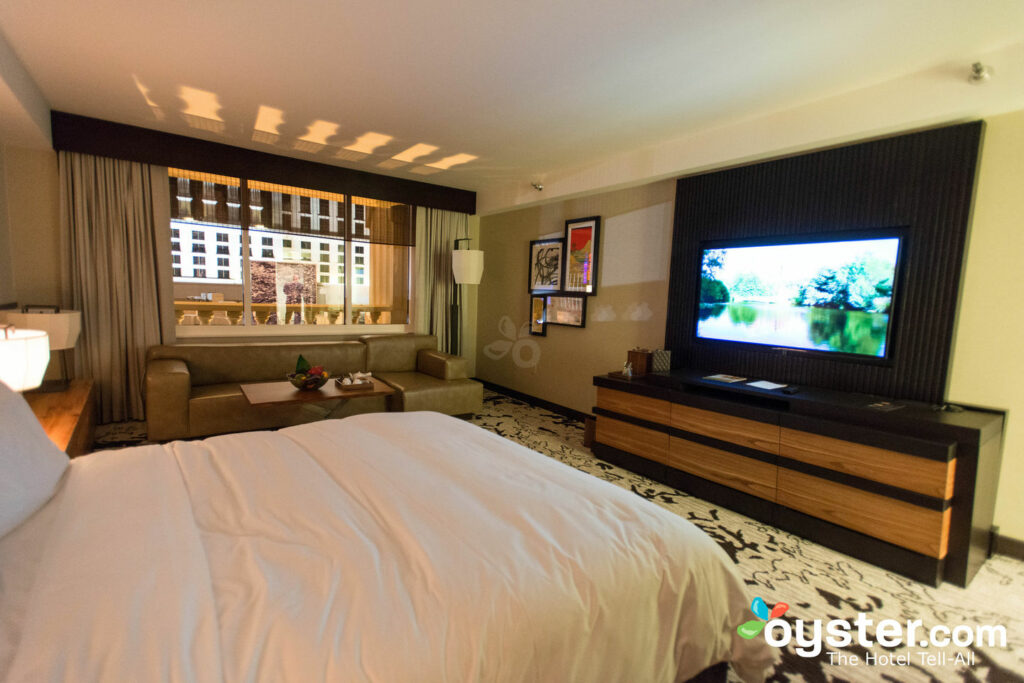 Much like Skylofts at MGM Grand, the Nobu Hotel is part of another larger property. Located within Caesars Palace, the 181-room hotel offers 24-hour room service to its Japanese-themed, David Rockwell-designed rooms. Plus, guests have priority booking at the Nobu restaurant. Other boutique hotel details (think hot tea on arrival and minibars stocked with Japanese beer and sake) are also on offer. Guests have access to all amenities within Caesars Palace as well, providing them with the best of both worlds. And though prices are by no means cheap, they are much more affordable compared to Skylofts.
You'll Also Like:
All products are independently selected by our writers and editors. If you buy something through our links, Oyster may earn an affiliate commission.