Although they're ignored for the better part of the year, outdoor pools in NYC (most of which are found at the city's trendiest hotels) become a hot commodity once again once it's, well, hot. Visitors seek a cool dip mid-sightseeing, and locals hope to slip their way onto the pool deck for a multitude of reasons -- chief among them being that many of these rooftop spots are decidedly hip.
Plus, these hotel pools can provide a relatively inexpensive means of splashing around for locals who don't want to spend the cash to head for the Hamptons; even booking a room for a "staycation" is cheaper (and significantly less stressful) than fighting the traffic for a weekend on the South Fork, and pool day passes are available at some as well.
So here are five outdoor hotel pools in NYC worth booking a room, purchasing a day pass, or, in some cases, simply buying a cocktail for.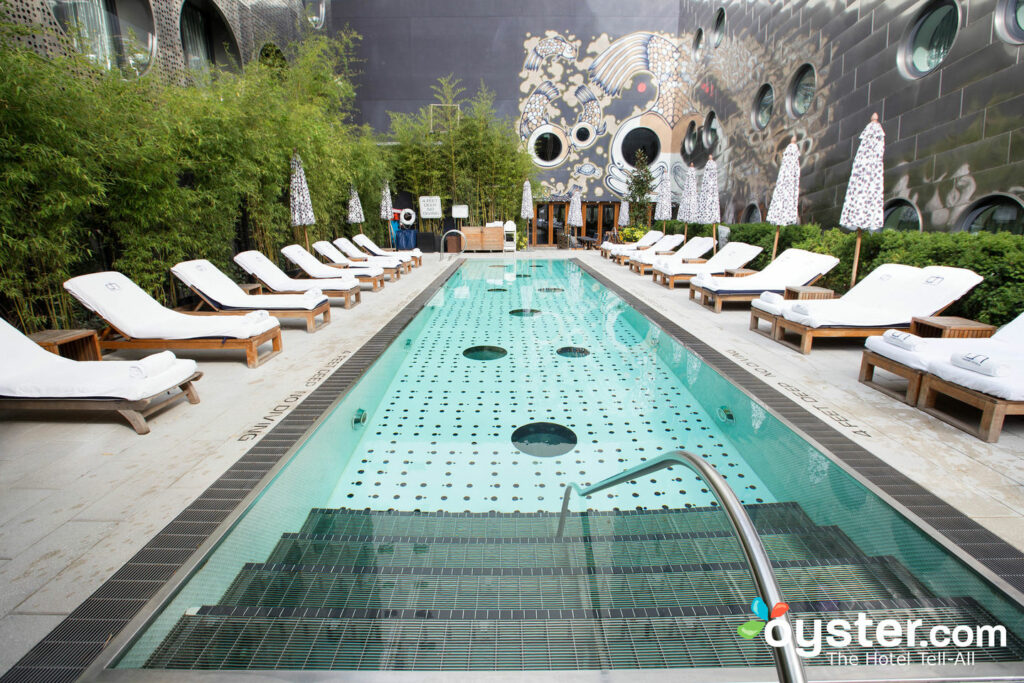 The 316-room Dream Downtown is a futuristic-looking hotel located directly behind the Maritime in Chelsea, near the border of the trendy Meatpacking District. The hotel blends public spaces together in a unique way: The fitness center has portholes overlooking the pool, and the pool itself has a glass bottom that looks down into the lobby. The hotel's scene is decidedly hip, especially at the pool and it's accompanying "beach." Non-guests can purchase weekday day passes or reserve cabanas to guarantee entry; however, both guests and non-guests alike are denied access when the roof is reserved for a private party (which happens often in the summer) — so be sure to call ahead.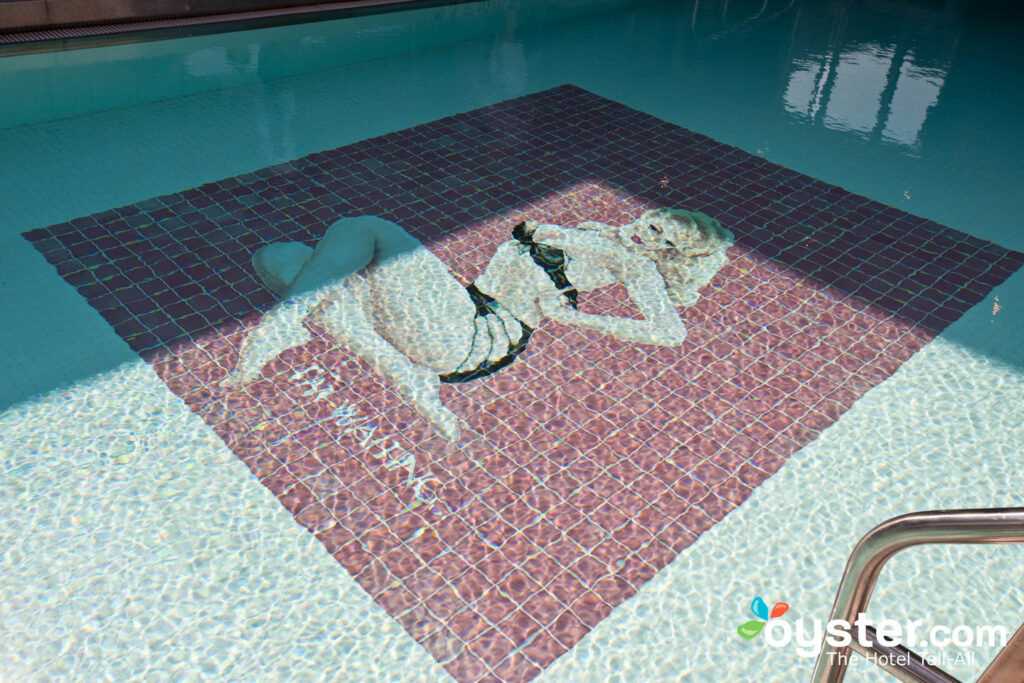 This 249-room hotel with flashy decor features an outdoor pool that's got amazing Empire State Building views. Non-hotel guests cannot access the water, while hotel guests can dive in during business hours (the pool is open till 6 p.m.). But here's the loophole — non-guests can get in with guests; that is, if they booked the right room. Rooms with king-size beds grant pool entry for three people, and suites and rooms with double-double beds grant entry for four (guests and visitors alike). Regardless, anyone can access the rooftop space for cocktails and sunset views starting at 6 p.m.
This 114-room SoHo boutique — with a stunning rooftop bar and pool, great freebies (including free Wi-Fi and free nightly wine and cheese), a restaurant by David Burke, and a hotel art curator — embodies the hip, creative neighborhood it inhabits. You'll only really be able to dip your toes in the water (the pool technically closes at 4 p.m. during the week and 2 p.m. on weekends), but the rooftop pool deck hosts "Summer Pool Parties" every Saturday and Sunday from Memorial Day to Labor Day; it's a popular scene, attracting visitors and locals. If you're a hotel guest, though, you can enjoy free morning yoga followed by a swim before the party starts.
Donald Trump's first hotel in downtown New York has the attention to detail and hands-on service you'd expect from a luxury property, but the slightly hipper vibe and great SoHo location cater to a younger set. You'll have to book a room if you want to be able to swim (teeny-tiny) laps in the pool this summer, but the sexy space opens to the public in the evening as "Bar D'Eau" for those seeking pricey drinks — with a side of bocce ball.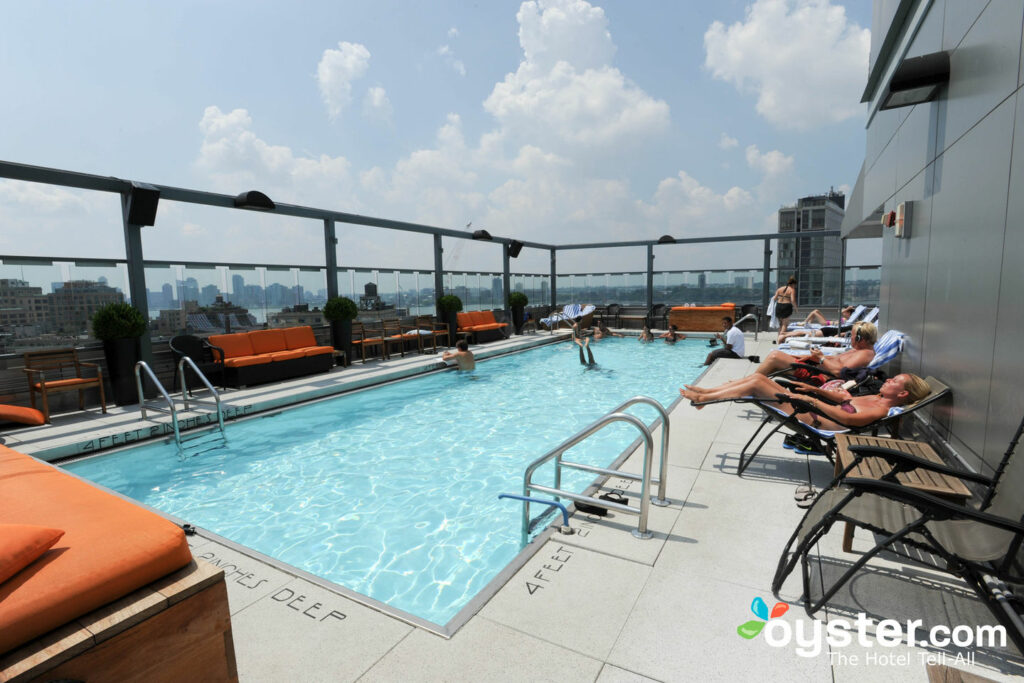 This 187-room hotel is more than its lauded rooftop pool — but let's just focus on that, shall we? About 20 blocks southwest of the Park Avenue outpost, this Gansevoort (in the trendier Meatpacking District) has a similar pool policy; hotel guests can get non-guests in depending on their room type. And it, too, becomes open to the public in the evenings, attracting a trendy crowd that comes for the fruity cocktails and small plates.
Related Links:
All products are independently selected by our writers and editors. If you buy something through our links, Oyster may earn an affiliate commission.