Sure, a week holed up in a beach bungalow or a romantic jaunt to the City of Lights is a nice way to spend one's honeymoon. But we'd argue it can be a bit cliché, and you're not just any other couple, right? If you and your significant other identify more with the less-than-traditional set of newlyweds, why not jet off to some exotic, unexpected locale instead? Taking the road less traveled for a honeymoon can be all the more romantic, now that you have someone else to protect you, natch. So before you book that all-inclusive in the Caribbean, give our five alternative honeymoon destinations a look -- you never know where they will take you!
1. Go on an African Safari in Botswana
The &Beyond Xaranna Okavanga Delta Camp is an all-inclusive resort in Botswana— but not like one you've ever been to before. (Read: you're not going to be carrying around that same old plastic cup all week.) Set on an island that's home to a 62,000-acre nature preserve, this unique getaway combines natural beauty and a far-away feel that'll be sure to create a sexy atmosphere — for an adrenaline-junkie couples happy. Couples can go on game drives, bush walks, and river cruises, or simply enjoy cocktails on the hotel grounds, waiting for lions, hippos, or monkeys to mosey by. The tented suites are a study in glamping (that's glamorous camping for the uninformed), complete with soaking tubs, indoor and outdoor showers, and four poster beds. A holiday on safari is the perfect way to begin the adventure that is marriage, don't you think?
2. Get Cozy in Charleston, SC

A small town may seem like an odd choice for what's dubbed to be the vacation of a lifetime, but when it's a town as charming as Charleston, it can be just the right place to celebrate your nuptials. Where you will save on cash (You could even road-trip it!), you won't skimp on style: The Jasmine House Inn sits pretty in an nineteenth-century restored mansion. It's also smack-dab at the center of Charleston's historic district, which is full of lovely mansions, gardens spilling out from hidden gates, and sophisticated soul-food bistros on nearly every corner. Each room at the hotel has its own theme, and some even have fireplaces, allowing couples to customize their stay to suit their tastes. Free breakfast and afternoon hors d'oeuvres will keep you hanging near your guestroom all day. And should things get too hot and heavy, you can dart out to the courtyard if you need to come up for air.
3. Trek Through the Guatemalan Rainforest
Escape to Lake Peten Itza near the Mayan ruins at Tikal National Park in Guatemala, where Francis Ford Coppola's exclusive digs, La Lancha, offer amazing lake views that can be enjoyed from cozy balconies or hammocks. The hotel is a pint-sized spot tucked away lakeside, so honeymooners who head here should be in the mood for a true hideaway. But since you won't likely be leaving the resort (or bed!) much, there's plenty to do on-site; the split-level pool is a destination in its own right, and there are canoes for exploring the lake. Dine on Guatemalan cuisine at the open-air restaurant, or relax at the rooftop bar with some of Coppola's fine wines. There are no TV's on-site, so get ready to really get to know your Mr. or Mrs. without technology in the way.
4. Explore Hong Kong's Futuristic Cityscape

If the idea of a honeymoon completely removed from technology gives you chills of anxiety (we're admittedly addicted to our iPhones), consider staying in touch in a super-modern city like Hong Kong. At The Mira, its sleek design is second only to the hotel's high standard of travel tech. Rooms provide wireless keyboards, handheld concierge services, and entertainment centers that combine a personal computer and a Blu-Ray DVD player. The hotel also offers cell phone rentals — without the annoyance of roaming charges. This way, the happy couple can pop out of the futuristic hotel and explore the excellent surroundings, including luxurious shops and world-class museums while still being able to contact the front desk with any requests. Oh, and for you foodies: The Mira boasts seven fabulous restaurants, two of them Michelin-starred.
5. Discover a New Favorite Destination in Lisbon, Portugal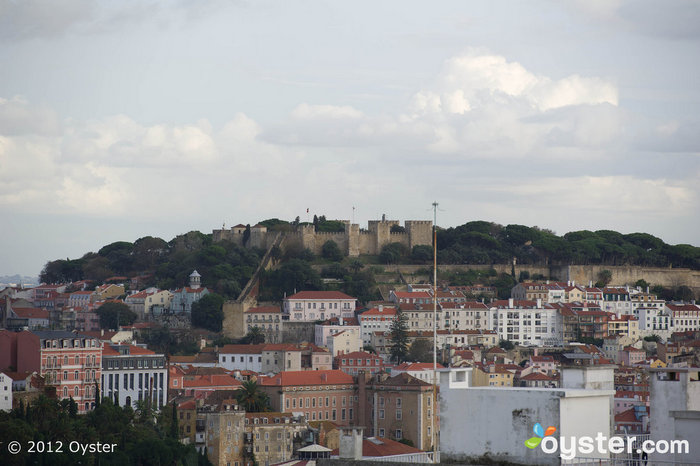 Most newlyweds would forgo Portugal in favor of the traditionally relaxing scene in Spain. But that just means they haven't tapped into the awesomeness that is Lisbon, a city rich with nightlife, shopping, and culture. At the Altis Belem Hotel and Spa, couples can enjoy all that the city has to offer, in addition to one seriously great hotel. Right on the Tagus River in a residential neighborhood safe from city sprawl, the hotel is ideally situated for walking along the promenade, which is lined with many great restaurants. The mod spot features sexy rooms with jacuzzi tubs and balconies, so honeymooners can, um, splash around in the comfort of their accommodations, or head to the beautiful indoor pool, complete with a cold plunge pool if you're sore from, errrr, you know what.
RELATED LINKS:
All products are independently selected by our writers and editors. If you buy something through our links, Oyster may earn an affiliate commission.