If you've ever been to Denmark's capital, you've seen its gorgeous architecture, wobbled on its cobbled streets, and admired its simple, modern design aesthetic. If you grew up loving fairy tales (or if you simply love beautiful things), you might be tempted to snap a selfie with The Little Mermaid herself or along the canal in Nyhavn. But while the 103-year-old bronze beauty may be the most photographed thing in all of Denmark, we think it's just because some people haven't looked high enough. Here are five of our favorite views you can grab in Copenhagen -- including a super secret spot -- where we guarantee you won't even need to use a filter for an amazing Instagram pic. Acrophobics need not apply.
Got another spot you think should make the list? Let us know in the comments below!
1. View from the Spire of the Church of Our Saviour
https://www.instagram.com/p/BALxVVhQz18/
Our first spot is unmistakable in the Copenhagen cityscape, and sits atop one of Denmark's most famous churches, the Church of Our Savior. This beautiful, winding golden spire can be spotted high in the sky from almost anywhere in the city. And the best part? You can climb it! In fact, it's been a thing to do since the mid 1700s. These days, over 60,000 people make the trek (nearly 300 feet up) up the spire's 400 steps each year in order to grab (and snap!) some of the city's best views. Be careful, though; the last 150 steps wind around the outside of the spire, so if you're afraid of heights — well, you shouldn't even be reading this.
Nearby Hotel Pick:
2. View from the Top of the Rundetaarn
https://www.instagram.com/p/_16sX9Q752/
If you still want to grab a spectacular view, but steps aren't really your thing, have no FOMO — you can scope phenomenal panoramic city views from the top of Europe's oldest observatory. Located in central Copenhagen, the Rundtaarn (or Round Tower) is easy to find and even easier to climb. The interior's wide, spiraled ramp design offers a gentle and leisurely walk up to the top floor. From here, you'll only have to climb a very short (but very narrow) spiral staircase to get to the observatory roof. Though you're only about 118 feet above the street, it's high enough to grab stunning views over several parts of the city. Many like coming here around dusk to capture the last bits of light. Bonus: There's also a gallery and coffee shop off the side of the walkway, so you can take your time getting to the top.
Nearby Hotel Pick:
3. View from the Tippity-Top of the Golden Tower in Tivoli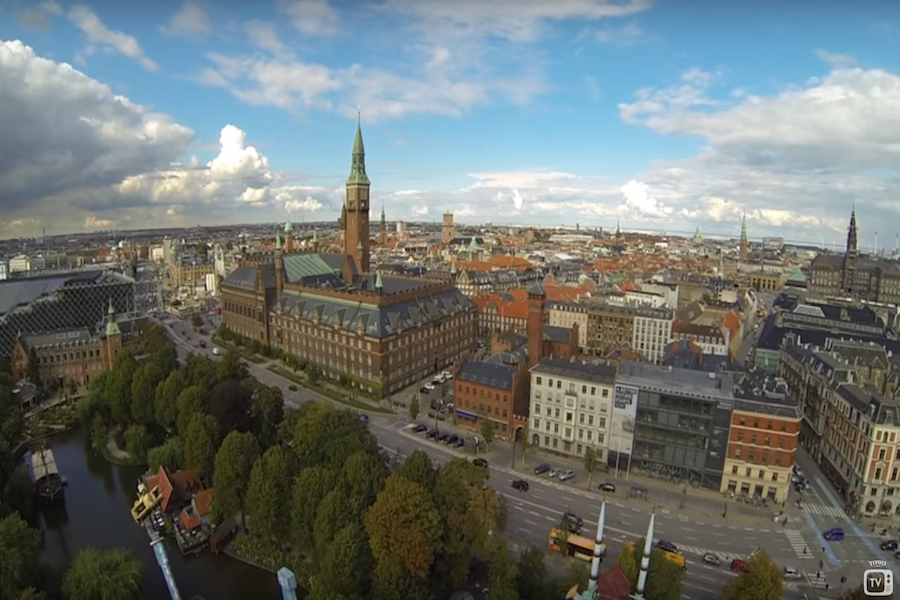 We admit, we haven't done this one — yet! The Golden Tower at Copenhagen's famous Tivoli Gardens amusement park is not for the faint of heart. Like The Spire, this taller-than-tall ride shoots so far up into the horizon — 203 feet to be exact — you can see it from almost anywhere in the city. Being daredevil enough to strap into this ride is one thing, but being brave enough to take out your phone and snap a picture above the entire city before you suddenly drop back down? We gotta respect that. (To take a virtual, slow-motion ride on the Golden Tower instead, check out this video clip from a rider's point-of-view.)
Nearby Hotel Pick:
4. View from a Super Secret Parking Garage
https://www.instagram.com/p/9BCND7qCT5/
This is a super secret, unofficial spot that a local Dane clued us in on, so shhhh. There's a parking garage off of Bredgade Street, just behind the Dansk Studiefond, that gives absolutely gorgeous views of the Federik's Church dome. Also known as the Marble Church, this city landmark is a white marble church topped with a characteristic copper green dome that becomes illuminated by the street lights and moon at night. It's a sight worthy of a covert mission.
Nearby Hotel Pick:
5. A Nighttime View from City Hall Tower
https://www.instagram.com/p/_hXAkMnRyh/
Copenhagen's City Hall building is a sight in and of itself, as one of the most recognizable — and tallest — buildings in the city. (You can sneak a peak at it in the shot from the Golden Tower — it's the one with the tall brick tower popping up.) To get to the top of the 346-and-a-half-foot tower, you'll have to take a guided tour. During winter, if you take the last tour possible (tip: it might be in Danish), you will get an absolutely twinkling, nighttime view of the city all lit up. We especially love being able to eye the Christmas lights and decorations lighting up Tivoli. If you're lucky, you might even be able to catch the seasonal fireworks.
Nearby Hotel Pick:
Related Links:
All products are independently selected by our writers and editors. If you buy something through our links, Oyster may earn an affiliate commission.