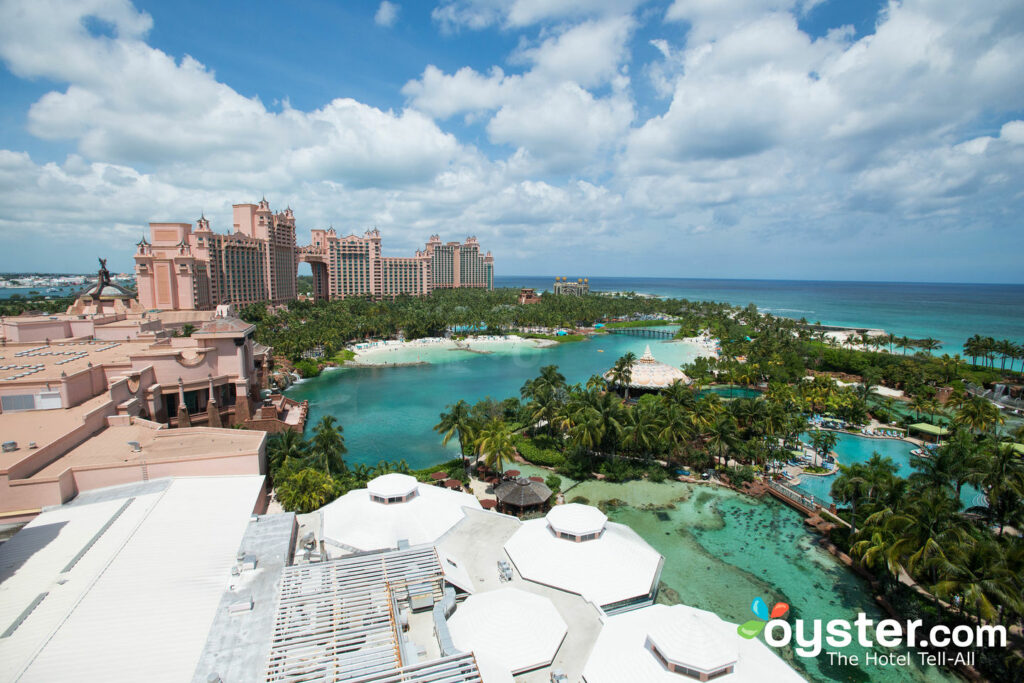 Anyone arriving to Paradise Island in the Bahamas might think it was manmade specifically for Atlantis. Just over the bridge from Nassau (the country's capital and biggest airport), the island is dominated by the resort's pink structure, Royal Towers, along with its manicured Disney-esque waterscape, lagoons, and marina. Not to mention the name "Paradise Island," which feels like a handy marketing slogan (for the record, it used to be called Hog Island). Indeed, Atlantis does run the ship here so to speak and it is the reason why the majority of visitors come to Paradise Island to begin with (check out our rundown of the resort's six unique sections here.)
But it's not the only option; the island first started welcoming tourists in the 60s -- thirty years before Atlantis was even conceptualized by hotel magnate Sol Kernzer. And even though the powerful group has since snatched up most of the real estate, there remains a handful of alternatives, which range drastically in price from pitching a tent, to a stunning three-bedroom villa filmed in the movie "Casino Royale." And the best secret of all: Atlantis' restaurants, shops, casino, marina and beach are open to the public, while Aquaventure, the resort's 141-acre waterscape, offers rates for day-passes, so the action is there for the taking if you so choose. Here are five Paradise Island hotel alternatives for those looking to skip the Atlantis mainstream.
A yoga retreat next door to Atlantis? Health nuts, this is the real deal! Be forewarned though: those looking for a relaxed vacation with some yoga thrown in should look elsewhere. This is a serious ashram by an established group (there are nine Sivananda Yoga Ashrams throughout the world) and the 5:30 a.m. wake-up bell proves it, not to mention the absence of meat, alcohol and tobacco. Guests focus on postures, breathing, positive thinking, and meditation, and have some free time to take advantage of Cabbage Beach. Two vegetarian meals are prepared daily right after each two-hour yoga class, while morning and evening satsangs (a mix of meditation, chanting, lectures, singing and dancing) help create a sense of community. Extra workshops and lectures are built into the daily schedule, and there's a wellbeing center for massage treatments and Ayurvedic body treatments. Its peaceful setting feels miles away from tourist crowds — and is a striking contrast to Atlantis, its closest neighbor. There are a range of accommodations (most rooms have shared bathrooms), and for a reduced price, guests can bring their own tent and pitch in a range of spaces, in which case they are expected to bring their own gear, bedding, and towels. Alternatively, there is the Tent Hut — a 10-by-10 foot furnished and powered tent for a fraction of the cost.
Quite the opposite of Sivananda, Riu is for party people. Located next to Atlantis's Beach Tower is this renovated 15-floor tower (a former Sheraton) with 379 rooms and suites — one of the few all-inclusive resorts in the Bahamas and a real money saver considering the high cost of food and beverage at Atlantis. Those familiar with Spain-based Riu's palatial Caribbean resorts (like Aruba or Punta Cana), might be disappointed by this aging exterior, with crowded pool and beach areas (saturated with vendors) and rowdy groups that come for free booze. The resort is making progress, though, and rooms and suites have been renovated with contemporary decor, and include Riu trademarks such as stocked minibars with liquor dispensers (basic brands of vodka, rum, gin, brandy) and 24-hour room service (both free). The buffet spreads change often, thanks to the talented, long-standing executive chef, and four a la carte options help stave off all-inclusive monotony. After dinner, there's typical all-inclusive nightly entertainment and drinks are served until 12:30 a.m. (a collective last call for the theater and lobby bars), and then partiers can head to the 24-hour sports bar, which is thankfully out of ear shot from the rooms above. All rooms — some that are spacious Family Suites — have furnished balconies and most come with partial or full sea view. Kids pay half the price of adults, and babies stay for free!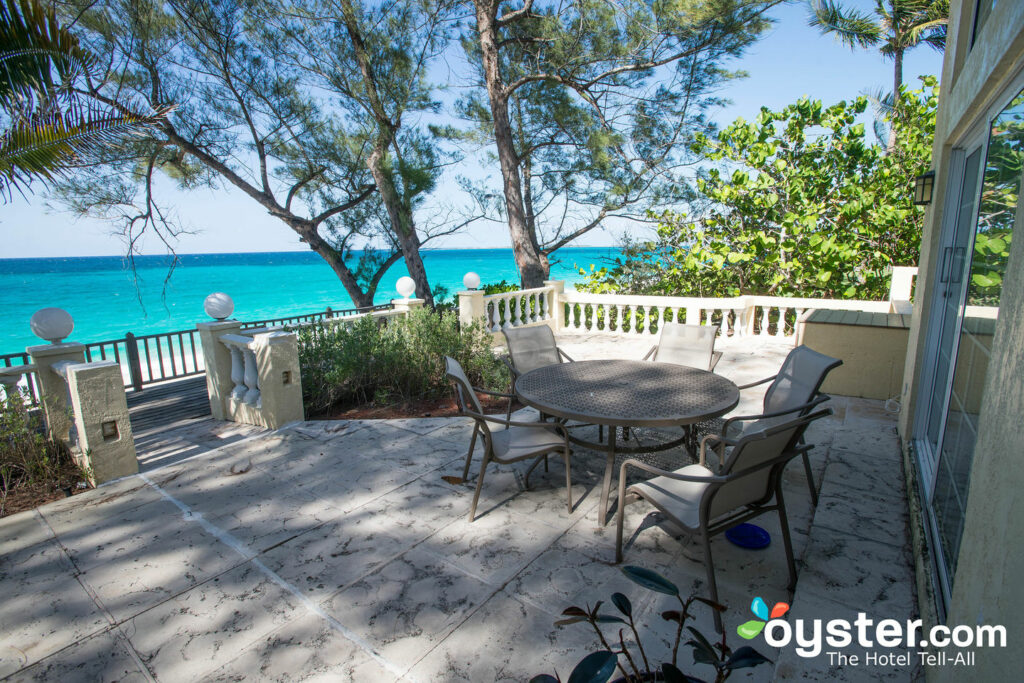 Laid-back travelers will love these individually-owned apartments — managed by locals — smack dab between Riu and the One&Only Ocean Club, with 26 units ranging in size from one-, two-, three-, four and even five-bedroom options. The vibe is homey and peaceful, and decor varies depending on the owner's taste, but these spacious villas all have fully-equipped kitchens, coffeemakers, sofa beds, and patios at generally great prices (laundry is also available). Lounge chairs are never a problem at one of two pools, but do not miss out on having private access to Cabbage Beach; since the entire stretch of sand is completely public, guests can grab a beer from Archie's stand and choose the party vibe in front or walk further down for near isolation (a true paradise). Some families choose to stay here simply because they want easy access to the Atlantis without actually having to stay on the property along with the crowds and high prices. For those who don't want to cook, the restaurant serves breakfast, lunch and dinner and attracts a steady stream of friendly locals throughout the day who stop in for a beer or meal and chat with the staff, giving it an authentic vibe that is hard to find at the neighboring resorts.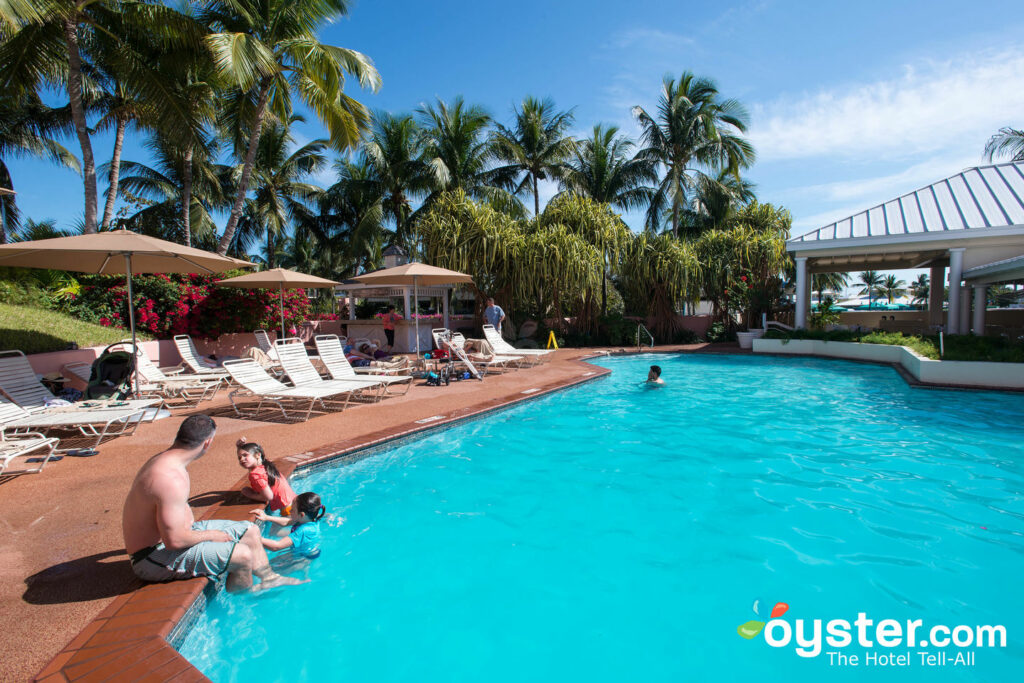 This is the only option not on the beach, but hear us out! The 229-room Comfort Suites Paradise Island is a definite upgrade from what most people expect of the chain. The hotel underwent a 6.3-million-dollar renovation in 2013 and it shows: the rooms are modern, spacious and contemporary, the pool is clean and inviting, the restaurant is large with an attractive outdoor seating area, and there is even a chic bar in the lobby. All rooms are Junior Suites and have partially sectioned-off living room areas, mini-fridges, and work desks with office chairs so it's great for business travelers. It's also great for families: A big draw of Comfort Suites is the free access to Atlantis Paradise Island Resort, including the resort's Aquaventure (the only one that offers this!). Guests can stay at the Comfort Suites for a fraction of the price of Atlantis, but spend their days taking advantage of Atlantis's amenities. And like we've said above, all beaches are free and open to the public — it just requires a walk to get there.
Okay, so the Grand Finale is technically managed by Atlantis, but it's a world apart in every respect! This stunning five-pearl resort became One&Only Ocean Club in 2002, but its history dates back further than that. Huntington Hartford II (the man responsible for Paradise Island's name change from Hog Island) bought the property in 1962 to create a 52-room hotel and golf course — Ocean Club. The swanky property attracted members of royalty, and notable names like Zsa Zsa Gabor and William Randolph Hearst. Mr. Huntington is also the man behind the extraordinary Versailles-inspired garden; he even imported marble statues from Europe, including a 12th-century cloister, which had to be taken apart and shipped from France. The hotel successfully blends these classic influences with modern, sophisticated decor; it's unsurprising the opening scenes of "Casino Royale" were shot here (James Bond, played by Daniel Craig, stayed here for a romantic interlude). This fun movie fact is a point of pride for Paradise Island. With only 106 rooms, the property never feels crowded, and guests will find plenty of space at the beach, the two pools, six tennis courts, yoga deck, Bali-inspired spa and 18-hole golf course. There's definitely an elegant, monied air, but it's not an exclusive environment — partly because guests at Atlantis and anyone from the public are able to drink and dine at Dune restaurant and bar, and at the cande-lit Courtyard Terrace.
Related Links:
All products are independently selected by our writers and editors. If you buy something through our links, Oyster may earn an affiliate commission.