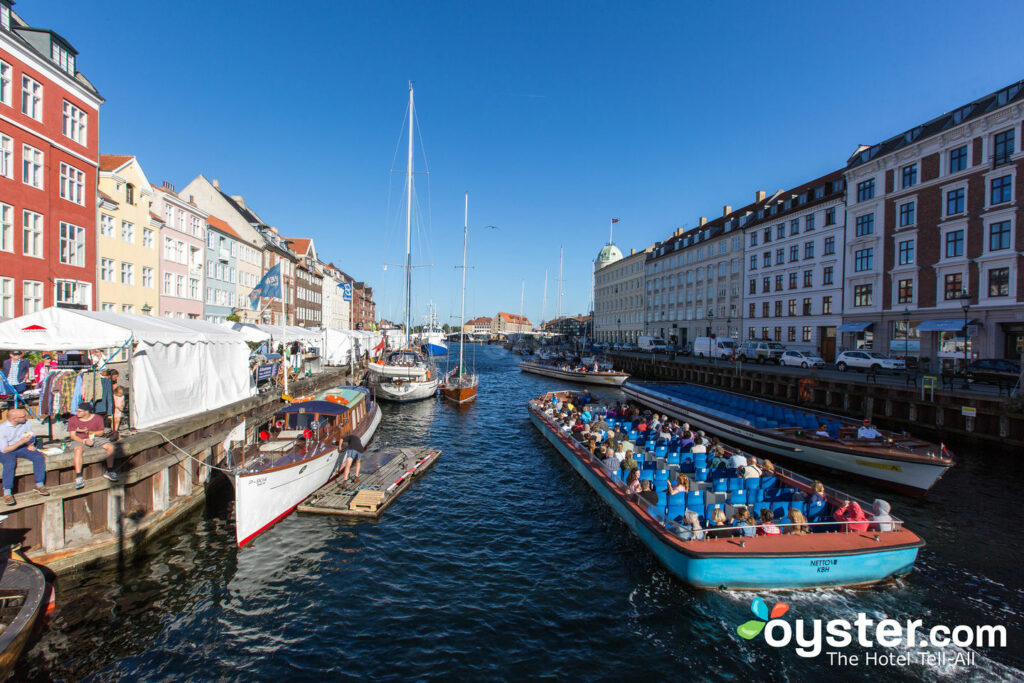 is the de facto Scandinavian capital for culture, design, and nightlife, but it still maintains an intimate charm. Cycling is one of the best ways to explore the picturesque streets and bridges of this flat and navigable city. Copenhagen has plenty of trendy cafes, museums, basement jazz clubs, and much more to fill a visit of any duration. But for those with more time who are looking to venture a bit farther, these six day trips will enhance your stay in Copenhagen.
1. Louisiana Museum of Modern Art
This superb collection of modern works is located just a 32-minute train ride north from Copenhagen's Central Station. Frequent departures to Humlebæk station make a day trip to the Louisiana Museum a breeze. Since opening its doors in 1958, Louisiana has exhibited pieces by some of the world's most renowned contemporary artists. Recent exhibitions include Daniel Richter's expressively abstract and often political paintings, sculptures by the influential Louise Bourgeois (who is still active in her 80s), and Chinese architect Wang Shu's sustainable and aesthetically pleasing designs. The permanent collection has significant works by American artists, such as Warhol and Rauschenberg, as well as many Danish works. A favorite of many visitors is the installation "Gleaming Lights of the Souls" by Yayoi Kusama. The walls and ceiling of the 16-square-meter space are adorned with mirrors, while the floor is a reflecting pool with a platform for viewers to stand upon. Small hanging lights change color, which creates stunning reflections off the mirrored surfaces.
2. Malmö, Sweden
Sweden's third largest city is just a 36-minute train ride from Copenhagen's Central Station. At Malmö's center are three public squares. The smallest, known as Lilla torg (little square), has several outdoor cafes and is the best of the three squares for enjoying the quaintly Scandinavian atmosphere. Just west of the city center lies Malmöhus Castle, inhabited by Danish royalty in the 16th century before becoming a prison. Today it's a history and art museum. Other neighborhoods of interest include Gamla Väster for architecture, galleries, and high-end restaurants, and Möllan for its outdoor market, ethnic food, and alternative nightlife. A winter visit isn't complete without plunging into the icy waters at Ribersborgsstranden beach — followed by a trip to Kallbadhuset's sauna. Those looking to visit during the long summer evenings should consider attending Malmöfestivalen, an eight-day festival held each August, with plenty of Swedish delicacies on offer. Although there is no immigration process between Denmark and Sweden, officials are now checking identification on the train platform. Non-E.U. citizens are required to have their passport to board the train.
3. Frederiksborg Castle
This magnificent Renaissance-era palace is located in the town of Hillerød, which lies just 24 miles northwest of Copenhagen. The original castle was built by Frederik II in 1560 and expanded by his son Christian IV into the early 17th century. Frederiskborg is still standing in elegance today, spanning three islets across Slotsø lake. It's home to the Museum of National History, which features royal portraits, Renaissance-era works, and a modern collection on the third floor. The restored palace rooms are also open for visitation. The ornately designed chapel was unscathed by an earlier fire, fortunately sparing the beautiful silver pulpit and sculptures. The chapel's organ, which dates back to 1610, can be heard at free concerts on Sunday afternoons at 5 p.m. in July and August. The gardens, composed of three sections, are positioned just north of the castle. The terraced baroque garden rivals that of Versailles in Paris (albeit on a smaller scale). Farther out are the romantic garden and the oaks of Lille Dyrehave, which make for an enjoyable stroll. For a more leisurely tour of the castle grounds, hop on the ferry which operates from mid-May to mid-September. A full-circle journey of Slotsø takes 30 minutes, with piers conveniently located at the castle entrance and near the baroque garden.
4. Møn
The small island of Møn is located about an hour-and-a-half drive south of Copenhagen. The main reason for visiting the island is for the stunning natural landscapes, specifically, the white cliffs of Møn. These chalk cliffs were created millions of years ago from deposits of plants, shells, and animals in a tropical seabed. Courtesy of the last ice age, these beautiful stones surfaced into present day Denmark. Fossils abound in the 300-foot cliffs and stones on the beach below. The sparsely populated island is dotted with charming coastal villages, as well as the estate at Liselund Park, whose Romantic English garden is accompanied by an eclectic collection of cottages in Chinese, Norwegian, and Swiss architectural styles.
5. Bornholm
This island is well-known amongst the Danes as the sunniest part of the country. Bornholm is a popular getaway for Copenhagen's bohemian crowd and nature lovers, but hasn't garnered much attention from the international community. It's a little bit of a stretch to call Bornholm a day trip since it requires a 35-minute flight, or a train to the Swedish city of Ystad followed by a one-hour-and-20-minute ferry to the island. The island lies about 120 miles east of Copenhagen in the Baltic Sea, making it closer to Sweden than mainland Denmark. Bornholm's natural beauty includes chalk cliffs, like those on Møn. However, Bornholm is home to serene forests and impressive white-sand beaches for such a northern destination. Beyond nature, the island is peppered with traditional thatched fishing villages and also home to a renowned food and arts scene. Many talented glassblowers and ceramicists produce and sell their work on Bornholm. Traditional Danish delights like smoked herring can be had at the island's many smokehouses — the oldest is located in the town of Gudhjem. A fine dining option is Kadeau, a beach pavilion turned Michelin-starred restaurant, serving up new Nordic cuisine.
Helsingør (Elsinore)
This historic city can be reached in just over an hour by public transportation from Copenhagen. Helsingør rose to prowess during the Middle Ages due to its location on the narrow strait between Sweden, which was formerly Danish controlled. The Danish monarchy built fortifications on opposite sides of the strait: Kernen in Helsingborg, Sweden, and Kronborg in Helsingør, Denmark. Kronborg Castle has suffered numerous disasters, but this UNESCO World Heritage site maintains much of its Renaissance charm through diligent restoration. The castle received earlier fame as the setting of Shakespeare's "Hamlet". The former garrison buildings have also undergone substantial renovations, resulting in the Kronborg Galleries. Here, artists exhibit their works and designs, including photography, textiles, paintings, and more. Much work has been done on the adjacent Kronborg harbor to create an inviting cultural atmosphere. New additions include a maritime museum, shipyard museum, and the culture yard, which comprises two stages for concerts and theater, contemporary art exhibitions, a library, and other social events. One such event is the Shakespeare Festival at Hamlet's Castle, which is held every August.
You'll Also Like:
All products are independently selected by our writers and editors. If you buy something through our links, Oyster may earn an affiliate commission.