While East Coast mountains don't quite measure up to the peaks out West in terms of size, there are plenty of other reasons to hit the slopes in places like Vermont, Maine, and New Hampshire. The combination of gray skies, icy slopes, and biting winds at East Coast resorts can prove challenging even to highly skilled, thrill-seeking skiers. What's more, the smaller-scale scenery and cozy New England ski towns have a distinct charm -- not to mention, former Olympic game venues. Take your pick from the ski destinations we've highlighted below and lay down your tracks come November.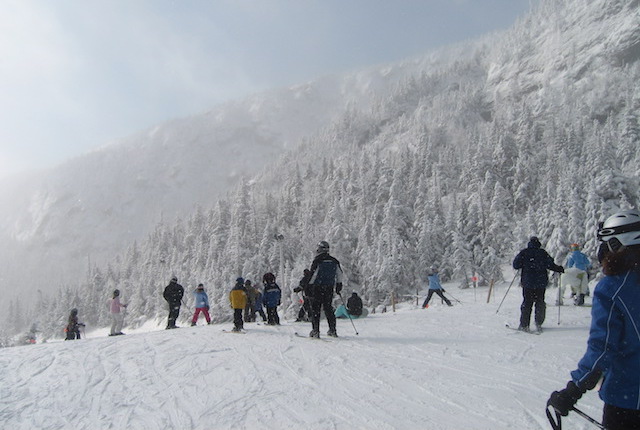 Stowe Mountain Resort, which includes Mount Mansfield and Spruce Peak mountains, tops many East Coast skiers' lists. First, the northern Vermont resort is known for having a sustained pitch, which makes its slopes challenging from top to bottom. Mount Mansfield also happens to be the state's highest mountain, with a summit elevation of 4,395 feet. Stowe, which offers 116 trails across 485 skiable acres, has also witnessed a development boom over the past several years (check out the new crop of luxury shops and restaurants in the area) and upgraded its technology (think gondolas that ferry guests between the two mountains). But the resort also stands out for its history — in 1934, it laid claim to the first organized ski patrol in the U.S. and in 1964, became home to the first American male Olympic alpine ski medalist, Billy Kidd.
Where to Stay:
Located in Maine's cozy Bethel area, less than a two-hour drive from Portland, Sunday River is a great choice for beginner skiers. Home to eight different peaks, with varying terrains and vertical descents that range from 500 to 1,630 feet, the resort is also a top pick for skiers looking for plenty of options. It offers a number of lessons and workshops for kids and adults plus a chance to explore 135 trails and glades as well as 35 acres of freestyle terrain once you've polished your skills. Sunday River is also a standout snowmaker, with 1,900 high-tech snow guns, and offers a quintessential New England feel. Don't forget to stop by the Sugaring House for maple syrup demos and samples on weekends throughout March.
Where to Stay:
Tucked into the Green Mountains of Vermont, not far from the Canadian border, Jay Peak gets more snow than anywhere else on the East Coast. All of that powder explains the resort's popularity among hardcore skiers, many of whom come for the backcountry terrain surrounding the standard ski area. There are also 78 trails, slopes, and glades, with plenty of choices for both novice and seasoned skiers. The Jet, Upper River Quai, and Upper Exhibition typically lure the most highly-skilled visitors, while the Vermonter trail is favored for its beautiful scenery.
Where to Stay: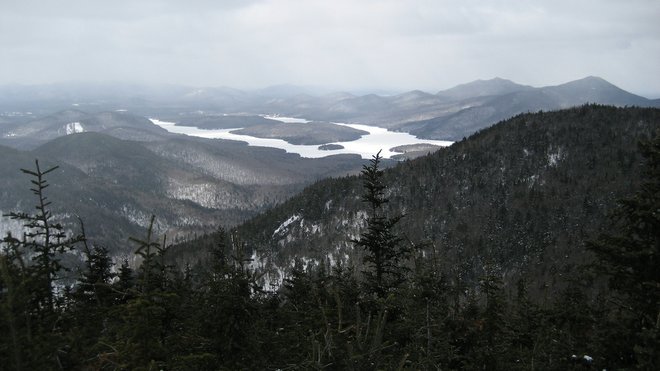 Whiteface Mountain in New York's Adirondacks gets our vote for more than just its slopes. For starters, the surrounding Adirondack Park is the country's biggest publicly protected area and features the largest trail system in the U.S. (more than 2,000 miles). At Lake Placid, which is located about a half-hour from the mountain, folks can also visit some of the event spaces from the 1980 Winter Olympics, including the ski jumping complex and bobsled track. Whiteface itself played host to Olympic skiers, too. Today, a mix of families and high-level enthusiasts are drawn to its 87 trails as well as its 3,430-foot vertical drop — the highest one east of the Rocky Mountains.
Where to Stay: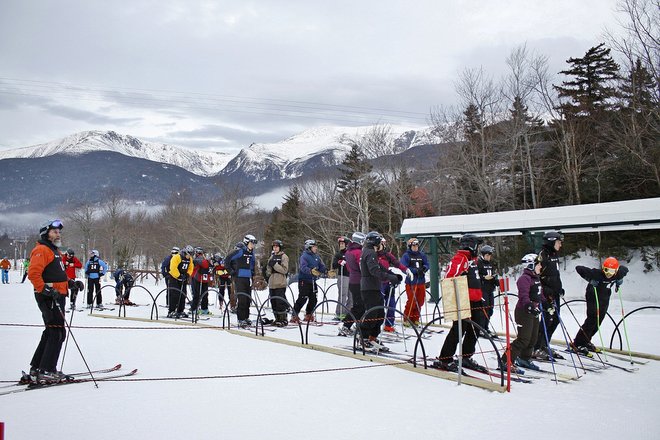 When it comes to stunning scenery, Wildcat Mountain in New Hampshire's White Mountain National Forest doesn't disappoint. While decidedly cozier than our other picks, with just 48 trails, Wildcat's 4,062-foot summit has views worth traveling for, including Mount Washington and a wide-angle shot of the Presidential Range. There's also great skiing, including challenging trails that will keep experts busy and scenic trails, like Lynx, a winding stretch for intermediate skiers with a 2,100-foot descent. The Polecat, New Hampshire's longest novice trail, is another highlight and offers superb views as it leads down to the base area. Just don't expect to find any on-site lodging options or flashy restaurants at this low-key resort.
Where to Stay:
Sugarloaf in Maine boasts a few special features that make it stand out from the rest of the East Coast pack. For instance, the resort's Central Mountain features New England's steepest terrain and longest continuous fall line. In other words, a ball rolled down the mountain would fall non-stop until it reached the ground. Not only is Sugarloaf the largest ski area east of the Rockies, but it gets more bonus points for having the East Coast's only lift-serviced above-treeline skiing, complete with panoramic views of Canada, Vermont, New Hampshire, and Maine's highest mountain, Mount Katahdin. And while Sugarloaf draws expert-level skiers to the double-black-diamond, the backcountry-style glades of Brackett Basin and Burnt Mountain, the resort's easygoing area, is the perfect place for newbies to get their bearings before hitting the big slopes.
Where to Stay:
Related Stories:
All products are independently selected by our writers and editors. If you buy something through our links, Oyster may earn an affiliate commission.