If you've ever been on the phone with a hotel reservationist (you know, like back in 1999) or have dealt with the sales pitch people at mega-resorts, you're probably in the group of people who turn down a hotel room upgrade no questions asked -- and understandably so. More often than not, these "upgrades" involve a lot of extra cash and not a lot of additional perks. However, a real deal can be found in the occasional gem of an upgrade. We plugged in August dates and found six hotel rooms where the upgrade from one room type to the one directly above it is well worth the indulgence.
Though a luxury hotel, London's The Tophams offers various budget-friendly room categories, the most standard being the Single Room with a Shared Bathroom. This option will certainly save you some cash, but — for just about $40/night extra — the Standard Double Room comes with more space, a comfier bed, and an en-suite bathroom.
A stay at the Four Seasons Maui does not come cheap, so it makes sense that guests try to save money where they can. But when you're already paying hundreds upon hundreds of dollars a night for your lavish digs, 50 extra doesn't seem so bad — and that's what an upgrade from the Ocean View Room to the Ocean View Prime Room will cost you. These rooms not only offer better views (thanks to positions on higher floors), but they also are generally quieter as they overlook the hotel's gardens.
At Tivoli Sao Paulo Mofarrej, you pay an extra $30/night for less square footage — bear with us. Though the Collection Rooms are indeed smaller than the Superior Rooms (the category below), their amenities are far superior (ironic, we know). These rooms come with iPods, Nespresso coffeemakers, and bathrooms with slippers, robes, and separate bathtubs and showers — all of which Superior Rooms lack.
Upgrading from the Deluxe Beach Front Room to the One Bedroom Beach Front Suite at St. Lucia's Bay Gardens Beach Resort may hike up the nightly rate by $100, but we say it's worth it. Opting for the higher-tiered suite means an additional 250 square feet, as well as a full kitchen, separate living room with a queen pullout bed, dining area, powder room, and master bathroom outfitted with his and hers sinks. After all, you can't put a price on having your own space in front of the mirror!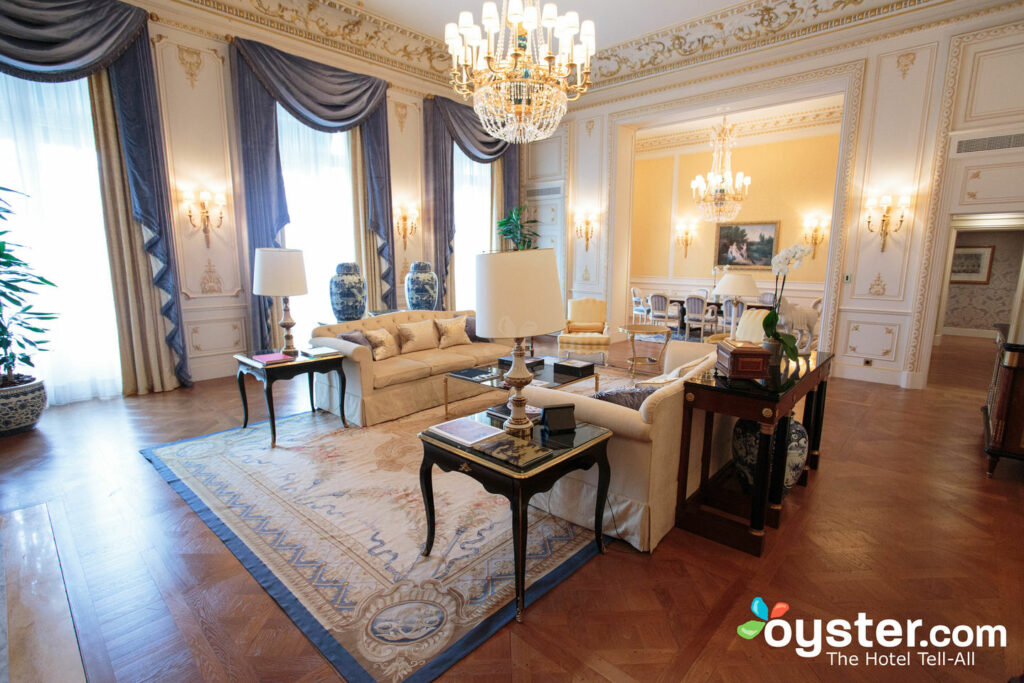 When you're dropping thousands on some of the chicest accommodations in Paris, what's an extra $55/night? That's what you pay when you switch from the Superior Room at the Shangri-La to the Deluxe Room, which offers more space and a separate soaking tub in the bathroom. Be sure to ask for a Deluxe Room with a balcony.
For about $40/night, guests can upgrade from a Deluxe Room at Hotel Saratoga to a Junior Suite. We saved the best upgrade for last: Opting for this higher-category room means the addition of a top-notch speaker system as well as a ton more space — which includes a large sitting area with leather couches and a desk, and a wraparound balcony.
All products are independently selected by our writers and editors. If you buy something through our links, Oyster may earn an affiliate commission.