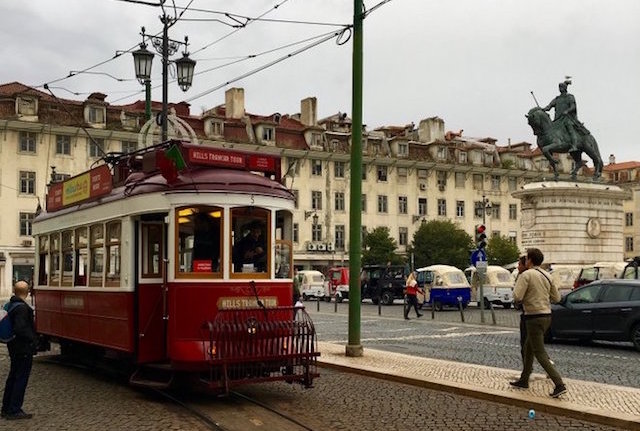 It's hard to argue with pretty, making it almost impossible to find a thing to fight about when it comes to Lisbon. The hilly Portuguese capital has been enchanting artists, authors, and travelers for centuries, and is seeing a major resurgence in interest. According to Lisbon's government, the city had over three million hotel guests in 2013 alone, and the country on the whole welcomed more than 10 million travelers in 2015.
Of course, like any proper European capital, maddening tourist crowds tend to flood the city's most iconic sights -- take just one look at the packs waiting to board the Elevador da Gloria. Still, with a little bit of research, it's easy to find places that are a little more in-the-know. Read on for six tips on how to make sure you're seeing the best of what Lisbon has to offer.
The Best Pastel de Nata
https://www.instagram.com/p/BLZNQzNBSw_/
On second thought, there are a few things that are worth a fight in Lisbon, and the pastel de nata is one of them. For an idea on what makes these so addicting, imagine the filling from a Boston cream pie spiced with a bit of cinnamon and dropped inside of a thin, crispy, buttery crust.
Common wisdom sends most travelers to Pasteis de Belem, the region's most revered pastry shop that's credited with inventing the confection in 1837. Their pasteis are just a touch sweet, with a rich eggy texture. Sidestep the huge lines for takeaway and take a seat in one of the labyrinthine dining rooms for a more locals-only experience. Closer to the center Lisbon, Cafe a Brasileira — once a favorite haunt of Fernando Pessoa — has been cranking out coffee and pasteis since 1905, and still has paintings by some of Pessoa's artist friends up on the walls.
However, if the constant buzz at Manteigaria says anything, it's that there's a new champion of the pastel de nata in town. The shop excels because it does just two things exceedingly well. The coffee is hot and strong, and the pasteis have a distinctive creamy texture with just the right dash of cinnamon that sets them apart from its competitors. The best part? Manteigaria opens earlier than almost anything in the city, and stays open late.
Explore Unspoiled Principe Real
https://www.instagram.com/p/BLaks62BZUh/
Visitors to Lisbon are spoiled for choice when it comes to quaint neighborhoods. However, areas like Bairro Alto, Chiado, and Alfama can be overrun with fellow tourists day and night — very, very late into the night, in fact. For a charming, quiet, and trendy alternative, spend your days and nights in Principe Real.
The neighborhood centers along the lovely park that bears its name, and the main drag — Rua Dom Pedro — is lined with boutiques, bars, and restaurants, including one of the city's most popular new spots, A Cevicheria. The whole neighborhood looks lifted from a late 19th-century film set, with narrow cobblestone roads setting off in all directions between brightly painted and tiled houses. These side streets are littered with trendy cafes like Copenhagen Coffee Lab and Tasty — loved for its cupcakes and other confections. The neighborhood is also a hub for gay nightlife, with bars like Tr3s or Bar 106 as well as the city's biggest gay nightclub, Trumps.
One of the best finds in the neighborhood is Praca das Flores, a leafy little square that's ringed with local shops and cafes. For a great start to the day, grab a seat on the patio at Pao de Canela and enjoy a croissant or omelet with a coffee while watching the neighborhood come to life.
Everyone visits Belem for three reasons: Pasteis de Belem, Jeronimos Monastery, and the Tower of Belem. Most — at least for now — seem to skip what might be the two crown jewels in Lisbon's art world: the Berardo Collection and MAAT. The former sits just south of the monastery, inside the Cultural Center of Belem, a sprawling complex that's also home to theaters and workshops. The galleries of the Berardo Collection are free to enter and include works by artists like Francis Bacon, Jean-Michel Basquiat, Joan Miro, and Jackson Pollock. It also mounts contemporary exhibitions that include film installations, site-specific sculptural projects, and retrospectives of Portuguese artists.
A 15-minute walk east leads to the striking Museum of Art, Architecture, and Technology (MAAT), which is housed in two wings: a former coal power plant and a flying saucer-like orb that emerges from the banks of the Tagus River. In both wings, massive exhibition halls showcase work that blends high art with technological innovation. Some of the exhibits are free, though the price tag is low for entrance into the galleries in the coal plant — and they're worth it. Provocative political statements sit side-by-side with historical lessons on Lisbon and cutting-edge international exhibitions like Artists' Film International.
Score a Table at Hole-in-the-Wall Restaurants
https://www.instagram.com/p/BLb93hchEQY/
Even in the center of Bairro Alto and Baixa-Chiado, there are some great under-the-radar restaurants where you can cozy up with a bottle of wine or traditional meal. Smack in the middle of Bairro Alto — amid all of the fado joints and fish-and-meat spots — is Lisboa Cheia de Graca. With less than 10 tables, and none suited for more than four guests, this eatery has intimacy in spades. The menu draws from traditional Portuguese cuisine — with meat, fish, and vegetarian options — and also features deliciously simple petiscos (Portuguese small plates) like padron peppers and grilled wedges of cheese with honey. No, you won't be surrounded by Portuguese guests clinking their glasses, but the unstuffy service is a nice change of pace in a neighborhood packed with menu-toting staff beckoning guests from the street.
Those in the mood for a little cross-cultural dining should check out Cafe Buenos Aires. The restaurant is the brainchild of a Portuguese-Argentine couple and was opened in 2002. Perched on the seemingly endless staircases linking Rossio Station and Bairro Alto, it's firmly amid the city's most trafficked tourist zones. However, the menu pairs traditional Portuguese meat and fish dishes with tartines, pastas, and — of course — liberal doses of chimichurri sauce. The dark and cozy interior has exactly the kind of bohemian charm that visitors to Lisbon crave.
Visit Historic and Innovative Bookshops
On one hand, it may not seem worth visiting Lisbon's bookshops unless you're fluent in Portuguese. But you'd be missing out. For instance: Did you know that the world's oldest bookstore calls Lisbon home? Bertrand Bookstore has been inhabiting its vaulted and arched ground-floor space just past the main plaza in Chiado since 1773, though it traces its origins to 1732. The shop stocks art books and local authors of all kinds, plus Portuguese translations of major international bestsellers. Of course, English translations of Fernando Pessoa's "The Book of Disquiet" are prominently featured as well.
Most in-the-know travelers and locals will tell you to head to the LX Factory for its Sunday market (see below), but the repurposed warehouses also house one of the world's coolest bookstores, Ler Devagar. The store was once a printing shop, and it retains that industrial cool with steel ramps soaring overhead, original machinery, and a whimsical bicycle sculpture strung from the ceiling. The walls are artfully lined with all manner of indie and mainstream titles, and there's a casual bar and cafe inside the shop as well. Readings, performances, and gatherings are all par for the course here as well.
Find a Market for Any Taste or Budget
Whether you want to eat and drink or shop until your heart's content, Lisbon has a market that's sure to please. Head to the Mercado da Ribeira to snag produce from local grocers or to visit its upmarket food hall. Some of the city's most famous chefs have fast-casual outposts in this always bustling market, and the crowd is a mix of locals and tourists.
The Feira da Ladra (or Thieves Market) is the place for bargaining on everything from junk to authentic antiques on Tuesdays and Saturdays. Along the eastern edge of the Jardim do Principe Real, local vendors set up stalls on Saturdays selling all manner of bespoke, indie, and designer goods and foods. There's also a quiosque and garden cafe nearby for those who need a coffee or beer to recharge. Alternatively, head to the ever-vibrant LX Factory on Sunday. This cultural, community space is part retail collective, performance space, street art gallery, and dining venue and comes even more alive during its afternoon market, with vendors selling everything from vintage jackets to hand-screened T-shirts and collectibles.
Much like its Iberian cousins to the east, Madrid and Barcelona, Lisbon has a great range of reasonably priced hotels that don't skimp on style or substance. Given the city's compact layout, it's also nearly impossible to pick a bad neighborhood, though beware in Bairro Alto and Chiado, where the streets can stay rowdy until dawn.
Luxury can be had for a little less in Lisbon, and the Altis Belem Hotel & Spa has spacious rooms that blend vintage velvet fabrics with eye-catching graphic art. When the sleek indoor pool, modern fitness center, and spa are added to the mix, things only become more indulgent. The hotel is in Belem, meaning that a train or taxi ride into the neighborhoods near the center of town will be required. However, that means pastries at Pasteis de Belem are only a 15-minute walk away.
For something that's closer to the action in town, check out the upscale boutique style at the vintage-modern LX Boutique Hotel, which has a hip sushi restaurant and upmarket Sampar toiletries in the sharp bathrooms. For something with fewer bells and whistles, but no less style, My Story Hotel Ouro — part of the hip, budget-friendly My Story chain — has bright and funky rooms and a prime spot right in Baixa-Chiado, a five-minute walk from Praca do Comercio and Praca da Figueira.
LGBT travelers may want to check out The Late Birds, an all-male guest house with quaint and quiet rooms and a tranquil, clothing-optional pool out back. The vibe is homey, with guests trading stories over drinks in the bar and living room in the evening, and the location just west of Bairro Alto is hard to beat.
Related Stories:
All products are independently selected by our writers and editors. If you buy something through our links, Oyster may earn an affiliate commission.