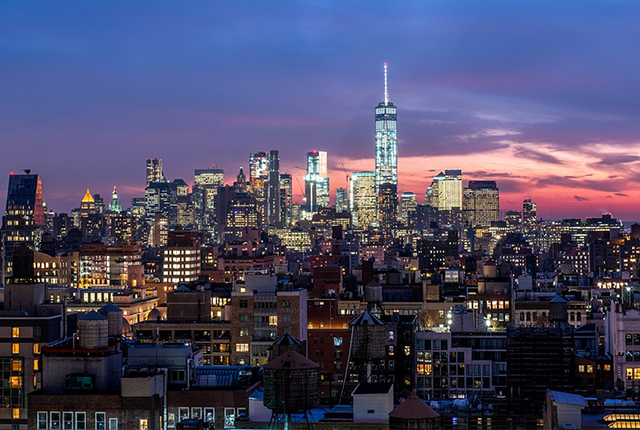 New York, we love you. That will never change. But you can be an incredibly expensive place that makes us want to use bad words at times. And the truth is that if you're in town as a tourist, you'll be shelling out even more cash than us locals. That's because New York City has some of the most expensive price tags for everything from hotels to museums to entertainment, alcohol, and food -- not just in the United States, but in the world. With that in mind, we're letting you in on a little secret: You can snag a significantly longer trip abroad for less than what you'd spend on just 48 hours in the Big Apple.
For this unscientific -- but thorough -- study, we focused on trips timed for the late fall. Average hotel rates hover around $286 per night for weekends in New York City during this time of year. Over the course of two days, you can also expect to spend at least $75 per person on food, $32 per person on an unlimited Metrocard, $175 per ticket for a Broadway show, and around $20 or more per person to get into the city's major museums like the Guggenheim, MoMA, and the Whitney. So, without even factoring in airfare -- or booze, covers at nightclubs, and taxi fares -- you're looking at spending over $1,300 in a very short time span. Keep in mind that depending on where you're coming from, even domestic flights into NYC can cost upwards of $400 per ticket. If you're driving in, you'll need to budget around $50 per night to park anywhere.
With all of that in mind, we've found six destinations where you'll spend significantly less money and enjoy more time to unwind or see the sights. As an added bonus, many of these destinations can be reached for prices that aren't much more -- and are sometimes less -- than you'd spend on a cross-continental flight from L.A. to New York City. So pack your bags and find your passport: These destinations are bound to have you rethinking your next trip to NYC.
Author's Note: Keep in mind that hotel rates and airfares are subject to wild fluctuations, to say nothing of the variables when considering foreign exchange rates against the U.S. dollar. Prices quotes below are for searches done at the time of writing, and may be higher or lower depending on when you book your trip. As always, you're likely to score the best deals by booking both hotels and airfare farther in advance than closer to your intended date of departure. 
When it comes to charm, beauty, culture, nightlife, and style — Madrid has it all. And what's more? It's an incredible value for an international destination, particularly one in Western Europe. Everything from hotel rates to dinners are far cheaper in Madrid than almost any other national capital in Europe, and the costs of a stay in the city are significantly lower than Spain's most famous tourist town, Barcelona.
Hotel rates in Madrid come in around $100 per night during November, and you'll likely find that the hotel stock is a bit nicer for the dollar than you'd spend in New York. Sharp new boutique properties seems to open in Madrid every month, and the city has its share of cute posadas and bed-and-breakfasts as well. Try Petit Palace Plaza del Carmen, Artistic B&B, and Hotel Regina for central options that all come in at wallet-friendly prices and have both style and personality.
Food costs are also far lower in Madrid, though you will have to contend with the city's paltry breakfast eating habits — the meal consists of little more than a pastry, juice, and coffee. Even so, by eating like a local in the morning, opting for a "menu del dia" at lunchtime, and splurging a bit on dinner, you are unlikely to spend more than $60 per person on food per day. If you make a dinner of your tapas bar crawl — where free small plates accompany the beer and wine that you pay for — you'll save even more money (and be eating like a local).
Madrid's museums are relatively inexpensive as well, and are some of the world's most famous. The Reina-Sofia — home to Picasso's "Guernica" — costs around $12 to enter, and The Prado costs around $18 per person. Or, opt for the free and fascinating Matadero, a former slaughterhouse complex that's now home to exciting art installations. Nightclub cover charges are rarely more than $15 per person, and tickets to a concert at one of the city's many intimate salas cost around $20 per ticket.
You can opt for a 10-pass to use the metro, which costs about $15, though Madrid's Centro — which includes neighborhoods like Huertas, Malasana, Chueca, La Latina, and Lavapies — is entirely walkable. Getting from one major sight to the next will rarely take more than 15 to 25 minutes on foot. Additionally, the city's mild Mediterranean climate means that for most of the days during November you'll be fine with little more than a light jacket.
Overall Cost: Given the above prices, a trip for two for five nights falls between $1,000 and $1,275. Additionally, airfares from most major U.S. cities can fall between $450 and $550 per ticket during November, since most Americans are busy flying around the United States to see family and friends as the holidays begin. Take it from us: Bargains like this to Western Europe are almost entirely unheard of, so take advantage of them.
Our Hotel Pick: Petit Palace Plaza del Carmen
The 42-room, upper-middle-range Petit Palace Plaza del Carmen occupies a charming, early 20th-century building set on a relatively quiet square in the center of Madrid. A block from the Gran Via subway station, it's a great base for exploring many of the city's attractions and within walking distance of the majestic Plaza Mayor.
New York can be cold and wet in November, so why not head south and get some sunshine. Cartagena is a gem of a destination that blends vibrant colonial history with hipster haunts, buzzing beaches, and wild nightlife. Most travelers will spend the bulk of their time in Cartagena's atmospheric Walled City, where dazzling colonial buildings line up in almost endless vistas to create something that feels held over from another time — and a bit magical. After all, the city was the inspiration for Gabriel Garcia Marquez's magical realist stories for decades. However, neighboring Getsemani — a scruffier version of the Walled City that's packed with street art, trendy cafes, and boutique properties — is also worth a day or two of exploring. And if you want a taste of how locals and Latin American tourists unwind, head to the beaches and nightclubs of Bocagrande.
In late fall, hotel rates come in around $90 per night throughout Cartagena, though it's obviously pricier to land digs right in the Walled City. If you're willing to stay in Bocagrande, check out the sharp Hotel Cartagena Plaza, which has a fresh style and rates that are beyond reasonable. Bargains can be found in the walled city, though on average rates there are over $150 per night. Check out the Hotel Casa del Arzobispado for something with personality.
Food is also an incredible value in Cartagena, with a budget for three meals coming in under $40 per person per day. Of course, one of the great pleasures of Cartagena is getting lost in the Walled City on foot. But should you opt for a tour, these are rarely more than $30 per person. Alternatively, you can also stroll Las Bovedas — the series of market stalls that line the old city walls — for free, picking up trinkets and souvenirs for just a few dollars each (at most). There are a number of free galleries in the Walled City showing contemporary Colombian art, including NH Galeria, though tickets to enter venues like La Presentacion Casa Museo Arte y Cultura are only a few dollars per person.
An Uber from the Walled City to the beaches of Bocagrande (or vice versa) will cost less than three dollars in most cases, and cover charges to get into most nightclubs are around the same per person (and generally include a drink). If you want to see one of the cultural performances at stunning Teatro Adolfo Mejia, in the Walled City, expect to pay less than $20 per ticket.
Overall Cost: Cartagena can be an insane bargain — you can spend five days here for just over $900 for two people if you stay in Bocagrande. If you need to stay in the Walled City, you'll have to adjust your budget upward by about $300 or so, depending on what kind of hotel you want. Airfares from most major U.S. destinations can be found for between $400 and $500.
Our Hotel Pick: Bastion Luxury Hotel
The four-pearl Bastion Luxury Hotel is an excellent option for travelers seeking Old World charm and modern comforts. With 51 rooms, Bastion is one of the larger upscale hotels in the walled city, and has top-notch features such as a rooftop pool, an acclaimed on-site restaurant, a small spa, and a fitness center.
You're probably thinking, "There's no way I can spend 10 days in Asia for less than the price of two days in New York City" — but hear us out. November still isn't peak season in Thailand, and if you're willing to fly one of East Asia's budget airlines (China has several), you can land in Bangkok for under $600 per ticket if you time it right.
Once you're in Thailand, prepare to feel utterly spoiled. Nightly rates are around $70 at the nation's upscale and mid-range hotels. If you're willing to lower your standards, you can score rooms for as little $35 per night (or less). We like youthful options like Galleria 10, with its urban style, and the more intimate Lullaby Inn in Bangkok. In Chiang Mai, check out charming Thannatee Boutique Hotel, which is just outside the old city.
Everything from shopping at Bangkok's bustling Chatuchak Market — where indie designer T-shirts can be bought for as little as $5 — to sampling the country's legendary street food is a bargain. Dinner for two in a proper sit-down restaurant is likely to cost around $20, and if you stick to street food for at least one meal per day (which you should, if only for adventure's sake), your daily food bill for two travelers will likely be less than $35 — total.
Most of Thailand's Buddhist temples are free to enter — particularly in Chiang Mai. In Bangkok, you'll likely spend around $20 per person to enter the Grand Palace and Wat Pho, which is home to the stunning Reclining Buddha (that fee covers entrance both temples). Nightlife is extremely cheap as well, and most of the bars in major cities will not charge covers, with domestic beers costing less than a dollar in most spots. If you have to pay a cover to one of the bigger nightclubs in Bangkok, it won't be more than a few dollars each.
Of course, if you're intent on spending most of your time in Thailand's famous beach destinations, like Phuket and the islands in the Andaman Sea or Gulf of Thailand, price tags will rise for everything from food to lodging. Even so, if you stick to just a few days in these spots during your time in Thailand, you'll still be saving money over a weekend in NYC. Domestic flights between major destinations like Bangkok and Phuket can cost as little as $25 round-trip.
Overall Cost: Including internal domestic flights — the price of food, lodging, a bit of entertainment, and some cultural sights can be for less than $850 for two people, if you play your cards right. That's a massive bargain by any stretch of the imagination — especially when you add in the airfares offered by many East Asian airlines from the United States.
Where to Stay: Thannatee Boutique Hotel
The 22-room Thannatee Boutique Hotel is a small, mid-range property located just outside of the moat leading into Chiang Mai's historic old city. Rooms are small, but stylish, done up in northern Thai Lanna style and elegantly decorated with antiques and fine wood furniture, plus they have modern amenities like flat-screen TVs, mini-fridges, air-conditioning, and free Wi-Fi. Suites add whirlpool tubs. The hotel has a small swimming pool, an atmospheric restaurant serving northern Thai cuisine, and a library with computers for guests to use.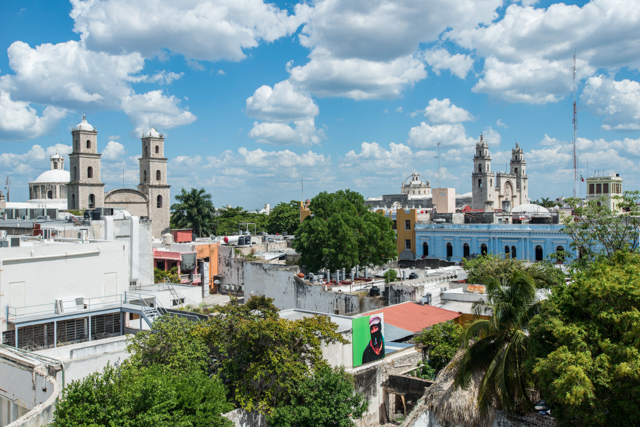 While most travelers think of cities like Cancun, Playa del Carmen, and Tulum when they hear about Mexico's Yucatan Peninsula, there's another side of this corner of Mexico that's worth more exploring. And what's more? By skipping the famous beach resorts on the eastern edge of the Yucatan — in the state of Quintana Roo — you're also able to score an action-packed international vacation for less than the cost of 48 hours in New York.
Hotel rooms in Merida, in the state of Yucatan, average $90 per night, and the city has some utterly charming boutique properties that perfectly complement the city's fascinating mix of colonial, indigenous, and contemporary local culture. Check out Luz en Yucatan for a quaint boutique property with tons of character, or the simple and central Hotel Julamis.
Meals can run as low as five to ten dollars per person (or less, particularly at lunchtime) in a proper restaurant — including the ones that buzz around the city's main plaza at night — and street food is, of course, even cheaper. Sights in town include the Museo Maya — chronicling the history of this ancient culture (tickets are around eight dollars per person) — as well as art galleries exhibiting everything from ancient sculpture to contemporary pieces.
Another major perk of staying in Merida is its proximity to some of Mexico's most famous Mayan sights: Uxmal and Chichen Itza. These take between 60 and 90 minutes, respectively, to reach from Merida, and can be visited by private tours or by taking buses. Private tours from Merida to Chichen Itza are available through Viator (Oyster's sister company) for an average of $55 per person, and include guides, transport, lunch, and entrance fees. If you're going solo, the bus costs only $14 round trip, and the tickets into the site cost around $13 per person. Guided tour packages that cover Uxmal, Chichen Itza, and Kabah (another famous local temple) run over two days and cost around $100 per person. Otherwise, it's a $28 round-trip bus ticket to Uxmal, and entrance to the site costs six dollars per person.
If you need a beach day, head to Celestun, a town surrounded by a sprawling nature reserve that's home to flamingos and all sorts of wildlife. The beaches here aren't quite as stunning as those found along the Riviera Maya, but they're far more peaceful and undeveloped. It's a 90-minute one-way drive, and can be done as a day trip, or for a night or two (buses run frequently, and though the trip takes over two hours, they only cost around four dollars round trip; alternatively, a private taxi will cost upwards of $100 one way). There are a number of simple hotels in Celestun, with rates between $40 and $60 per night.
Overall Cost: If you opt for using buses to get around the region, skipping private tours and cars, you can spend five days in the state of Yucatan — with Merida as your base — for around $825 for two people, including food, buses, lodging, and entrance fees to major archaeological sights. If you want to throw in private tours and transport to those major sights and towns, you're adding around $200 to $250 to the price tag, which is still a relative bargain, and gives you plenty of extra spending money.
Our Hotel Pick: Platinum Yucatan Princess All Suites & Spa Resort
The Platinum Yucatan Princess is a solid adult-only all-inclusive luxury resort on the Riviera Maya, and stands out for its extensive facilities and activities program. It has six tennis courts, a multipurpose court for soccer and baseball, a Sports Park with golf putting and archery, and water sports. Other features include six restaurants and eight bars — including swim-up bars at two of the 13 pools — entertainment programs, a fully equipped fitness center, and the Princess Spa.
Canada isn't exactly a bargain-hunter's delight when it comes to travel, but there are some advantages that cut costs during a trip to the north. That's particularly true if you're heading to Montreal and are willing to brave temperatures that range from chilly to frigid. Additionally, a visit to Montreal has the advantage of giving you a taste of something a little farther from home, given the Quebecois French traditions that are still alive and well in the city (don't worry, though — English is almost universally spoken as well).
To be clear, meals in Montreal aren't cheap — in fact, prices in most restaurants are on par with what you'll find in New York City (and you'll be getting a bit less food, too). This means you should budget at least $75 per person, per day, for meals in Montreal. You can save a little by opting for simple breakfast fare, like pastries and coffee, or pop into St-Viateur or Fairmount, the city's two legendary bagel shops that are both in the hip Mile End neighborhood.
While food costs add up quickly in Montreal, hotels only average around $140 per night in the late fall. This makes it a steal to bed down at even popular upscale chains like Sofitel Montreal, or at sharp boutique properties like Le Petit Hotel, in Old Montreal. Trips on the metro and bus can be bought in packs of 10 for around $13, making getting around the city relatively cheap and easy over a long weekend.
When it comes to entertainment, there's a wide spread of options, though on the whole things cost a bit less than they would in New York. For instance, an indie show at Mile End's famous Casa del Popolo generally runs between $10 and $15, while tickets to see Cirque du Soleil — which originated in this city — start at $50 per person. Admission to the city's excellent contemporary art museum, MAC, costs around $12 per person, and it's $16 or so per person to visit the city's famous Biodome — a fascinating exhibition of different world habitats. Of course, walks in Mont Royal Park, which has stunning views of the city, and around dizzying Jean-Talon Market are free, though make sure you bundle up for the potentially cold weather.
Overall Cost: For the above activities and sights, plus lodging, public transit, and food, you can spend under $1,100 for two people in Montreal over the course of a three-night stay. It's not the best bargain on this list, but is still far cheaper than a weekend in NYC. Even better? Flights from many parts of the U.S. are short and don't cost much more than domestic airfare.
Our Hotel Pick: Hotel Nelligan
The 105-room Hotel Nelligan is a four-pearl boutique hotel with a great location in the heart of Old Montreal. Attractive rooms nicely combine historic details such as exposed brick walls with modern amenities like flat-screen TVs and minibars. Some have fireplaces, and others feature huge balconies with beautiful views of the city. There's also a trendy rooftop terrace that's open in warmer months.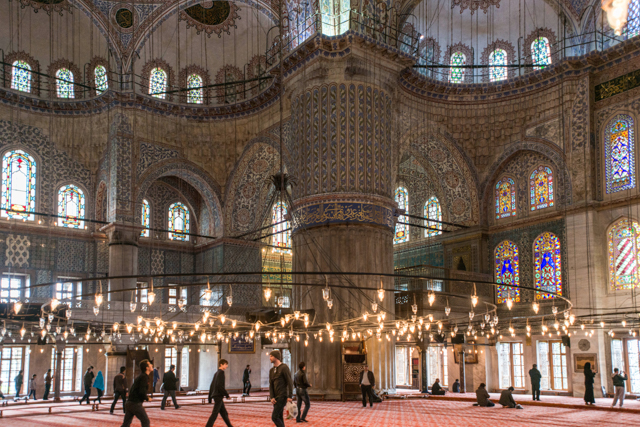 Given Turkish Airlines' penchant for heavily discounted airfares between many major U.S. cities and Istanbul, if you time your travels right, you just might score a bargain of an international adventure to Turkey's biggest city. And what an adventure it will be, as Istanbul is one of the most wildly multicultural places on earth, where multiple religions, empires, and philosophies have met for centuries — if not longer. It also happens to be a stunningly beautiful city to explore, with its ancient sights scattered throughout the Sultanhamet neighborhood — including the Hagia Sophia, the Blue Mosque, the Grand Bazaar, and Topkapi Palace. Elsewhere, views across the Bosporus are stunning, and the lanes of Galata and Karakoy are stalked by hipsters and in-the-know travelers.
Hotels can be a bargain in Istanbul, though given this city's international status, the spread of what's on offer is drastic — from scruffy budget bargains to posh luxury options. Even so, you can score some amazing upscale digs for an average of $75 per night or less. Try Old World-style Esans Hotel, in Sultanhamet, or Vault Karakoy, The House Hotel, which puts of modern executive spin on classic decor in the more locals-only Karakoy neighborhood.
Of course, the city's major sights — Grand Bazaar and Blue Mosque aside — all have entrance fees, though compared to costs of similar landmarks in NYC, they are a steal. The Hagia Sophia costs around six dollars per person, while the entire Topkapi complex (which consists of various separate tickets and sights) costs around $25 per person.
Like any good destination worth its salt, the street food scene in Istanbul should play a large role in your food intake. This also keeps costs down, as fish sandwiches — and we aren't talking depressing McDonald's sandwiches here — are available along Galata's waterfront for less than two dollars, making a fantastic lunch. A sit-down meal in a mid-range restaurant averages at around $18 per person (between breakfast and dinner), though you'll do yourself a favor by skipping the overpriced tourist restaurants in Sultanhamet and opting for meals in Beygolu, across from the Golden Horn, instead. Beer and wine aren't cheap, but still cost less than they do in NYC.
Riding the metro, bus, trams, and most ferries will cost less than a dollar per trip, making navigating the city incredibly economical. Even taxis are far cheaper than they are in New York. Nightlife isn't as legendary in Istanbul as some other world capitals, but it's certainly not a tame affair either. On the Asian side of the city, head to Barlar Sokak (Bar Street) in Kadikoy to hang with the city's trend-setters in laid-back pubs. Nightclubs can sometimes charge a cover, though it's rarely higher than $15 at most. Many can be found in Beygolu.
Overall Cost: You'll have to search for the best airfares and be a little flexible in order to get to Istanbul on the cheap. However, it is possible and may not be much more than peak holiday airfares within the United States (particularly to and from New York City). For six nights in a hotel, using public transit four times per day, visits to the major sights in Sultanhamet, meals, and a couple nights out in the city's nightclubs, two people should be more than comfortable and still spend less than $1,150 total.
Our Hotel Pick: Ciragan Palace Kempinski
Formerly the palace of an Ottoman Sultan, the Ciragan Palace Kempinski is the grand dame of Istanbul. It wows guests at every turn, from the sprawling, manicured grounds, to the heated infinity pool right on the Bosphorus, to the refined suites. The dining options are extensive and exceptional; the spa is lovely; and the meeting space housed in the original palace building makes an ornate setting for a business function or wedding.
The Carry-On from Away is built to be the last one you'll ever have to buy. With 360 degree spinning wheels, a hard exterior, and a TSA-approved lock, this bag can withstand it all.
You'll Also Like:
All products are independently selected by our writers and editors. If you buy something through our links, Oyster may earn an affiliate commission.