New York Fashion Week is upon us. Starting September 8, editors, designers, stylists, models, bloggers, and photographers will spend a week showing off and scrutinizing the spring/summer 2017 collections. No longer confined to a massive tent at Lincoln Center, the nine-day extravaganza is strewn about town. And while the NYFW shows and presentations are off-limits to anyone without an official invite, the entire city celebrates with parties, giveaways, and more. Here are six hotels hosting shindigs that everyone can enjoy.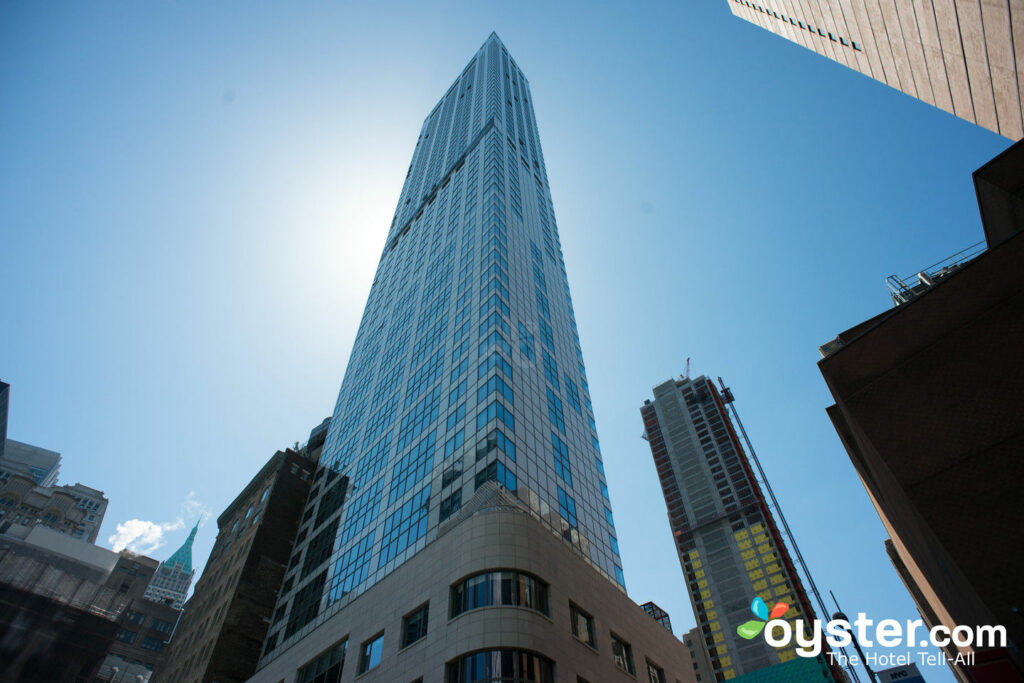 Fashion influencer Roxanne Hauldren of Shop with Rox has curated a top-notch shopping experience at the W New York Downtown. In addition to browsing looks from local vendors like Floss Gloss, Angela Roi, Bandits Swimwear, Lukka Lux, Tangerine NYC, and Erica M., guests will be treated to complimentary Ciroc mango cocktails and a free hair styling bar by Beautini. If you're not in it for the freebies, stop by for the 360-degree views of downtown Manhattan. Find more details here.
When: September 13 from 5:30 p.m. – 8:30 p.m.
2. S'well Street Style Pop-Up
https://www.instagram.com/p/BJvBDVRDR1L/
Come Fashion Week, S'well will create an oasis of hydration just outside The Standard hotel in New York City's Meatpacking District. The pop-up will sell stylish and reusable water bottles from the company's brand-new fall/winter collection. Artist Yoon Hyup will also be in attendance on Saturday to sign her limited-edition art collaboration bottles.
When: September 9 and 10.
3. What She Said at W New York Union Square
https://www.instagram.com/p/BJp_vuLDNyg/
This event, which is part of W Hotel's worldwide What She Said speaker series, focuses on empowering women through the inspirational stories of top entrepreneurs and trailblazers. NARS international lead makeup stylist Uzo will discuss the cosmetic industry and her work with celebrity clients like Naomi Campbell, Alison Brie, Kim Kardashian, Edie Falco, Nicki Minaj, Toni Braxton, and more. Following the free event, Uzo will lead a master class and beauty workshop in the hotel's studio space. Those interested should RSVP to toeva.mcgarry@lalcomm.com.
When: September 14 from 3 p.m.- 5 p.m.
4. Fashion Sketches at Triumph Hotels
https://www.instagram.com/p/BJ0t5nLjiTb/
Capture your best NYFW #OOTD with a complimentary fashion sketch by Laura Kay. A free session with the Instagram sketch artist will get you a portrait in your street style attire near one of New York City's iconic landmarks (think Empire State building, New York Public Library, and more). Sign up for a 15-minute slot on Facebook.
When: September 8 from 5 – 7pm at Cosmopolitan Hotel; September 13 from 5 – 7pm at The Iroquois; September 15 from 5 – 7pm at Hotel Chandler.
5. Priv Beauty Pop-up at Hotel Belleclaire
https://www.instagram.com/p/BJd0bniD6AV/
Back for another season, Priv's beauty pop-up service will offer free mini-manicures with hotel-inspired nail polishes hues like Belle-claire of the Ball, Don't Be So Iroquois, Chandler Cabernet, and more. Services will be on a first-come, first-served basis — no reservations necessary.
When: September 9 from 10 a.m. – 2 p.m. at Hotel Belleclaire; September 12 from 10 a.m. – 2 p.m. at Hotel Edison; September 14 from 10 a.m. – 2 p.m. at Washington Jefferson Hotel.
6. Complimentary Happy Hour at The Maritime Hotel
https://www.instagram.com/p/BJwB3WOB59L/
The Maritime Hotel's new trattoria, La Sirena, will be serving complimentary wine and cocktails on its patio to celebrate Fashion Week. The event, which also offers small, Italian aperitivo-style bites on the house, is open to all. After 5 p.m., guests can dine on the patio or move the party inside to the bar or hotel lobby.
When: September 8 – 14, 3 p.m. – 5 p.m. daily.
More like this:
All products are independently selected by our writers and editors. If you buy something through our links, Oyster may earn an affiliate commission.