Merriam-Webster describes the bridge quite simply: "a structure carrying a pathway or roadway over a depression or obstacle." While its most basic form can be as simple as a plank of wood over a ditch, the bridge has evolved over millennia to become an incredible feat of engineering. The ancient Romans were the first true masters of bridges, designing arched structures that survive today, but modern developments have pushed bridge building to entirely new levels. Here, we take a look at six bridges that have all broken world records.
1. Most Photographed: Golden Gate Bridge
San Francisco's iconic "international orange" span, while perhaps not officially, is likely the most photographed bridge in the world. According to because of the Golden Gate's geographic location and size, the bridge makes an appearance in many of the millions of photographs of San Francisco. The same article reports that David Crandall, an assistant professor of informatics and computing at Indiana University, analyzed text tags on Flickr, and his findings supported this claim.
2. Highest: Beipanjiang Bridge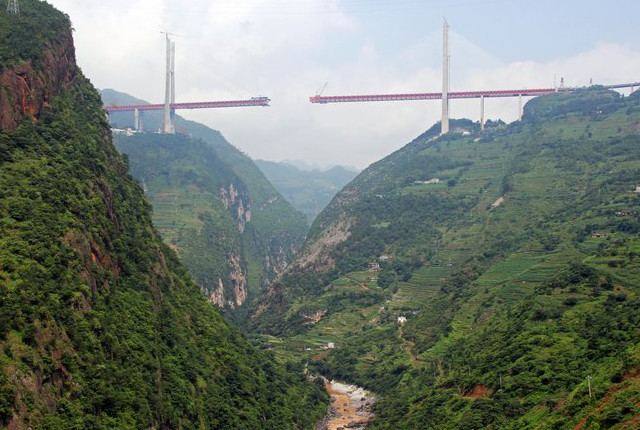 As we recently , China's Beipanjiang Bridge opened this month, becoming the world's highest bridge at 1,854 feet. ("Highest" refers to the distance between the bridge's span and the Earth's surface below.)
3. Tallest: Millau Viaduct
But the world's tallest bridge—meaning the vertical measurement of its visible structure—is the Millau Viaduct in Millau-Creissels, France. The 1,125-foot-tall bridge was designed by renowned British architect Norman Foster.
4. Longest Bridge: Danyang–Kunshan Grand Bridge
There are many variants of this record, from the longest steel arch bridge (the 1,811-foot Chongqing-Chaotianmen Bridge in China) to the longest continuous bridge over water (the 23.83-mile Lake Pontchartrain Causeway in Louisiana). But the longest bridge of all time? The 102.4-mile Danyang–Kunshan Grand Bridge, also in China, that carries trains.
5. Longest Floating: Gov. Albert D. Rosellini (Evergreen Point) Bridge
At 7,710-feet-long, this floating bridge crossing Lake Washington in Seattle is an engineering marvel. The roadway sits atop 77 concrete pontoons that are anchored to the lake's floor by 58 anchors.
6. Busiest: George Washington Bridge
In 2015 an astonishing 115.9 million vehicles crossed New York's George Washington Bridge, which connects Manhattan to New Jersey, making it the busiest bridge in the world.
You'll also like:
All products are independently selected by our writers and editors. If you buy something through our links, Oyster may earn an affiliate commission.