If you're looking for a relaxing vacation with a drink in your hand and your feet in the sand, you've come to the wrong place. While an unknowing traveler might glance at these tropical destinations and think "beach vacation," these locations lack the natural and picturesque sand beaches that stretch for miles in places like Bora Bora or Hawaii. However, don't disregard these tropical places just because they lack one thing; there are still plenty of recreational reasons to visit, whether it's jungles for hiking, cities for exploring, or rivers for cruising. Plus, many of them have man-made beaches created from imported sand! Be sure not to skip these tropical vacation destinations, even though they might not have naturally sandy shores.
A few centuries ago Singapore had plenty of white-sand beaches, but the rapid urbanization of the country resulted in their decimation due to the need for land reclamation. Now, the beaches that Singapore is known for are all man-made. Sentosa Island is five square kilometers of resort activities, including 3.2 kilometers of beautiful beaches to relax on, created from imported white-sand. Sentosa is also home to Golf courses, a deep-water yachting marina and plenty of residences for those looking to make the island a home, making it an ideal vacation hub.
Where to Stay on Sentosa Island:
If you're picturing beautiful beaches when you think of Laos, you're probably thinking of its neighbor Cambodia, since Laos is a land-locked country. While Laos has the Mekong River, the sand banks don't provide the beach vacation most people are looking for, so often Cambodia and Laos are paired together into one long holiday. If you're just looking to stay in Laos, there are still plenty of sights to see in the country. The historic city of Luang Prabang is full of Buddhist temples and monasteries, as well as waterfalls. Also, don't miss your chance for a river cruise on the Mekong, which is home to some of the most diverse plant and animal life in the world.
Where to Stay in Luang Prabang:
3. Saba
Unlike the majority of islands in the Caribbean, Saba lacks those sandy beaches vacationers often desire for their holidays. Saba is essentially a jungle-covered mountain jutting out of the ocean, and its steep incline doesn't allow any room for beaches. Occasionally a natural beach forms, but it comes and goes with the tides and sometimes disappears for months at a time. The bright blue waters are still accessible in a variety of ways, whether it's sailing the open waters or snorkeling along the coral reef. For those looking to lounge, Cove Bay is a man-made beach with sand and rocks brought over from nearby St. Maarten.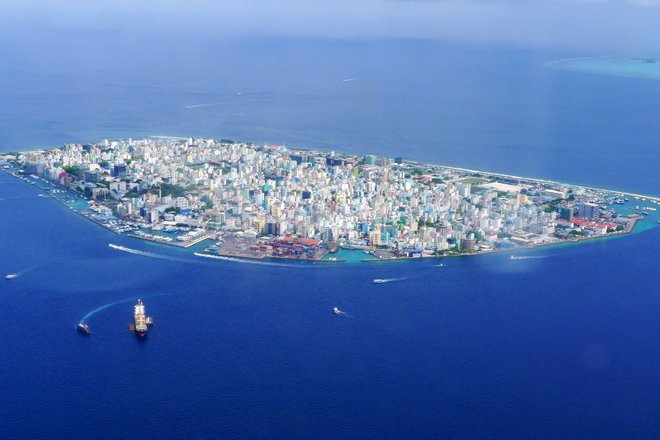 The Maldives are known for their abundant beaches, vast turquoise waters, and hundreds of villas hovering above the water. The capital island of Malé is essentially the complete opposite of that. Malé is a crowded mercantile city filled with shops, restaurants, and markets that drive the Maldives' economy. With 100,000 people crammed into just 2.2 square miles, it is one of the most densely populated cities in the world, yet the candy-colored skyscrapers surrounded by bright blue waters make it stand out from any other capital you'll visit. Visiting Malé is also the best way to understand and immerse yourself into the true nature and lives of the locals.
Where to Stay in Malé:
Practically any stretch of coast in Florida has better beaches than the Florida Keys. While there are a few white-sand beaches, the majority of the Keys' coast is made up of marshy lands and limestone — this is because the islands are, in fact, exposed areas of ancient reefs that broke the surface when sea levels dropped about 100,000 years ago. The remaining underwater portions of the coral reef make up the third-largest barrier reef system in the world, making the Florida Keys ideal for those looking to scuba dive or snorkel.
Where to Stay on the Beach:
6. Niue
The South Pacific is chock full of beautiful sandy beaches along serene turquoise waters. In contrast, Niue, the smallest independent nation, has been nicknamed the "Rock of Polynesia," but it is an excellent destination for adventure seekers. The country's steep limestone cliffs provide ample caves and and grottos for visitors to explore, and a fringe reef surrounding the island is an excellent place to dive or snorkel. The island is also ideal for vacationers looking to deep sea fish — and make sure to keep your eyes peeled for dolphins and whales swimming by. Those who hike or bike around the island may be lucky enough to find some hidden white-sand beaches, but they are likely to be just big enough to accommodate a few people at a time.
You'll Also Like:
All products are independently selected by our writers and editors. If you buy something through our links, Oyster may earn an affiliate commission.