One of Europe's most romantic cities, Prague is easy to fall in love with. The Czech capital seems to have it all—a grand castle that overlooks the city, cobblestone streets that lead to a picturesque Old Town, and the winding Vltava river that cuts through the city like a ribbon. But Prague isn't the only memorable place that the Czech Republic has to offer. Here, we've rounded up six of the best day trips from Prague.
1. Český Krumlov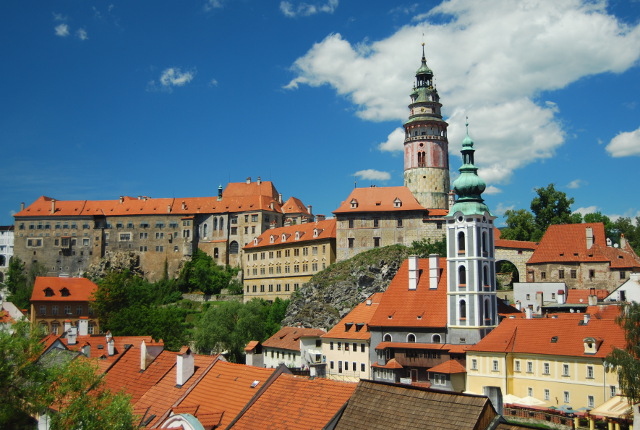 Just over a two-hour drive south from Prague, nestled into a crook of the Vltava river, the fairytale town of Český Krumlov is one of the Czech Republic's 12 UNESCO World Heritage Sites. For nearly 10 centuries, throughout many wars, the town has managed to preserve over 300 medieval buildings, including the impressive Český Krumlov castle. With Instagram-worthy streets to explore and an active arts scene, this small city is one of the country's most cherished cultural hubs. It's home to many different galleries and theaters and also hosts over a hundred different cultural events each year.
Travel time by bus: 3 hours
2. Kutna Hora
Drive some 50 miles east of Prague and you'll arrive at another UNESCO World Heritage Site, Kutna Hora. This small medieval city is mostly visited for its churches, particularly St. Barbara's and Cemetery Church of All Saints. At the latter, you may find yourself either mesmerized or disturbed when you step into the bone church, Sedlec Ossuary, located beneath the chapel. The site has been decorated with between 40,000 and 70,000 skeletons—from wall to wall, floor to ceiling, thousands of bones have been repurposed into decorations, furnishings, and impressive, albeit morbid, art.
Travel time by train/bus: 2 hours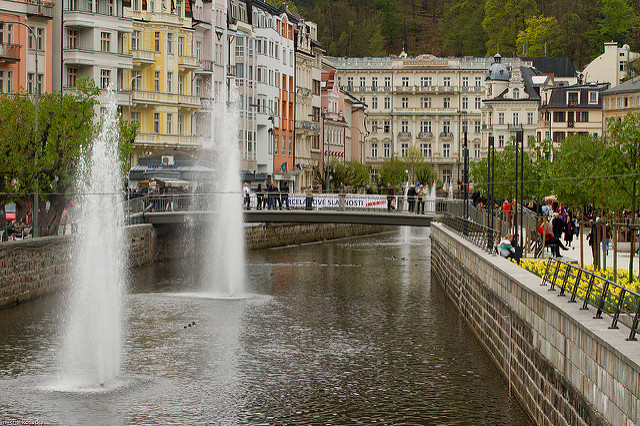 Best known for its mineral rich water and natural hot springs (the town boasts 13 large springs and over 300 smaller ones!), Karlovy Vary is the most popular spa destination in the country. It's located in a region known as the West Bohemian Spa Triangle and sits in a deep valley surrounded by thick forest. Year-round, the charming resort town attracts visitors from across the globe who come to spend the day at one of its many high-end spas, or to explore the city's elegant architecture and pretty parks.
Travel time by bus: 2 hours 15 minutes
4. Pilsen
The fourth largest city in the Czech Republic, Pilsen is home to the world's first pilsner-style beer, Pilsner Urquell. The popular golden lager was first brewed here in 1842, and both beer enthusiasts and history buffs flock to the city for tours and tastings at the many breweries in town. But don't be fooled into thinking that Pilsen is only about beer. The thriving city is also an important industrial, commercial, and cultural hub, and home to two very impressive places of worship: St. Bartholomew's Cathedral and the Great Synagogue.
Travel time by train: 1 hour
5. Bohemian Switzerland National Park
The enchanting Bohemian Switzerland National Park is part of the Elbe Sandstone Mountain range and shares a border with Germany. With magnificent views and otherworldly sandstone formations, there are photo opportunities galore at the Czech Republic's youngest national park; sights including deep ravines, lush pine forests, river gorges, stone bridges, and plenty of hiking trails. It's also home to the largest sandstone arch in Europe, Pravčická brána, which is celebrated as the official symbol of the park.
Travel time by car: 1 hour 30 minutes
6. Lidice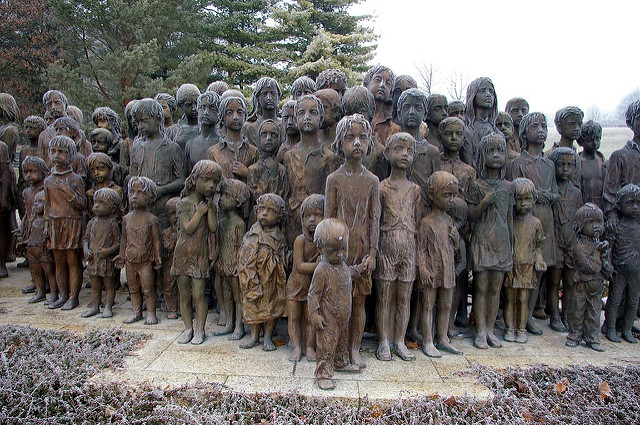 An important, yet sobering part of the Czech Republic's history, the small village of Lidice was infamously wiped off the map during World War II as a reprisal for the assassination of one of Hitler's men. Every man over the age of 15 in the village was executed, and the women and children were sent to nearby concentration camps. When the war was over, some of the survivors returned to rebuild their town. Today, the rebirth of Lidice acts as a reminder the resiliency of the human spirit.
Travel time by bus: 30 minutes
You'll also like:
All products are independently selected by our writers and editors. If you buy something through our links, Oyster may earn an affiliate commission.