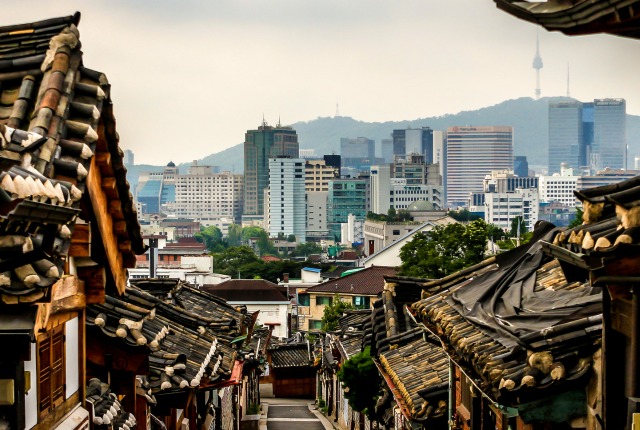 Long layovers tend to involve over-priced, over-processed airport restaurants and poor decisions made in terminal gift shops. But not all cities are so dire: More than a few airports offer tours of their cities -- and for free. These seven airports welcome transient passengers with complimentary tours of top sights, cultural landmarks, and traditional restaurants. Note to passengers: Although the tours are free, most guests are asked to leave their bags in lockers. Still worth it? Absolutely.
1. Incheon Airport, Seoul, South Korea
https://www.instagram.com/p/BRXbZ-3g-lu/
Incheon Airport offers not one, but eight (!), tours for travelers on a layover. Visitors with time for an hour-long tour can visit Yonggungsa Temple, a Buddhist temple built in 1376.
Visitors with a bit more time have even more options. There's the Incheon Temple tour for those with two hours, which stops at Heungryunsa Temple, Incheon Grand Bridge and the Memorial Hall for Incheon Landing Operation before heading back to the airport. For travelers craving something a bit more adventurous — or outside a city — the Gwangmyeong Cave Tour is three hours long.
The Songdo City Tour, which is four hours, takes travelers from the airport to Songdo Central Park, Ocean Scope, Singi Market, and then back to the airport again. Finally, there's the Seoul City Tour, which is five hours long. Guests can choose between four "courses" that feature some of the city's top attractions, like Bukchon Hanok Village, N Seoul tower, the Samcheong-dong neighborhood, and Gwangjang market.
And for travelers who don't have a lot of time but want to get a taste of Seoul? They don't even have to leave the airport. Incheon Airport Culture Tour leads visitrs through the Arrival Hall's Culture Street, then through security to a traditional craft gallery, Walk of the Royal Family, and Traditional Korean Culture Center before rounding off the tour with a classic concert.
Travelers should know that these tours fill up on a first-come basis, and the 8 a.m. and 10 a.m. tours are $10 to cover the entrance fee to the palace and meal.
2. Taiwan Taoyuan International Airport, Taipei, Taiwan
https://www.instagram.com/p/BNGNyX9hQcY/
Got eight-ish hours to kill in Taipei? The airport offers two half-day tours that get to the heart of the city's cultural and historic attractions. The morning tour visits the Daoist Sanxia Qingshui Zushi Temple; Sanxia Old Street, featuring late Qing Dynasty, Japanese, and Baroque architecture; and Yingge Ceramics Old Street, the heart of Taiwan's historical pottery industry. In the afternoon, transient tourists get an introductory glimpse of Taipei, followed by a visit to Longshan Temple, a prime example of Chinese temple art, and Chiang Kai-shek Memorial Hall and Park.
3. Hamad International Airport, Qatar
https://www.instagram.com/p/BKA38hGD8uU/
Passengers passing through Qatar Airport can take a sightseeing tour of Doha, courtesy of Qatar Airways and the Qatar Tourism Authority. Stops include the Pearl-Qatar, with upmarket shops and restaurants on a manmade island; Katara Cultural Village, which celebrates the emirate's arts heritage; a traditional souq; and the Museum of Islamic Arts (and its seaside park for some welcome fresh air). There are four tours daily, each lasting about two hours and 45 minutes.
4. Ataturk Airport, Istanbul, Turkey
https://www.instagram.com/p/BRZFu_pgAiu/
International transit passengers with a six-hour layover and a Turkish Airlines flight can see Istanbul with one of five daily tours — each with quite a few stops along the way. Most tours are about six hours, although a shorter morning one (two-and-a-half hours) gets right to the city's highlights. Other stops on tours include the Walls of Constantine, the Grand Covered Bazaar, Hippodrome Square, Hagia Sophia, and Blue Mosque. In keeping with Turkish hospitality, tour guest can also enjoy a free lunch or dinner, depending on the tour time.
5. Changi Airport, Singapore
https://www.instagram.com/p/BRaW_xXl7Xi/
Travelers with a stopover in Singapore of at least five-and-a-half hours can escape the airport with one of Changi Airport's free city tours. Two tours are on offer: the Heritage Tour and the City Sights Tour, though interested participants will need a layover of six hours for the latter.
On the Heritage Tour, guests visit different neighborhoods in the city, including Little India and Kampong Glam, and have an opportunity to visit Merlion Park, where the city's iconic statue of the eponymous mythical animal makes for the perfect Instagram moment.
On the City Sights Tour, visitors catch the city's top attractions, including its arts destination, its environmentally sustainable financial center, the Singapore Flyer, and Merlion Park. The tour wraps at Gardens by the Bay, which features half a million plants and 18 "Avatar"-like "Supertrees" that function as vertical gardens.
6. Salt Lake City Airport, Salt Lake City, Utah, USA
https://www.instagram.com/p/9QHc4qG0tz/
Currently, Salt Lake City is the only airport in the U.S. offering free city tours. And while we're not entirely sure what kind of flight would merit a long layover in Salt Lake City, we're happy it offers it. Those with at least two hours of wait time can pop from the airport to the city's historic Temple Square, home to the massive Church of Jesus Christ of Latter-day Saints temple. P.S. If seeing the church doesn't appeal to you, consider visiting the nearby Utah Museum of Contemporary Art.
7. Narita Airport, Tokyo, Japan
https://www.instagram.com/p/BNVuRpYjHYa/
Those passing through Tokyo's Narita Airport can choose between self-guided tours, which mostly take visitors to popular shopping destinations, or volunteer-guided tours, which introduce travelers to Japan in three-hour blocks. Tourists on a generous layover can choose between several "courses," including cultural experiences like a visit to Narita-san Shinsho-ji Temple and a course with nature walks in the countryside.
You'll Also Like:
All products are independently selected by our writers and editors. If you buy something through our links, Oyster may earn an affiliate commission.