Tons of mega-resorts around the world include scuba diving in their long lists of all-inclusive amenities; but often this simply means that the hotel can lend scuba gear to those who'd like to dive, or is home to a tiny wading pool where guests can "learn" the sport. However, since these lessons are often taught to tens of participants at a time, we'd argue that they're rarely effective -- we wouldn't want to venture out to the open seas after just a few hours of one-on-fifty instruction in a shallow pool! There are some hidden gems tucked in the shadows of these massive resorts, though, that are solely focused on dive-happy guests. From the Maldives to the Caribbean, here are seven amazing dive hotels around the world.
Curacao is a top destination among divers, and this hip 21-room boutique hotel is just one of the many hotels on the island that offer a laid-back, diver-friendly vibe. The on-site dive shop provides a range of services and trips, and dive packages can be arranged with your stay. Divers and non-divers alike will appreciate the Scuba Lodge's proximity to town and simple, community-based amenities such as weekly happy hours and barbecues.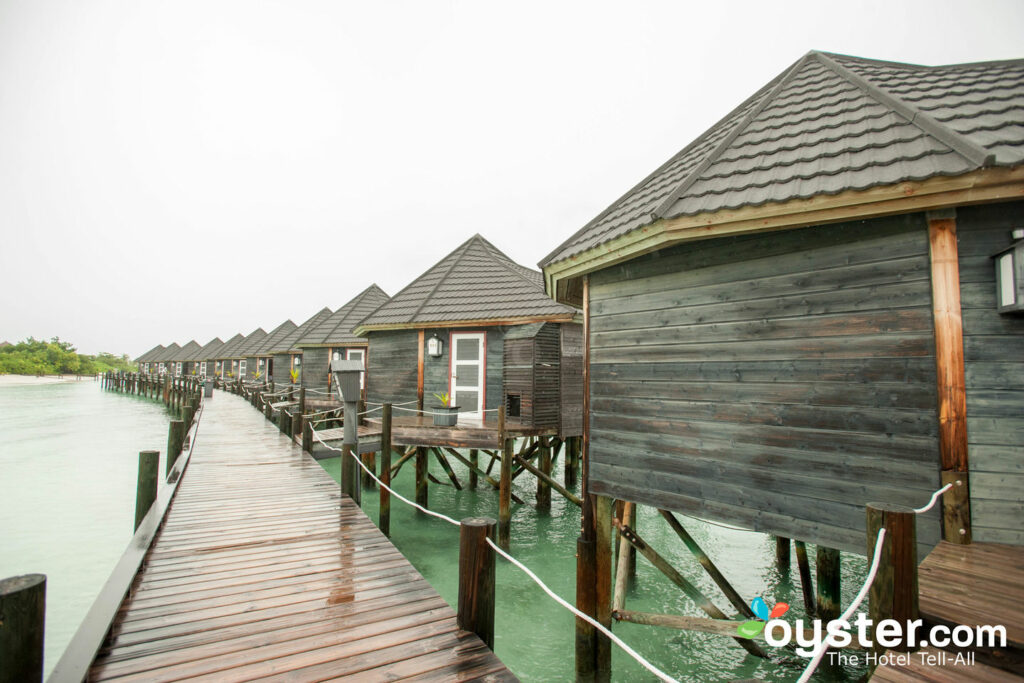 A popular honeymoon destinations, the Maldives caters to honeymooners — but divers as well, as just as many couples are here to scuba as are to lie on the beach. Stretching just over a mile in length, Kuredu is one of the largest islands in the Maldives and this resort comes loaded with amenities. Kuredu Island Resort's start-of-the-art dive center is exceptional for its large number of daily excursions and hyperbaric decompression chamber (one of the only chambers in the country).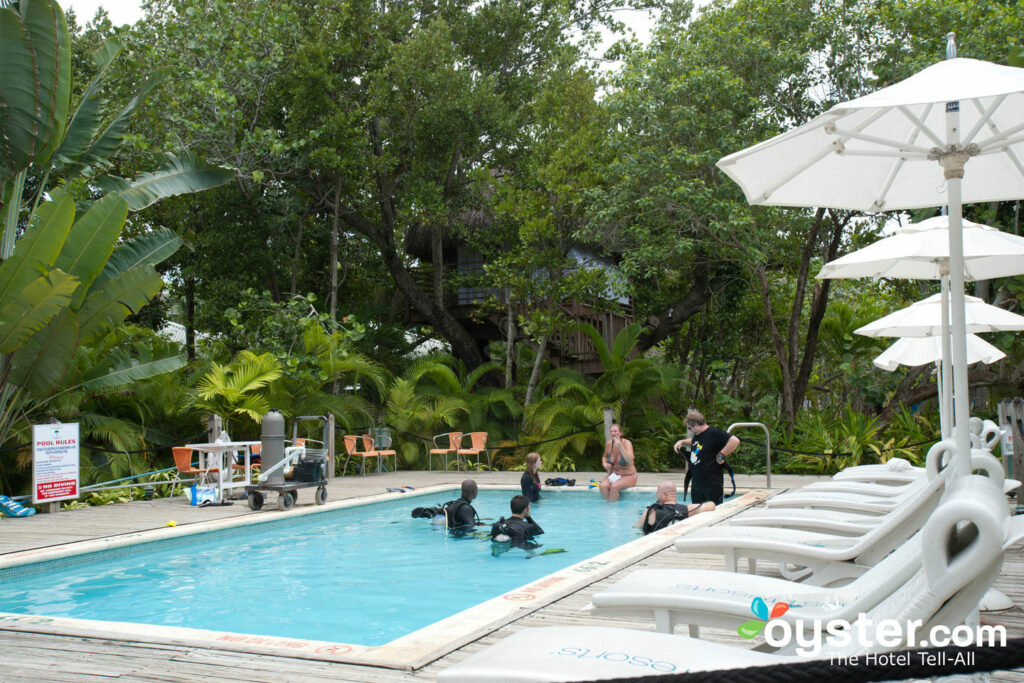 Couples Negril on Jamaica's Bloody Bay is a great pick for budget-minded divers as scuba diving excursions (as well as numerous other water sports) are included in the all-inclusive rates. Inexperienced divers can even count on a diving pool and trained instructor to help them get in the water within a matter of hours. Sure, this is a large resort, but its smaller than many of its competitors and therefore classes — as well as restaurants, bars, and pools — are less crowded.
With a popular dive shop, a 50-meter lap pool, and an excellent fitness center, Lions Dive is a great spot for active types. In fact, the hotel's website calls itself "the sportiest hotel" on the island — which just may be true, considering the numerous classes offered on-site, like spinning and yoga. For those coming for the famed Caribbean sea, the resort has a lovely, wide, white-sand beach, and divers will be happy to know that the famous Stella Maris reef, home to a shipwreck, is just off Lions Dive's shore.
This small rustic resort attracts mostly European couples who take up residence — sometimes for three weeks at a time in order to get in as much diving as possible — in the 36 bungalows spread out over six acres of sand.The excellent PADI dive school on-site is multi-lingual, and instructors teach in English, Dutch, Arabic, and Spanish. The school offers a range of intro classes, open water courses, emergency courses, advanced courses, and rescue diver courses. There are rates and packages including equipment for up to 15 dives, and night dives are also available.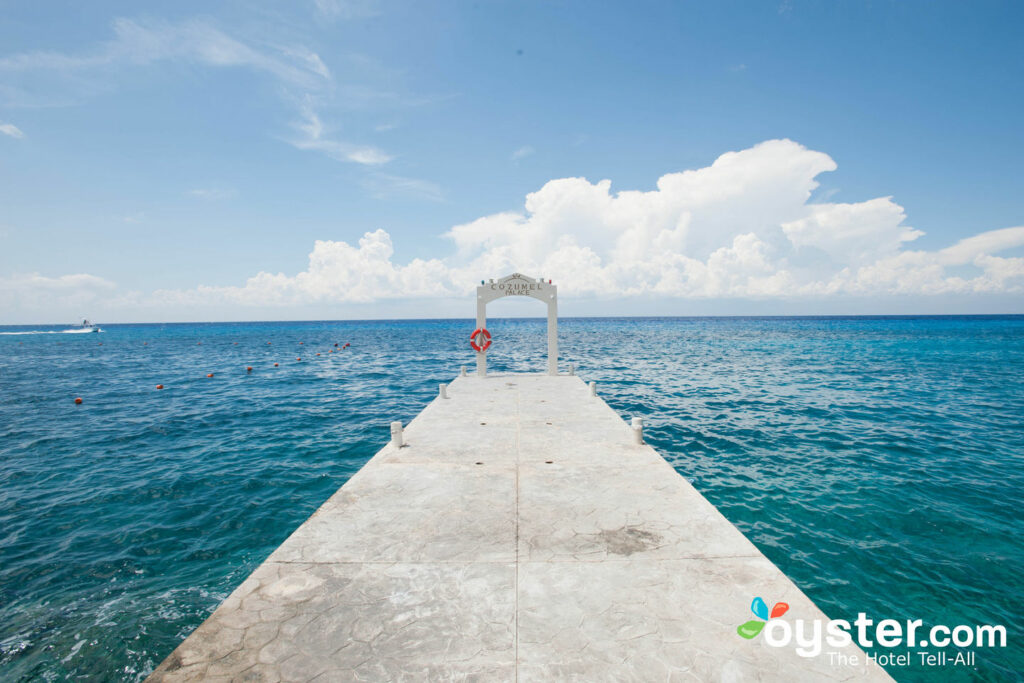 The Cozumel Palace is a largely upscale, though relatively small, oceanfront resort situated on the west coast of Cozumel island — a prime spot for diving. As part of the hotel's all-inclusive plan, guests are given resort credit (typically $1,500 for a five- to eight-night stay) that can be used to buy various services and amenities, including fishing trips, island excursions, and morning scuba dives for experienced divers. Those who have never scubaed before can first practice with a lesson in the hotel's dive pool.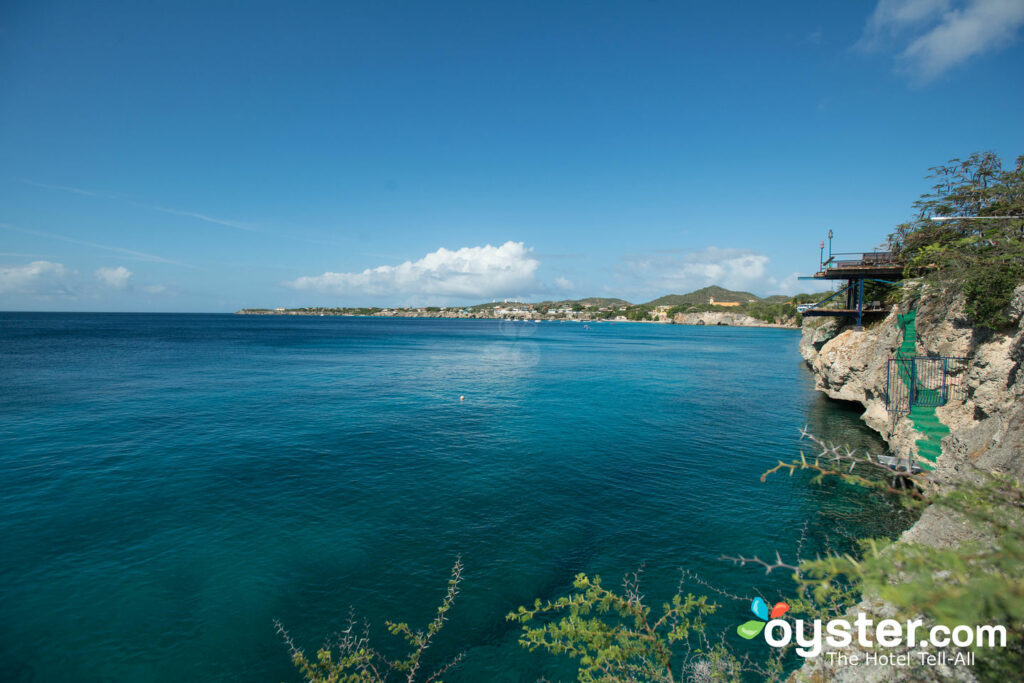 This peaceful oceanside complex on the quiet, secluded north side of Curacao (known for its top-notch diving spots) offers 30 apartments with colorful, if slightly hodgepodge, furnishings and spectacular views of the bright blue Caribbean sea — but the Marazul is not actually on the beach.Instead, the coastline the hotel hugs is made of coral bluffs with a steep drop down to the water. There are two staircases that lead down to the water, though, in order to provide guests with access to swimming, snorkeling, and diving. There is a reef not far off the shore, making for great diving right from the resort for experienced divers.
All products are independently selected by our writers and editors. If you buy something through our links, Oyster may earn an affiliate commission.