The world at large calls many people to explore. Country to country they go, visiting attraction after attraction, traversing landscapes of all kinds, and interacting with different cultures and people. But while most travelers are exploring above ground, there's a select few who love the mysterious world underwater—scuba divers. Though there are thousands of beautiful dive spots all over the world, the Philippines is a mecca for scuba divers, as it hosts some of the most diverse underwater areas teeming with marine life, coral, and even awesome shipwrecks. Check out our list of the best dive spots in the Philippines and try not to buy a ticket right away (or just go for it)!
1. Tubbataha Reefs Natural Park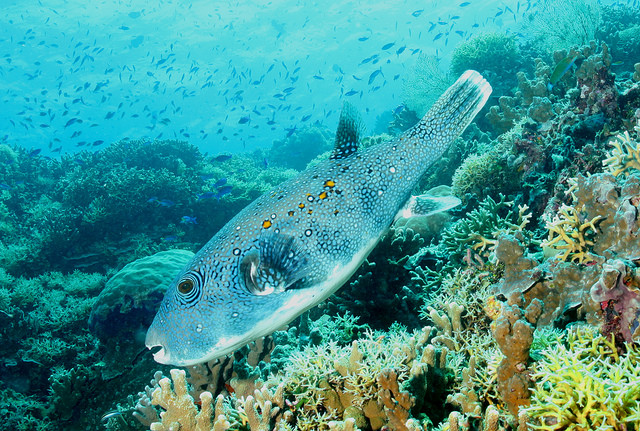 In the Samal language, Tubbataha means "long reef exposed at low tide," which is absolutely true of this dive site. Covering 374 square miles, Tubbataha Reefs Natural Park was the Philippines' first national marine park and is a huge center for marine biodiversity. It's home to 600 species of fish, 360 species of coral, 11 species of sharks, and 13 species of dolphins and whales. All of this combined makes it a huge attraction for scuba divers. It's located in the Palawan province and has a scuba season of three months—mid-March to mid-June. Visibility is generally 30 to 45 meters, and the sea and sky are generally calm during the season. To keep the reefs well preserved, the park has entrance fees and very strict rules, so keep that in mind during your visit.
Where to Stay Nearby
2. Malapascua Island
https://www.instagram.com/p/BQxrOvOjS3X/
For a thrilling scuba dive in the Philippines, you'll want to head to Malapascua Island which is known as one of the few places in the world where divers have a high chance of seeing thresher sharks. Check out Monad Shoal, an underwater island where threshers and manta rays usually hang. From there, head to Gato Island, which is a sea snake sanctuary that has a cave, tunnels, and great marine diversity.
Where to Stay Nearby
3. Panagatan
https://www.instagram.com/p/BQUgfsNgjU1/
Expert divers might want to try their hand at Panagatan. This dive site is extremely remote and has no reefs, only rock. Thirty-two yards down, there is a huge drop-off point that seems endless. So why would anyone want to dive here? For the marine life. It's well known as a hot spot for huge pelagic fish, whale sharks, bull sharks, reef sharks, and manta rays.
Where to Stay Nearby
4. Coron Bay
https://www.instagram.com/p/BML5QobgPqs
Coron Bay is one of the most well-known and well-loved diving sites in the Philippines because it allows divers to explore half a dozen World War II Japanese warships that lie underwater. Not only can you explore the exterior of the ships, but guides will take you inside, where you can see artifacts from almost a century ago. The Japanese ship Irako sits upright and is a favorite of many. Divers can swim year-round in Coron, but the best visibility is during the dry season.
Where to Stay Nearby
5. Subic Bay
https://www.instagram.com/p/9n6HHCOD_y
Coron Bay isn't the only site that has wrecks to explore—don't miss Subic Bay for more. Some of the most well-known wrecks include the World War II–era USS New York and the 1898 Spanish American warship San Quentin. Records show that there are 19 total shipwrecks and three wrecked aircraft, at Subic Bay. Each dive is suited to divers of different levels, so even beginners won't be left out at this popular diving location in the Philippines.
Where to Stay Nearby
6. Balicasag Island
https://www.instagram.com/p/BQpWDD3DQVG/
Balicasag Island is a great place to explore underwater because it is teeming with marine life. Turtle Point allows divers to have close encounters with sea turtles, while the Black Forest has beautiful black coral. You don't want to miss Diver's Heaven—a great wall dive with gorgeous fish and coral. Part of the island is a protected sanctuary, but it's also open to divers.
Where to Stay Nearby
7. Barracuda Lake
https://www.instagram.com/p/BPZVzkgBET-
Unlike the oceanic dive sites listed here, Barracuda Lake is, well, a great dive spot in a lake. It's definitely going to be one of the most unique dives you might ever experience. This lake, on Coron Island, is a mix of fresh water and sea water, and the temperature varies greatly as you dive down and around. (It's called a thermocline dive.) Some divers report feeling warm temperature on one side of their body and cold on the other at the same time! There's little life on the lake floor, and many divers describe the experience as similar to exploring another world. But be wary of the large barracuda the lake is named after—an encounter with one would definitely make for a thrilling trip!
Where to Stay Nearby
You'll Also Like:
All products are independently selected by our writers and editors. If you buy something through our links, Oyster may earn an affiliate commission.