Remember how exciting it was to go on school trips to the aquarium? Getting an up-close look at marine life -- from tiger sharks to stingrays -- was always an enchanting experience. Well it turns out aquariums are a fun sight at any age... and they certainly add a tropical, under-the-sea vibe to otherwise bland spaces. That's why it's no surprise that a good number of the hotels we have visited have installed fish tanks to add a cool oceanic feature for kids and adults to enjoy without having to suit up. Several of these hotels have gone above and beyond in bringing the awe factor to their aquariums. In typical grandeur Vegas fashion, three of its properties made our list, but you'll want to visit all seven spots!
The giant, 3,215-room Mandalay Bay offers a wave pool and streaming lazy river pool for kids, as well as a quality spa, lively bar,s and premier cuisine for adults. But everyone can enjoy the 1.6-million-gallon Shark Reef Aquarium with about 2,000 sea creatures on display, including 15 different kinds of sharks. In one of the exhibits, visitors can experience an almost 360-degree view of the fish and sharks swimming about; another displays the bright jellyfish. If just looking isn't good enough, there's a popular Touch Pool, where guests can touch sharks, rays, and horseshoe crabs.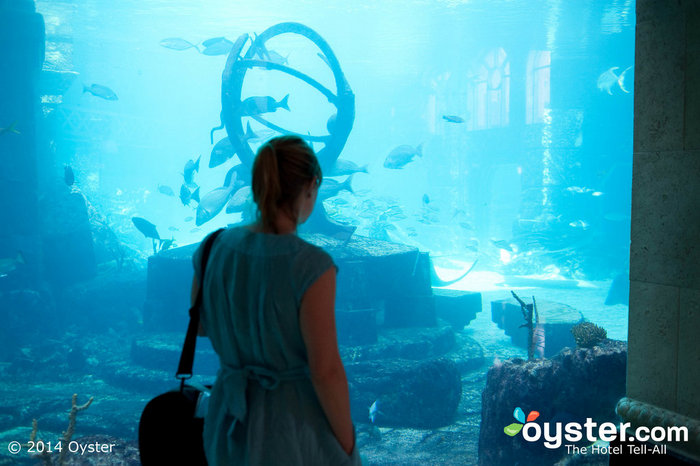 Stunning architecture, an exceptional water park, a famous casino, three beaches, 12 otherworldly pools, and 21 superb restaurants make the 3,400-room Atlantis Paradise Island Resort a seriously spectacular property. No other resort, anywhere in the Caribbean, can compete with its dining or attractions. One of our favorite features is The Dig, which features habitats for piranhas, jellyfish, six-foot eels and more; it's a truly enchanting sight. But at this resort, the marine fun continues at the pool — guests can swim and float on tubes next to the shark tank or watch a dolphin show.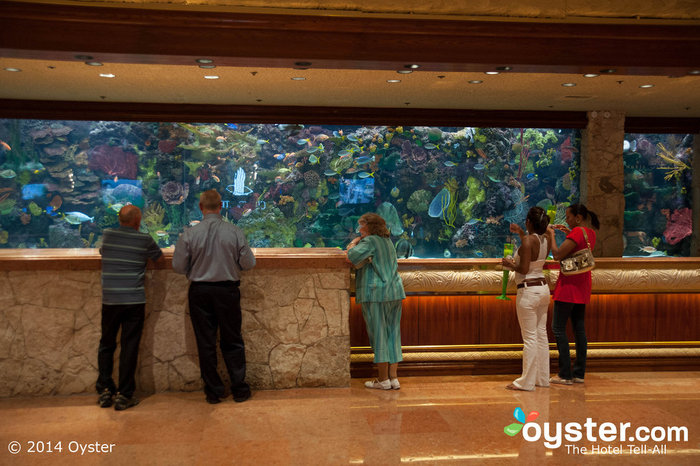 An elder statesman among the Strip's megaresorts, the 3,044-room Mirage relies less on thematics and a booze-fueled party scene for its appeal — opting instead to emphasize comfortable, well-designed rooms, an enormous pool, diverse dining options, and attentive service. Attractions, from a giant volcano to Cirque du Soleil's "Love" to a wildlife sanctuary, are aimed at a multigenerational clientele. In the lobby sits the 20,000 gallon, 53-feet long saltwater aquarium; it boasts more than 85 species and about 400 creatures total. Take a break from the Las Vegas hubbub and gaze at the colorful fish and coral, or check out their dolphin habitat!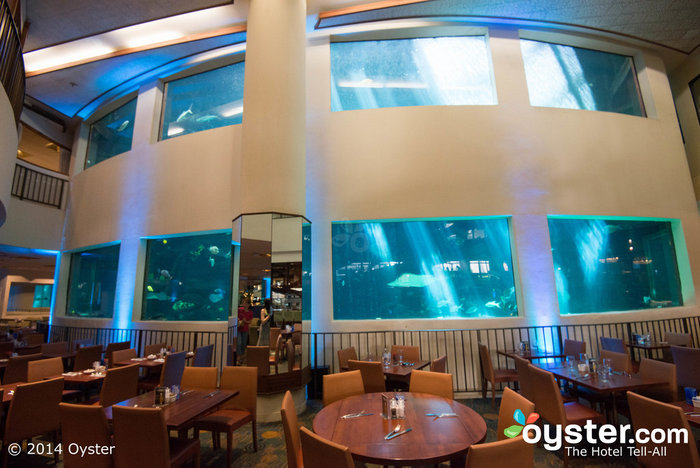 The large 839-room Pacific Beach Hotel is popular with tourists and families because of its exceptional location just across the street from Waikiki Beach and its wide array of convenient services (an on-site restaurant, a spa, laundry facilities, and more). The crowning feature at the hotel's popular restaurant is the huge 280,000 gallon oceanarium. Diners have incredible views of nearly 400 fish and more than 70 different species of marine life from in and around Waikiki. A major draw here is Snuba, a combination of snorkeling and scuba diving, in which guests can partake. Wearing a mouthpiece regulator, divers can descend to a depth of 20 feet and there's no certification required.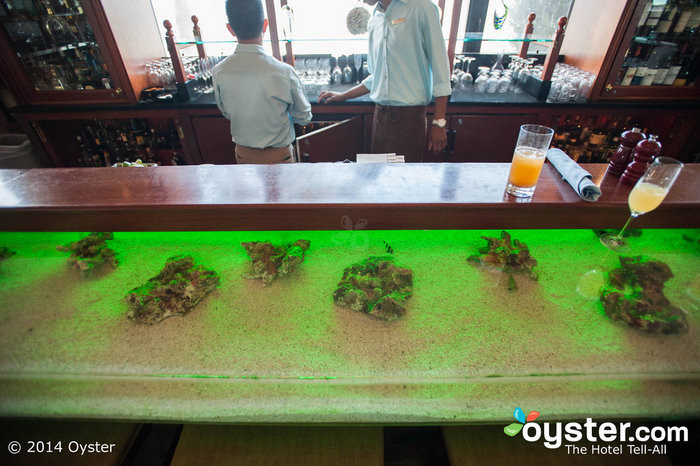 The sprawling 140-acre resort contains oceanfront grounds that are defined by historic architecture and elegant landscaping. It's home to five swimming pools, two 18-hole golf courses, 10 tennis courts, 9 restaurants, and 10 boutique shops. As far as competing hotels in Palm Beach go, nothing compares to the luxury found at Breakers. And even though there are multiple dining options, the Seafood Bar inside the seafood restaurant has a particularly fun appeal –the fish tank that acts as a bar top! Guests can enjoy their cocktails late into the night while watching the tropical fish and eels swim around the colorfully-lit tank.
Although the Golden Nugget is located in the older downtown neighborhood instead of the newer, livelier Strip, it still has several appealing features. It's one of the oldest casinos in the city and offers guests immaculate rooms, excellent service, and a top-notch pool. Known as The Tank, the unique pool complex possesses a three-story waterslide that runs through a 200,000-gallon shark aquarium. Guests shoot past the tiger sharks and various fish into the chic and modern pool.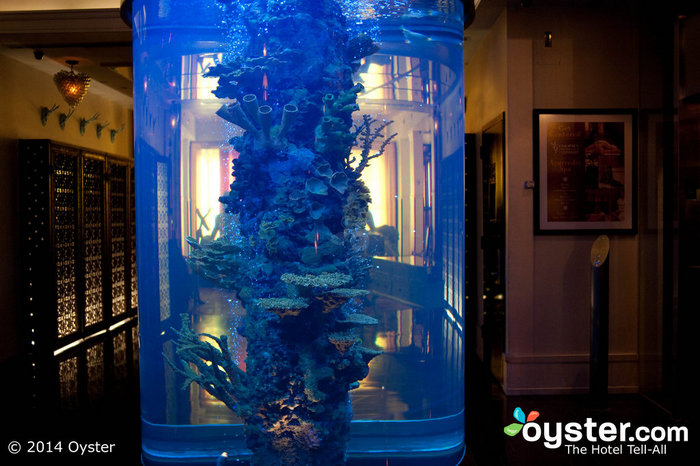 The Dream is a quintessentially stylish New York hotel, with small rooms, noisy streets outside, and two popular bars attached. Rooms aren't overly fancy, but their location is ideal — just four blocks from Central Park. Popular among celebrities and business travelers alike, the hotel's stunning beaux arts building dates to 1895 and stands out amidst the Midtown office buildings. Keeping with the dreamy theme, desks and beds are backlit with blue lights and the facade is often lit in either blue or green. Mirroring the whimsical décor, there's a two-story tropical fish tank in the lobby, surrounded by a large statue and model ship hanging above the reception desk.
Check out Oyster's page on Google+
To learn more about Lara Grant, visit her on Google+
RELATED LINKS:
All products are independently selected by our writers and editors. If you buy something through our links, Oyster may earn an affiliate commission.