Yosemite and Joshua Tree get all of the love, but the Golden State is home to a number of secluded state parks with landscapes and activities to suit everyone's interests. In fact, the state's 280 park units are inarguably the most diverse in the entire country, covering nearly 350 miles of coastline, nearly 1,000 miles of lake and river frontage, and also hosting 15,000 campsites and 4,500 miles of trails. It's a lot to sift through, so from redwood stands to castles, we've rounded up this list of our favorite California state parks, sure to suit every type of traveler.
For the Hiker: Big Basin Redwoods State Park
Just 20 miles from San Jose, Big Basin Redwoods State Park feels like a remote mountain resort. Claiming the title of the state's oldest park, it's also home to some of the best hiking trails, winding through lush redwood groves, dotted with ferns. Even though it's a popular weekend trip for Silicon Valley techies, the park has more than 80 miles of trails, ensuring that you'll never feel too crowded. Ambitious hikers can take on the 10.5-mile Skyline to Sea trail, but our personal favorite is the more tame four-mile Sequoia loop trail, a scenic ramble leading to a waterfall.
A Value Hotel Pick:
For the History Buff: Hearst Castle
Yes, the famous Hearst Castle also bears the distinction of being a California state park. Built on a hilltop overlooking the Pacific Ocean, William Randolph Hearst's eponymous estate was finally completed in 1947, after nearly 30 years of construction. Now, the Mediterranean Revival masterpiece is home to an impressive art collection, lush landscaped gardens, and even a private zoo. The home is part of the larger Hearst San Simeon State Park, which also includes more than 20 miles of some of California's most dramatic coastline.
A Romantic Hotel Pick:
For the Beach Bum: Crystal Cove State Park
Tucked away in crowded Orange County, Crystal Cove State Park is one of the area's last remaining stretches of natural seashore. The three-mile span of beach includes tide pools, great swimming, perfect surf, and even a few choice diving spots. If you want to earn your refreshing ocean swim, take a hike through the park's 2,400 acres of undeveloped land, offering stunning coastal views of the Moro Ridge.
A Luxury Hotel Pick:
For the Ghost Hunter: Bodie State Historic Park
You can't help but feel a bit on edge as you drive the eerie, deserted road to Bodie, California. Founded by Waterman S. Bodey during the California Gold Rush, the now-ghost town once had a population of nearly 10,000 people. The last remaining residents (not including the ghosts) left more than 50 years ago, but much of the town still looks as it did in the late 19th-century — even the buildings' interiors are still largely untouched.
A Luxury Hotel Pick in Yosemite:
For the Boater: Emerald Bay State Park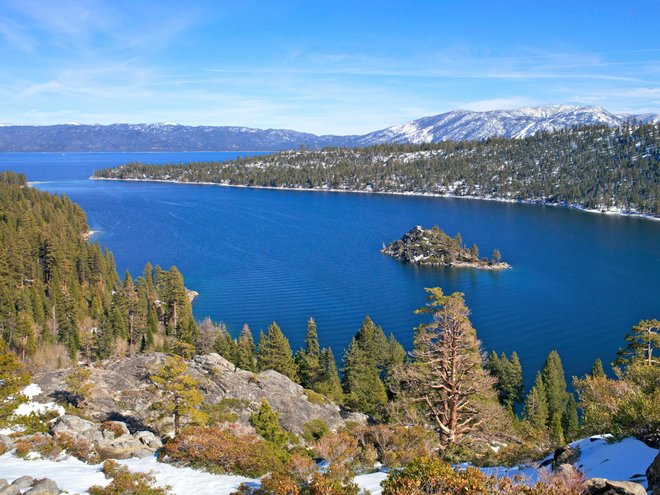 Mark Twain said it best: Lake Tahoe truly is "the fairest picture the whole earth affords." Emerald Bay, a shallow inlet on the lake's west shore, takes on a stunning blue-green hue, earning its name and then some. The park is also home to tiny Fannette Island, the lake's only island, and it's well worth the visit if you rent a boat along the south shore. If you'd rather keep your feet on dry land, pay a visit to Vikingsholm, a 38-room mansion that is considered one of the finest examples of Scandinavian architecture in the United States.
Where to Stay Nearby:
For the Spa Enthusiast: Grover Hot Springs State Park
One of the biggest draws here is a soak in naturally heated mineral pools of the High Sierra. Travelers have flocked to Grover Hot Springs since the 1850s, hoping to find cures in these restorative waters. While we can't promise a cure for what ails you, we can promise relaxing, warm pools, fed from six different hot springs, perfect for soaking your bones after a long day on the trails. The pools are open year-round and the park is also home to more than 75 campground sites and some longer, ambitious treks into the surrounding alpine forest.
A Boutique Hotel Pick:
For the Space Aficionado: Mono Lake Tufa State Natural Reserve
This quirky state park is about as close as you can get to Mars without joining NASA. The high-desert preserve of Mono Lake Tufa, located just outside of Yosemite, is truly a geological oddity: It's home to bizarre tufa towers, a one-million-year-old lake that's two times saltier than the ocean (one of the oldest in the country), and more than one million various seabirds. Photographers can delight in the stunning, other-worldly scenery, whereas kayakers, birders, and even cross-country skiers can also enjoy this unique park.
A Kid-Friendly Hotel Pick:
You'll Also Like: