Traveling with the kids is hardly a picnic, and all too often parents don't get to do a lot of vacationing on their vacations. If you're hoping to tantrum-proof your family beach getaway this winter, we have some solutions for you: resorts so ridiculously awesome for kids that your little imps will likely be too busy (and too delighted) to cause you grief. No boredom, no tears -- just lots and lots of good family fun.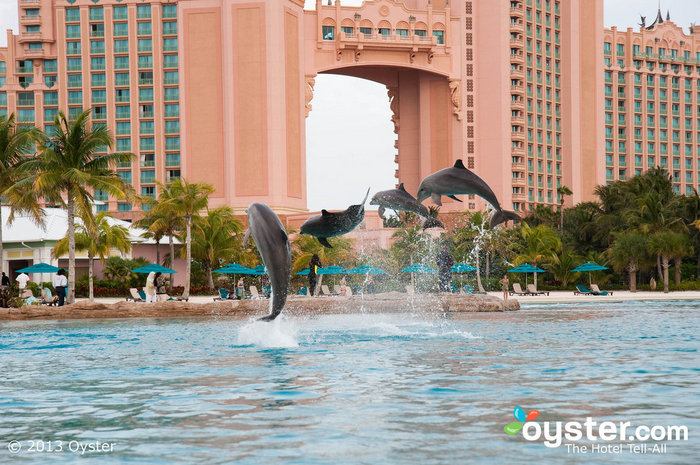 Brimming with activities for kids and teens, Atlantis is a veritable Caribbean Disneyland. In addition to all the basics (babysitting, cribs, rollaway beds, kids club) the resort has 11 spectacular pools (including several kids' pools), a 141-acre water park, a speedway for racing remote control cars, and a marine habitat with sharks, stingrays, and dolphins to swim alongside — and that's just a sample of the attractions. In addition, for teens, Atlantis has an elaborate shopping center, a rock-climbing wall, a movie theater, and, on occasion, a pop-star concert (think Taylor Swift, Katy Perry).
With seven pools, a sprawling water park, a shopping center, a spa complex, and more restaurants than you can shake a breadstick at, the family-friendly, 65-acre Beaches is clearly the Turks and Caicos resort with the most features. If you want your little ones to be entertained while you head for a rum punch, you'll certainly be taken care of with a Sesame Street Camp and nightly performances, a massive 45,000-square-foot water park, an Xbox play lounge, a teen nightclub, and even a DJ academy.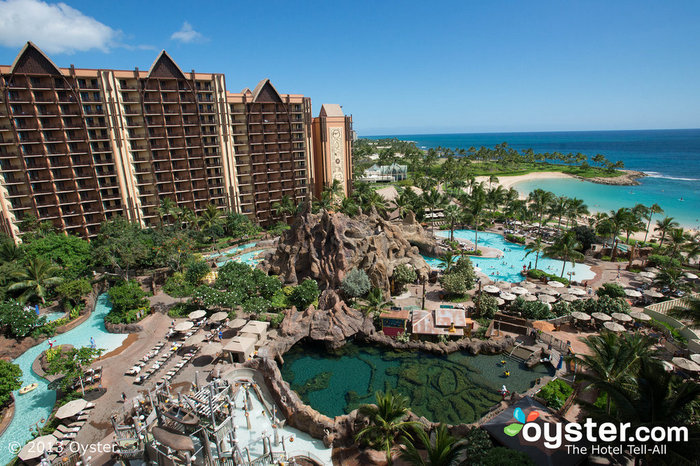 At this gorgeous property in the Ko Olina resort complex, service is excellent, the food is delicious, and the kids always come first. The pool area is gorgeous, boasting a lazy river, two waterslides, and a manmade reef, and the coved-in lagoon offers calm waters. It should come as no surprise that Disney delivers when it comes to family fun. Classic movie characters wander the grounds, posing for photos with kids of all ages, decked out in aloha shirts for that extra island flair. Dance parties at the pool happen daily. Keiki (kids) menus are available at every restaurant, be it sit-down or quick-serve. The spa offers treatments for everyone in the family (even toddlers!), or the whole family can enjoy a treatment together in the 'Ohana suite. Rooms are also incredibly family-friendly, with spacious layouts and mini-fridges in every room.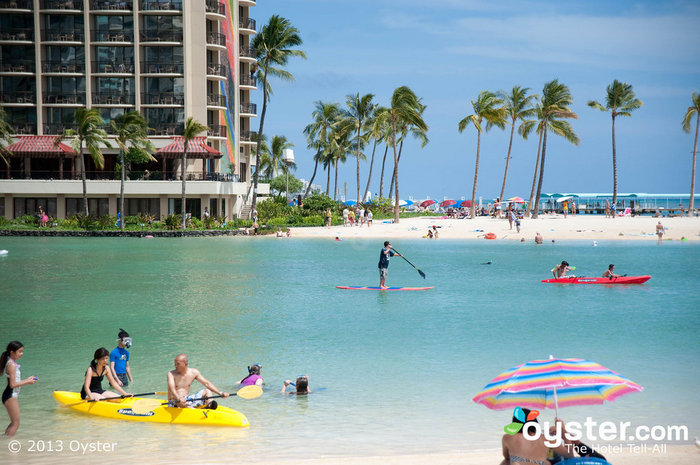 The largest resort in Hawaii, the amenities-packed Hilton Hawaiian Village has more to offer families than any other property on Oahu — or Maui or Kauai for that matter. The crowds are big. But if you can make a pre-breakfast detour to stake out chairs by one of the four impressive pools — one is Waikiki's largest– your kids will be thoroughly entertained. Among the top-shelf attractions are the dozens of species of animals on the grounds, including parrots and penguins, and the calm, coral-reef-protected waters at the beach. What'll you love? A chance for kid-free relaxation, thanks to Camp Penguin, which plans field trips to the aquarium or zoo and activities like sandcastle building, for kids ages five to 12. (The per day cost is half of the price of Sheraton Waikiki's kids club.)
Partnered with Sesame Street, the Beaches brand of resorts offers Muppet-led activities for kids. Beaches Negril comes with a great water park, a pristine, calm beachfront, an extensive, supervised kids' club, and enough entertainment to keep kids totally occupied. Special kids' menus are available — a rarity among Jamaica all-inclusives.
The ultimate family getaway, the all-inclusive 438-room Azul Sensatori megaresort offers lots of amenities and services for those traveling with children, including a fabulous kids' club with daily activities, a kiddy pool, a kid-size gym, a Fisher-Price toy lending program, and even a life-size Dora the Explorer running around. For the adults, the spa is airy and luxurious with soothing decor, and the adults-only pool is relaxing and serene.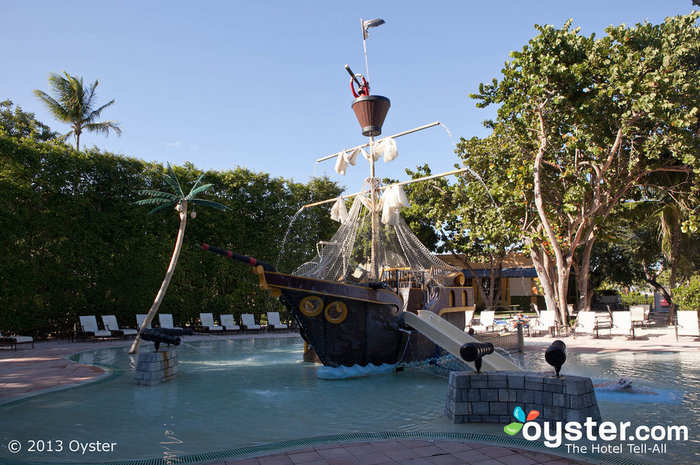 Hawks Cay Resort is the most kid-friendly in the Keys, and has the feel of a small village, due to its massive size and many amenities — the property even has its own 85-slip marina. Many guests arrive by boat, as the resort is located on Duck Key, a secluded spot far from Key West's main airport. The property largely attracts families due to its many family-friendly features such as a dolphin experience, kids' club, playground, pirate ship pool, teen lounge, basketball court and multi-bedroom villas. Plus, the beach has calm waters which families with tots in tow will likely appreciate.
All products are independently selected by our writers and editors. If you buy something through our links, Oyster may earn an affiliate commission.