One of the best ways to experience some of the romantic Old-World charm of Kyoto is to stay in one of the city's many "ryokan." These traditional inns are often family-run and located in a scenic natural setting or set in a Japanese garden. Interiors have a rustic look that keeps to the elegant and minimalist Japanese aesthetic, with details like wood paneled walls, sliding doors, bamboo blinds, paper lampshades, and Japanese scrolls as wall decorations.
First, guests should know the ground rules of staying in a classic ryokan.
Be prepared to remove your shoes at the entrance of the ryokan and don the guest slippers provided. But be sure to remove them before entering your room and stepping on the floors made of delicate "tatami" mats of woven straw. This is where guests sit and sleep, and why furniture is kept to a minimum: Only a low table and floor cushions or legless chairs. The beds are futons laid out on the floor and folded up and stored away in a cupboard during the day.
Each guest is provided with a "yukata," a light cotton robe that can be worn throughout the ryokan, and to the "onsen," the public bath. Often located in-house, the onsen is a natural hot spring and part of the ryokan experience. There are separate sections for men and women, and a thorough scrub in the shower is required before soaking in the hot water. Leave your modesty at the door with your slippers because bathing is done in the buff! Bathing suits are strictly not allowed, and neither are tattoos, which are frowned upon in Japan.
In the more traditional inns, guest rooms do not necessarily have attached bathrooms, but today many include modern amenities: Not only private attached bathrooms, but also flat-screen TVs, air-conditioning, hairdryers, mini-fridges, electronic safes, and of course, free Wi-Fi.
Food is also part of the experience: in-house restaurants serve traditional "kaiseki" meals which are composed of several delicate and beautifully presented Japanese dishes. A few cater to vegetarian and vegan diets on request.
Here are seven ryokan in Kyoto where you can experience a taste of Old-World Japan: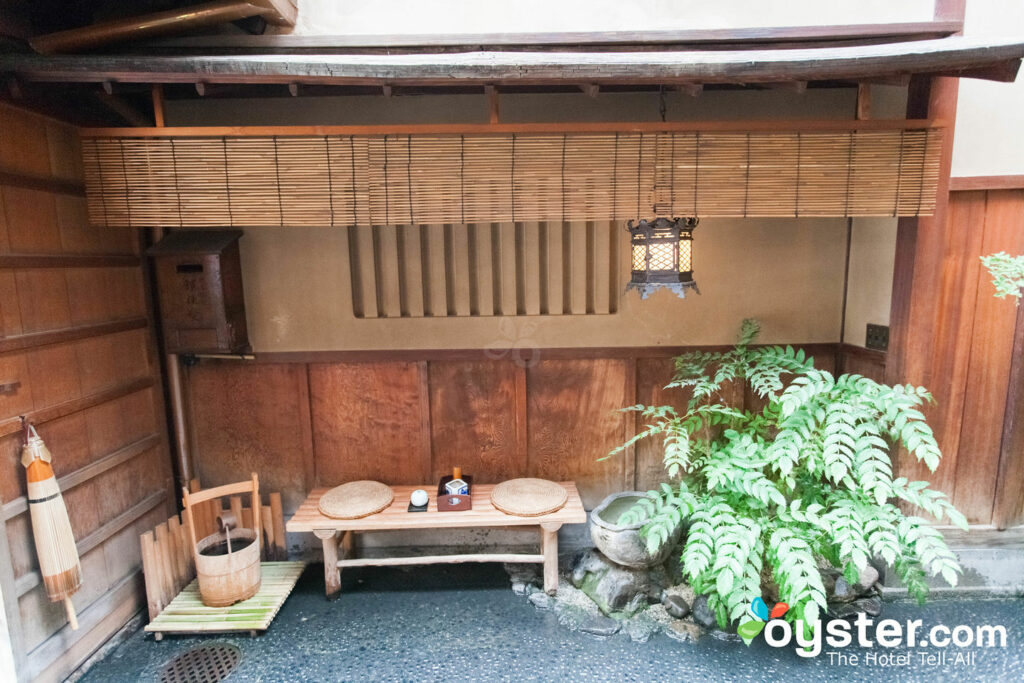 Dating back to 1818, Hiiragiya is one of Kyoto's best known ryokan. Done up in traditional Japanese style, most rooms look out over the beautiful rock garden, and all have attached bathrooms. Though there's no onsen here, rooms in the new wing have private "ofuro" tubs (deep Japanese bathtubs made of wood). Beautifully presented kaiseki meals are served either in-room or at the in-house restaurant. A subway station is walking distance from here, making most areas of the city easily accessible.
Shiraume is tucked away on a picturesque street lined with trees next to a stream in Kyoto's atmospheric Gion district. Guest rooms are spacious suites with separate sitting areas overlooking the stream or tiny private rock gardens. This ryokan doesn't have an onsen, but each guest room features a private bathroom fitted with an ofuro tub made of cypress wood. Other in-room perks include minibars and Nespresso machines, and guests rave about the traditional Japanese breakfast and dinner included in the room rate.
Located in a busy area of downtown Kyoto, Matsui Honkan Ryokan stands out for its three public baths, in-room spa treatments, and spacious rooms with private gardens, separate sitting areas, and private bathrooms. Sleek and minimalist, public areas have a more modern vibe, while the usual traditional features are found in the rustic guest rooms. Guests who are put off by sleeping on the floor have the option of choosing a room with Western-style beds. There's no in-house restaurant, but the room service menu offers tasty Japanese dishes.
Just outside Kyoto's city center and away from the tourist crowds, this is a more traditional ryokan with an onsen, restaurant, and stunning Japanese rock garden complete with a koi pond. Only some of the 18 guest rooms have attached bathrooms, but those that do are fitted with spacious Japanese-style bathtubs overlooking peaceful private gardens. Guests can take in views of the nearby Higashiyama mountains from the tranquil restaurant while enjoying a variety of dishes from the menu of traditional Kyoto cuisine. The Nanzen-ji temple is walking distance away, and there's a subway station nearby that can be easily reached on foot.
This small, rustic ryokan with only 12 guest rooms is over 100 years old, and it's situated in a busy area of Kyoto, just opposite the Higashi Honganji temple. The charming guest rooms are done up in the traditional ryokan style with tatami floors, but include modern extras like flat-screen TVs and minibars. Only some rooms feature attached bathrooms, but there's a small onsen where guests can take a relaxing soak. A Japanese breakfast is served here, and guests can order dinner to enjoy in the privacy of their rooms.
This ryokan has a more modern, upscale look, but doesn't have an onsen or restaurant. Guests can choose either a traditional Japanese tatamiroom or a Western-style one with standard beds, tables, and chairs. The Sukiya-Style Rooms have sliding doors opening up to charming private gardens with sit-outs. Located in a quiet residential area within walking distance of Kyoto station, the Higashi Honganji and Nishi Honganshi temples are easily reached on foot from here.
Ryokan Shimizu is a simple budget ryokan with nine guest rooms, each with an attached bathroom. The location is perfect: just a 10-minute walk from Kyoto's main station and close to Higashi Honganji temple. There are two separate onsen baths for men and women, but no on-site restaurant or breakfast service. For those who want to try their hand, Japanese calligraphy classes are on offer here.
You'll Also Like:
All products are independently selected by our writers and editors. If you buy something through our links, Oyster may earn an affiliate commission.