Summer is such a gift: the warm weather, the laid-back vibe, the beachy music, the opportunity for more travel, the sunsets. Here at Oyster, we're really big fans of the latter two, and we often get to enjoy them both at the same time. (Not to say that we don't love watching the sun sink down into the Hudson from our home base in New York City, but there's something particularly special about taking in the sunset from an exotic locale.) We've watched the sun bid adieu to the day in numerous destinations around the world, and we've picked out the seven summer sunsets you've just GOT to see.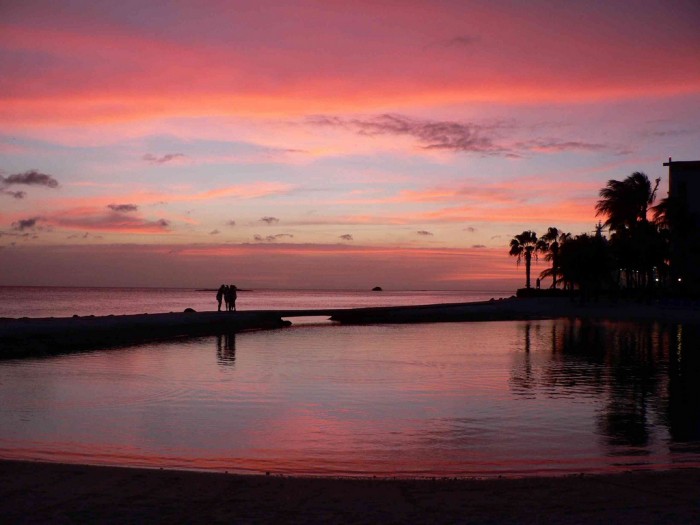 Photo Credit: David Stanley
Home to some of the best sunsets in the Caribbean, this Dutch island knows how to make the most of its outrageous sunsets. From beachfront dining to sunset cruises, there are endless opportunities to take it all in. And due to Aruba's location that's (generally) outside of the hurricane belt, consistently warm and sunny weather can be experienced year round, so you don't even have to rush to get there this summer! Be sure to check out California Lighthouse on the island's northwest tip for a one-of-a-kind vantage point.
Where to Stay: Aruba Marriott Resort & Stellaris Casino
Located on Aruba's famed Palm Beach on the island's western coast, The Aruba Marriott Resort & Stellaris Casino is the ideal place to watch the setting sun. Since many rooms include large, comfortable balconies, you don't even need to leave your chair to see the magic happen.
Photo Credit: The Good Reverend Flash
On a list of must-see summer sunsets, it seems obvious that Hawaii might make the cut. Of course, Maui is home to beautiful beaches and innumerable look out points, but why stop there? Why not watch the sun set from 10,000 feet above sea level on Maui's giant volcano, Haleakala? The etherial experience is not to be missed; and if you're feeling really adventurous, Haleakala is also a great place to see the sun rise in the wee hours of the morning. Be warned, however, that weather can be drastically different from the base to the summit. Temperatures often drop below freezing between dusk and dawn, so wearing warm clothing is strongly advised. When your friends ask why you're bringing a winter coat to Hawaii, just tell them you're going to watch the sunset.
Where to Stay: Four Seasons, Maui
Though Haleakala is certainly a trek from any point on the island, the Four Seasons' location in Wailea makes the volcano a tad more accessible than from the more northern areas of Ka'anapali or Kapalua. And after a trip to the top of Haleakala, there's no doubt you'll want to relax in the Four Seasons' Serenity Pool….Mai Tai optional.
Photo Credit: David McSpadden
Imagine sitting on the beach and watching the sun disappear behind the furthest point of land that your eye can see. And just as it fades, the sun is seemingly swallowed whole by lapping waves. If this setting sounds like a dream sequence, then clearly you've never been to Los Cabos! (Or you have — and it was a dream vacation!) El Arco, or The Arch, is a gaping rock formation at the tip of Los Cabos, signaling the last land mass of the Baja Peninsula. Only accessible by boat, El Arco creates a unique setting for spectacular sunsets.
Where to Stay: Casa Dorada Los Cabos Resort & Spa or Villa La Estancia
Both hotels are located on Medano Beach, offering pristine views of El Arco. Choose Casa Dorada for a luxurious getaway, or opt for Villa La Estancia for family-friendly fun.
With ragged cliffs jutting into the ocean, and a thick summertime fog, Big Sur possesses a mystical quality that begs for romantic weekenders. Summer weather tends to vary, with cooler, foggy mornings that brighten into warmer afternoons. Be sure to check out Pfeiffer Beach for fabulous sunsets.
Where to Stay: Post Ranch Inn or Ventana Inn & Spa
Leave the kids at home on this vacation, as both recommended hotels cater to a more adult crowd. Post Ranch Inn (an adults-only property) is absolutely decadent, with sprawling, tree-house like accommodations that offer views of both the mountains and the ocean. Nearly hanging off the cliffs overlooking the Pacific, the infinity pool might just be the perfect place to watch the sun set. Ventana Inn & Spa, with its "clothing optional" lower pool, might not be the best place for kids. But its gorgeous rooms and amenities, and untouched scenery, make it the perfect place for a romantic getaway.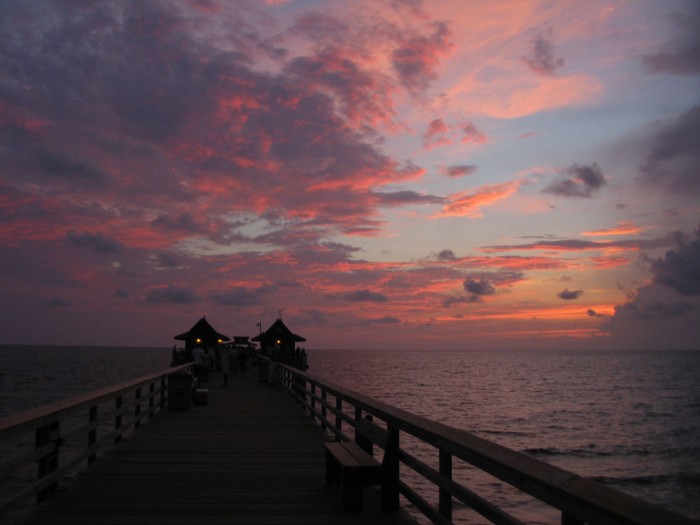 Photo Credit: Francesco
Naples' location on the southwest coast of Florida means East Coasters can have access to California-like sunsets without traveling across the country. Some great viewing locations include Lowdermilk Beach and Naples Pier. Be sure to arrive early to find the perfect spot, as both locations tend to attract decent crowds in the summer months.
Where to Stay: Bayfront Inn 5th Ave
Though not a beachfront property, Bayfront Inn 5th Ave has a charm all its own. Sitting on a picturesque marina, the hotel is within walking distance to popular shops and eateries. Plus, it's only a short drive to Naples Pier, meaning you're never too far from the perfect sunset.
Photo Credit: kcxd
Just when you thought you needed a great beach to see a great sunset! Watching the sun disappear behind the mountains may just give you a whole new appreciation for this evening sensation. Because of Whistler's northern location, where the sun shines nearly sixteen hours per day during the summer months, you'll likely be watching the sun set as it nears 10 p.m. And since summertime is not peak season for this ski town, you can experience these unique mountain sunsets on sale, as most hotels offer great deals during the warmer months.
Where to Stay: The Westin Resort & Spa, Whistler
The Westin's lodge-y feel becomes bright and airy with the addition of summer sunshine. The outdoor pool has breathtaking mountain views, and is sure to be a hit with adults and kids alike.
Photo Credit: Carlos Castro
Lush tropical forests and pristine beaches make the Guanacaste region of Costa Rica the perfect place for sunset viewing. The Guanacaste Province, in northern Costa Rica along the Nicaraguan border, is consistently warmer and drier than its neighboring regions, making it the ideal vacation destination year-round. Some of Guanacaste's best beaches include Playa Avellanes and Playa Hermosa; both are worth a visit for sand, surf, and sunsets.
Where to Stay:Hotel Punta Islita
With stunning ocean views and a remote location, you'll feel as though you've happened upon a private Costa Rican retreat. The incredible infinity pool is your perfect spot for sunset viewing…you'll never want to leave!
Check out Oyster's page on Google+
RELATED LINKS: