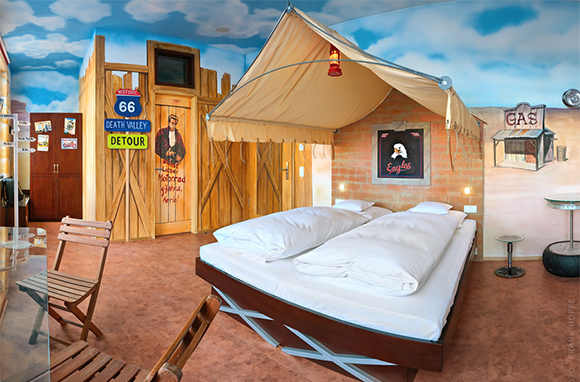 Although many of these hotels can be rented by the hour, they're a far cry from a sleazy roadside motel. In places like Japan or Brazil, where adults live with their parents until they're married, it can be hard for couples to find a private place for romance -- which is where these love shacks come in (there are over 35,000 in Japan alone).
Expect amenities like discreet entrances (with private parking spots so no one will see you enter and leave), anonymous check-in (payment via ATM or from behind frosted glass), room service menus filled with costumes and toys rather than food, and themed rooms for every dream!
1. Unique Pension; Seoul, Korea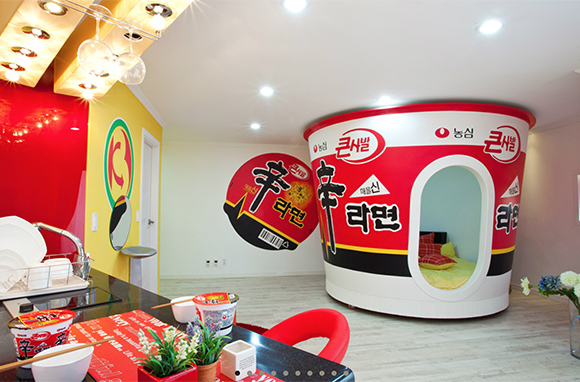 Love ramen a little too much? Now you can literally eat, sleep, and breathe it by staying at the Unique Pension, which has a room designed around the famous noodle dish — including a bed shaped like the hot soup container. Soup not your dream? There's also Starbucks, Heineken, and Apple themed rooms.
Check out more modest stays in Seoul >>
2. Eden Hotel, Taiwan
Download the Batman theme song on your phone and head to the Eden Motel in Taiwan, where you can live out your superhero fantasy — and it will only cost you about $50 for three hours. The Bat Cave-themed suite has a faux-batmobile, bat signals galore, and of course a Batman-themed bed.
Related Link: Travel Lessons We Learned from Our Favorite Movies
3. Anniversary Inn; Salt Lake City, Utah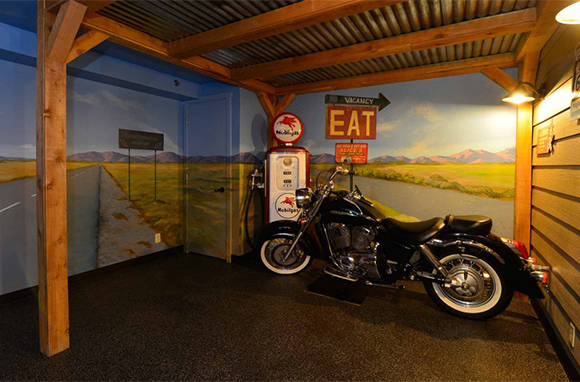 The Anniversary Inn really has something for everyone, whether you dream of vacationing in Tuscany or um, Sturgis South Dakota. In the Sturgis room, you don't have to spend a night away from your precious motorcycle, which you can park in the room (next to the antique Harley that's already there).
4. Don Q Inn; Dogeville, Wisconsin
Always dreamed of staying in an ice hotel, but hate the cold? Book the Northern Lights room at the Don Q Inn and sleep in a fake igloo (or warm up in the whirlpool) all under the glow of the faux Northern Lights (with the heat blasting, of course). Bonus: if you're really in to cheese, many of the rooms here come equipped with tubs made from 300-gallon copper cheese vats.
Related Link: World's Most Over-the-Top Themed Suites You Have to See to Believe
Star Wars fans, are you offended that "Brighton's sauciest boutique hotel" put single-sized bunk beds in the Lord Vader's Quarters room, rather than a queen or king-sized bed? What exactly are they implying? If sci-fi isn't your thing, you can stay in rooms themed after Motown, Dollywood, the Sex Pistols, Bettie Page, or a "rough trade record shop."
This hotel also makes the list of properties that encourage naughtiness (not surprisingly) >>
6. Harmony Motel; Sao Paulo, Brazil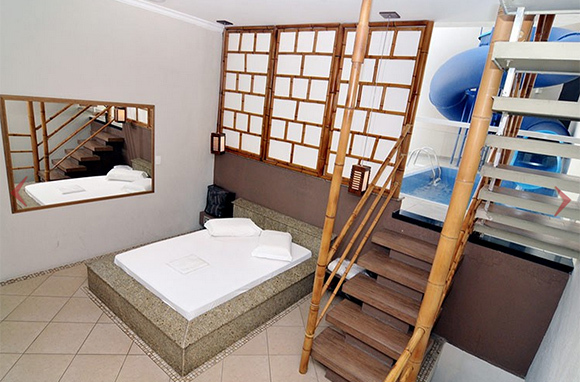 Avoid the Olympic crowd in Rio and host your own swimming competition at the Harmony Motel in Sao Paulo, where you can book a room with your very own private waterslide (lifeguard not included). Think Michael Phelps will be checking in here after the games?
Related Links: Carnaval Canceled in Rio? Here's What to Do Instead
7. V8 Hotel; Stuttgart, Germany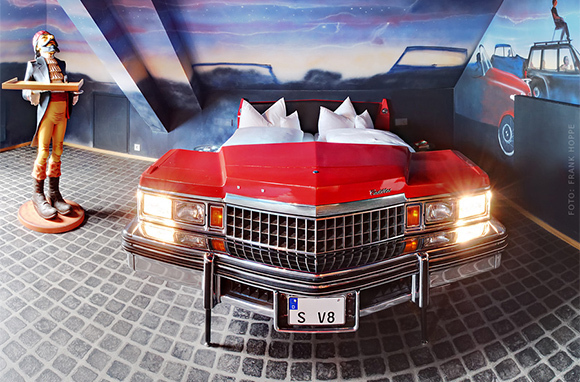 Never got that race car-themed bed as a child? Achieve your dream (at least for a night) at the V8 Hotel, where you can rent a garage, racetrack, car wash, Route 66, gas station, or drive-in movie theater themed room.
More from Oyster.com:
More from SmarterTravel:
Read the original story Racy
Love Hotels You Have to See to Believe, by Caroline Morse, who is a
regular contributor to SmarterTravel.
All products are independently selected by our writers and editors. If you buy something through our links, Oyster may earn an affiliate commission.